I actually can't believe I'm writing this post right now.. 1) because I am so excited to show you what we've been working on, and 2) because we have been working on it for so long that I can't believe it is finally d o n e !
Are you ready for this ride? I give you… our Unity Yard Makeover story.
But first, the before: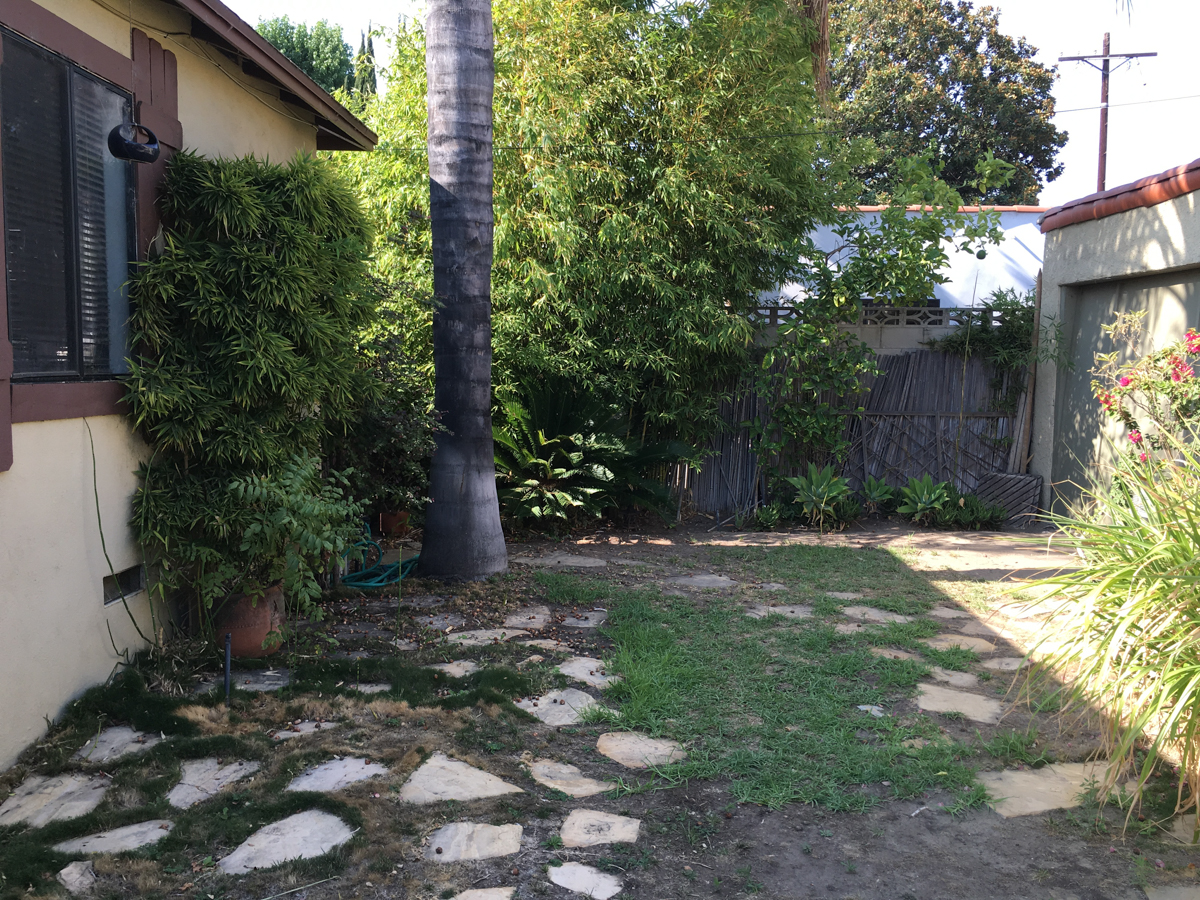 We've lived in our house for over 3 years now. We love it. We're only renting, but we've really made every inch of it our own. Well, every inch except the outdoor inch. It has always been in a state of half overgrown / half dead, and to be honest, as renters, we wasn't really sure how to do anything with it.
That was, until we got home from Burning Man last year and discovered our landlord had decided to 'drought proof' the yard.. i.e. remove all of the grass.
I'm a total hippie and I love being earth-friendly. I do, really. But I'm also a Midwestern girl, and I love spaces to feel alive. I think I actually lost sleep for one entire night because I had visions of my yard feeling like a kitty litter box. It was exactly the spark that we needed to dream up something new… Jayden was especially inspiring in his confidence that we could make it our own little wonderland. And I think we did just that!
My nearest-dearest Jess of Taylor + Taylor supported me with endless answers to my endless questions and gave so much styling advice all through her weeks of bedrest with her twins. What a goddess. She also helped me style this shoot via FaceTime, haha! How's that for a good friend?! Then, after I bought two trees that I thought were going to look like birds of paradise trees but were actually banana trees and realized I knew nothing, Danae of Folia Collective metaphorically held my hand with answering my millions of plant questions, and Annette at my neighborhood store, Potted, led me to the perfect pots and hanging plant holders for the space. This was clearly a team effort! Not to mention, almost everything you see in our space is from the website ATG Stores. Not only is their stuff diverse, affordable and super chic, their team is pure bliss to work with. Ah! Now I'm so excited for you to see all the details!
The after [from the same perspective as the previous photo]: Color, texture, and a whole lot of life!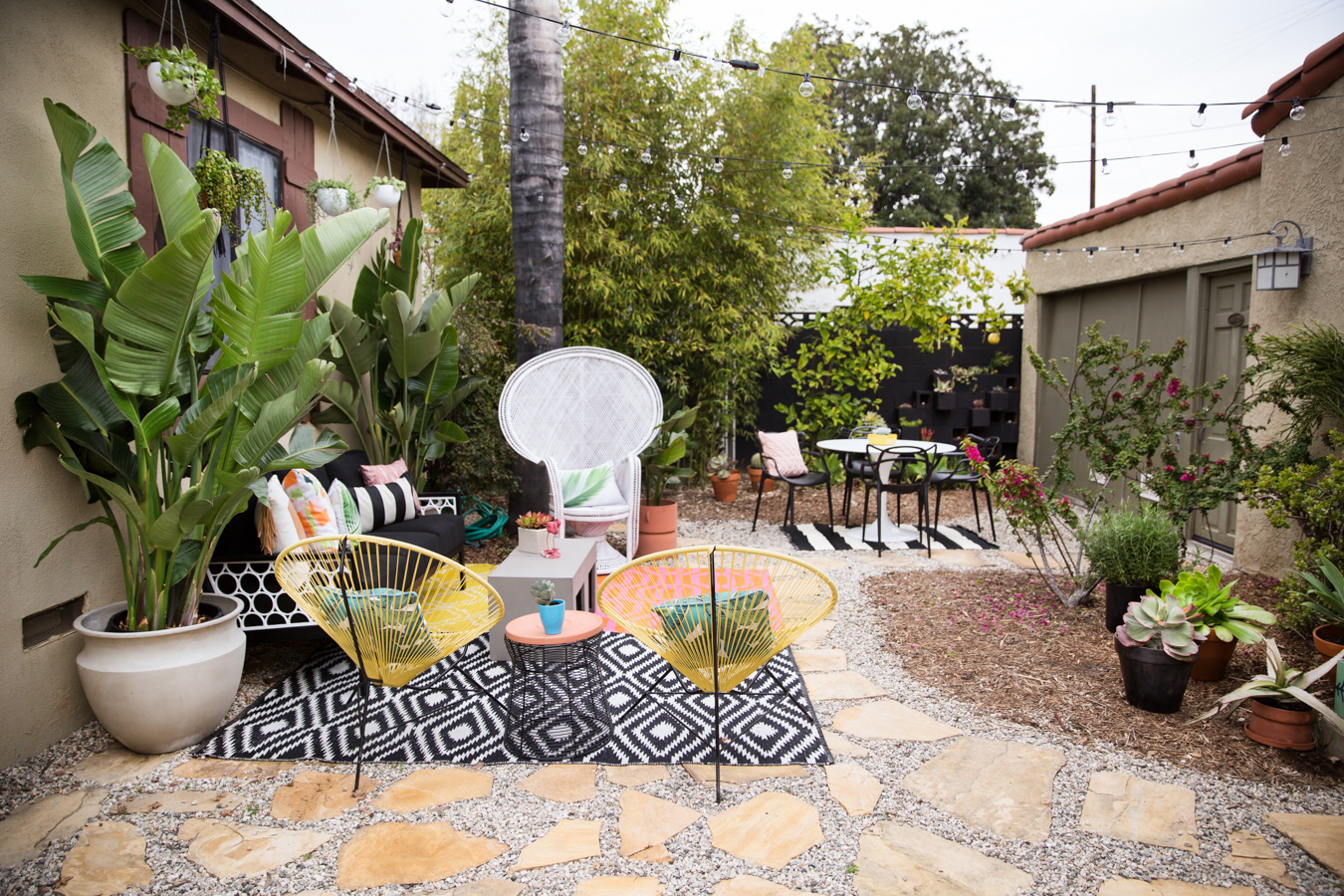 Before: the side of the yard is fenced in by a cinder block fence that was covered by a dying bamboo covering and a general sense of blah.

After: the Jayden-painted cinder block is now magically charcoal with a diagonal succulent wall built in front of it, and our dining table + chairs on this rug that we spend every sunny afternoon lunch break sitting at. Literally the best corner of the yard!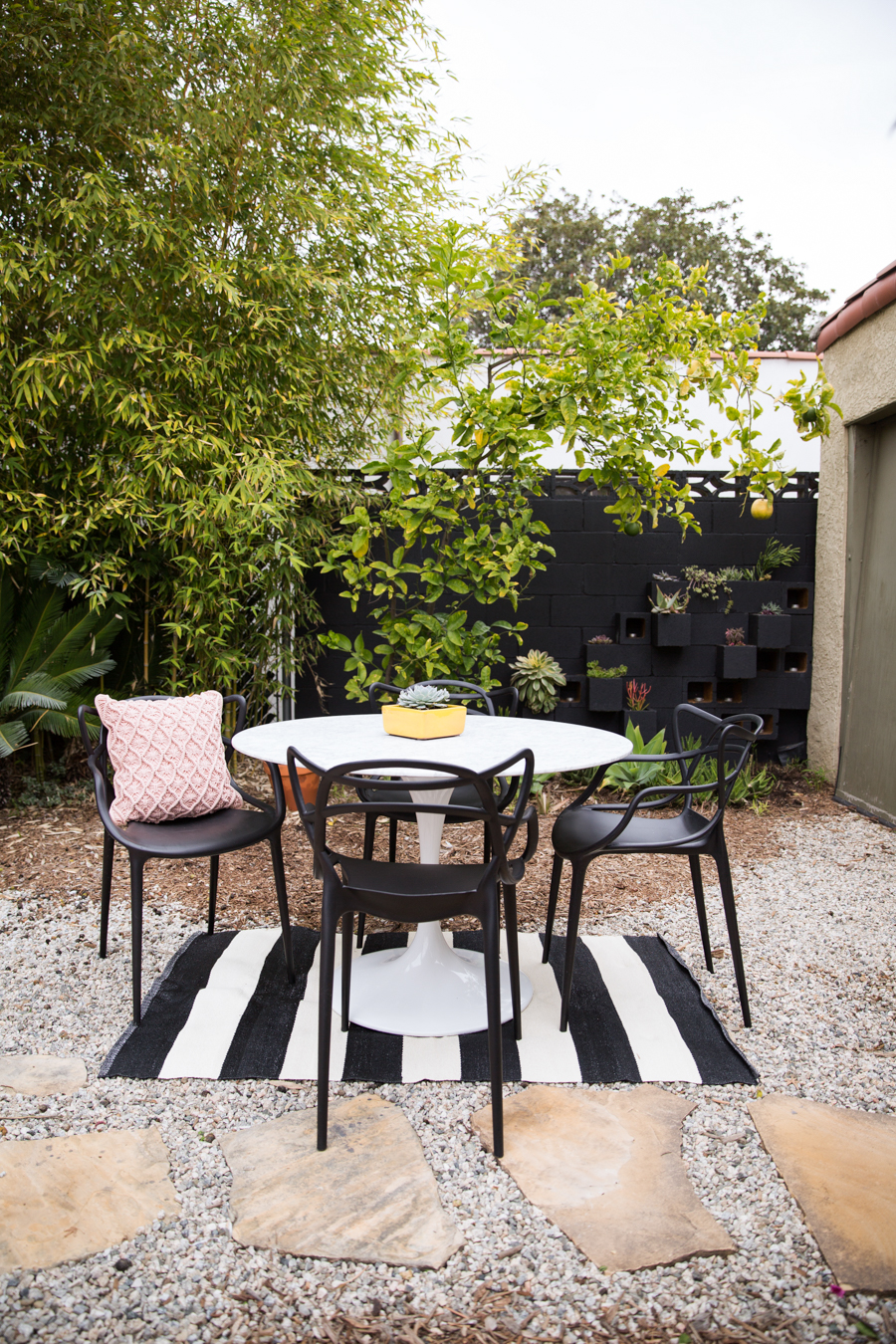 Before: that overgrown component I was talking about…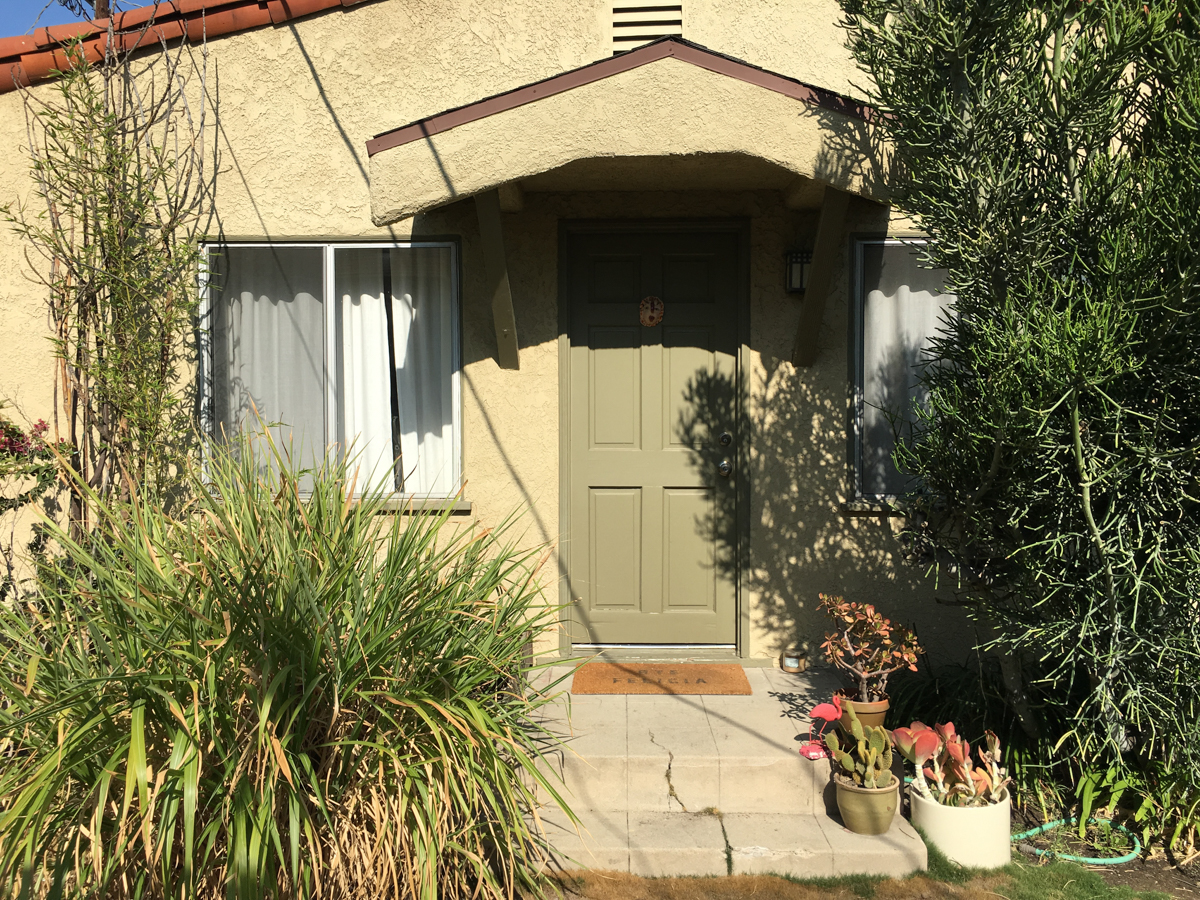 After: renter-friendly potted plants in all shapes, sizes and textures. Heck yes, California!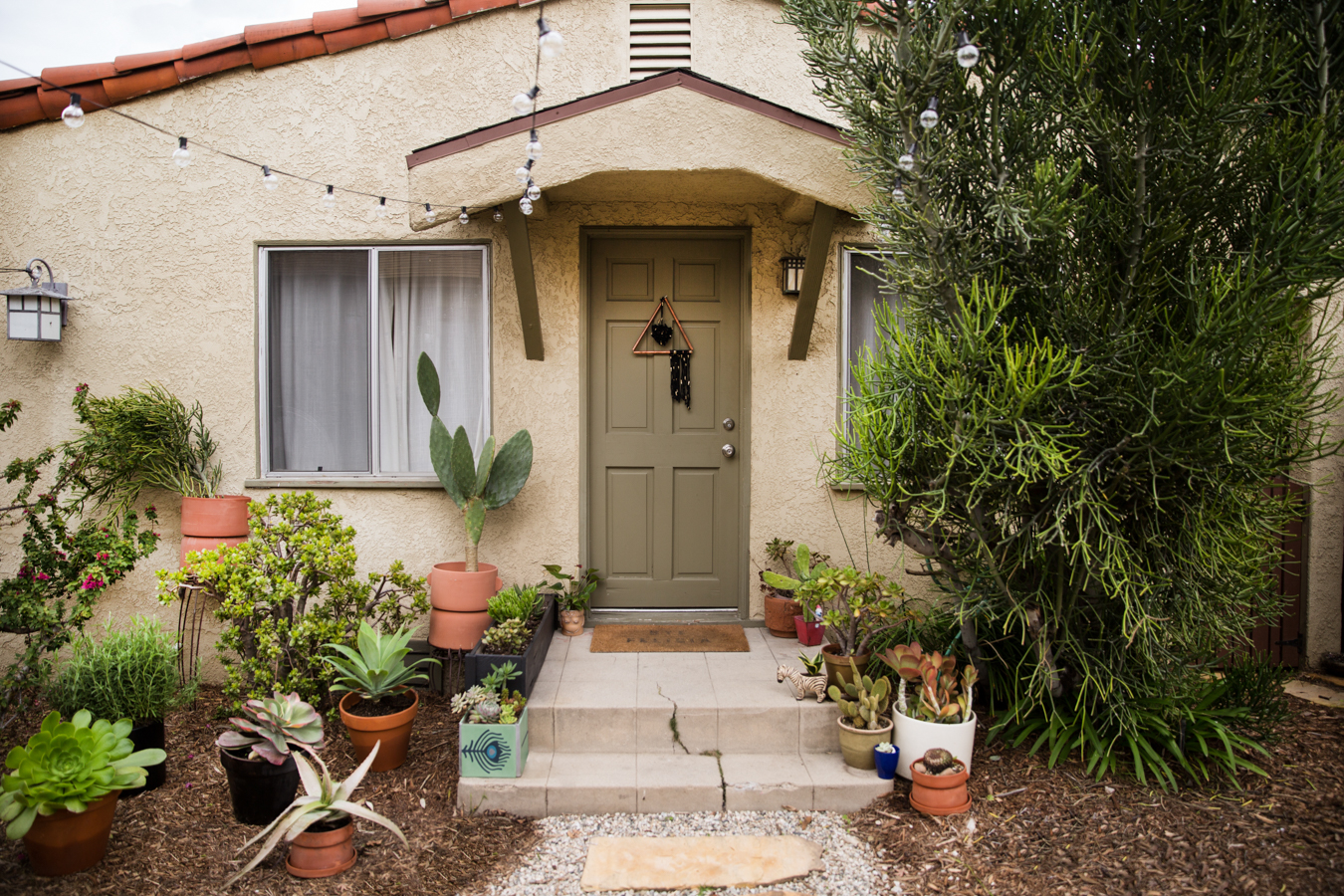 Before: how things looked when we got home from the Burn, and that oh-my-gosh-kitty-litter reality I was talking about…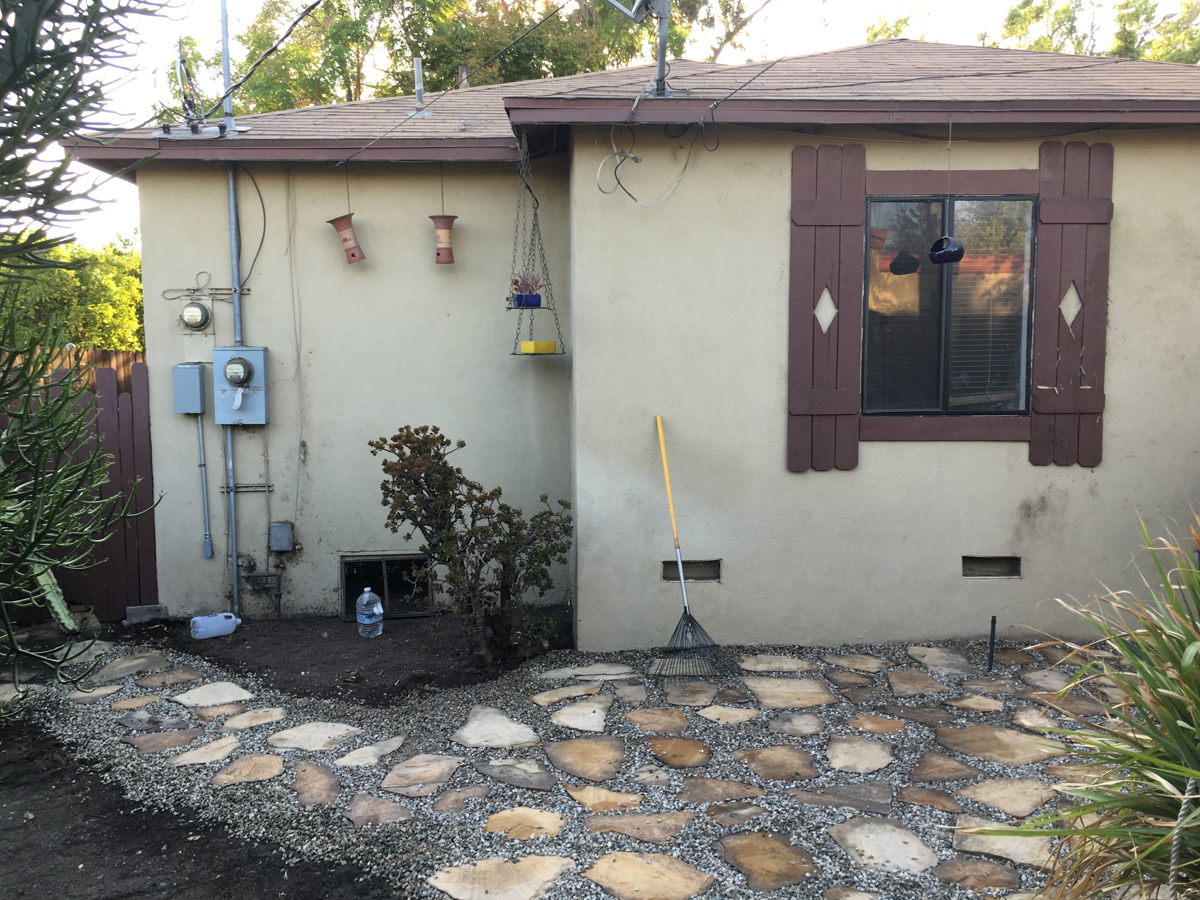 After: so much magic, I hardly notice the few blades of grass are gone! That outdoor sofa is literally the comfiest thing you could ever sit on. It is softer than my couch inside my living room, and I'm not even lying.
The pillows are here, here, here and here.
The side tables are these concrete ones and this wire one.
The rugs are this pink one, this yellow one, and this black and white one. How good are they all layered together?!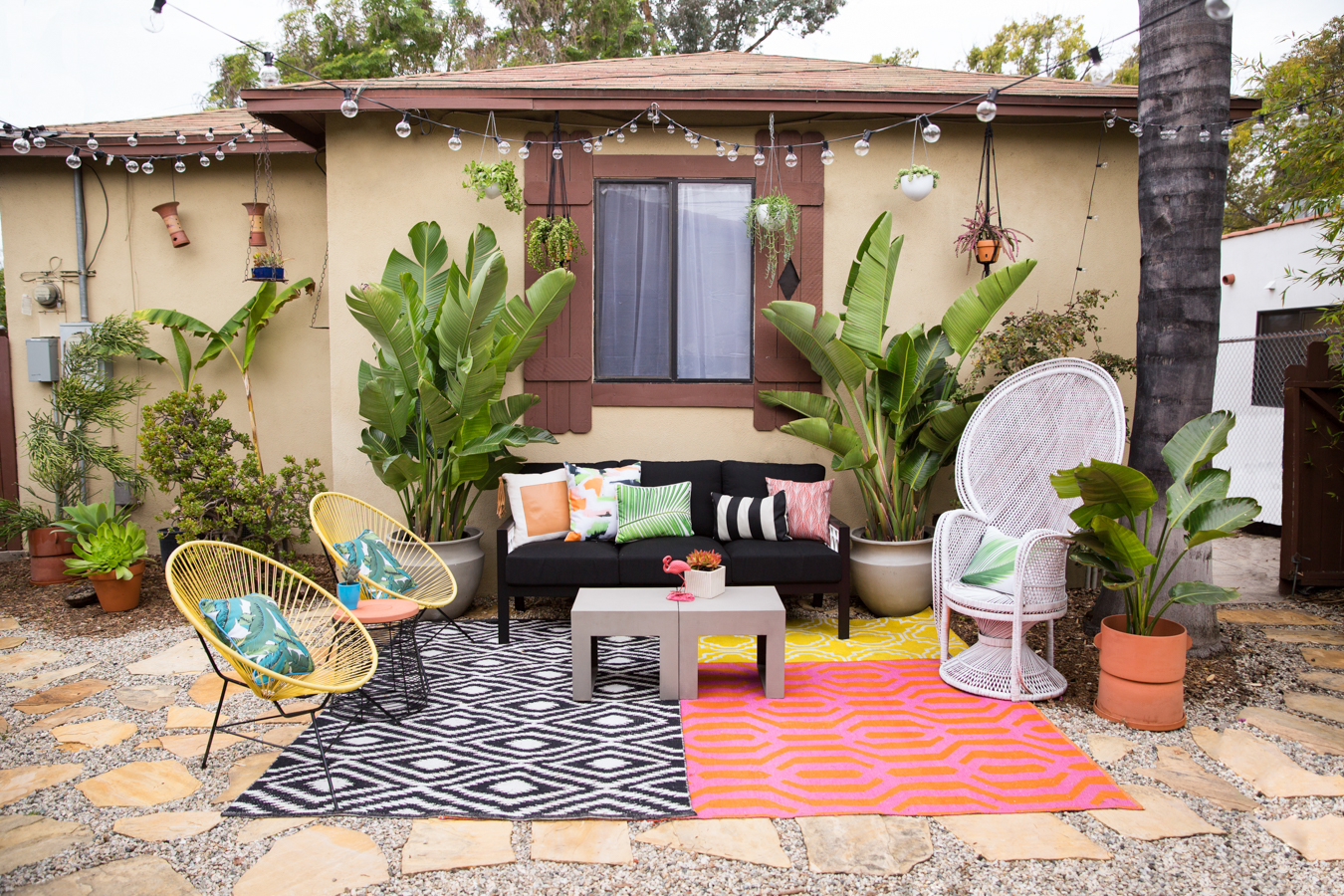 Before: when the drought-proofing was complete, the yard was cute, but still had a lot of haphazard gatherings with folding chairs surrounded by half-dead plants.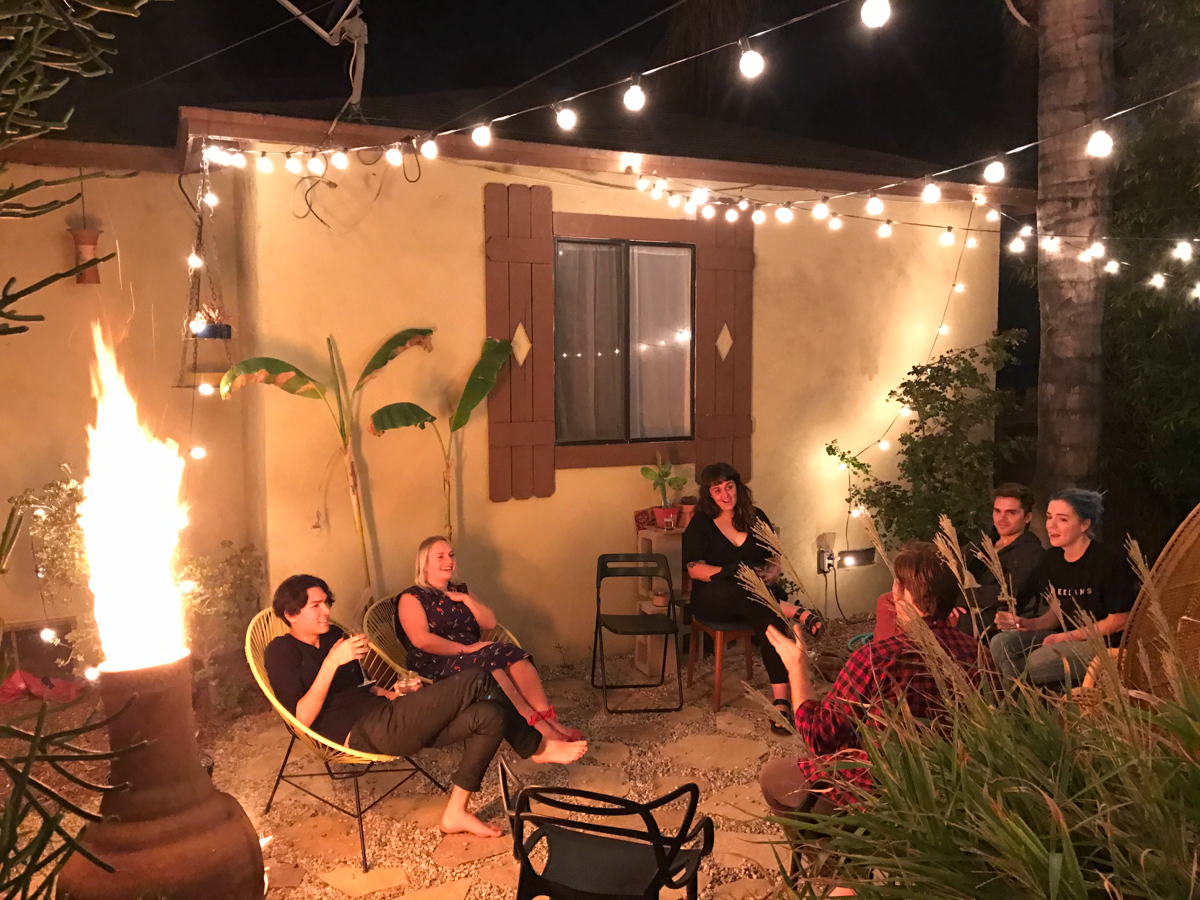 After: literally the most relaxing place to spend an evening with friends … and a few bottles of wine!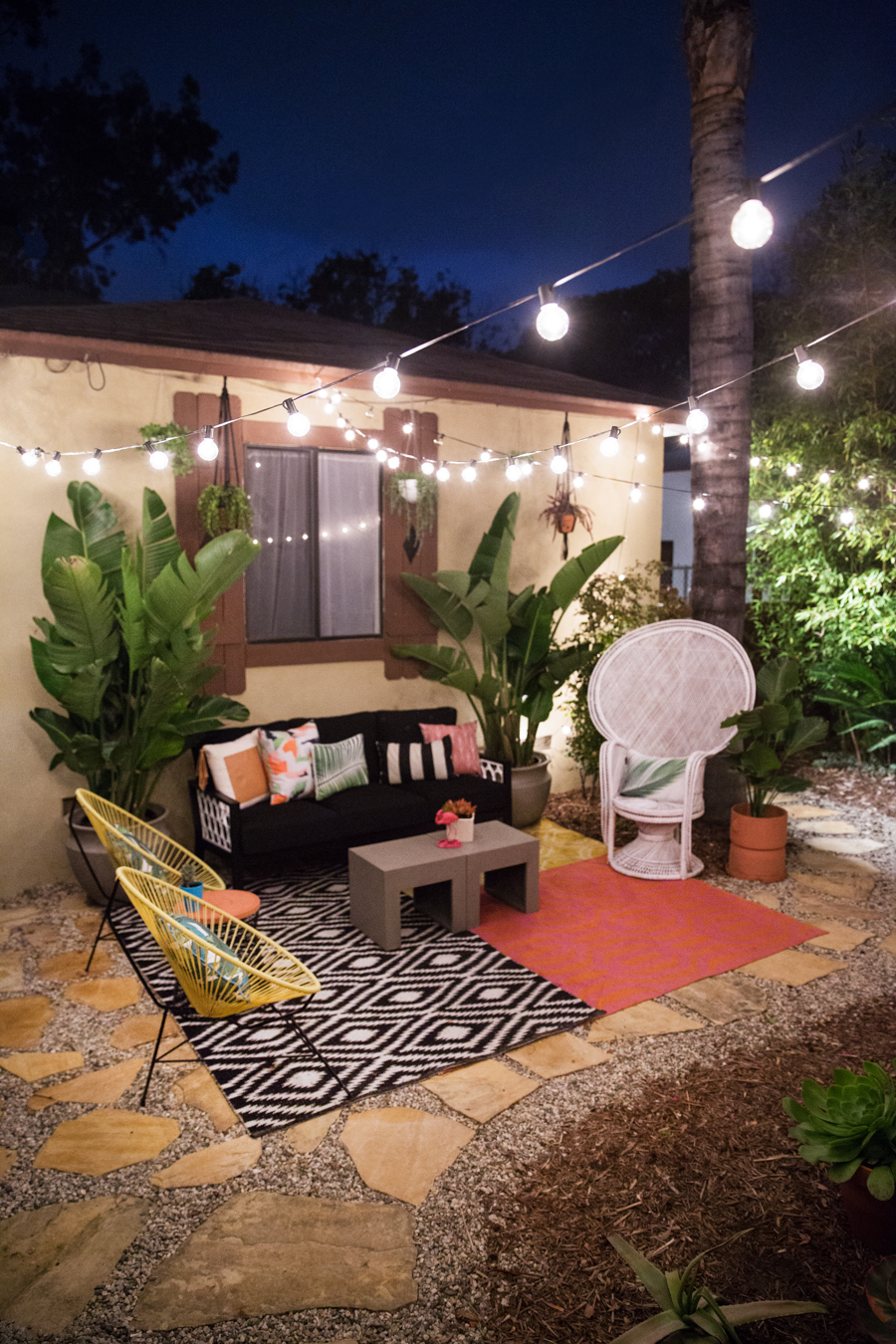 And all of the glorious details…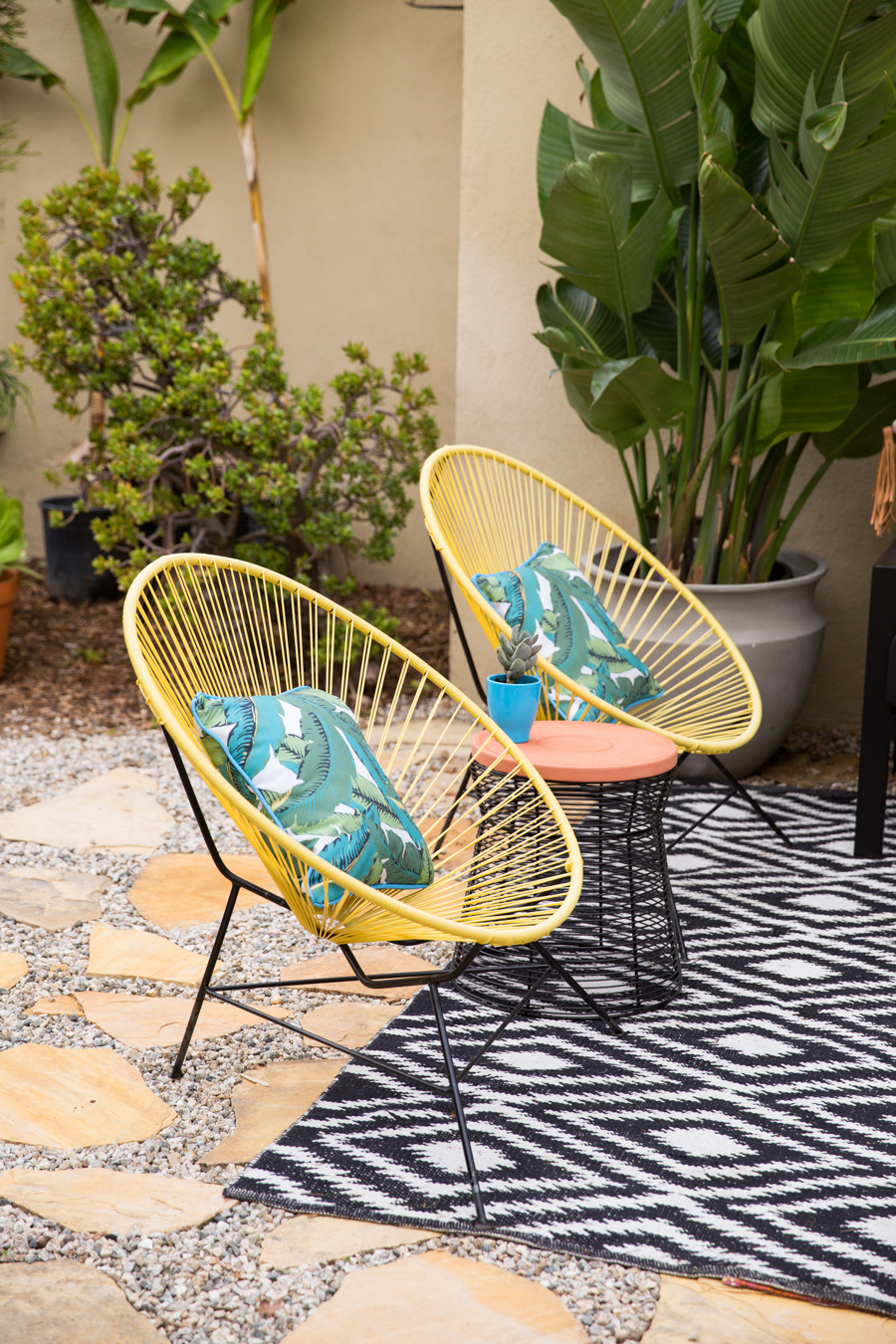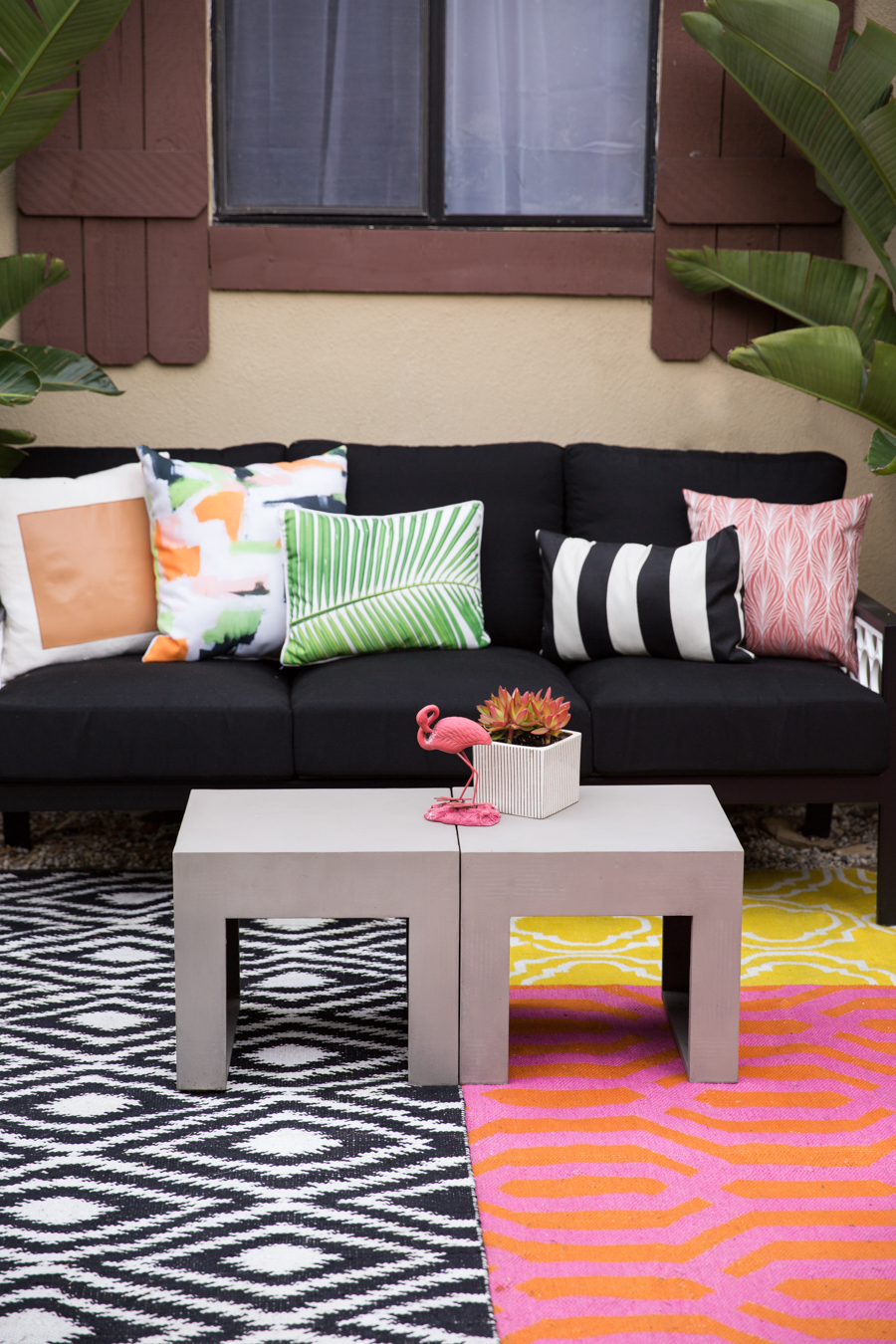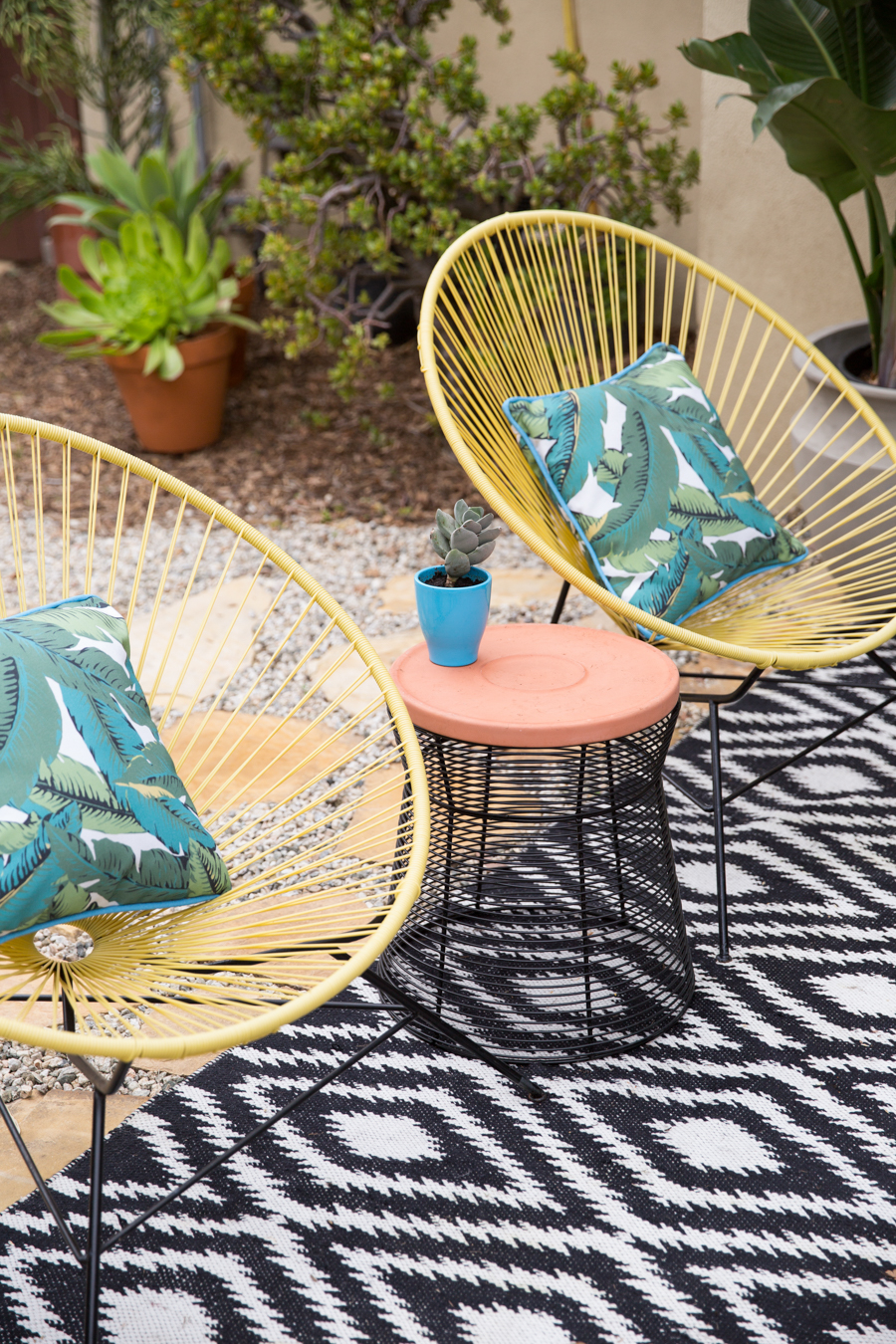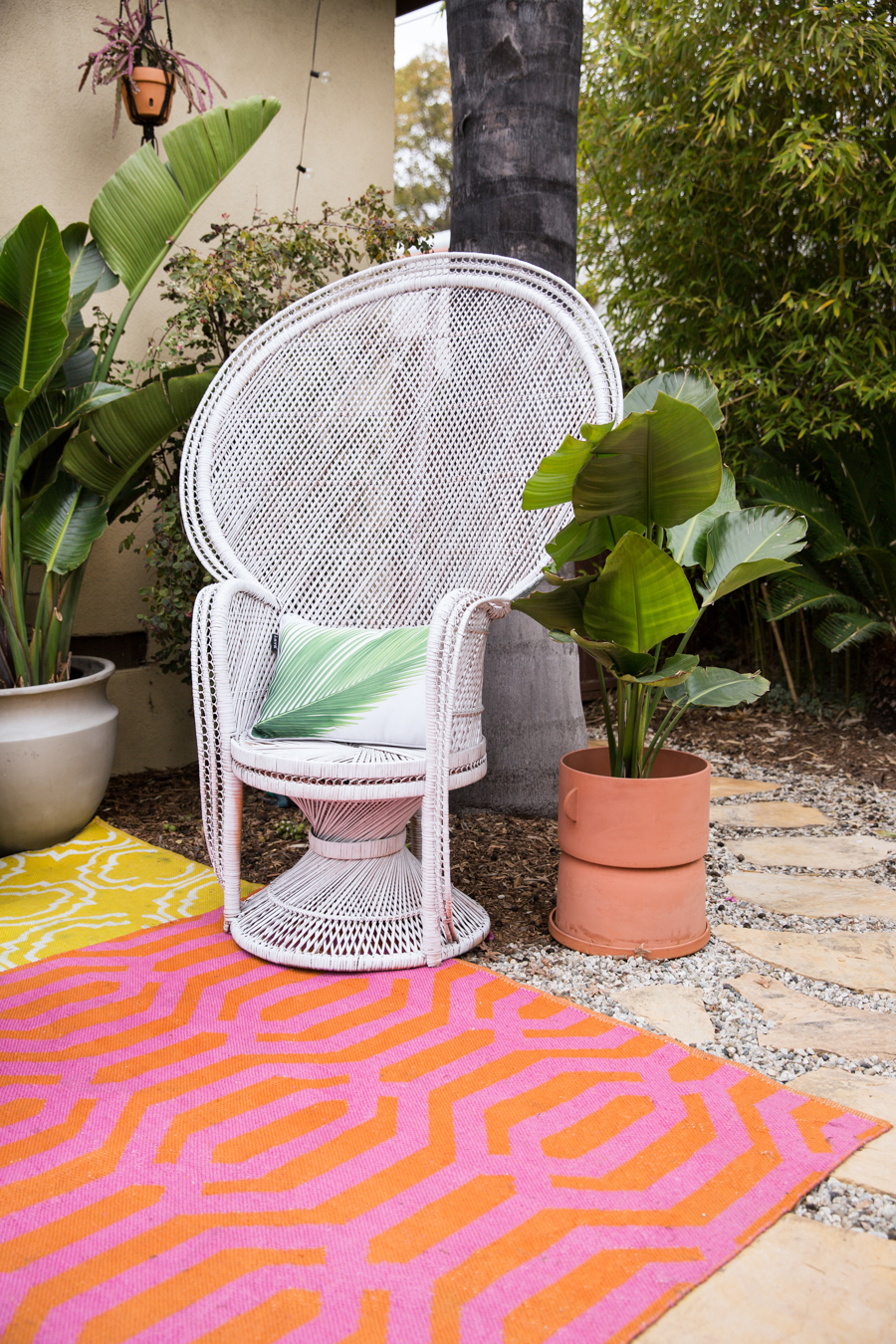 The peacock chair is one that used to be peach colored and in our house, but after a quick can of spray paint, I love it so much more outside. Do you think I'll ever get tired of '70s style?!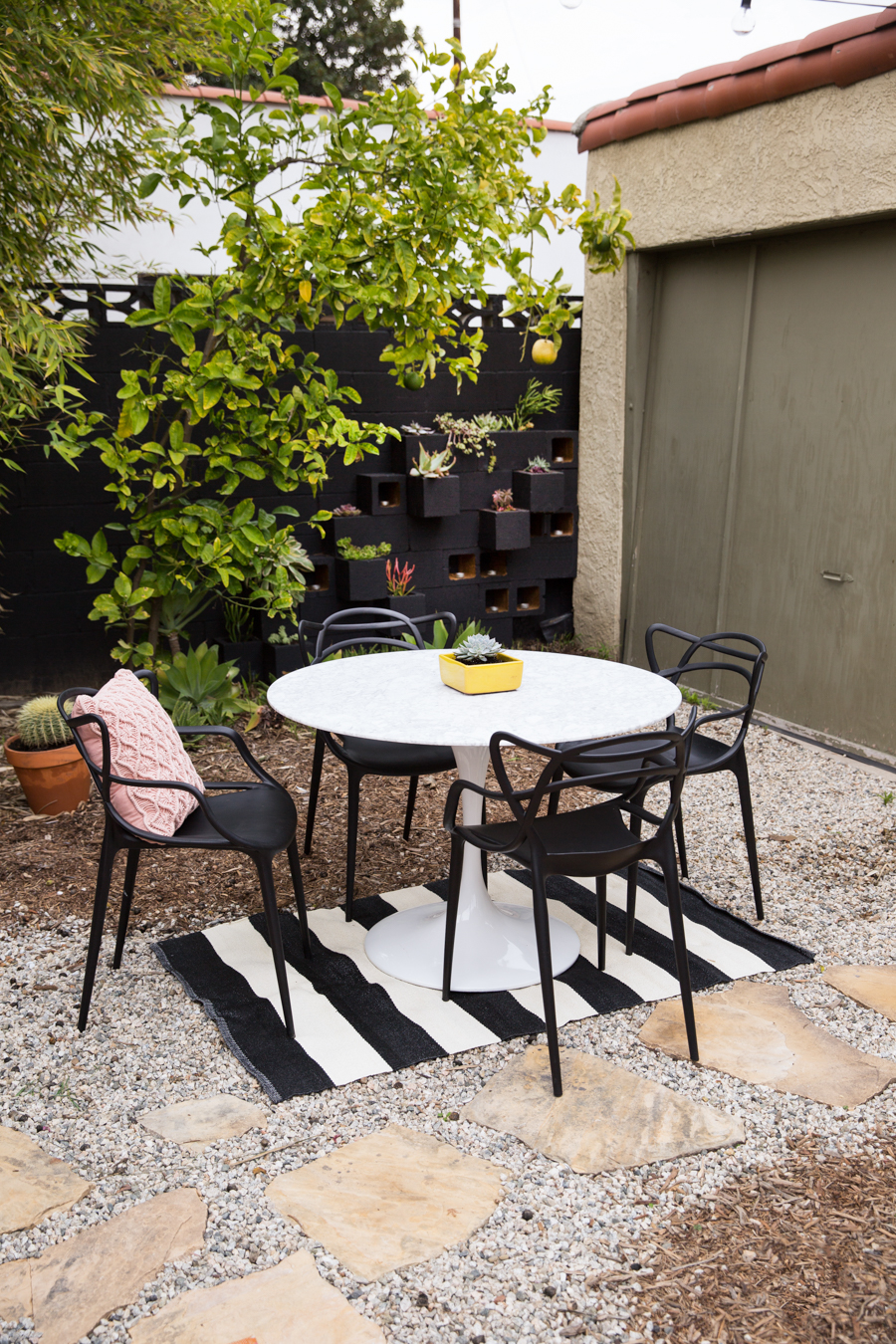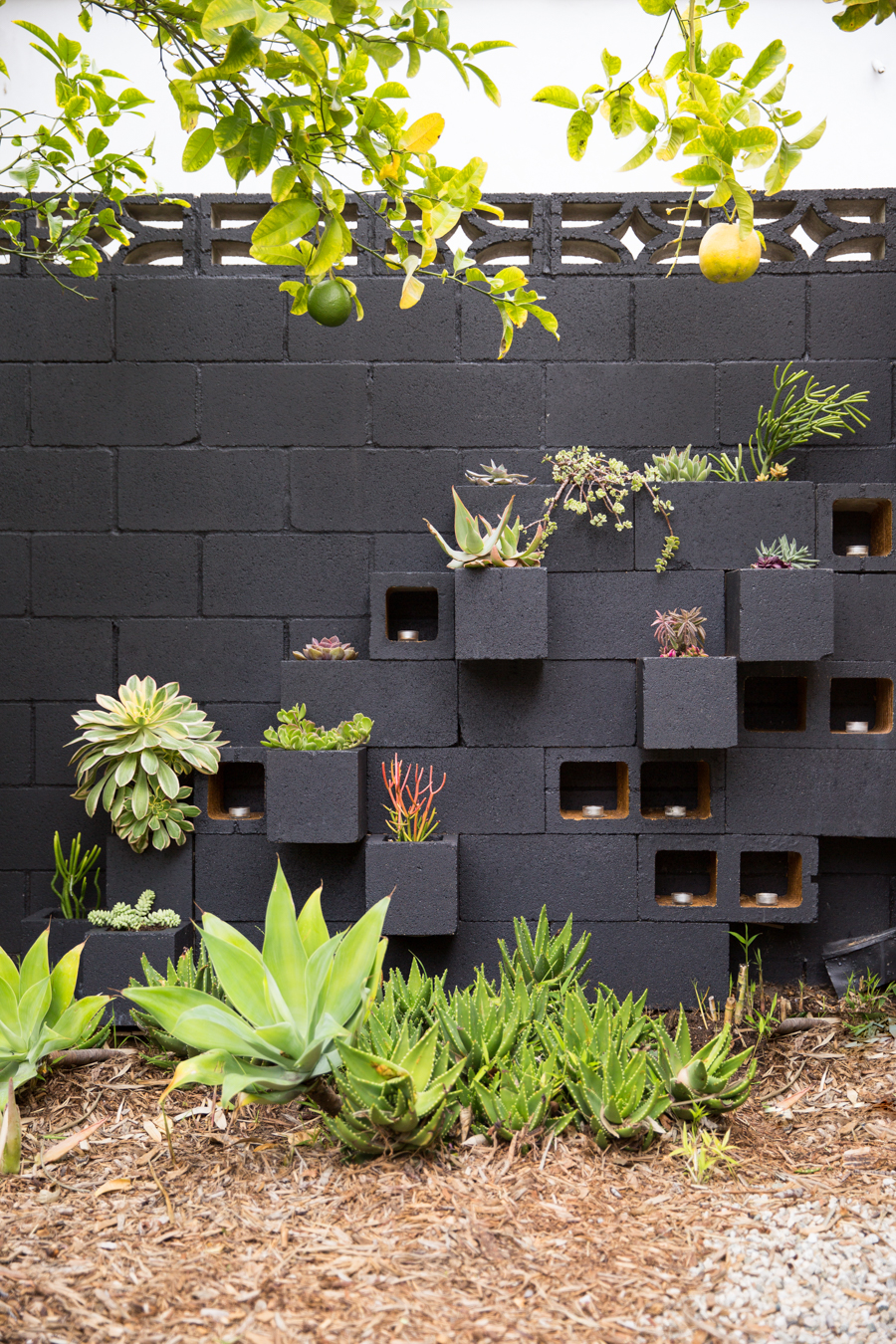 Seriously, how good does that wall look?! I'm obsessed with Jayden. He is such a details guy!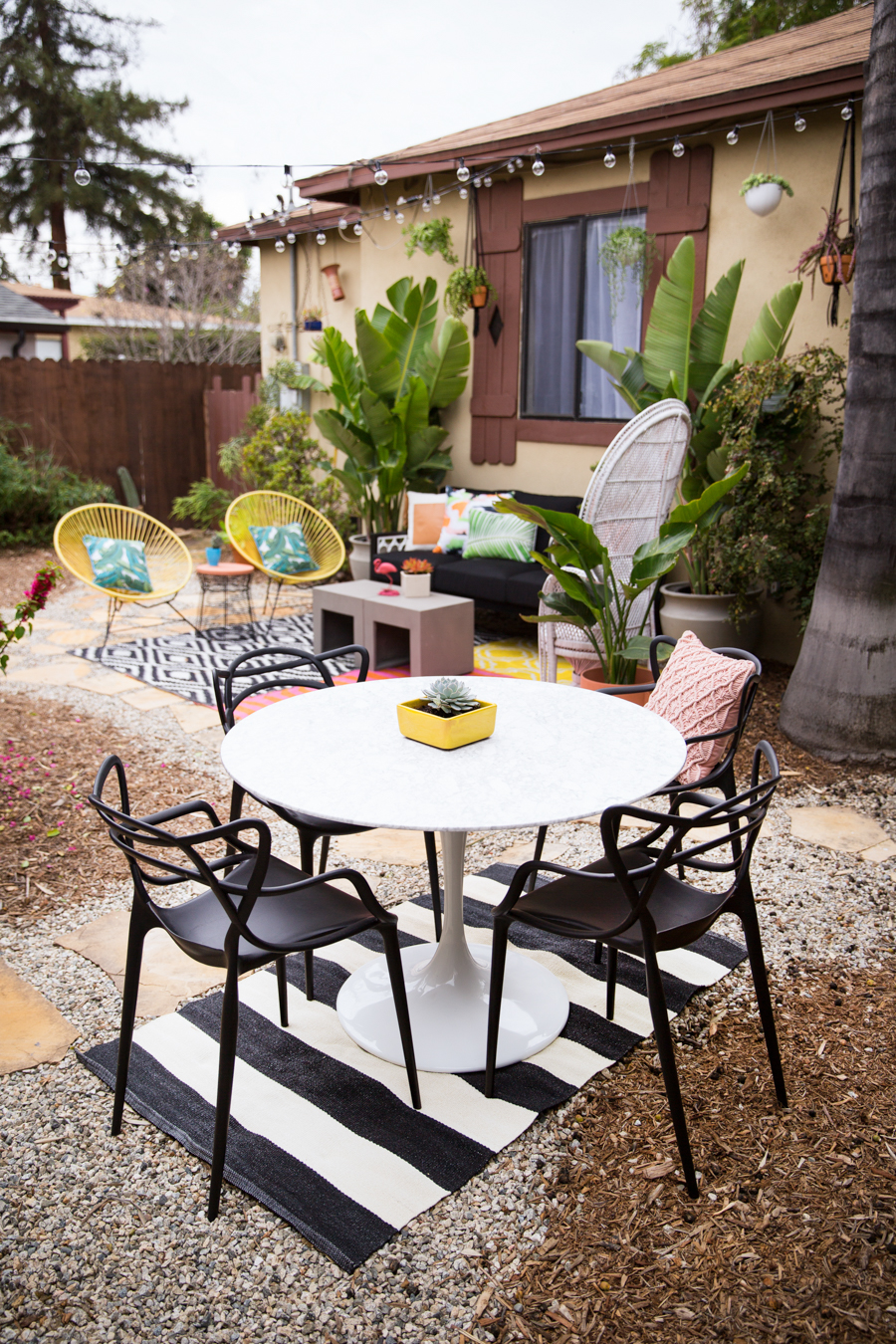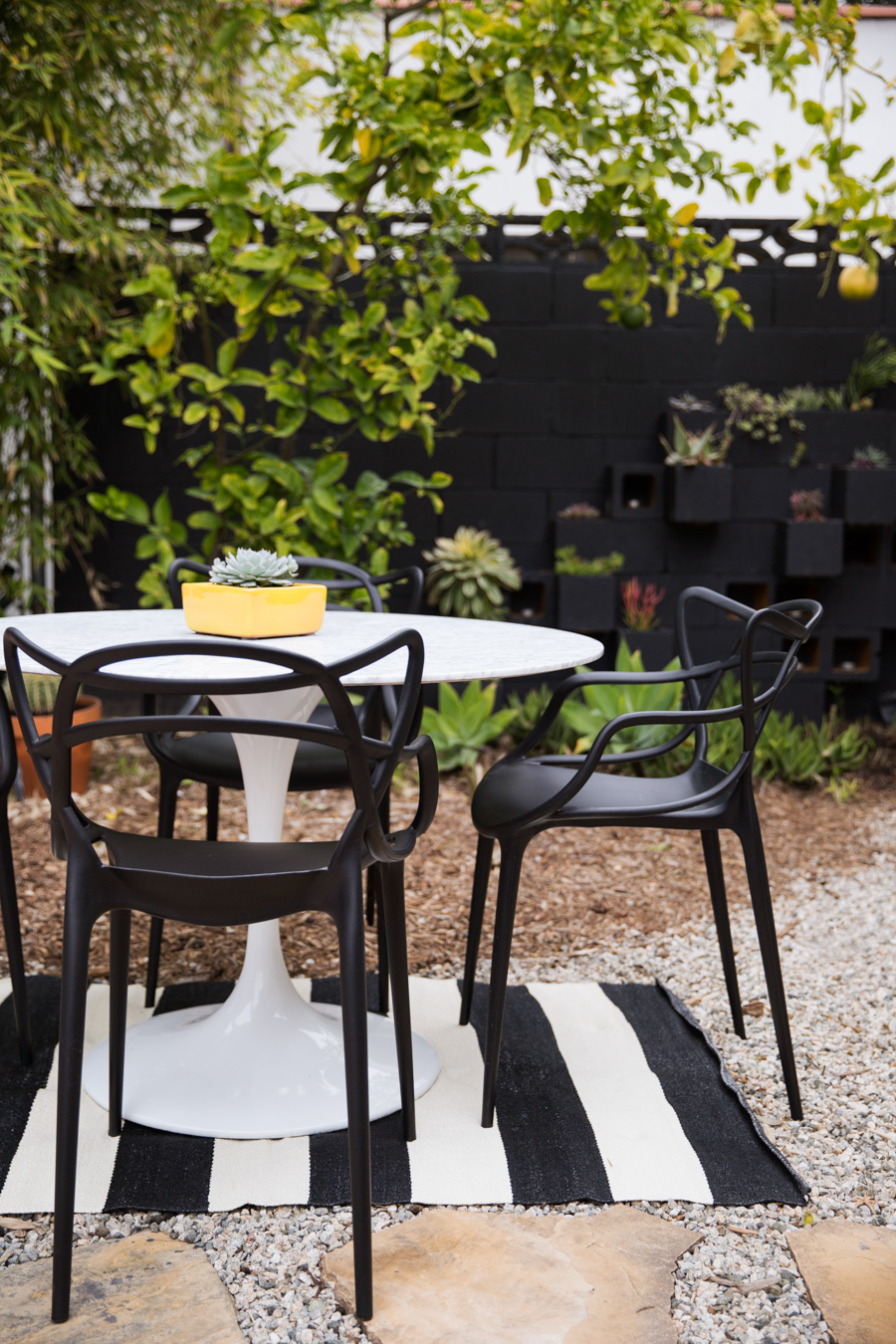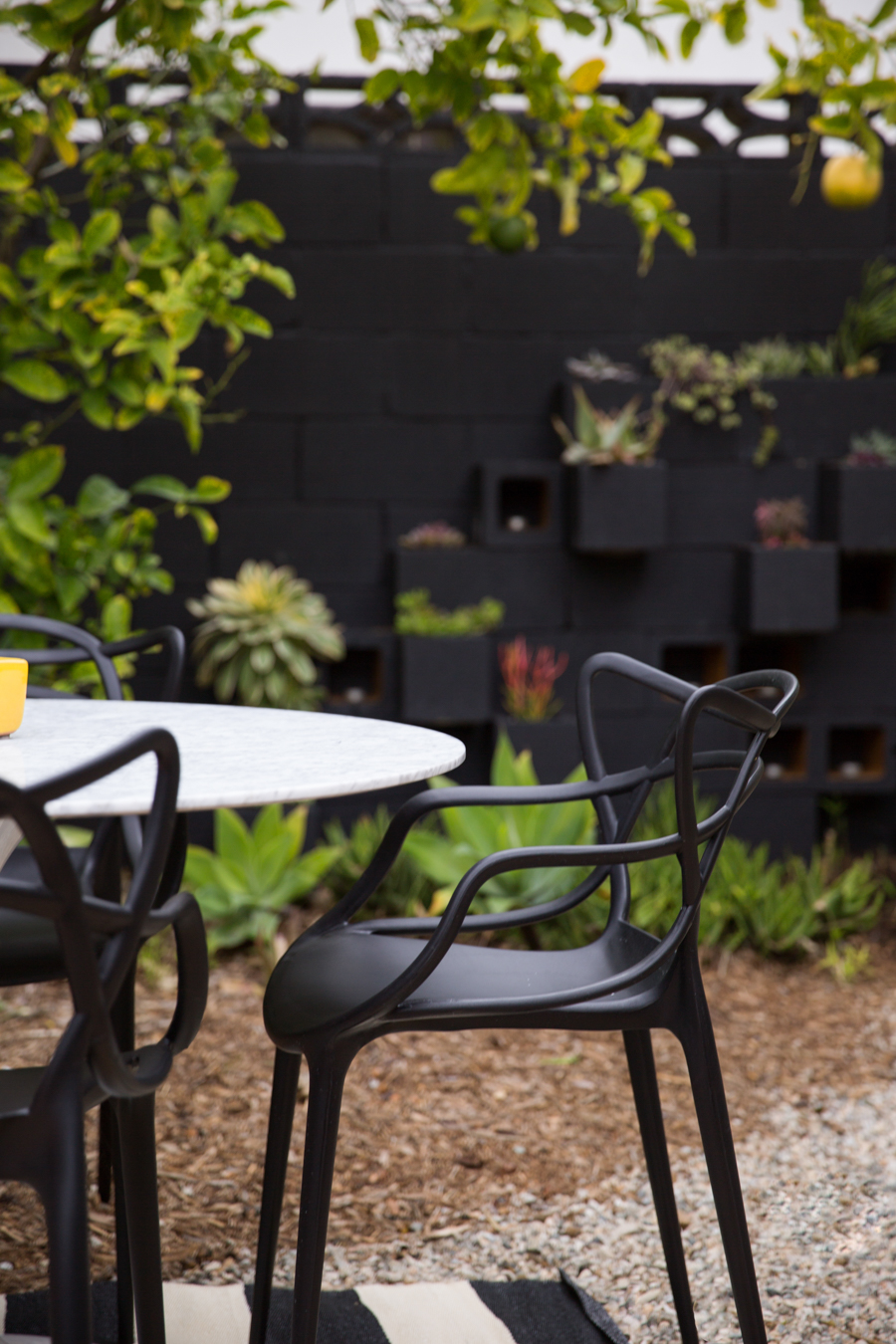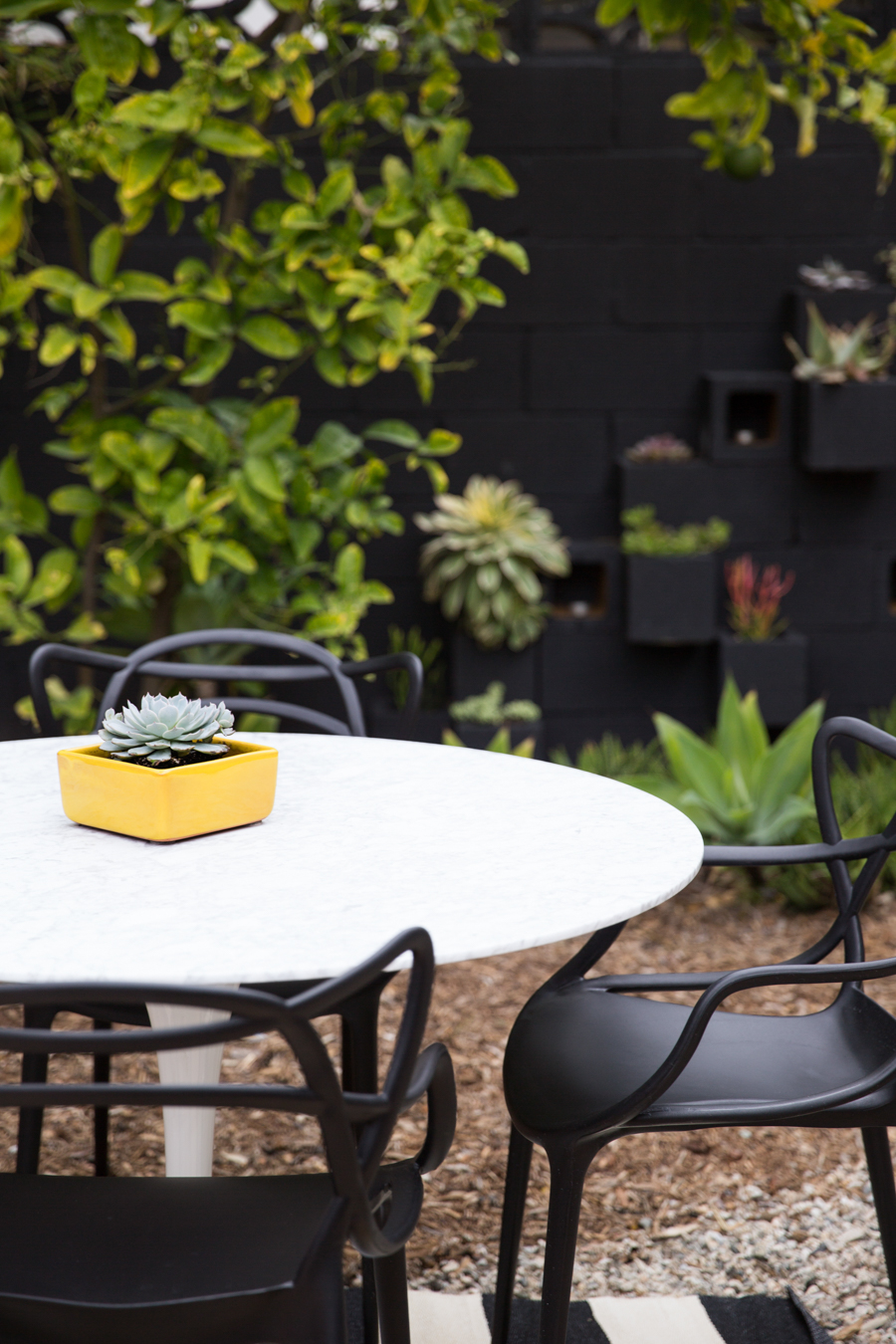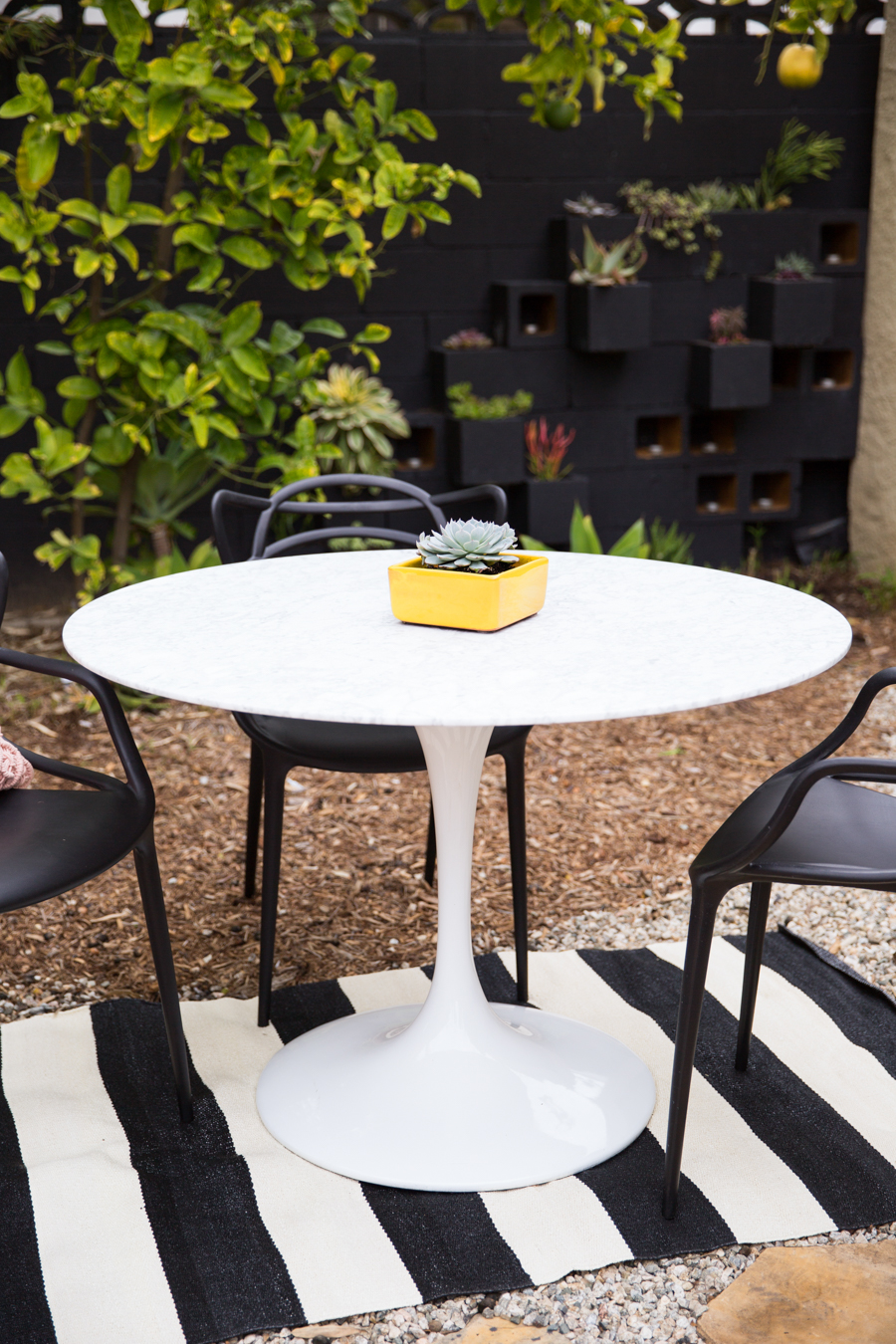 We love our table so much that we often talk about bringing it inside and using it as our main dining table.. haha!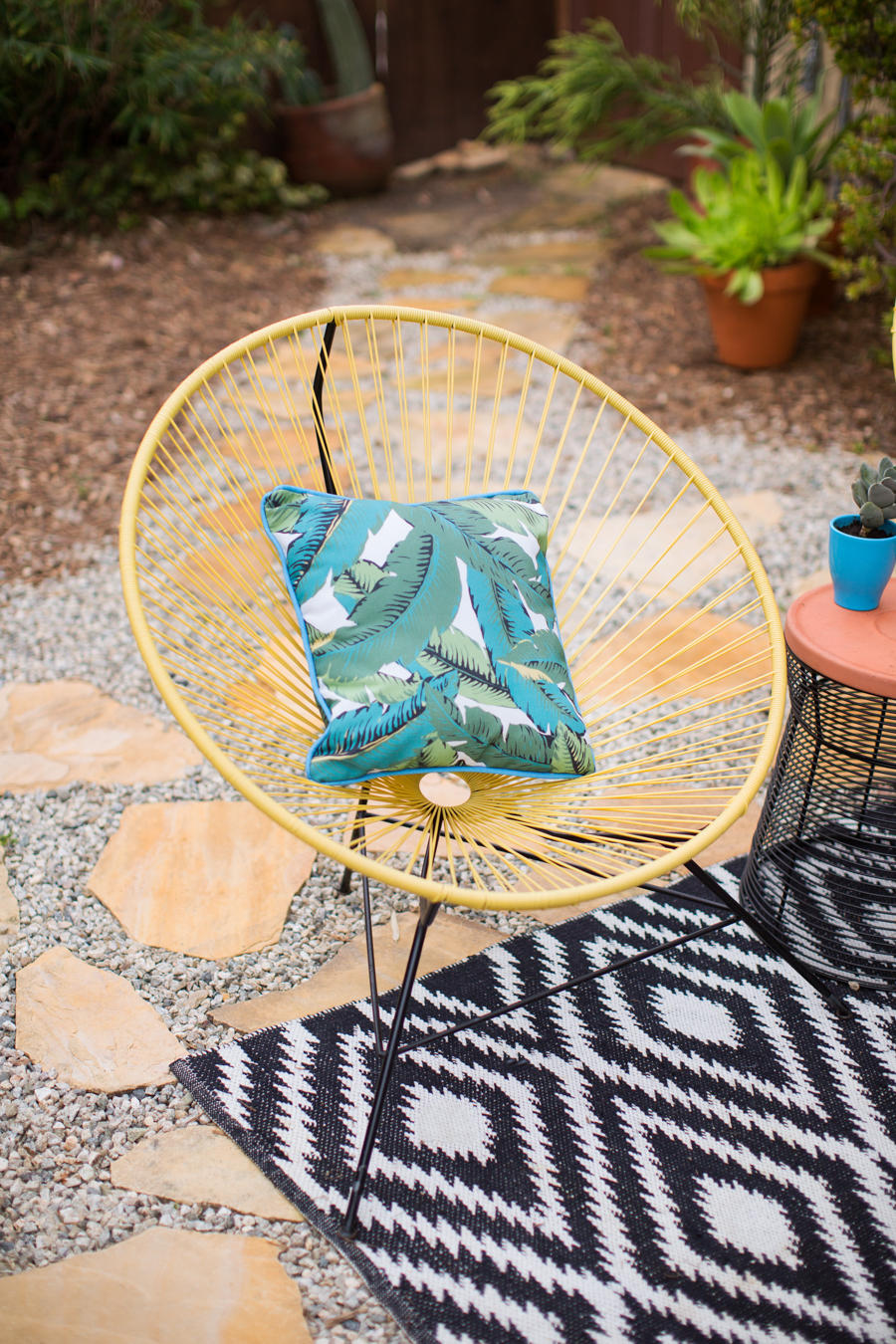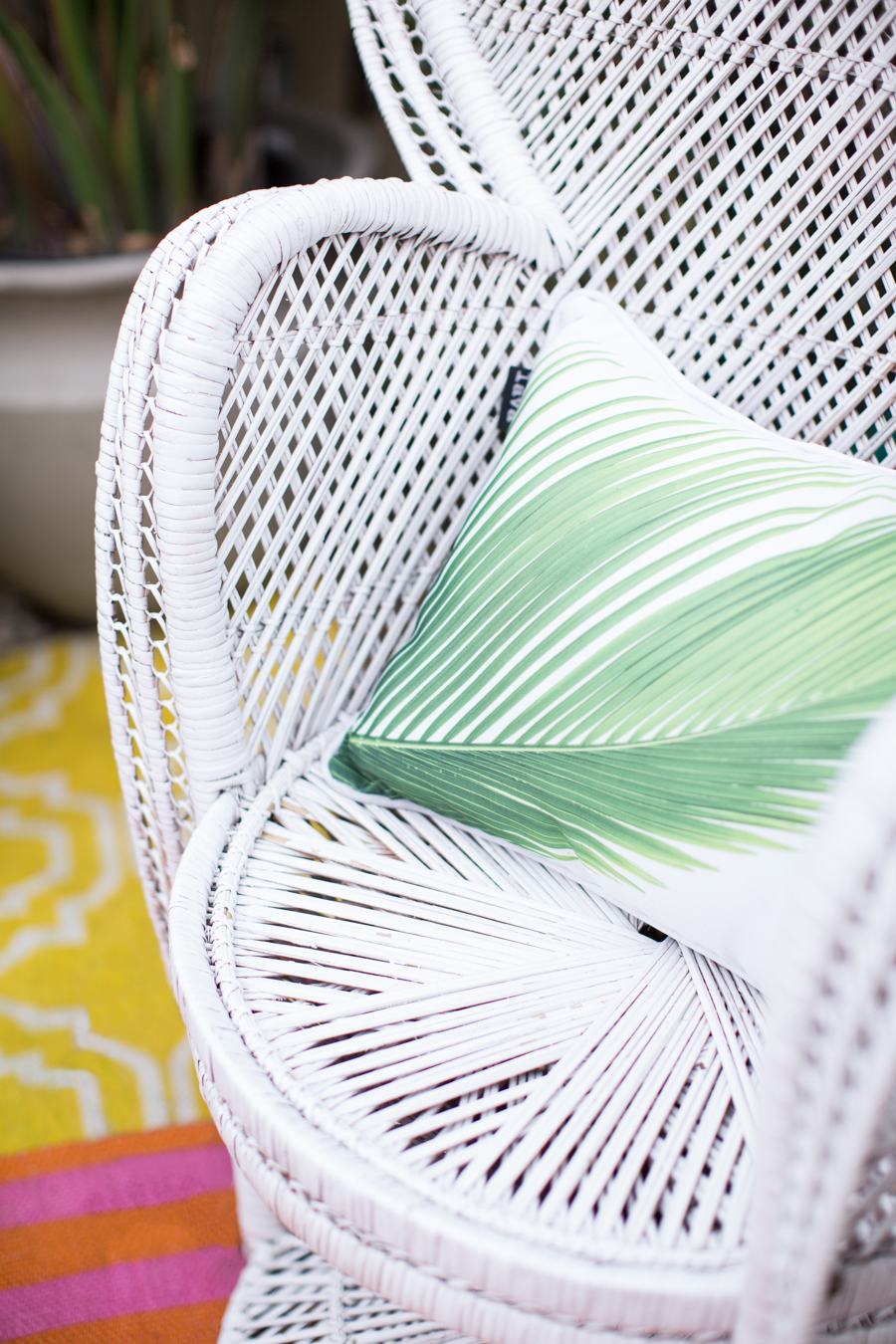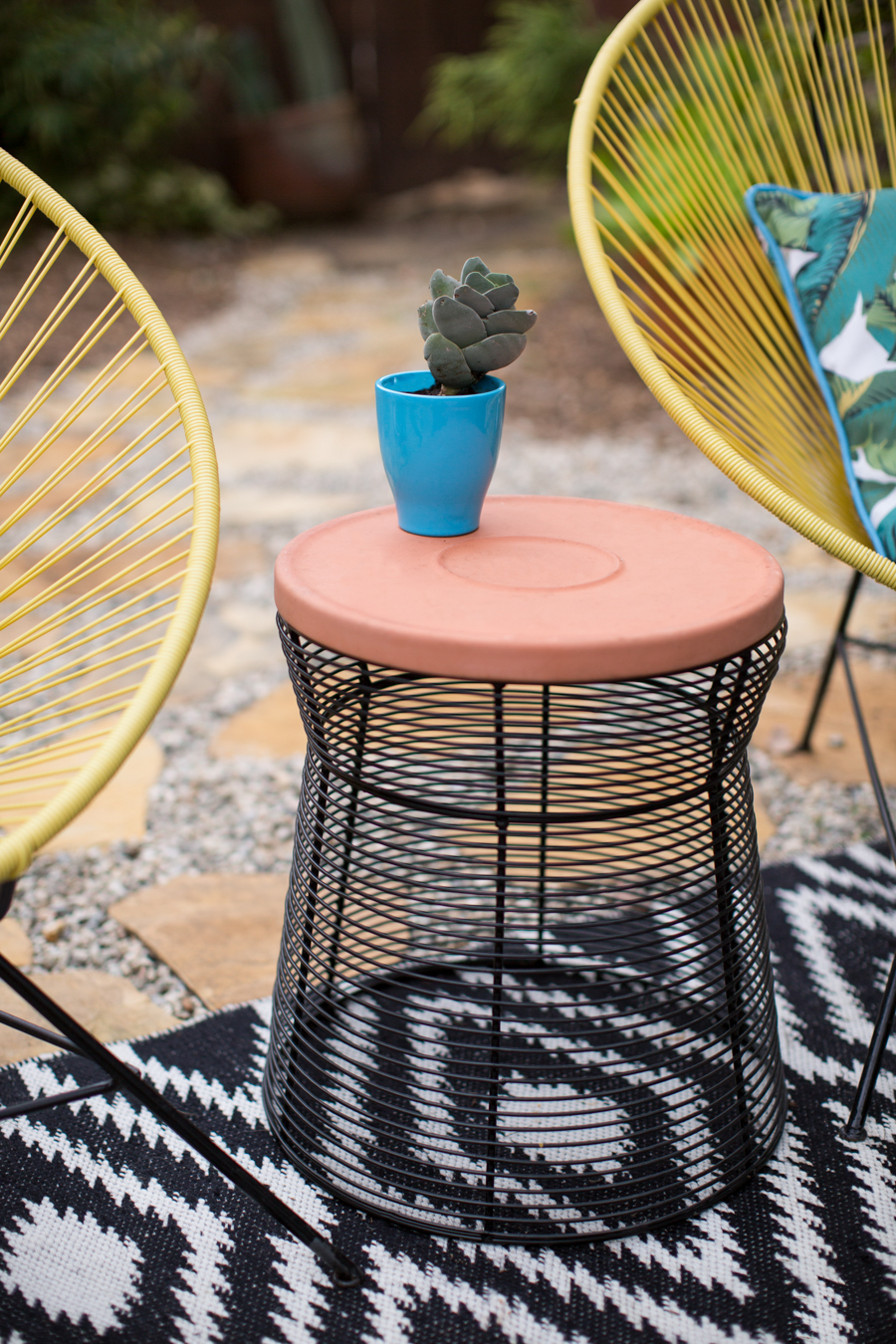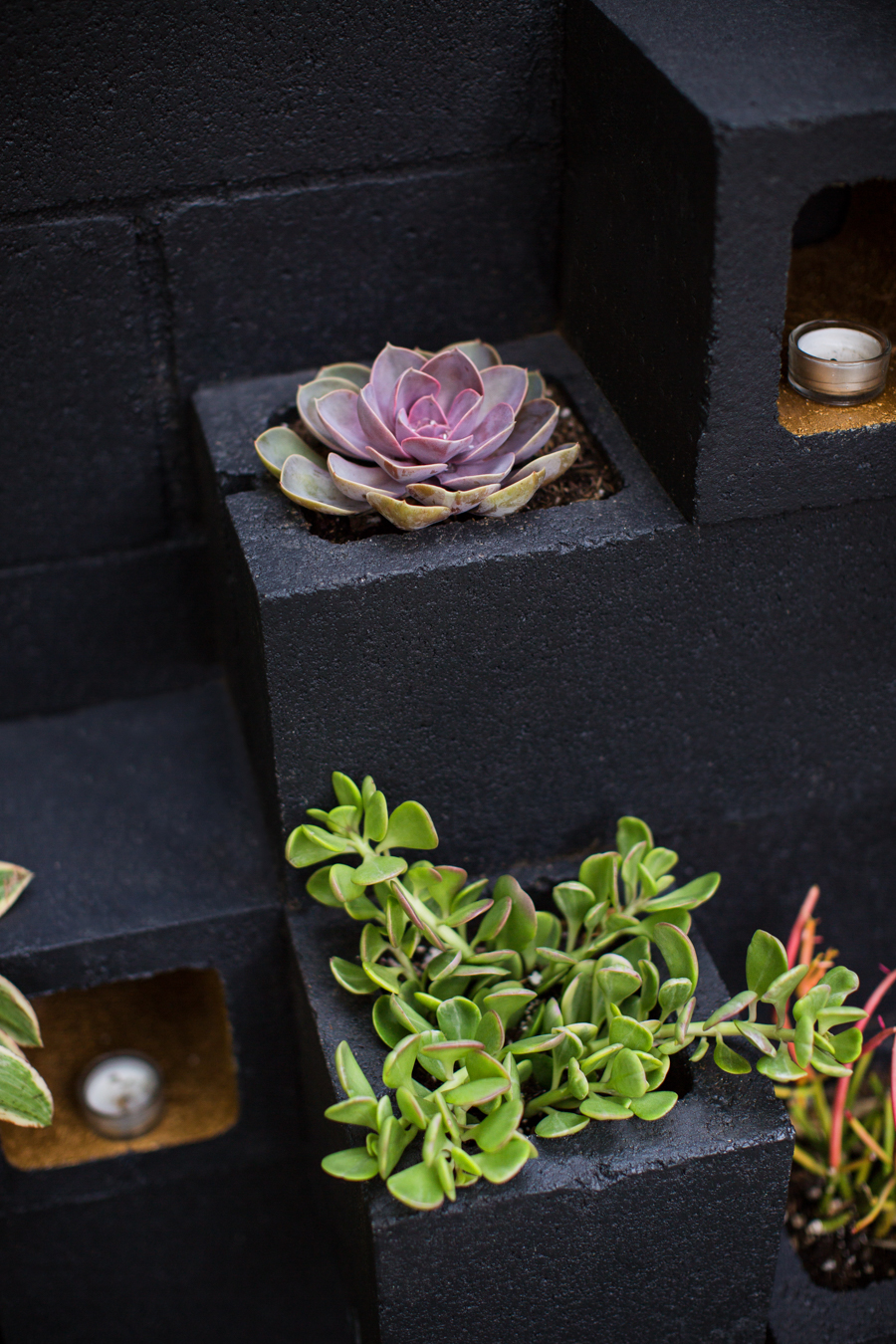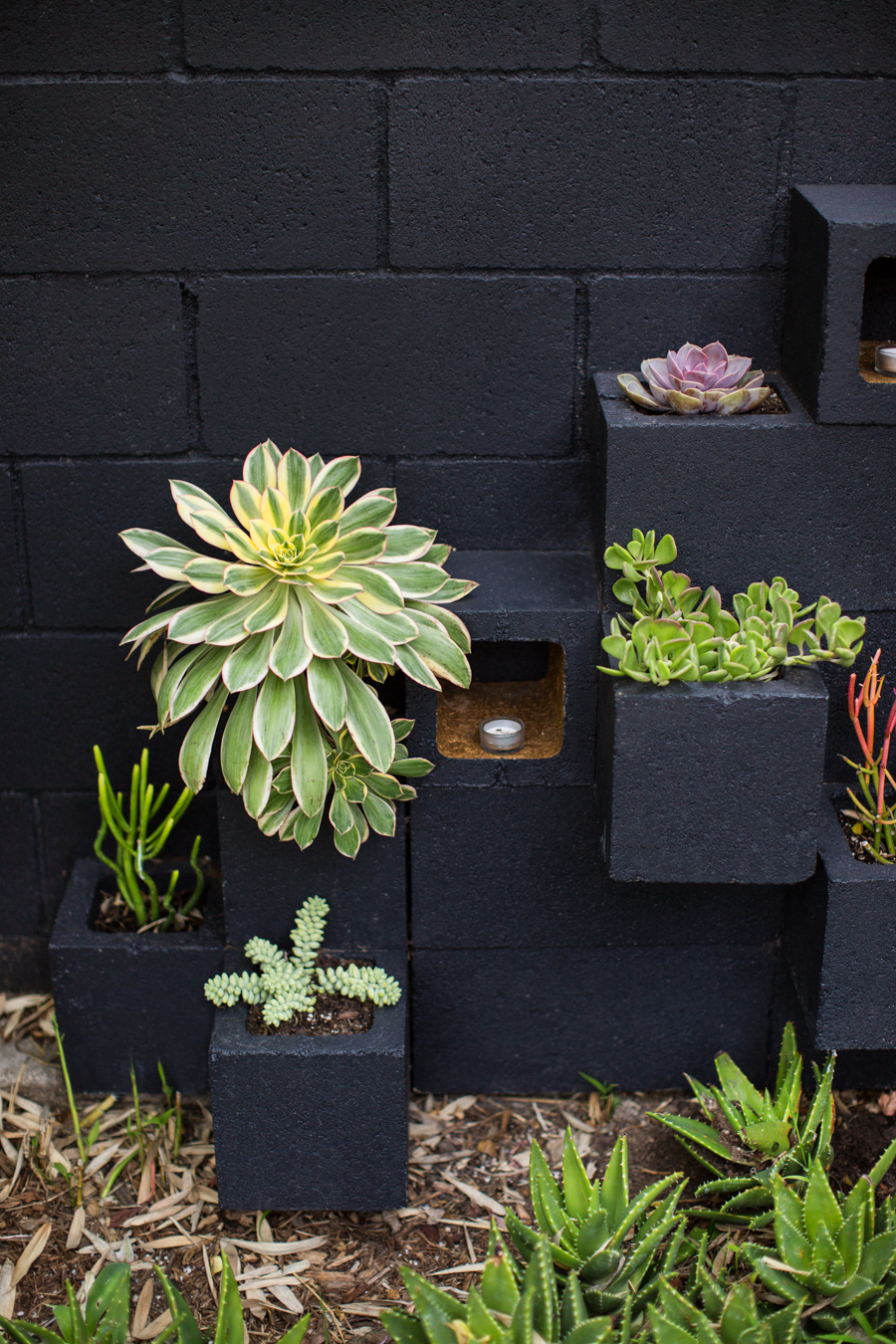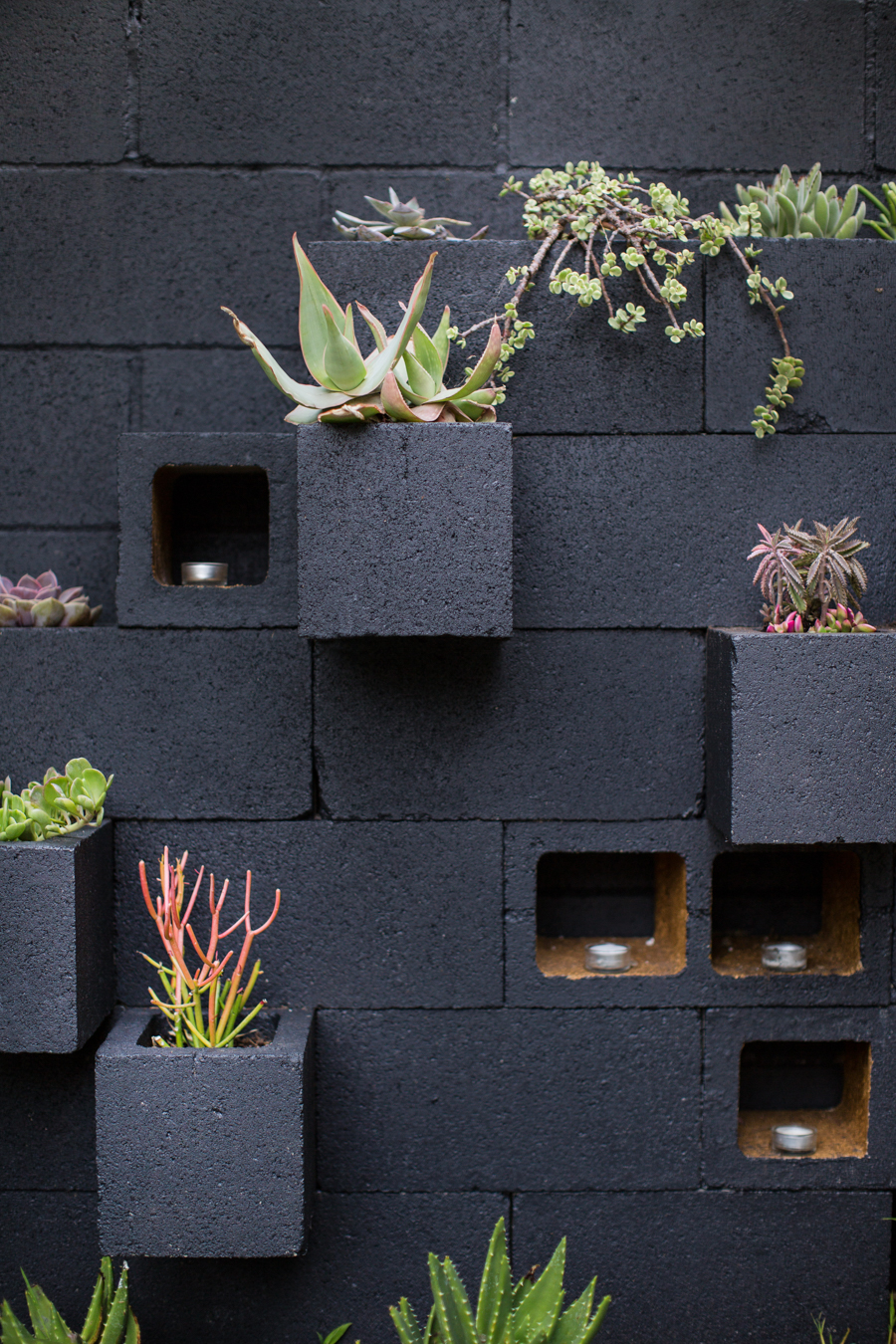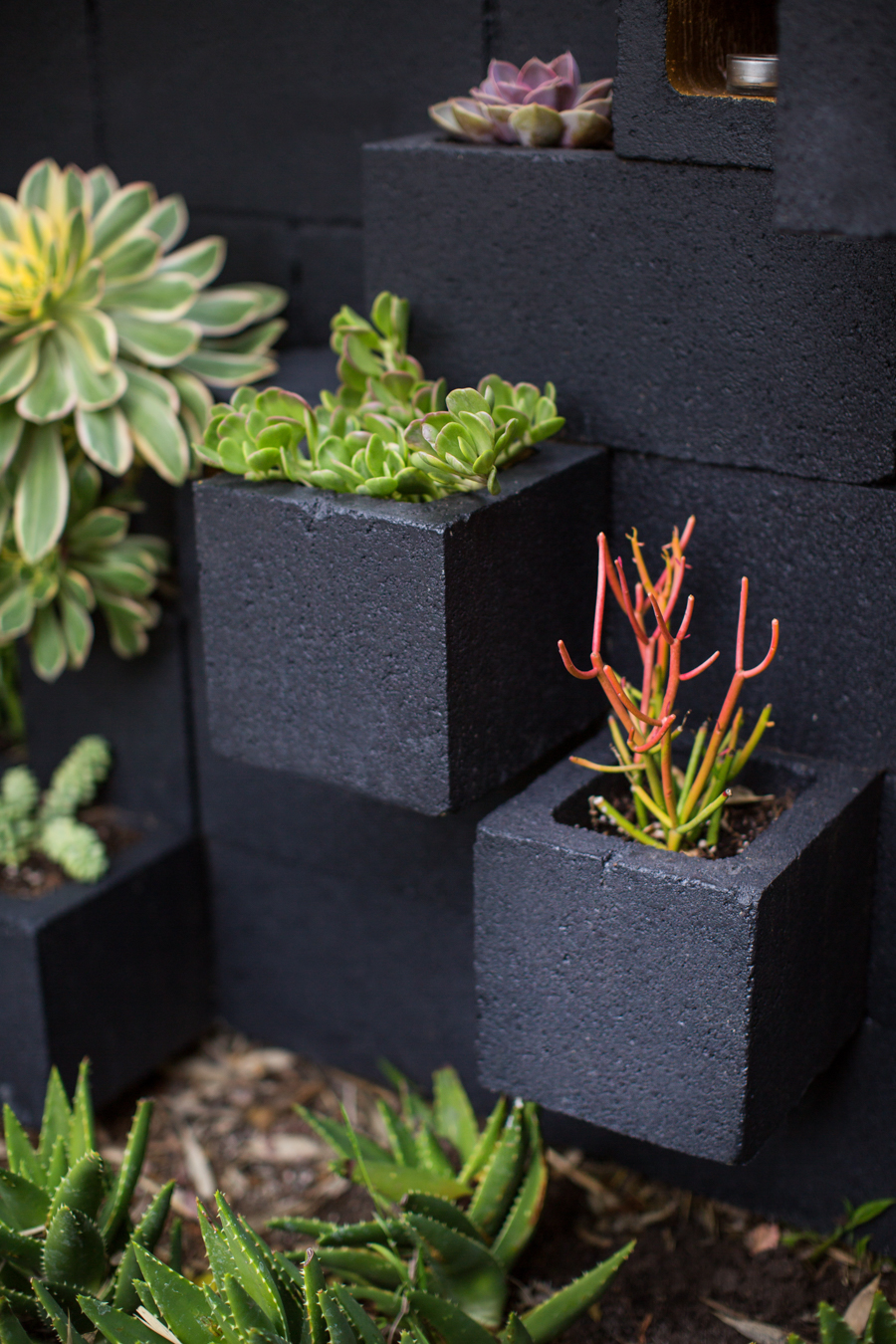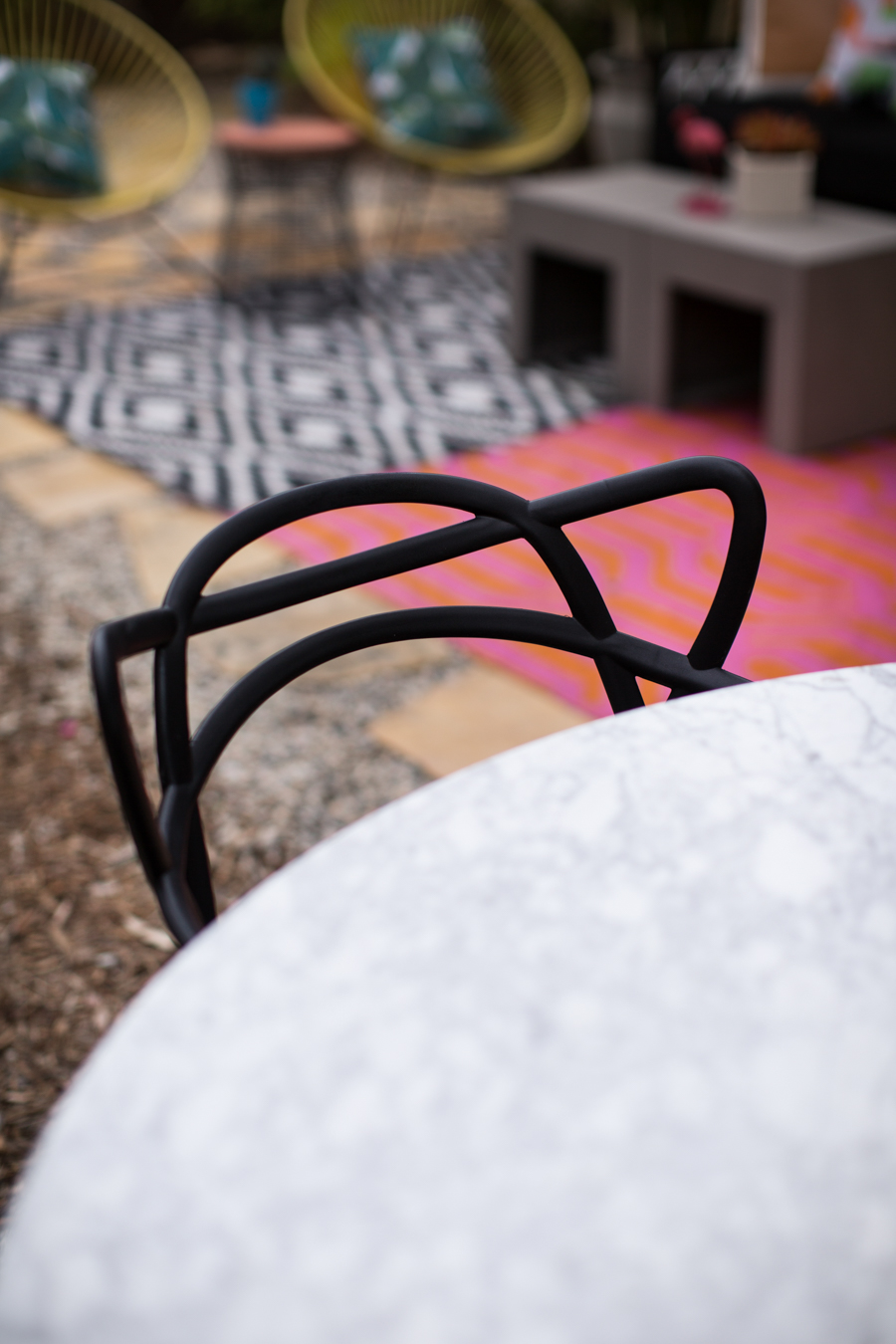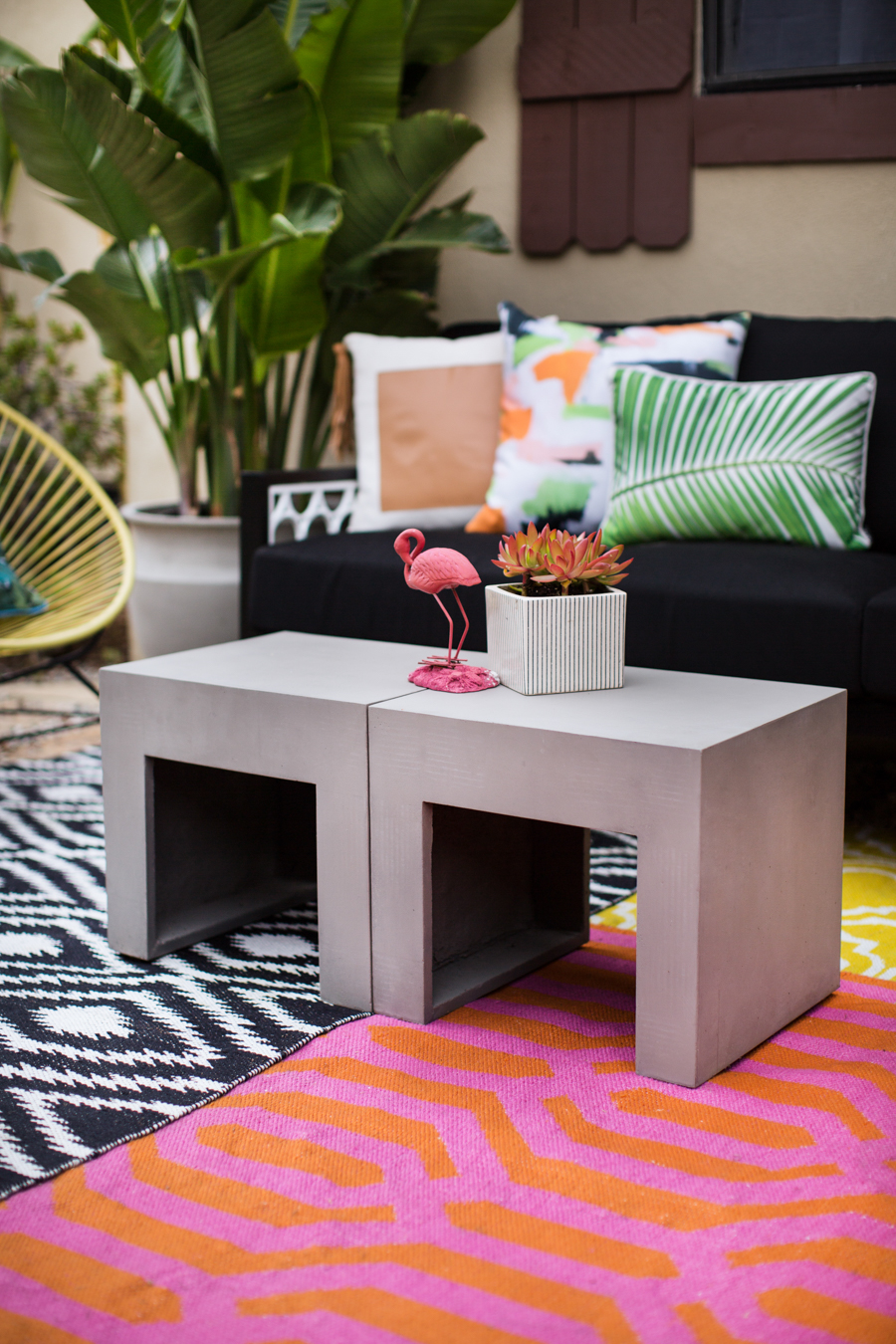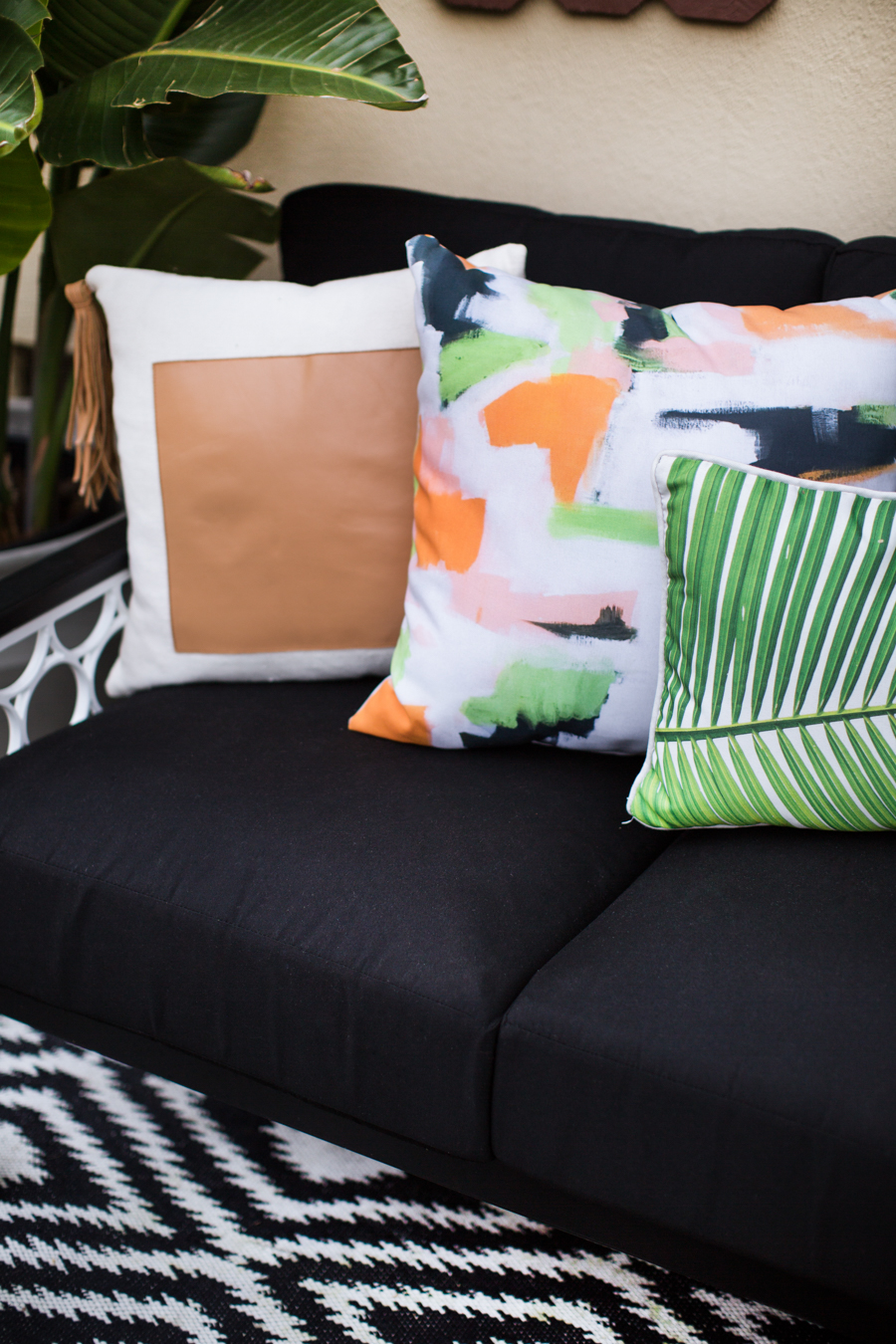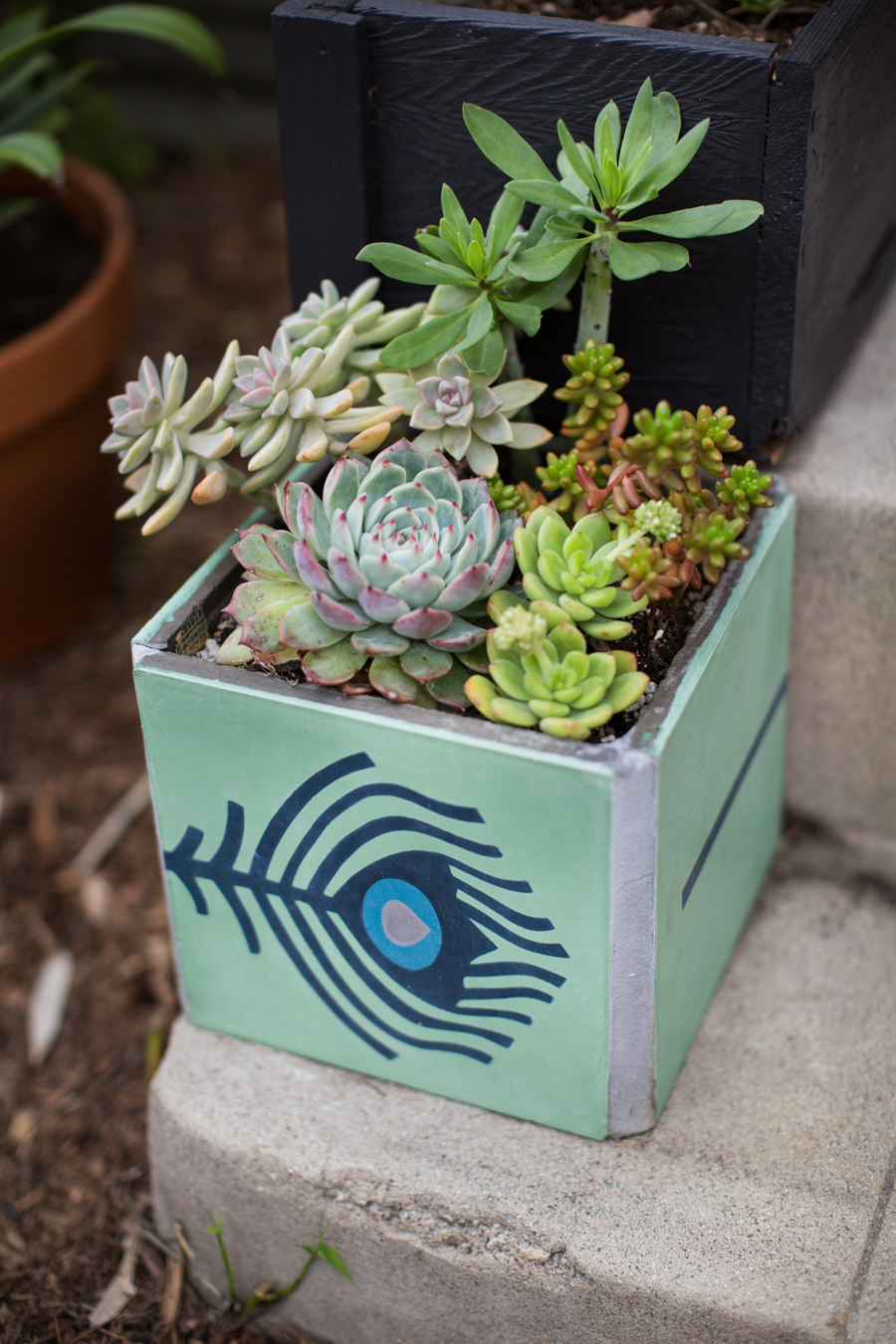 Annette (from Potted) made that box using tiles! How rad is that?! The tutorial is in her gardening book coming out soon…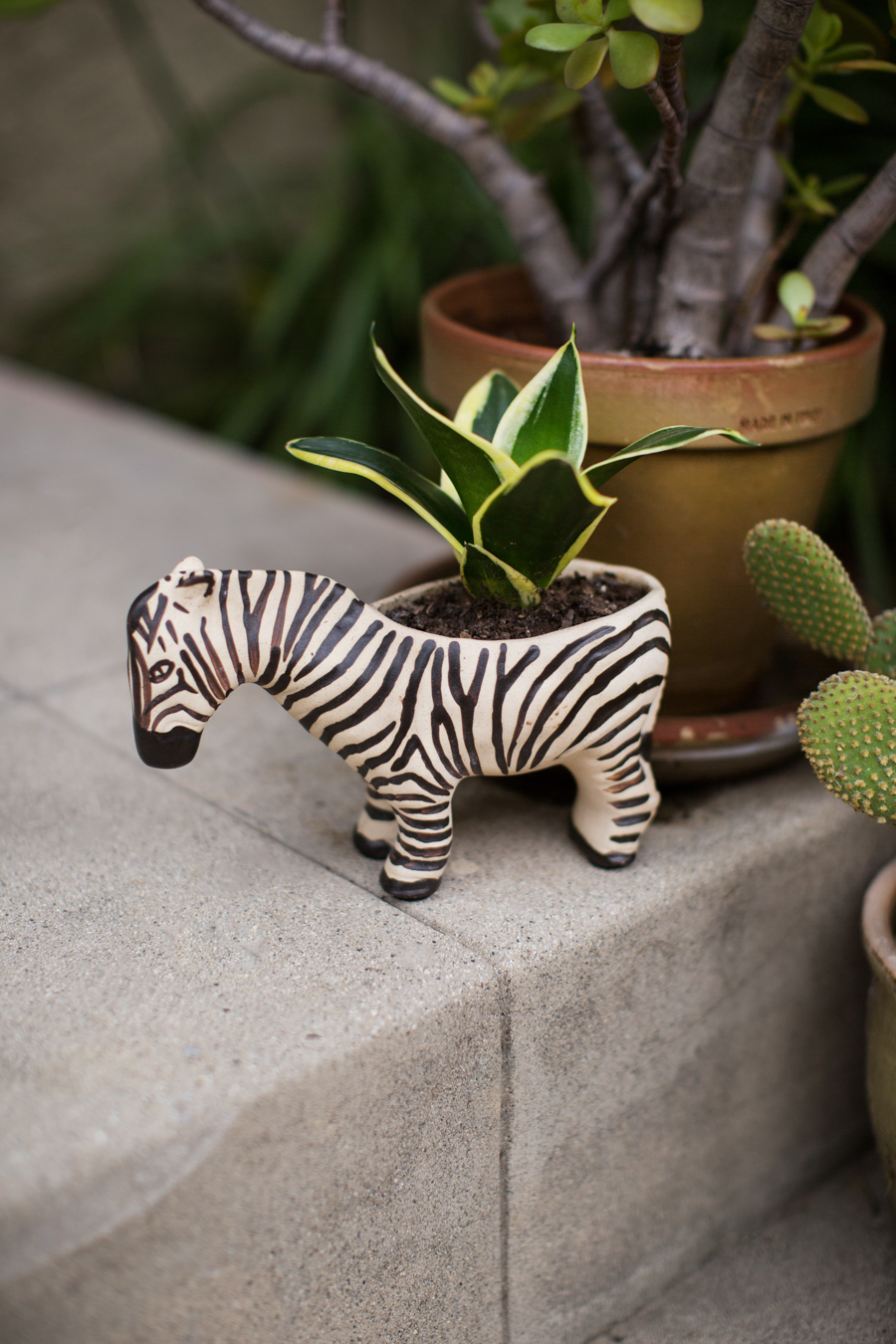 Mr. Zebra, a birthday present from my amazing mum-in-law.. I think she may have found it at Anthro?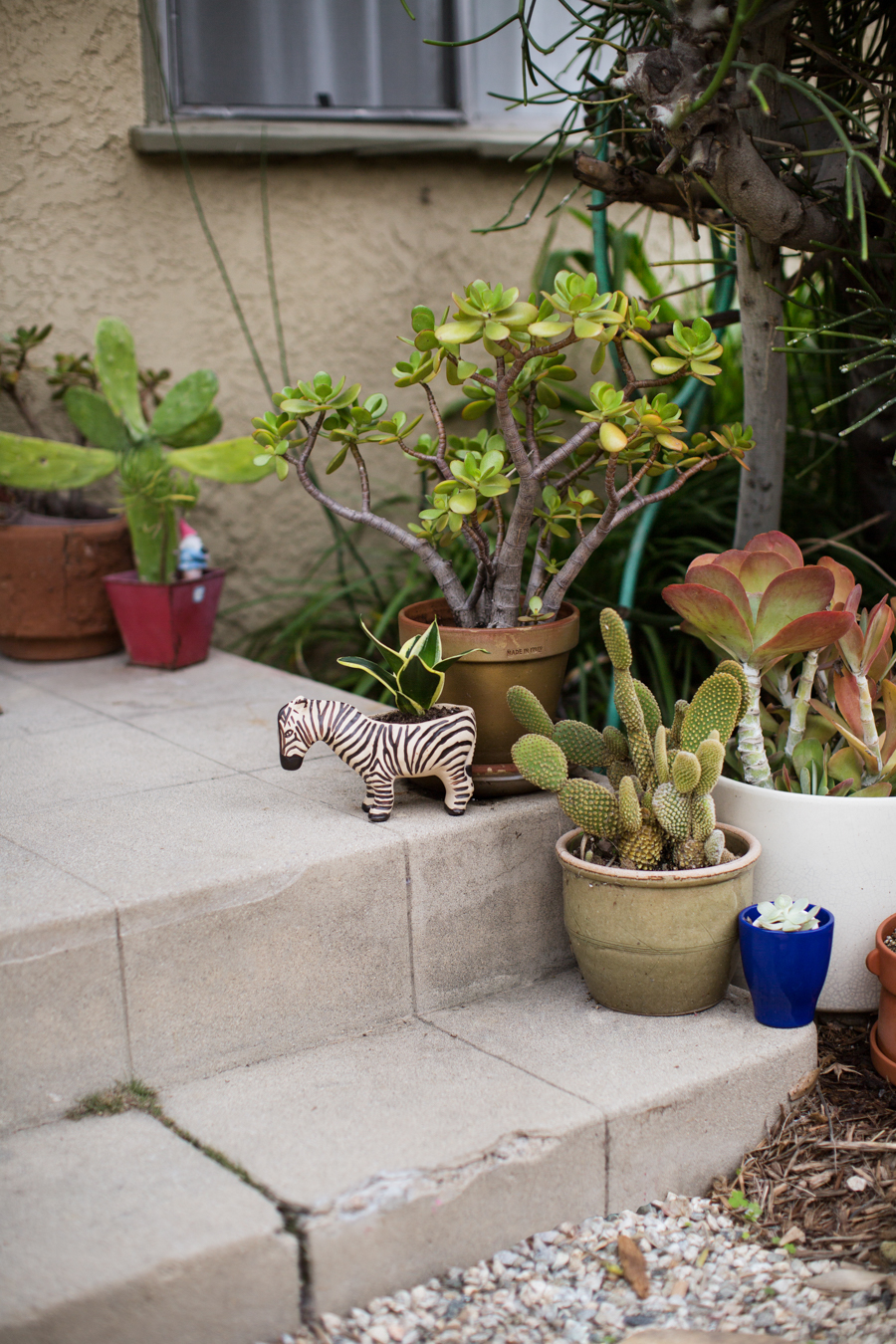 Jayden got me my little nudie pot for Christmas by Knotwork LA.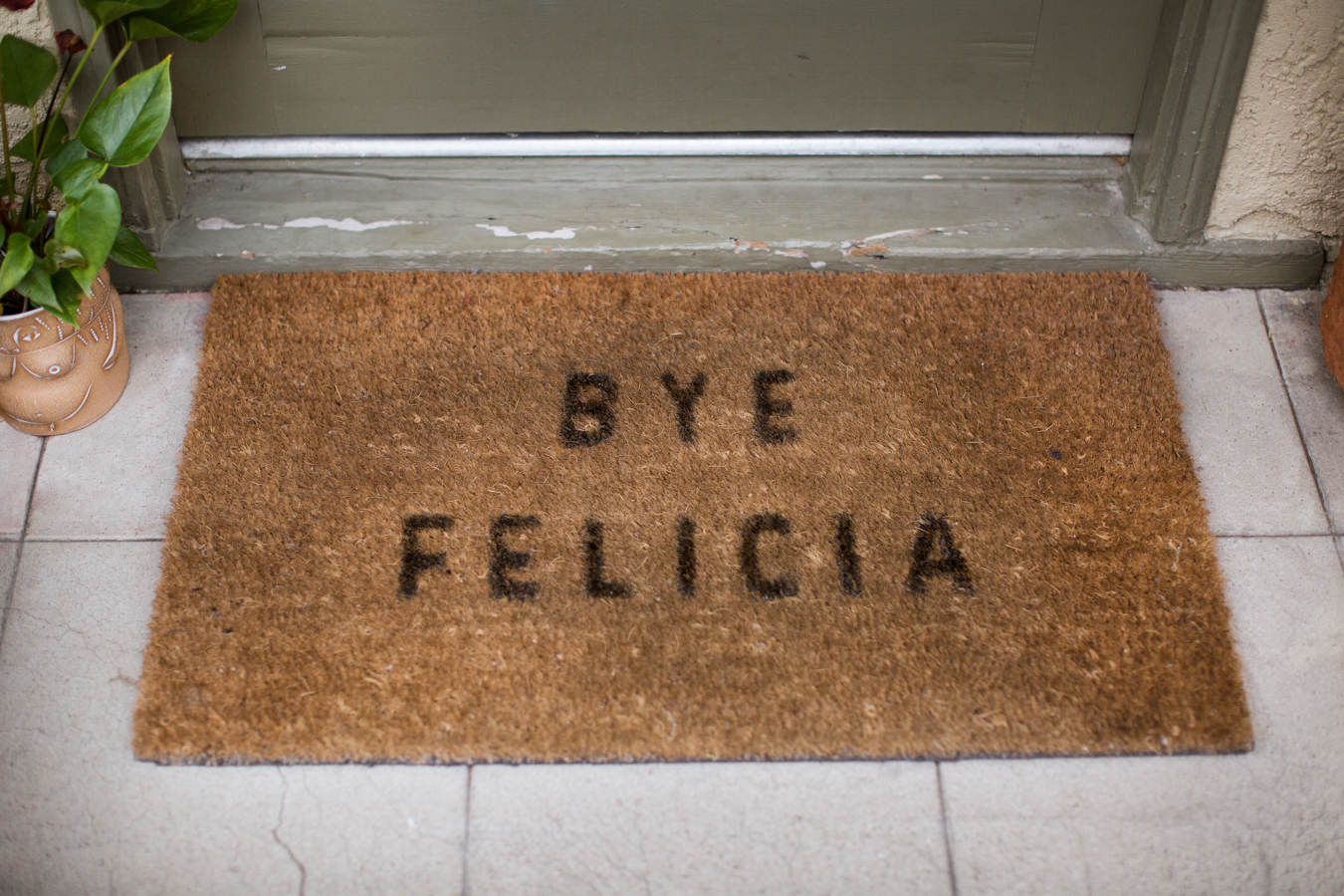 Bye Felicia door mat by Shop Josie B on Etsy.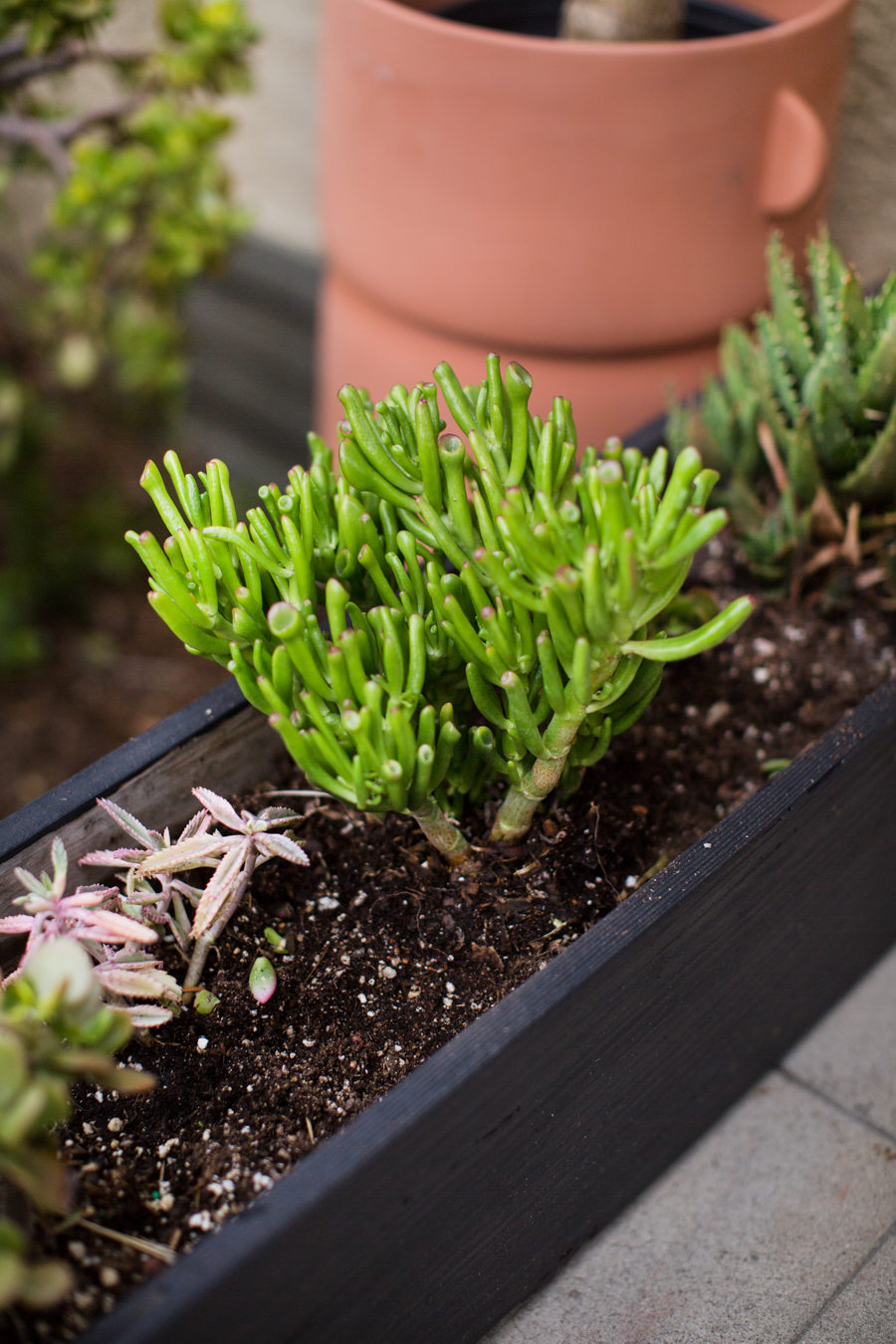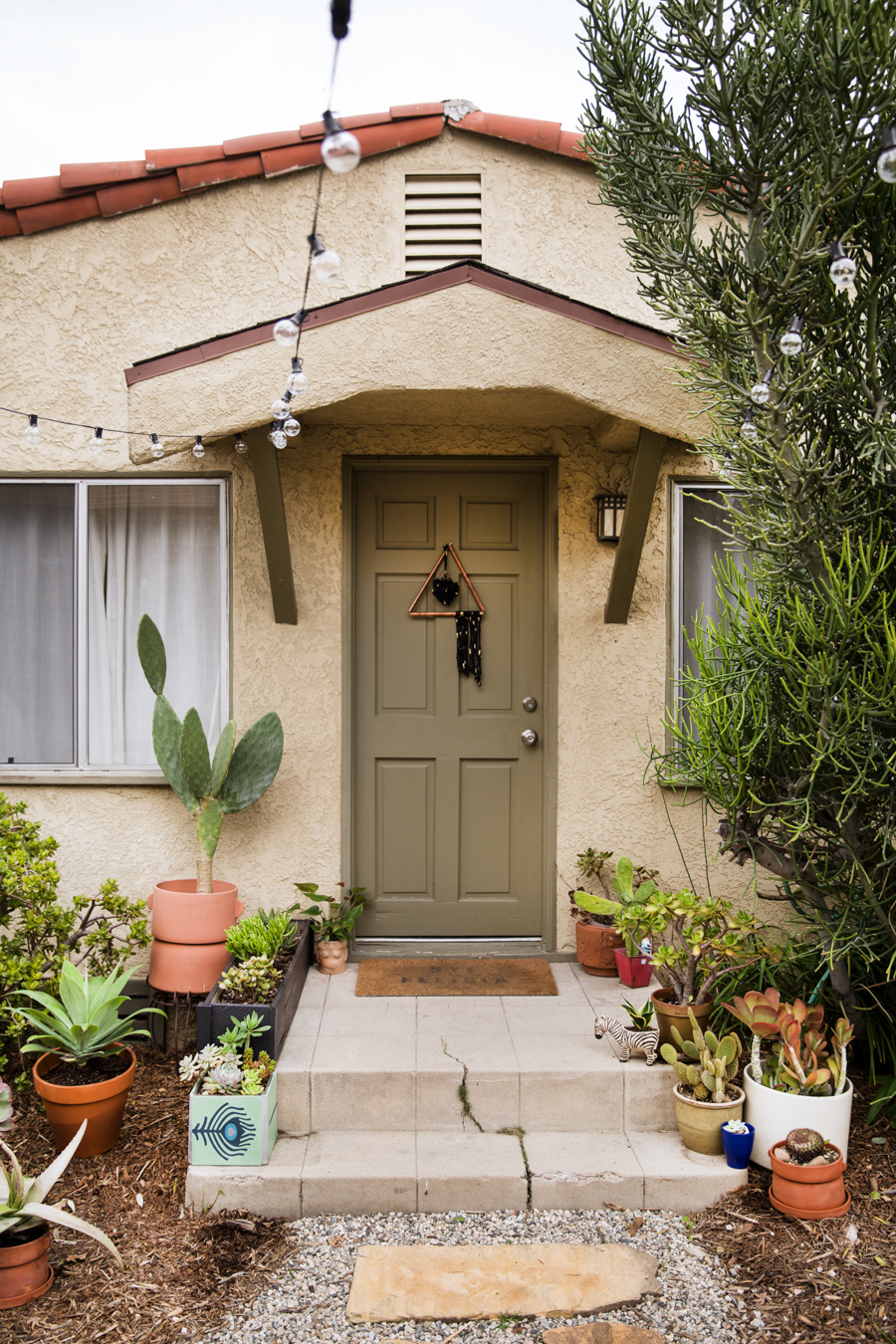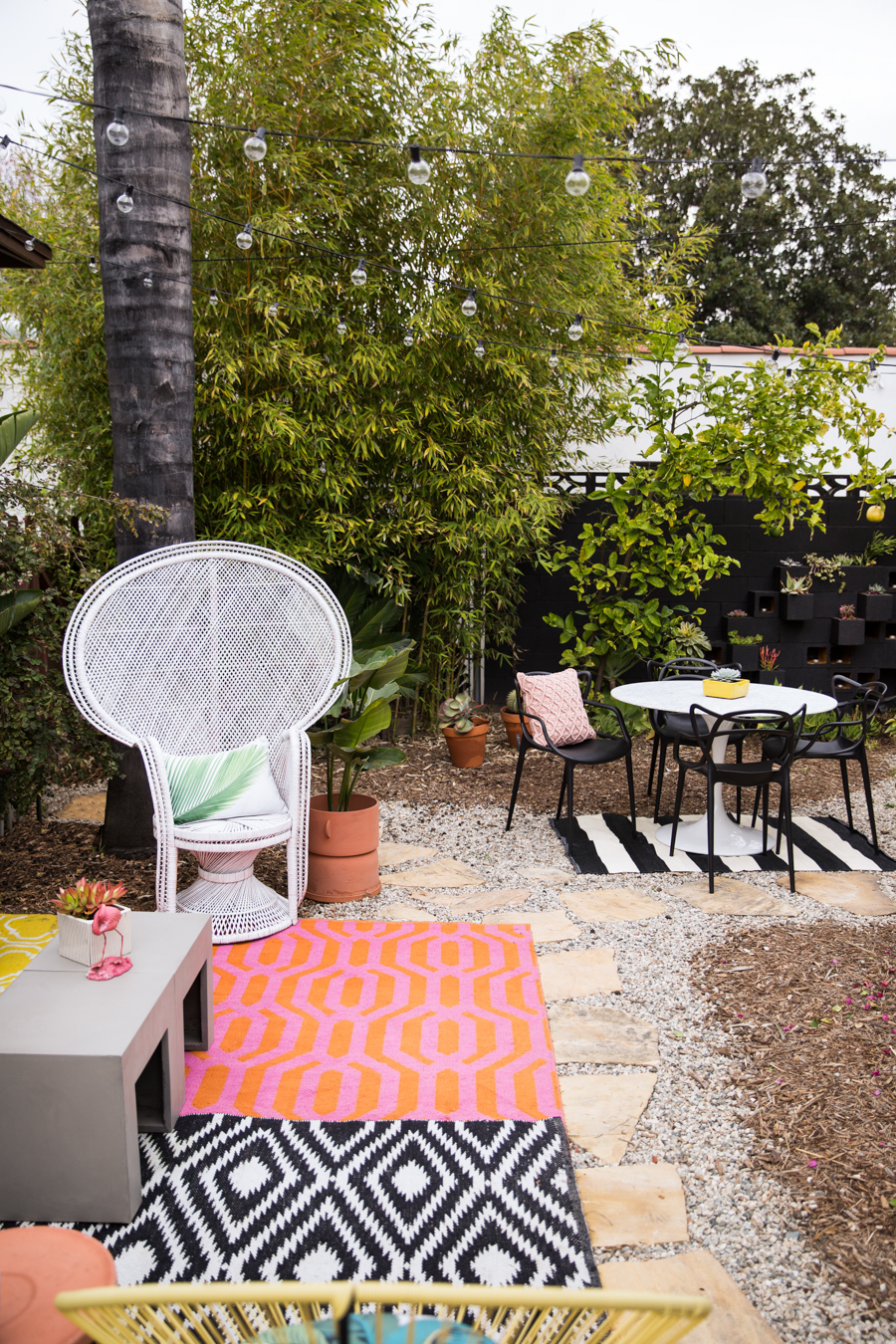 And now, for a glimpse at how great the space looks at night!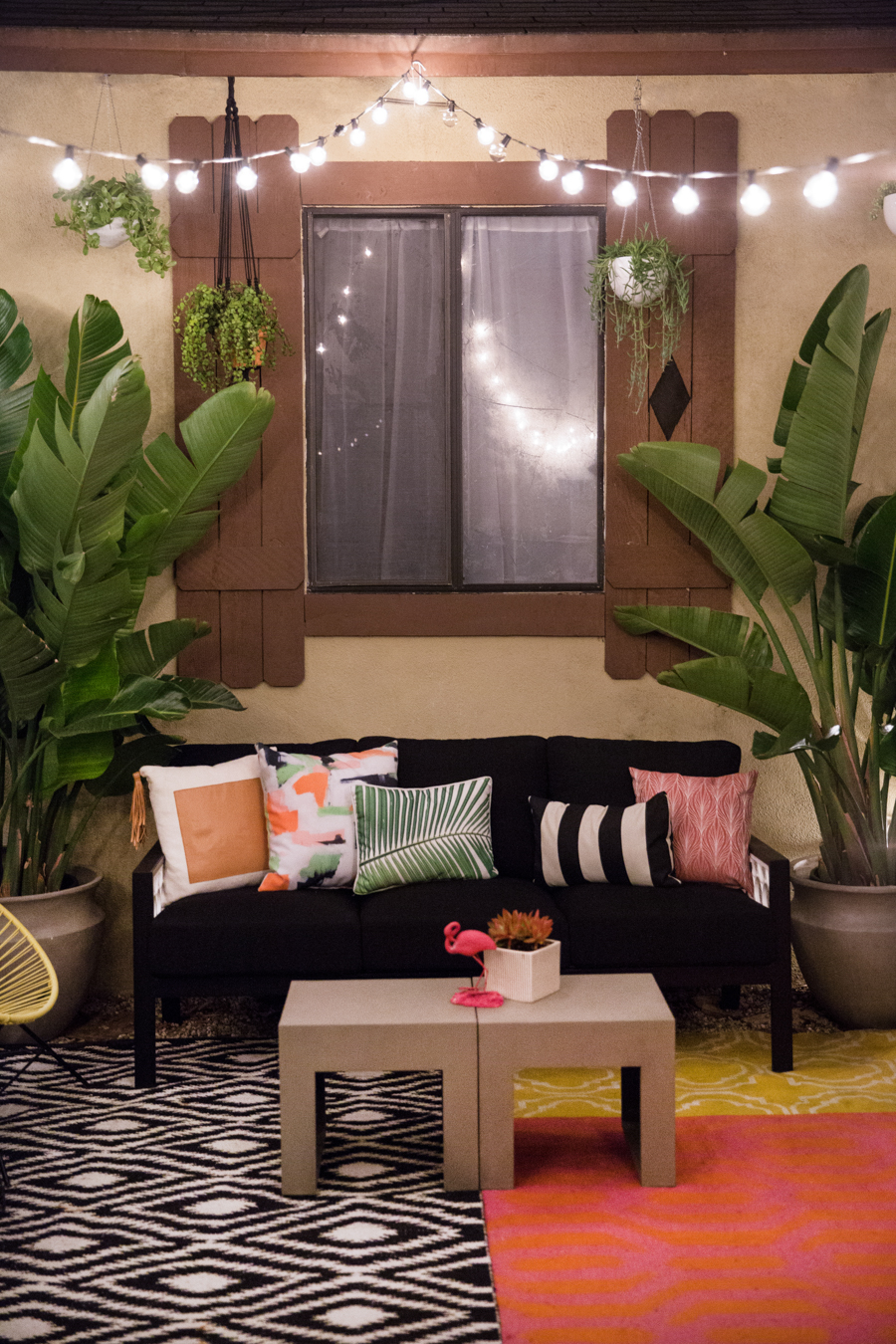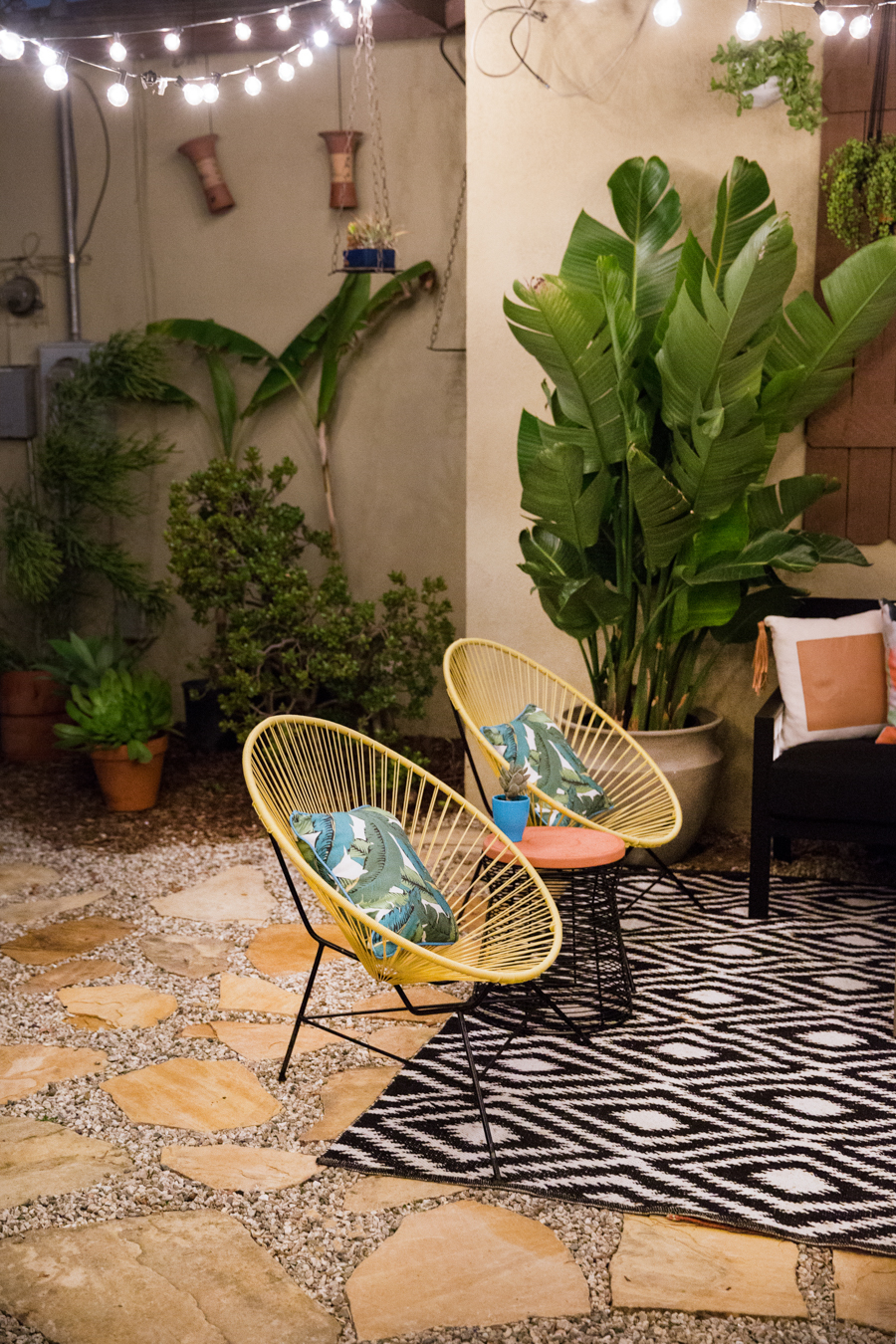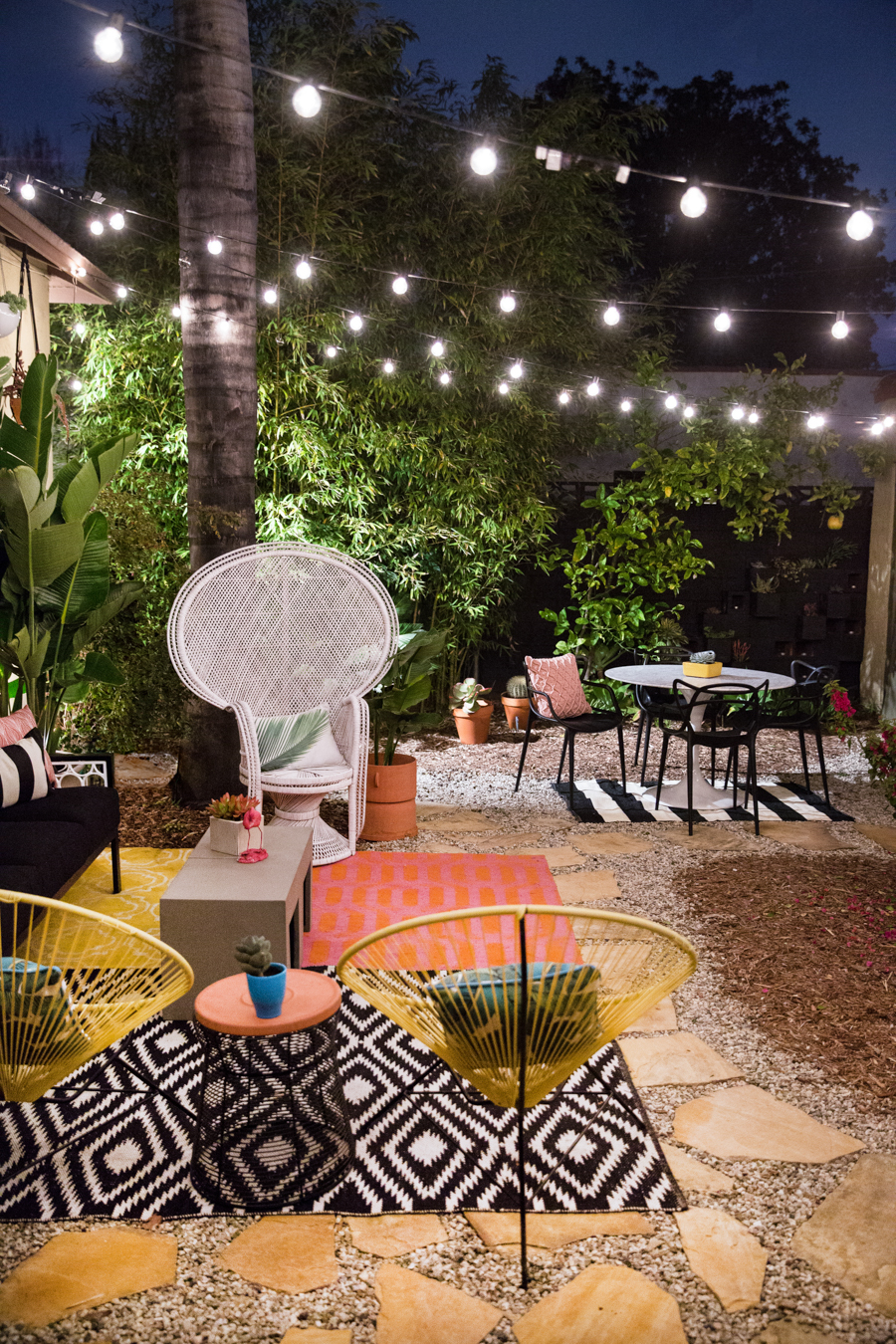 Yup, I still love it just as much.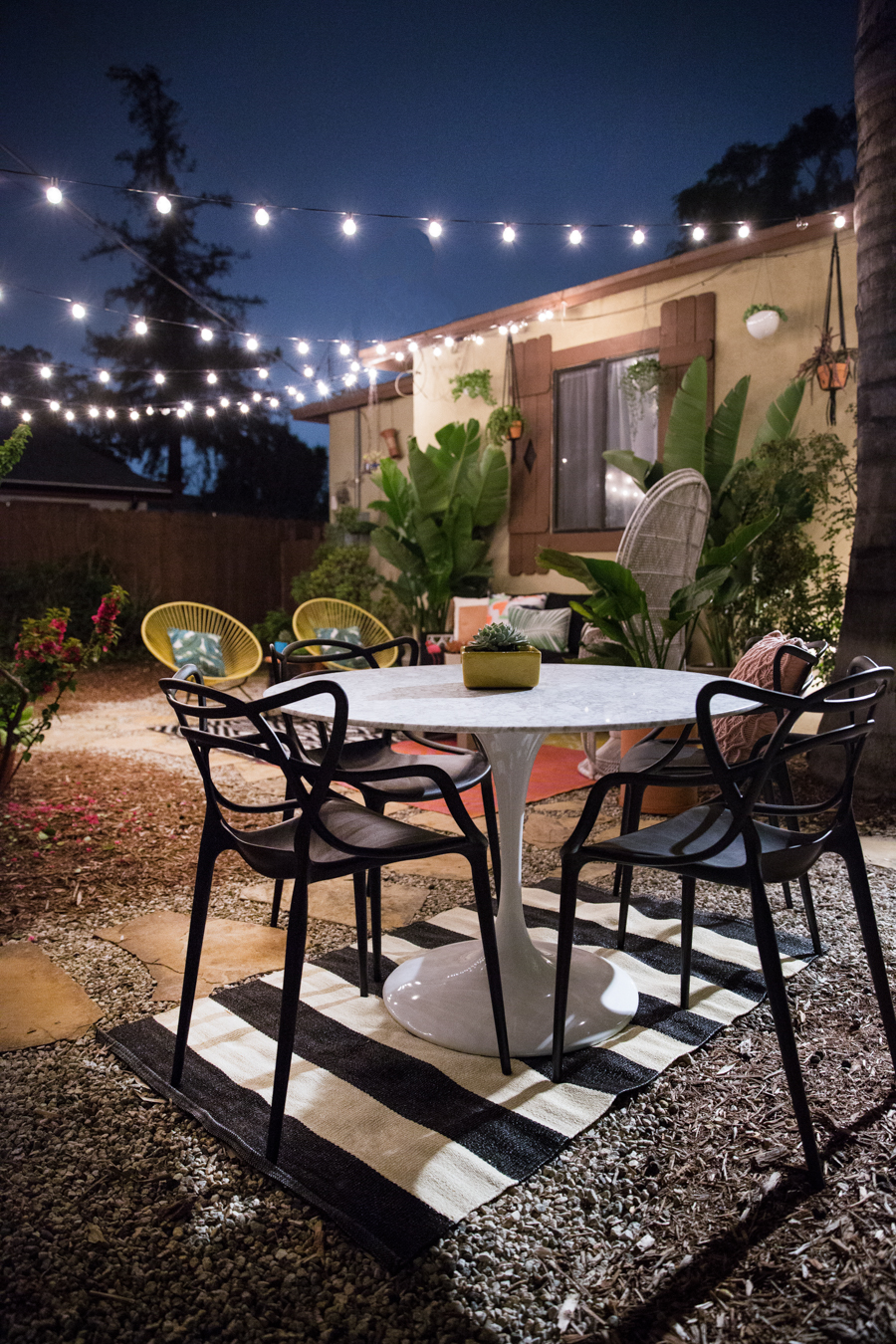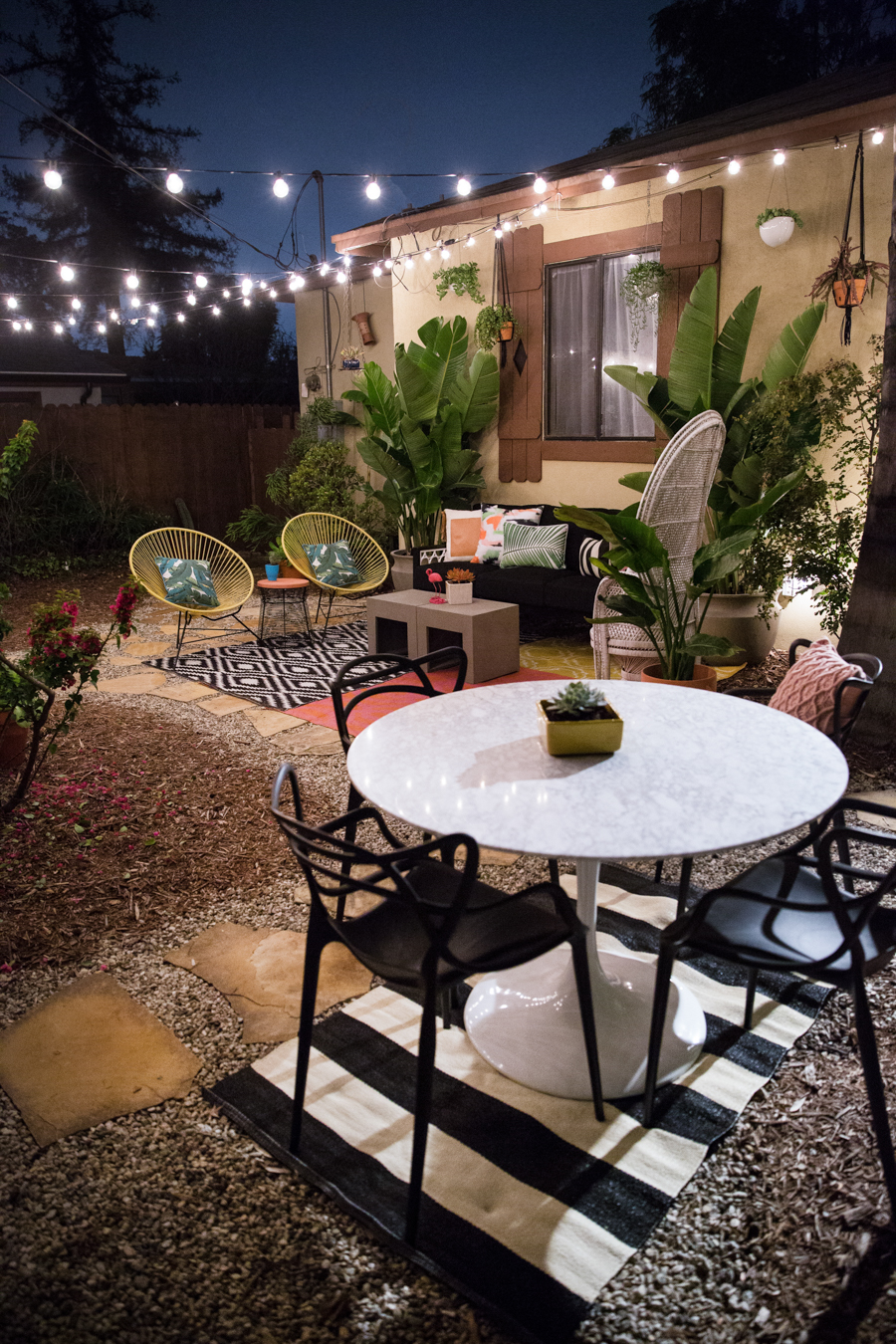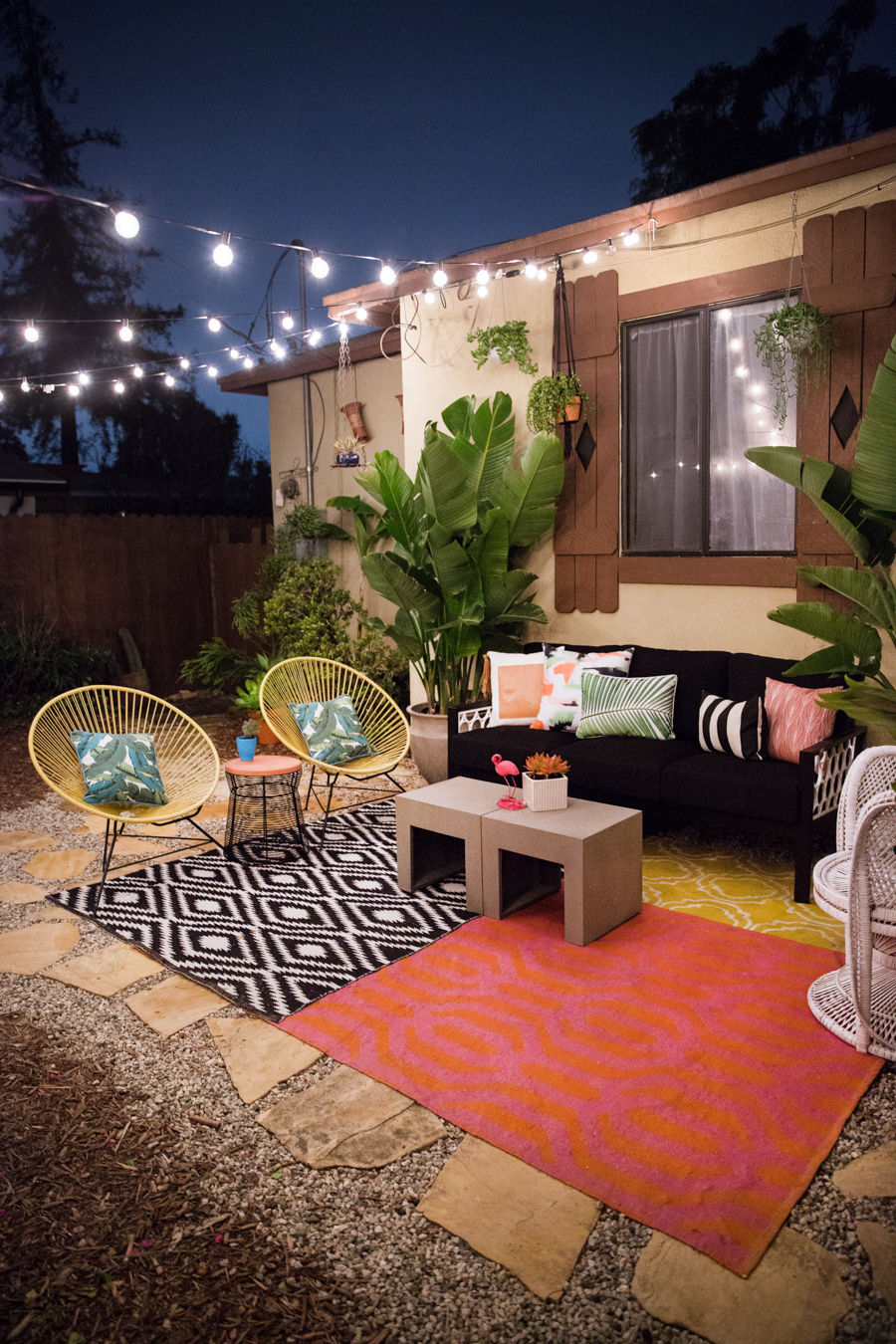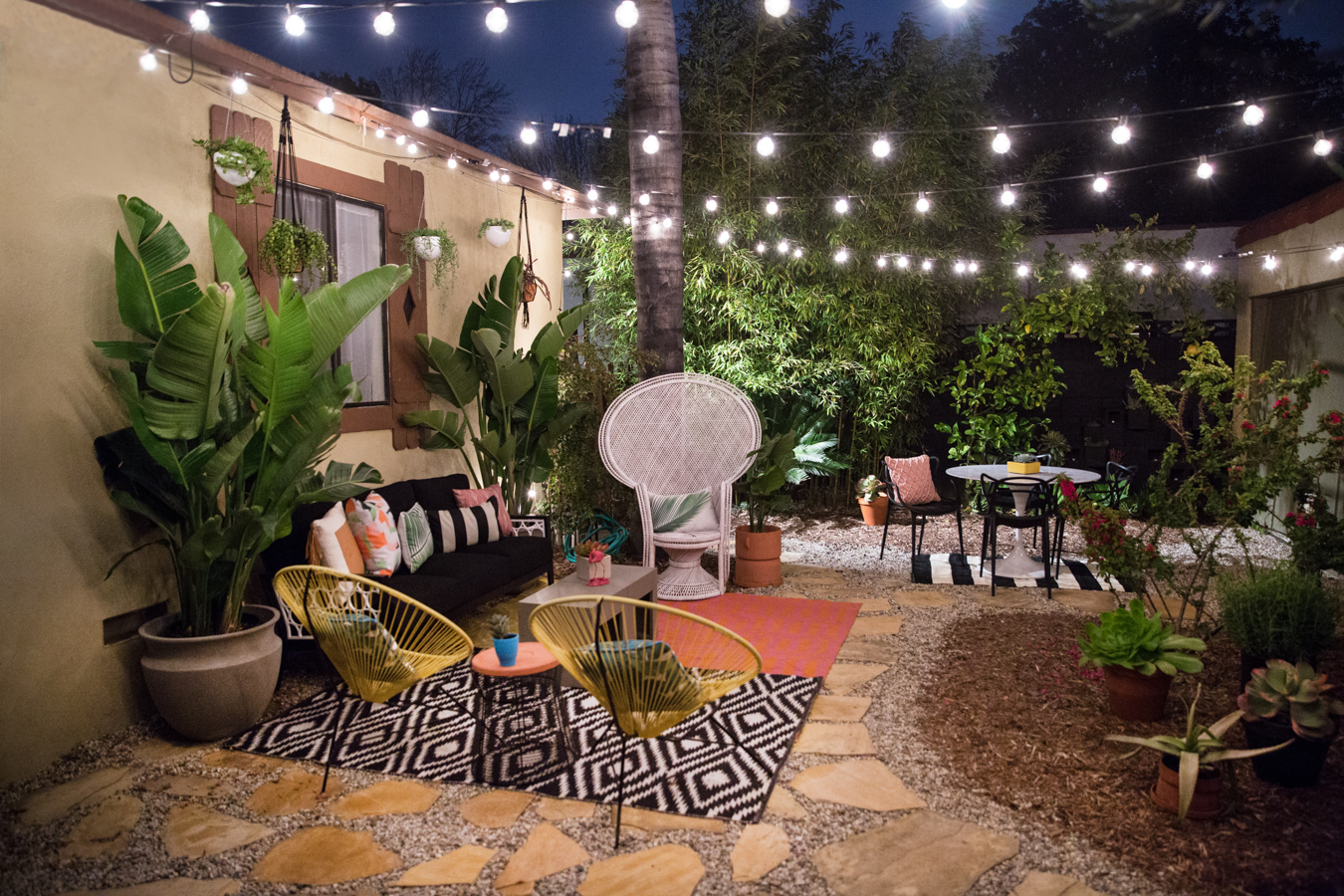 Now all we have to do is wait for LA's wettest season of the decade to cool it so we can go out there again… 😉 xo!
All of the Magic:
Featured on: A Beautiful Mess
Design + Styling Support: Taylor + Taylor
Plant Coaching: Folia Collective
Pots, Hanging Plant Holders + Landscaping Ideas: Potted Store
Photos: Jayden of Woodnote Photography
From ATG: 
Lounge: Koverton outdoor sofa, Beliani Taranto Concrete Outdoor Seat, Pangaea Home and Garden Metal Wire Side Table, the Blush Label Palm Beach Outdoor Pillow, Majestic Home Goods Small Pillow in Vertical Stripe, Lava Palm Pillow, Lava Frond Pillow, Surya Ulani Pillow, Kaleen Brisa Collection Reversible Black & Ivory Outdoor Rug, Kaleen Brisa Collection Reversible Yellow & Ivory Outdoor Rug, Kaleen Brisa Collection Reversible Pink & Paprika Outdoor Rug