My BFF Anne and I aren't strangers to the idea of harebrained collaborations. (See: Light Lab.) So I can't even remember how or why the idea of working on my brother's new place came into being, but, needless to say, we were excited about it.
Robert is an incredible writer, director, editor, filmmaker, bread-maker and has a keen sense of style. For his first time living alone, he wanted to create a gender-neutral take on a bachelor pad. An unbachelor bachelor pad, if you will.
For starters, we began with chose a sofa from the Rowe Modern Mix Collection, covered in Crypton Home Fabric, and a Huntington House button tufted chair in Crypton Home Fabric's Nomad weave. We've been long-time lovers of all things Crypton — their fabrics are stain-resistant and so easy to clean, which gives us the confidence we need to take the plunge and invest in those lighter colored pieces.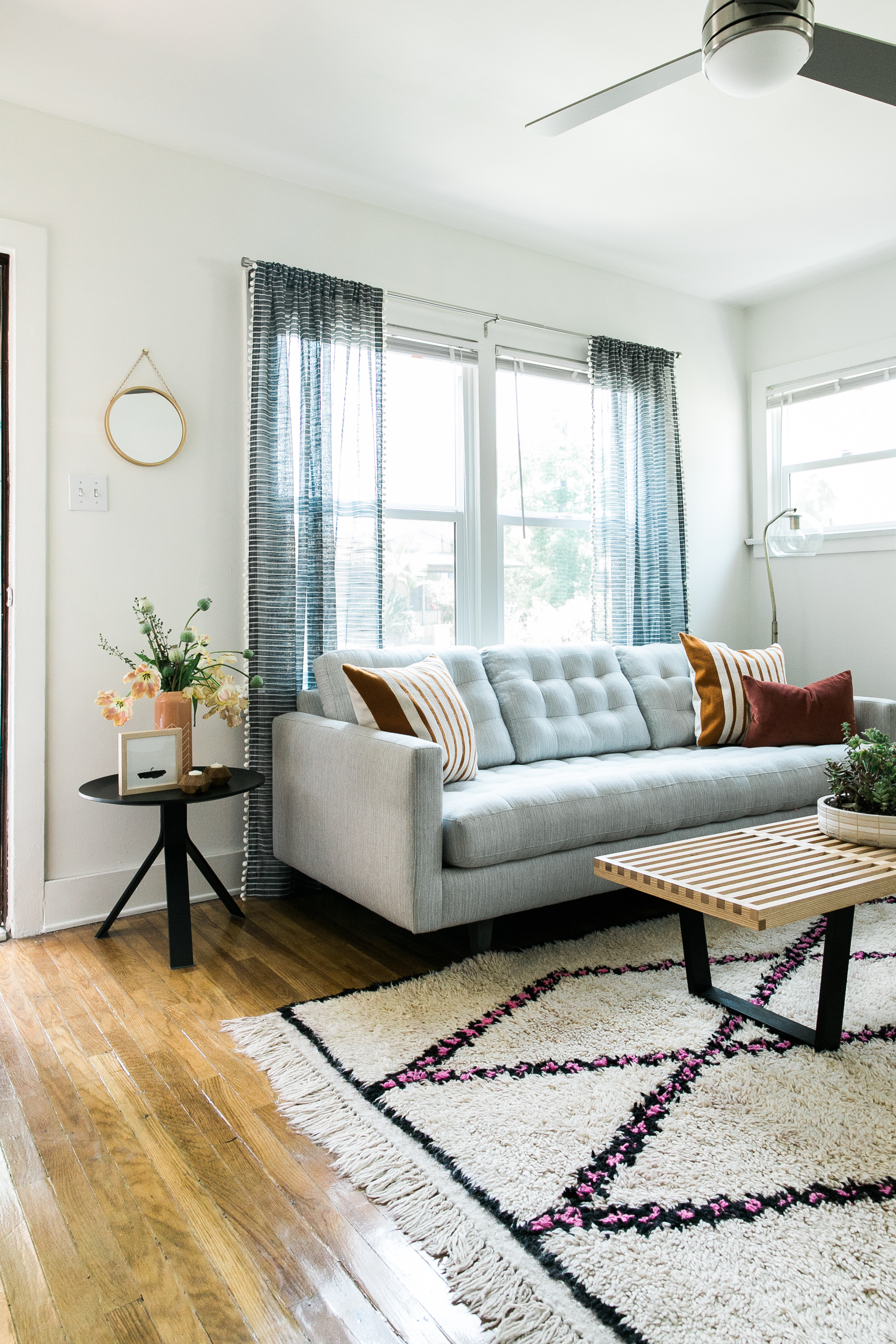 A slat bench from Lulu & Georgia was our go-to in lieu of a coffee table, as it brought diversity to the lines of the room, and doubles as extra seating areas for those times when Robert has a lot of friends over to his tiny space. That fabulous vintage Moroccan rug from none other than Coco Carpets brings the pink and helps the room truly feel gender-neutral.
A mini-upgrade with a modern ceiling fan from Lamps Plus and two Schoolhouse Electric wall sconces were elements Robert installed himself. He says he only got electrocuted once! That brass floor lamp in the corner and the Schoolhouse Electric abstract shapes print that hangs over the fireplace are the Midcentury nods that we needed to really secure the direction of the inspiration.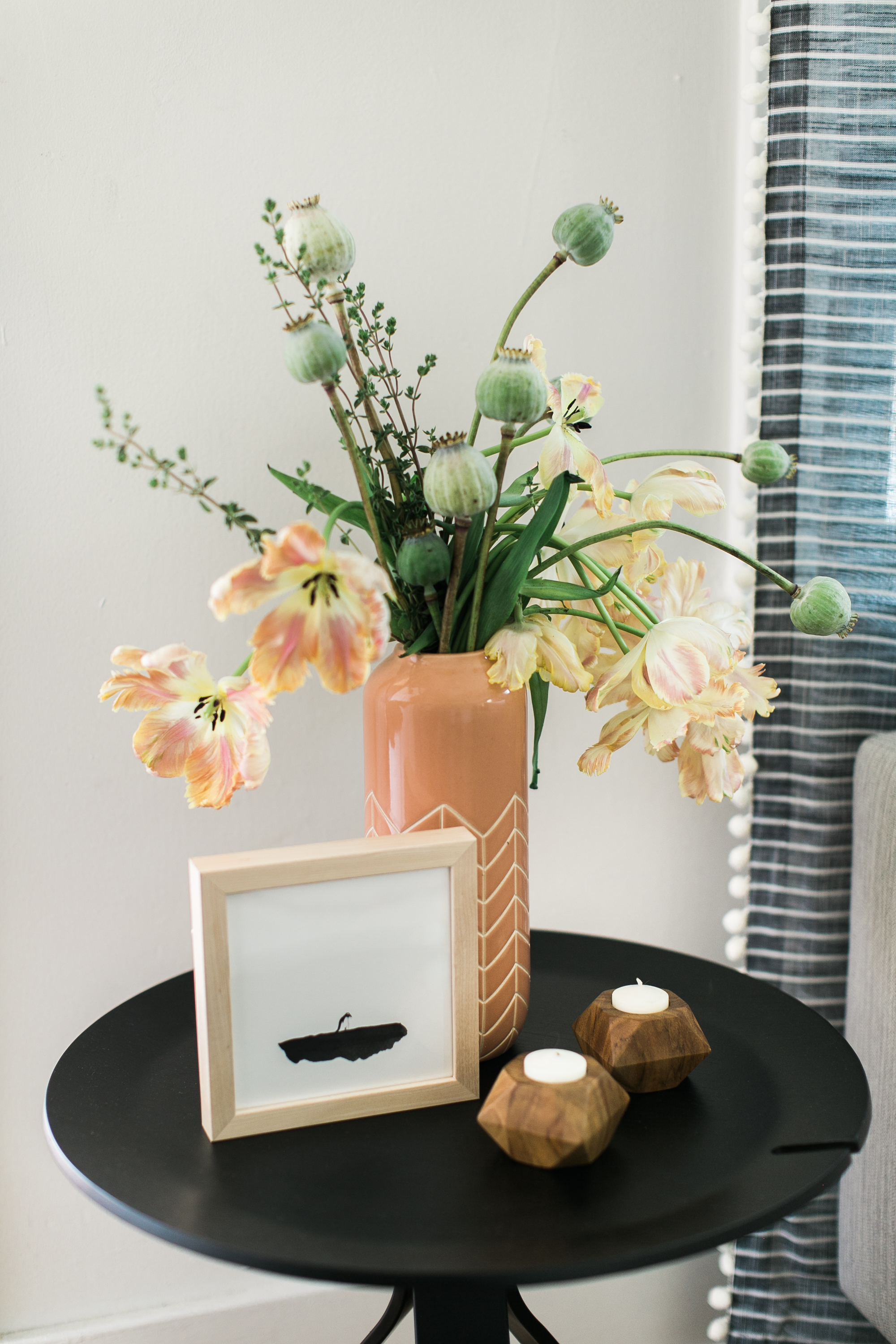 That tiny penguin drawing is a Jayden Lee original. Jeez, I love him. He's so good at it!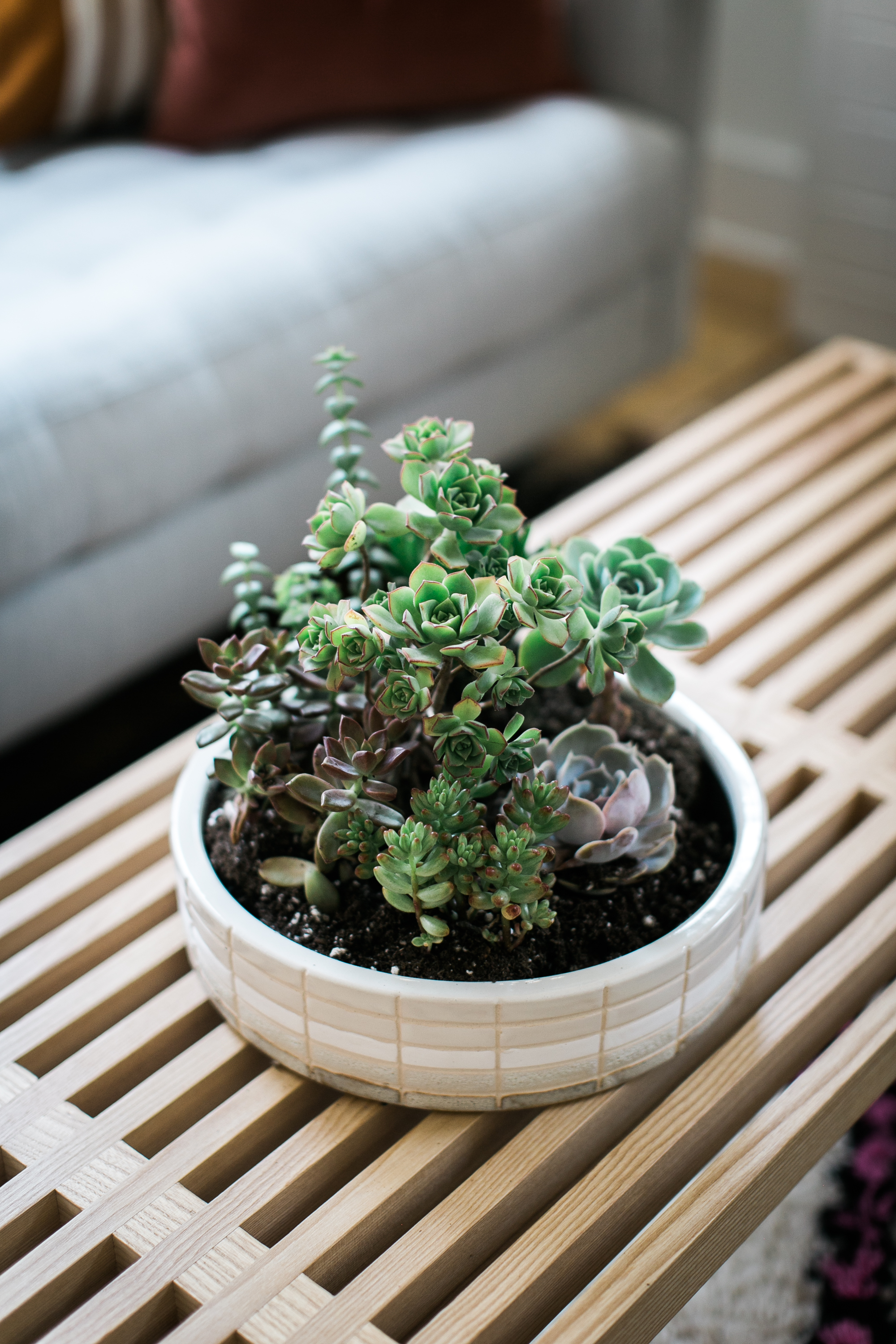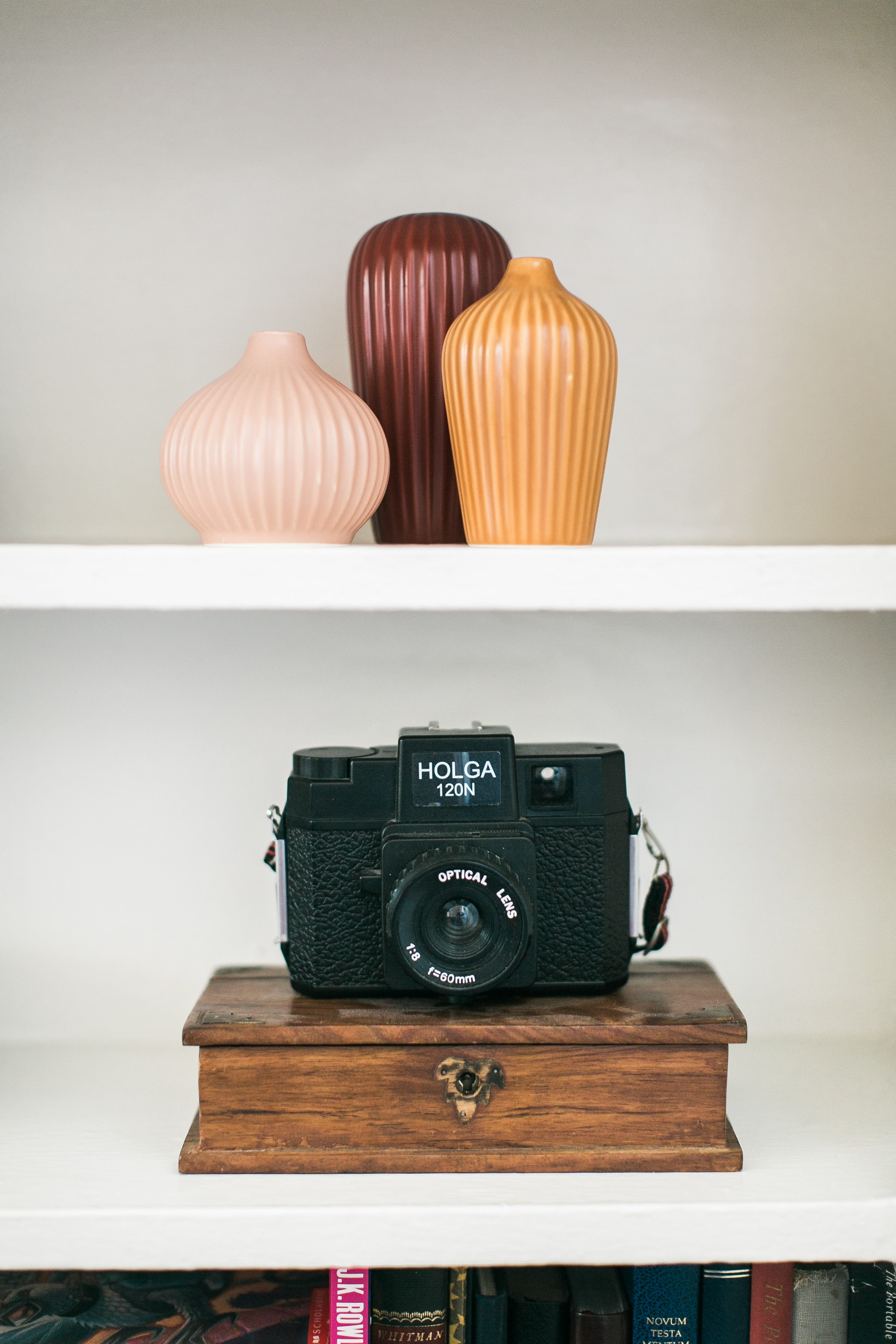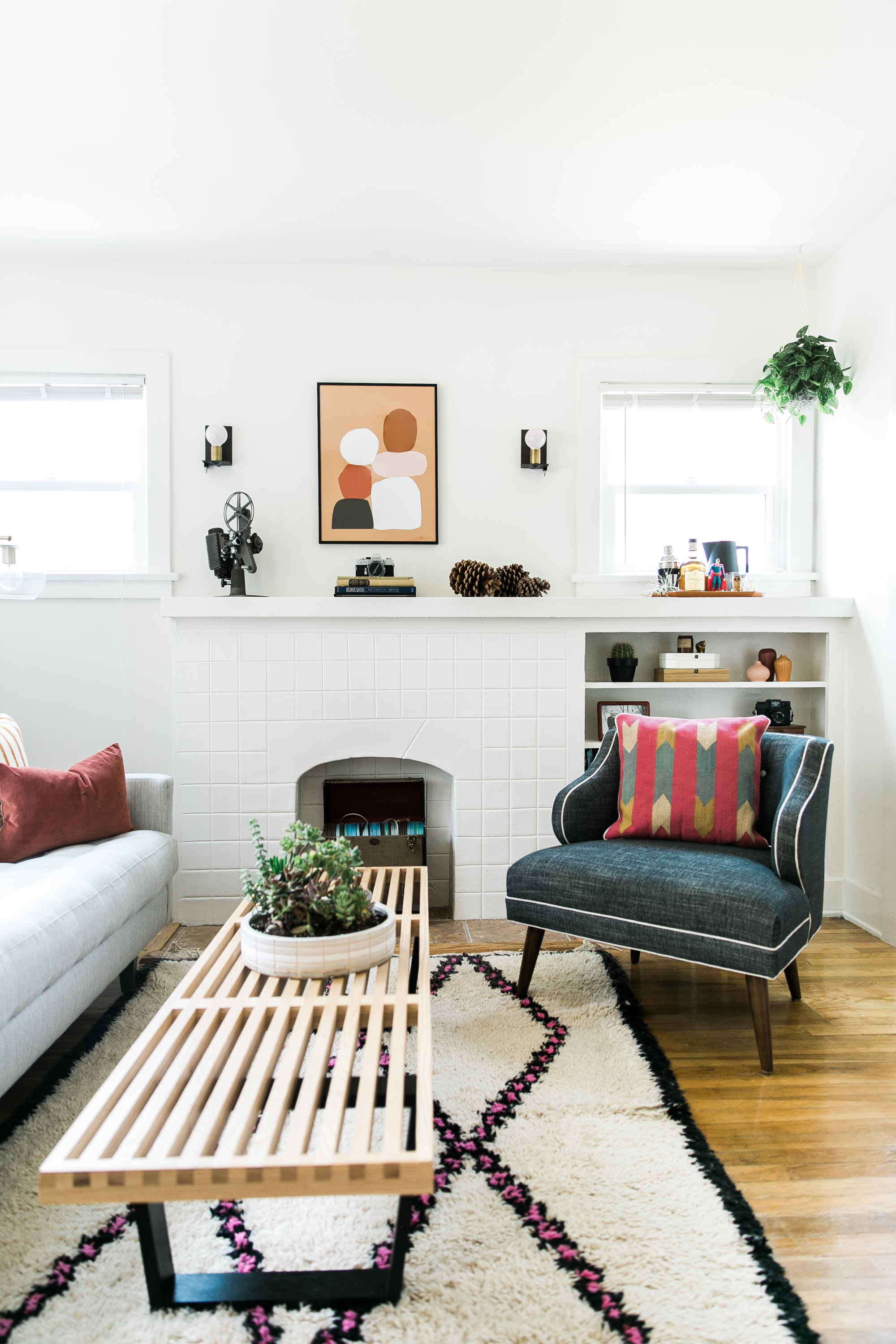 One of the other main things Robert wanted to include in his makeover was his own photography. Simply Framed did a stunning job with the custom framing, and all of the natural and black gallery frames are from them.
Sheer striped curtains and the pink'y fun Lulu & Georgia cushion continue to bring the feminine energy, while striped kilim pillows anchor the sofa and haul in the masculine. Robert is a plant-lover, (and a very responsible caretaker, so you know they'll live long past the shoot date!) and so the textured planter and hanging planters in the space up the color and texture moments in the room.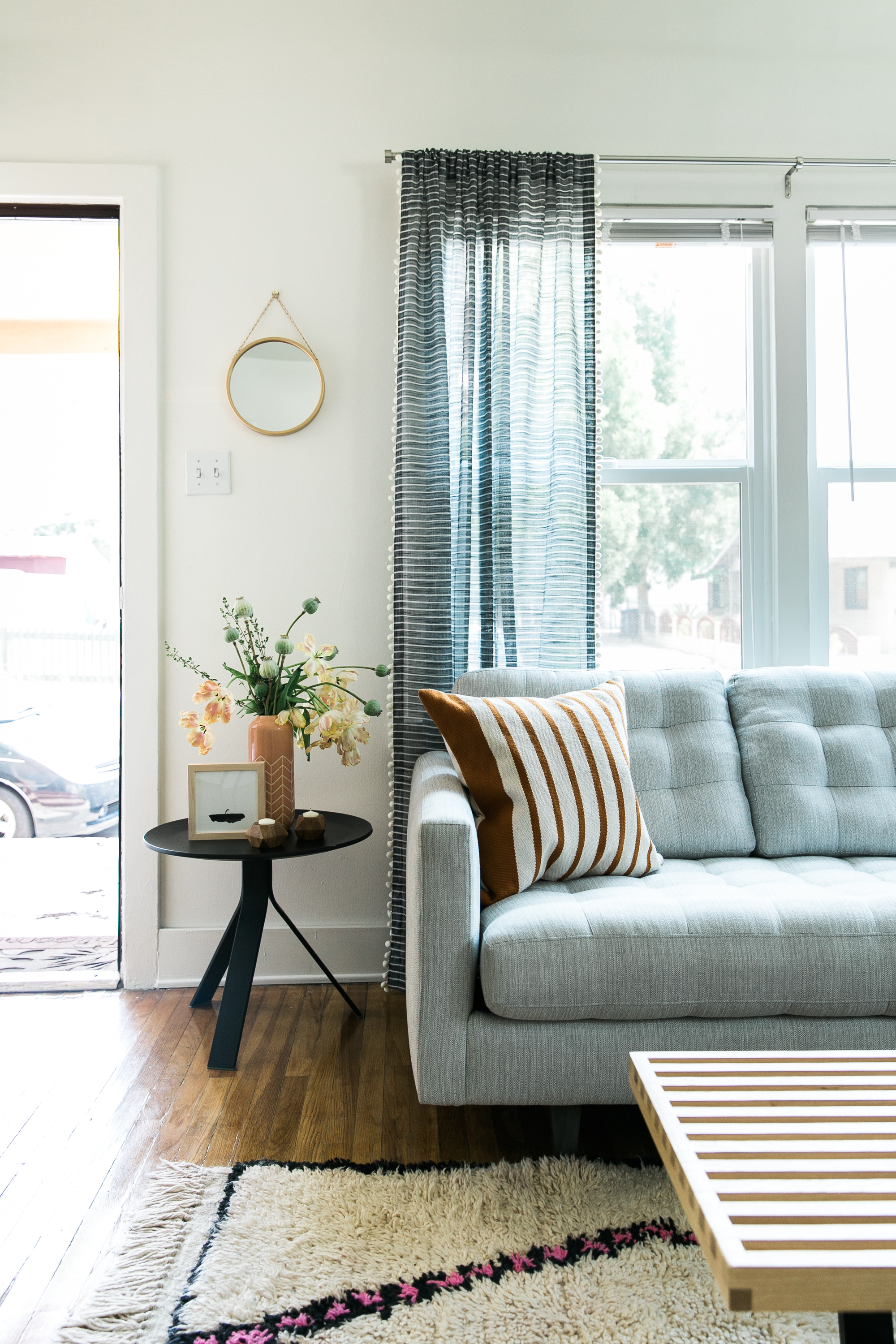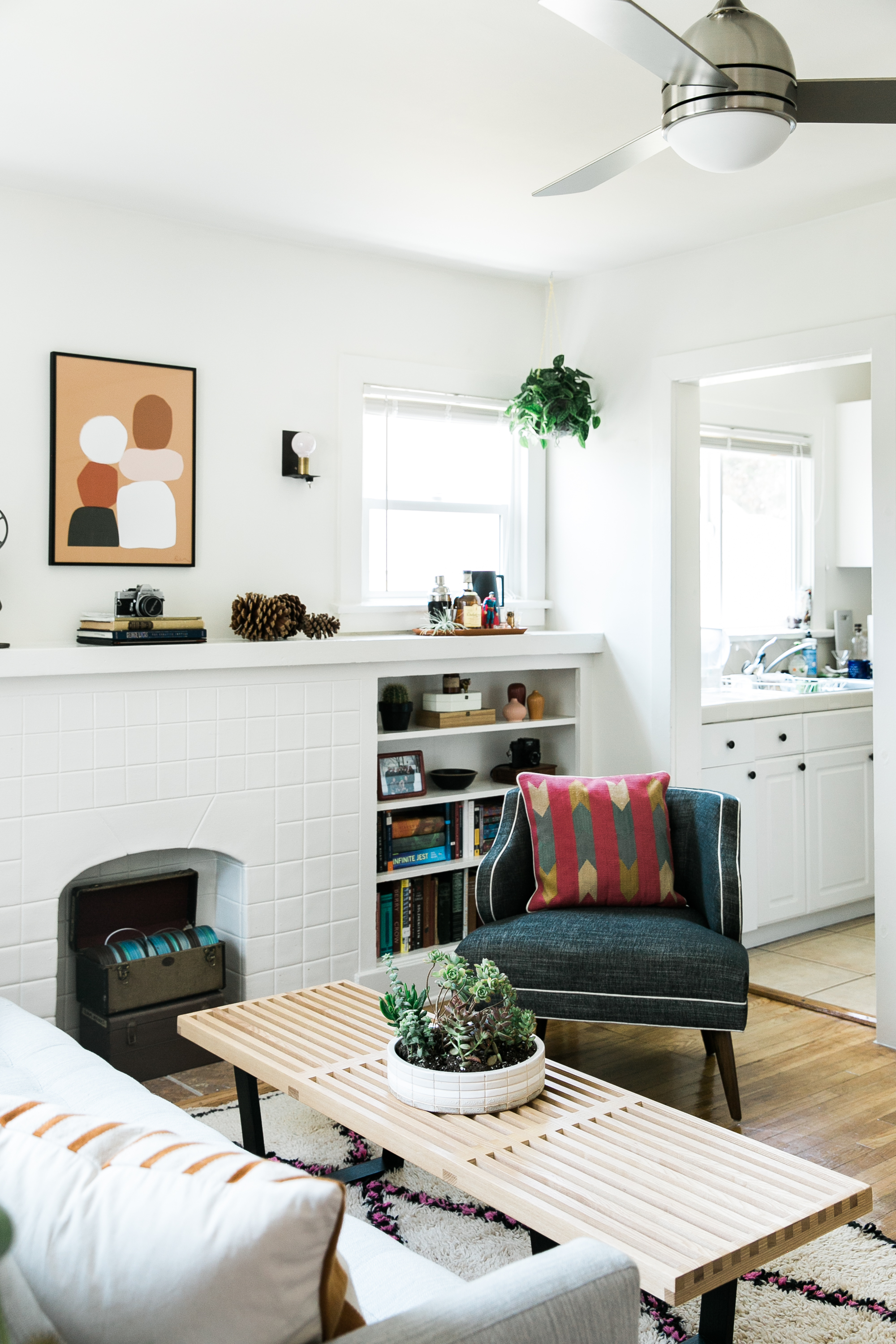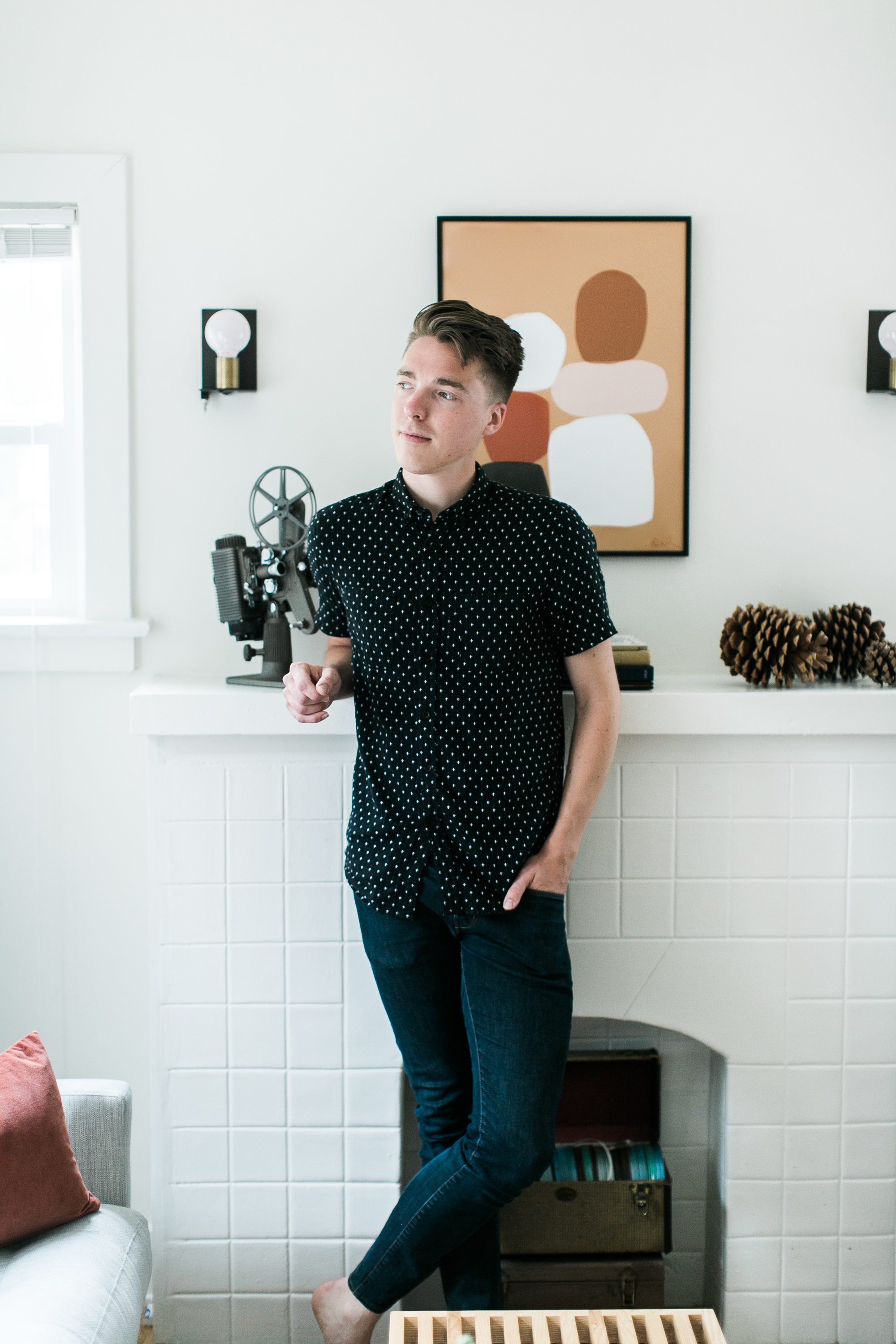 The Unbach Himself! PS: he's single.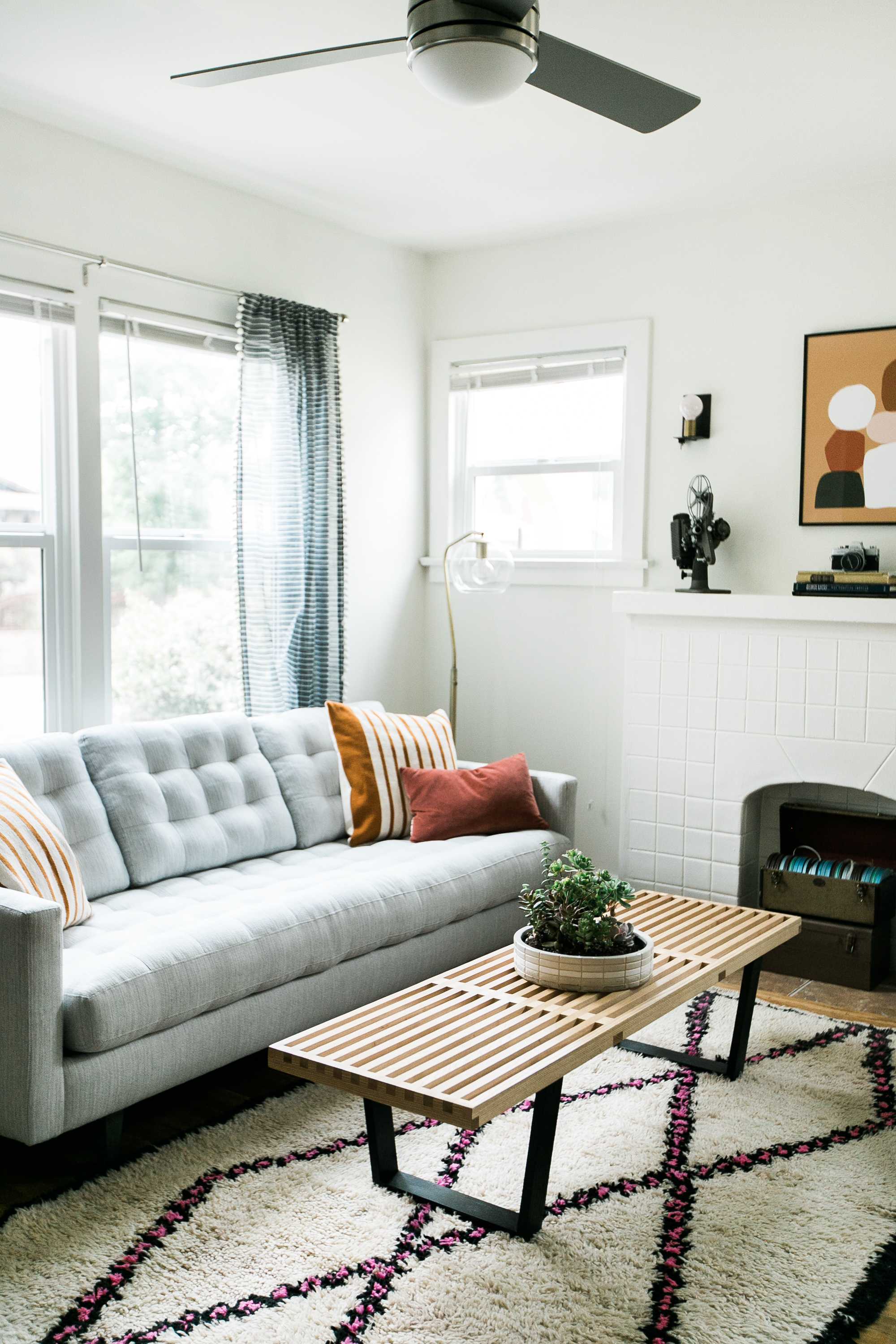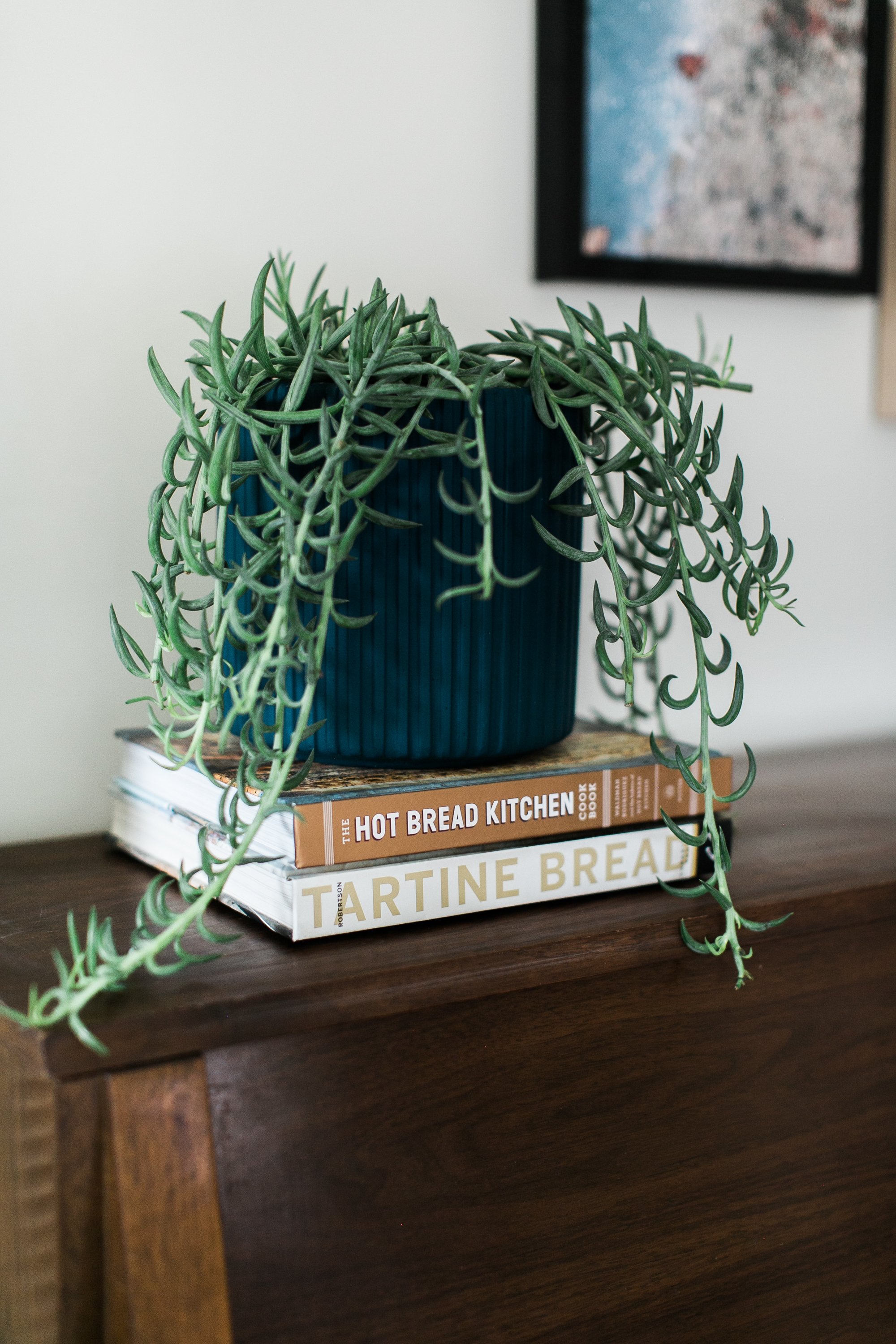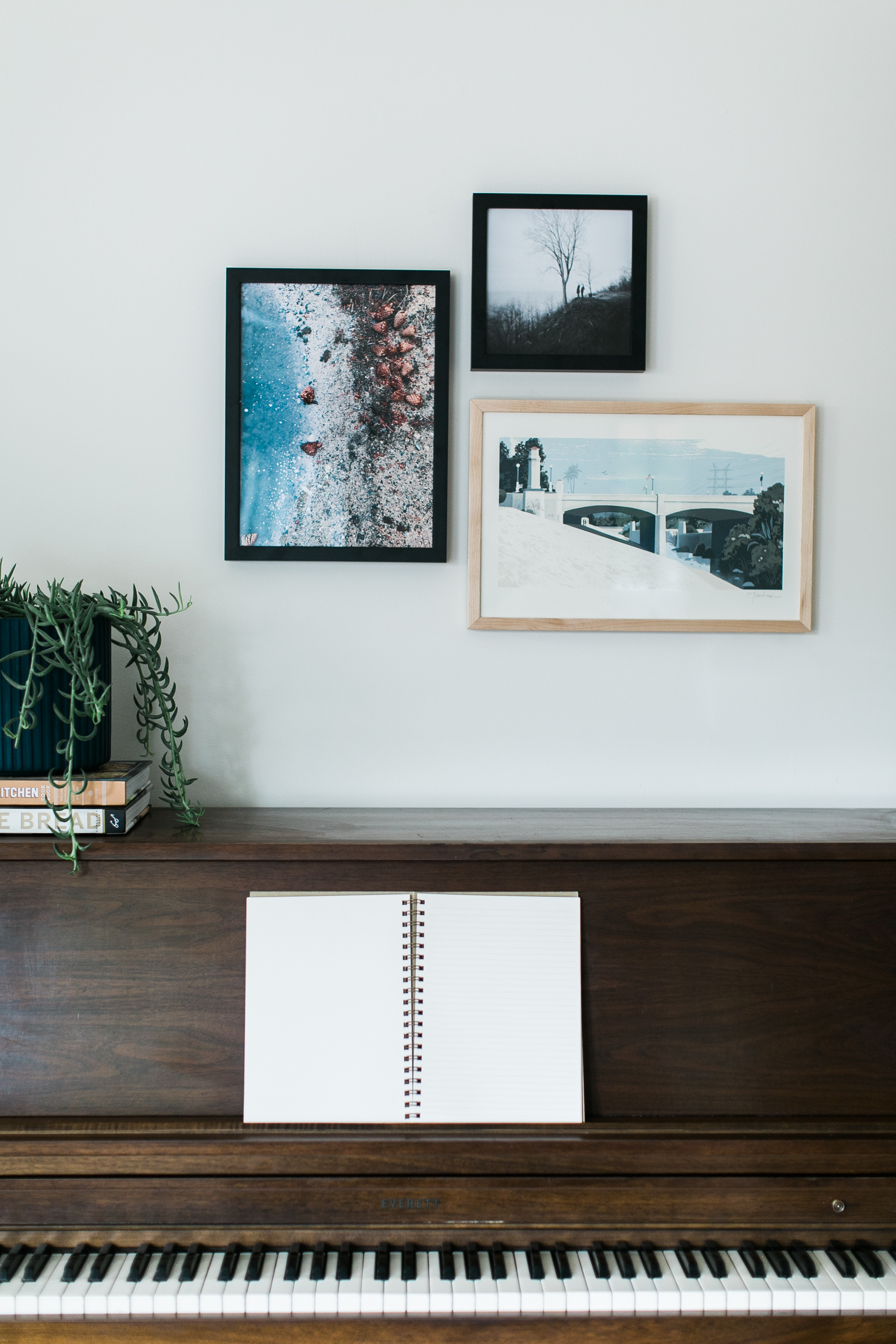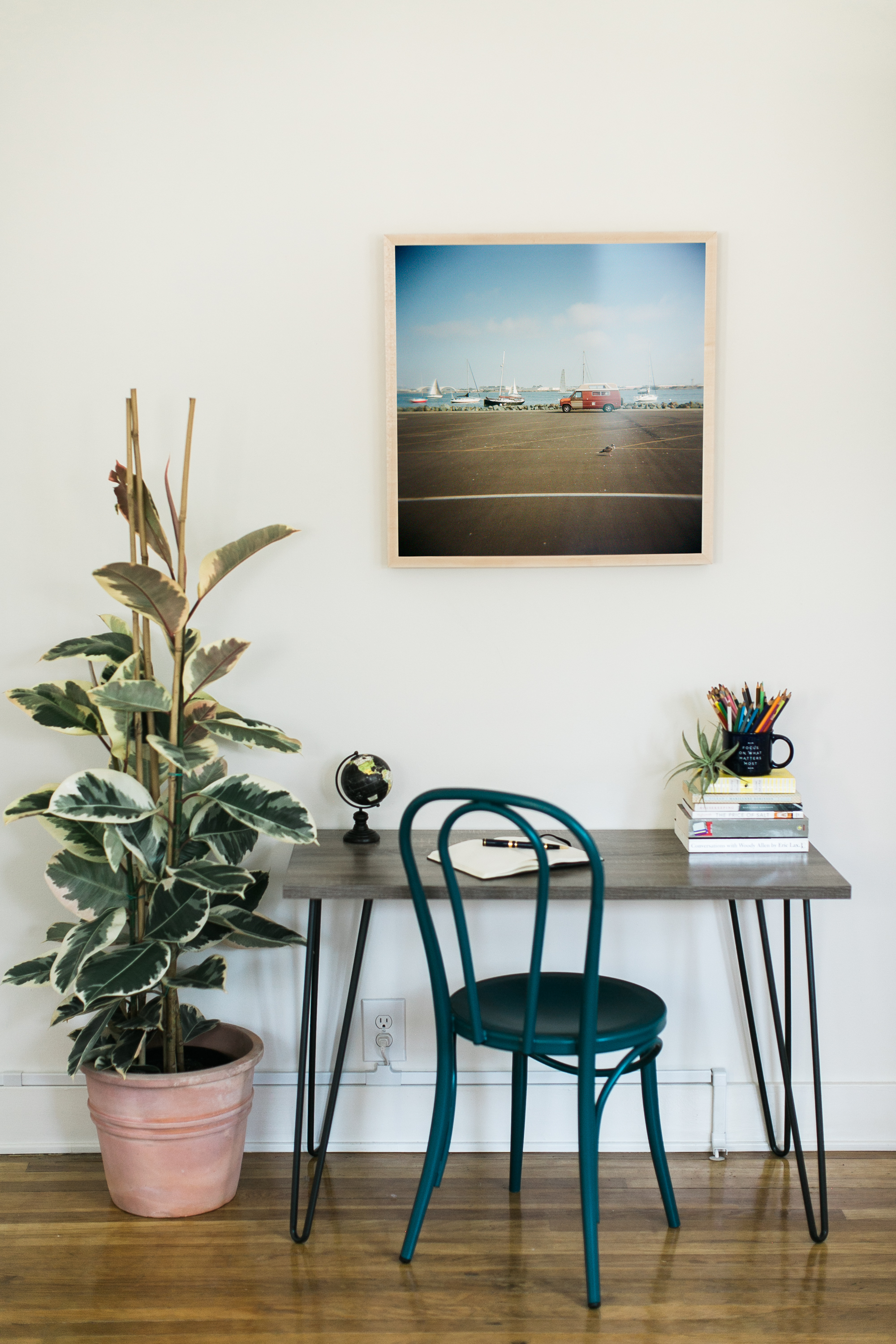 The room is on the small side, so the hairpin leg table was the perfect middle ground to tick the 'dining table' and 'desk' boxes, and the blue bentwood chairs we paired it with it really continue in the Midcentury theme.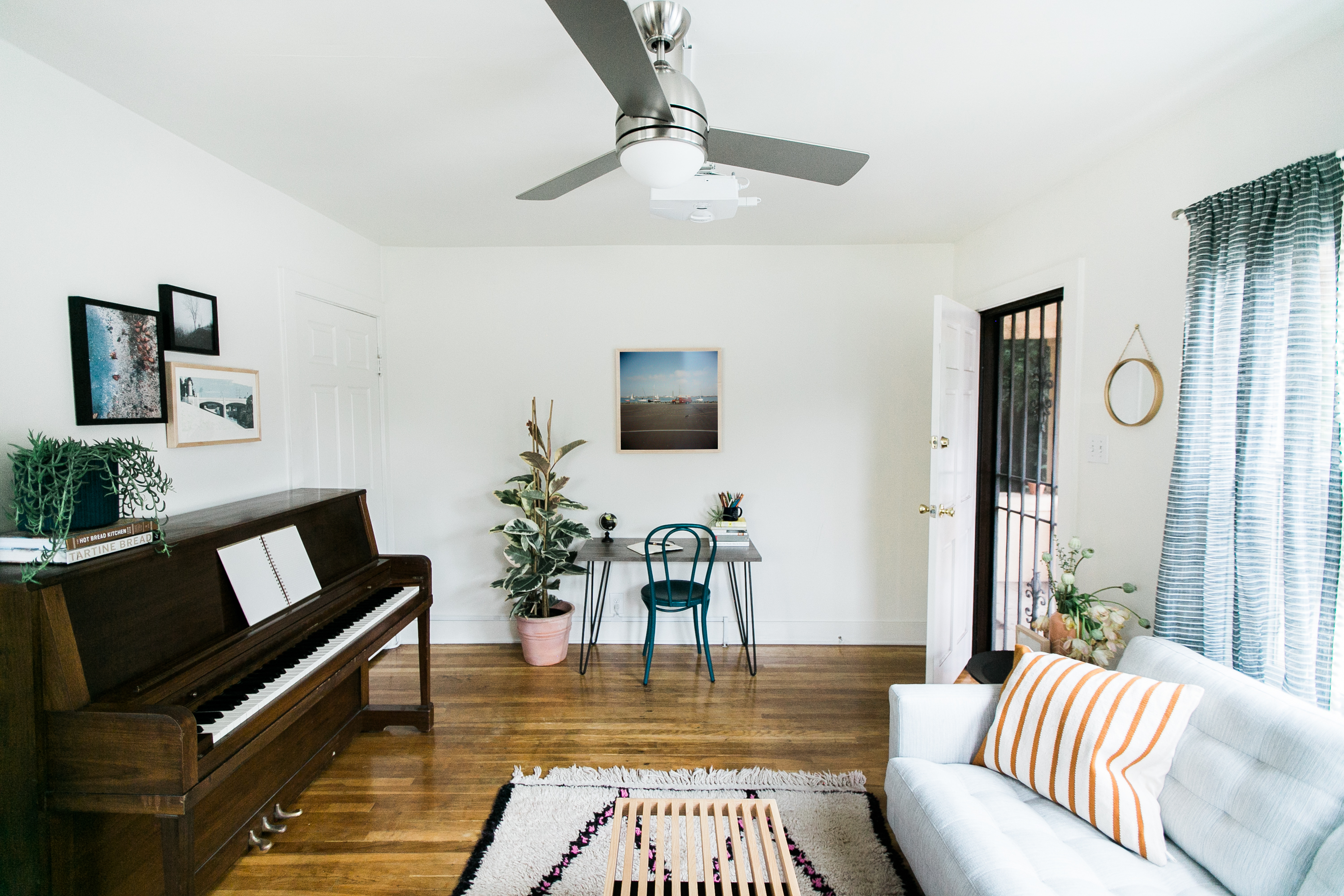 Since Robert loves film so much, he also included a projector on the ceiling and wanted one of the large walls in the room to be 'flexible' so that he can easily remove the pieces and have a full-wall cinema experience within seconds. I won't lie, he's a handy brother to have around! We've already had lots of movie nights at his place, and now that he has comfy furniture to sit on, we can't wait to have lots more.
Be sure to check out the timelapse vid that Raj made of the room's transformation! We'll be back to show you more on our very own home makeover soon, too. xo!
Photos and music in the video by Jayden Lee for Echo and Earl, who continues to be the wonder-worker of this team.. constantly supporting and creating from dawn 'til dusk!