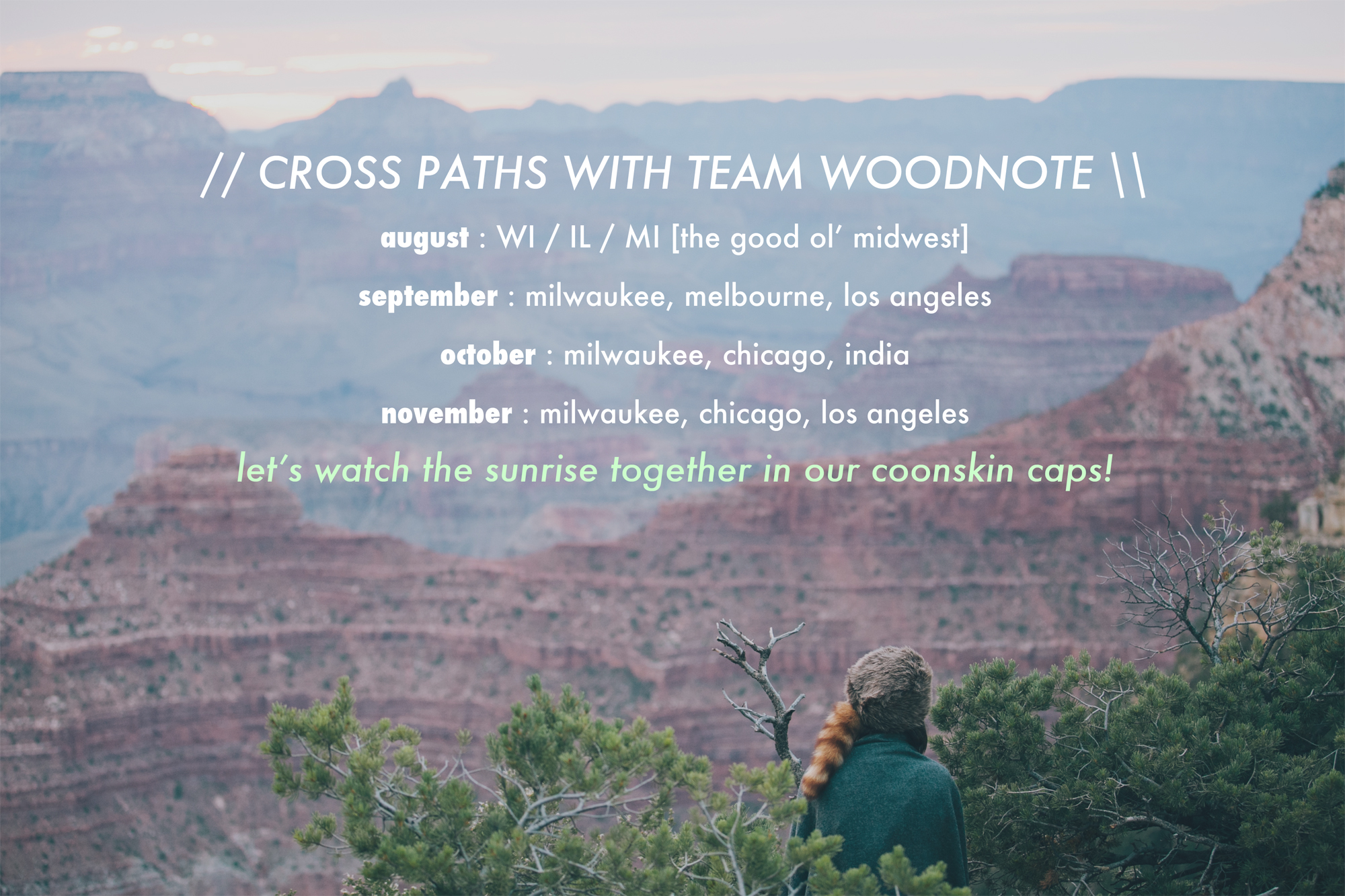 Once, we got up to watch the sunrise at the Grand Canyon, and there happened to be another young lady watching the same sun rising at the same time, and she was wearing a faux-coonskin cap.  (This happened almost exactly a year ago, actually, and our favorite Robert Ingraham was there to make a video, too…  But I'm getting sidetracked!)
Anyway, there was something quite poetic about this lass and her soulful, solitary sunrise-gaze.  It kinda made us want to get our own faux-coonskin caps and travel the world together.
Which leads me to the point, that we're on the move (again).  Let's be real, we're always on the move.  It has gotten to the point that our friends don't invite us to their parties because they assume we're out of town (or that's what they tell us, anyway…), and so, sometimes, we end up spending Friday nights at home alone.  We're OK, we promise.  We love our life, and aren't complaining.  But, in the name of efficiency (high five to all my other ENTJs out there!), we thought we'd post a lil update on our plans for the coming months.  Hey, last time we did this, it turned into an unexpected rendezvous with friends in Nepal … so, ya never know what this could lead to!
We still have a few dates available for a few final assignments/weddings/jobs before the end of 2013, so do give us a holler if you've got something in mind!  And, in the very least, if we're heading towards your land, let's catch up for a coffee … and/or a sunrise-gazing sesh!  We'll bring our faux-coonskin caps, OK?  (We should also mention that we'll be back in Australia in January 2014, and are booking weddings + other shoots during that time, too!)
And with that, I leave you this photo.  A frame from our most recent photo booth'ing sesh at Emily + Tyler's wedding in Michigan a few short days ago.  We happened to sneak our way into the booth (on the job!  I know!), and got to react to the prompt, "How would you react if Emma Stone walked into the room?"
Well, how would you react?  Apparently most of us would be pretty darn elated.
Cheers, Friends!  xx