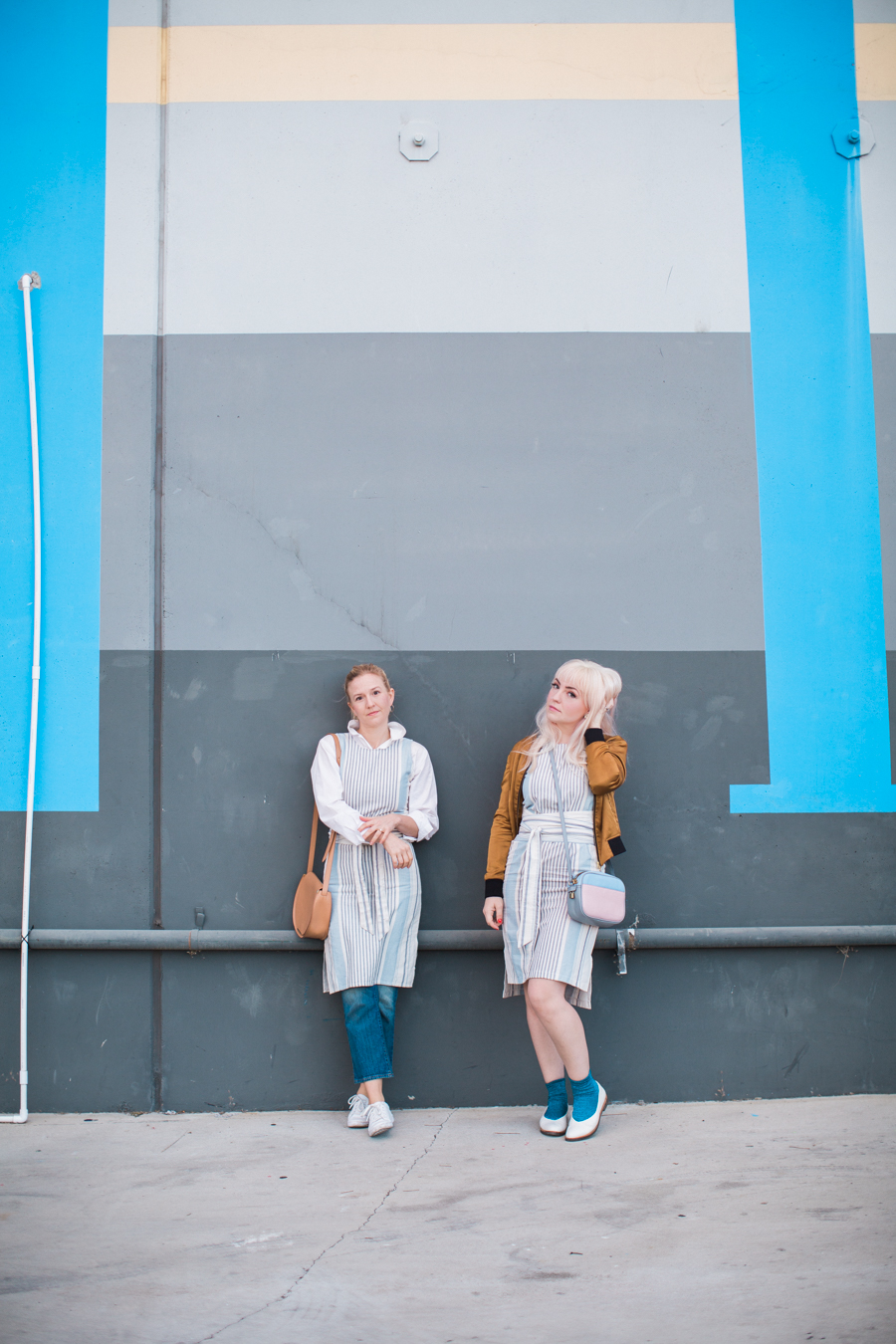 I'm mad-excited about today's Two Girls for a few reasons.. the first one being that Anne texted me this post the other day, all on 11 Ways to Look Stylish Without Trying Too Hard, and one of the points was wear white shoes. Um, hello. Nailed it. So the rest is easy as pie. Yes? Another reason is the brand we've collab'd with! I'll just dive right into why I love them so.
The Amazing: Tribe Alive is all about women. Designed by women, made by women. Their pieces are from Guatemala, Haiti, India, Honduras and the US, and everything they do is about empowering women to rise above poverty. Yes, yes and yes.
The Common Piece: The Shift Wrap Dress. Tribe just launched a new collection of pieces today, and Anne + I both fell in love with this dress. Plus? We've never featured a dress before in Two Girls, so this is the perfect one to start sum'n new.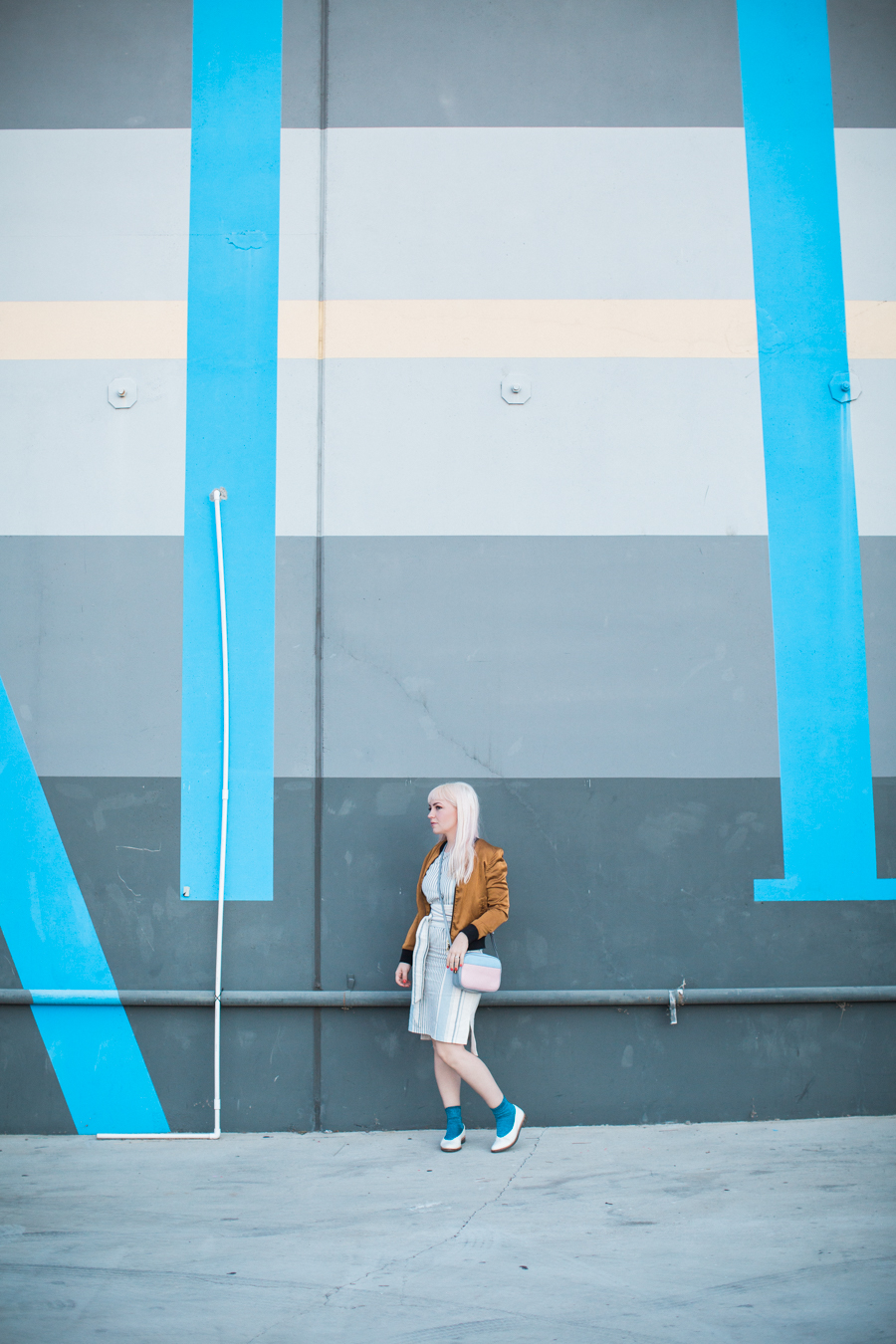 I took mine down a fairly unusual path for what I normally do.. Socks and bare legs have always been a style that fits the look but don't touch category for me, since I have what I call German ankles. (They're strong, OK?!) But, today, I went for it. Life is short. Look at my freakin' legs. Or don't. But I'll wear what I like.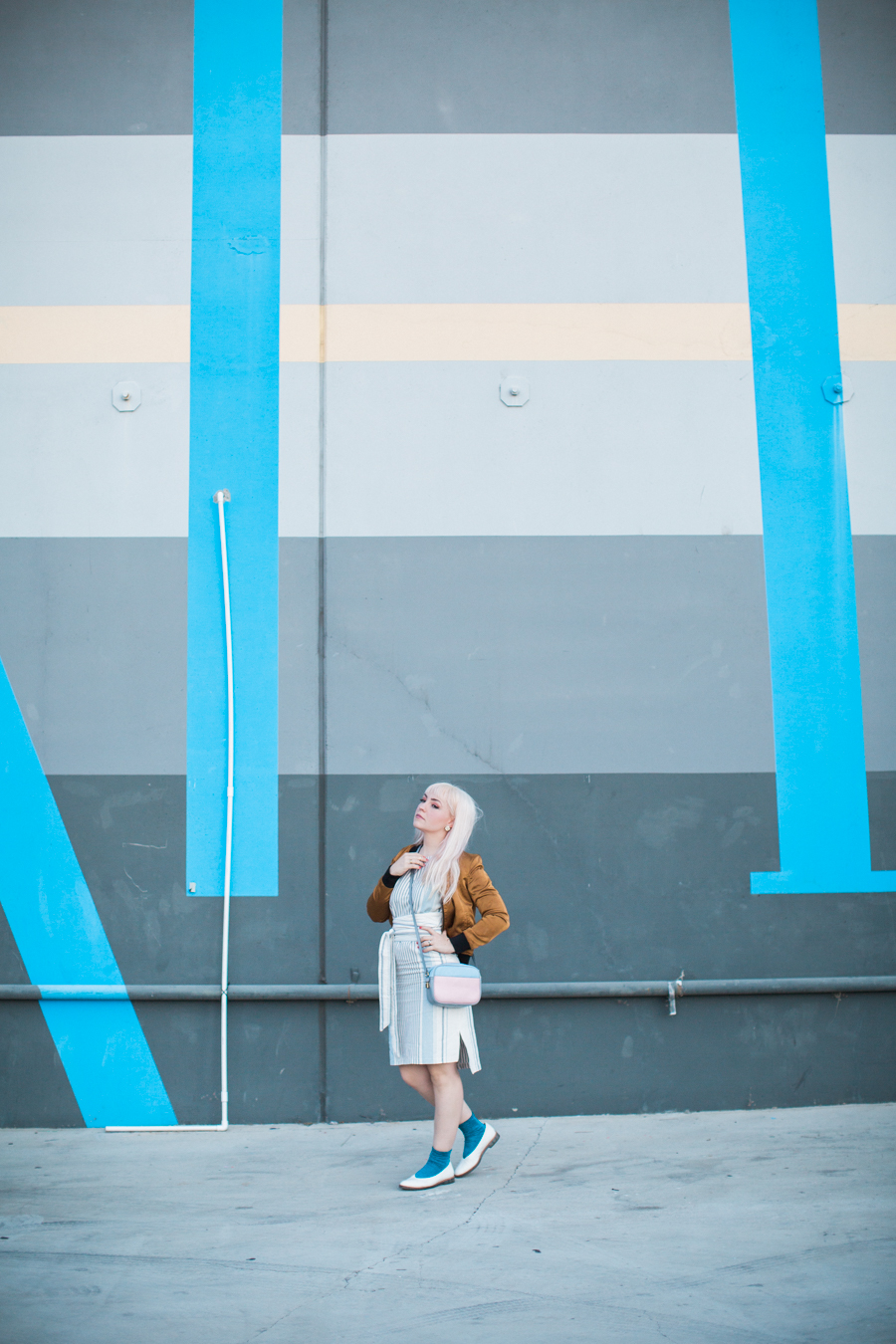 The bright socks and those winning white shoes elevate the cotton dress and make it a bit spesh, while last week's J.Crew purse honors the pastel thang I started and carries it through. Let's not forget that Gorman bomber in the most majestic metallic bronze'y gold.. because pastels or not, I'm here to make a statement!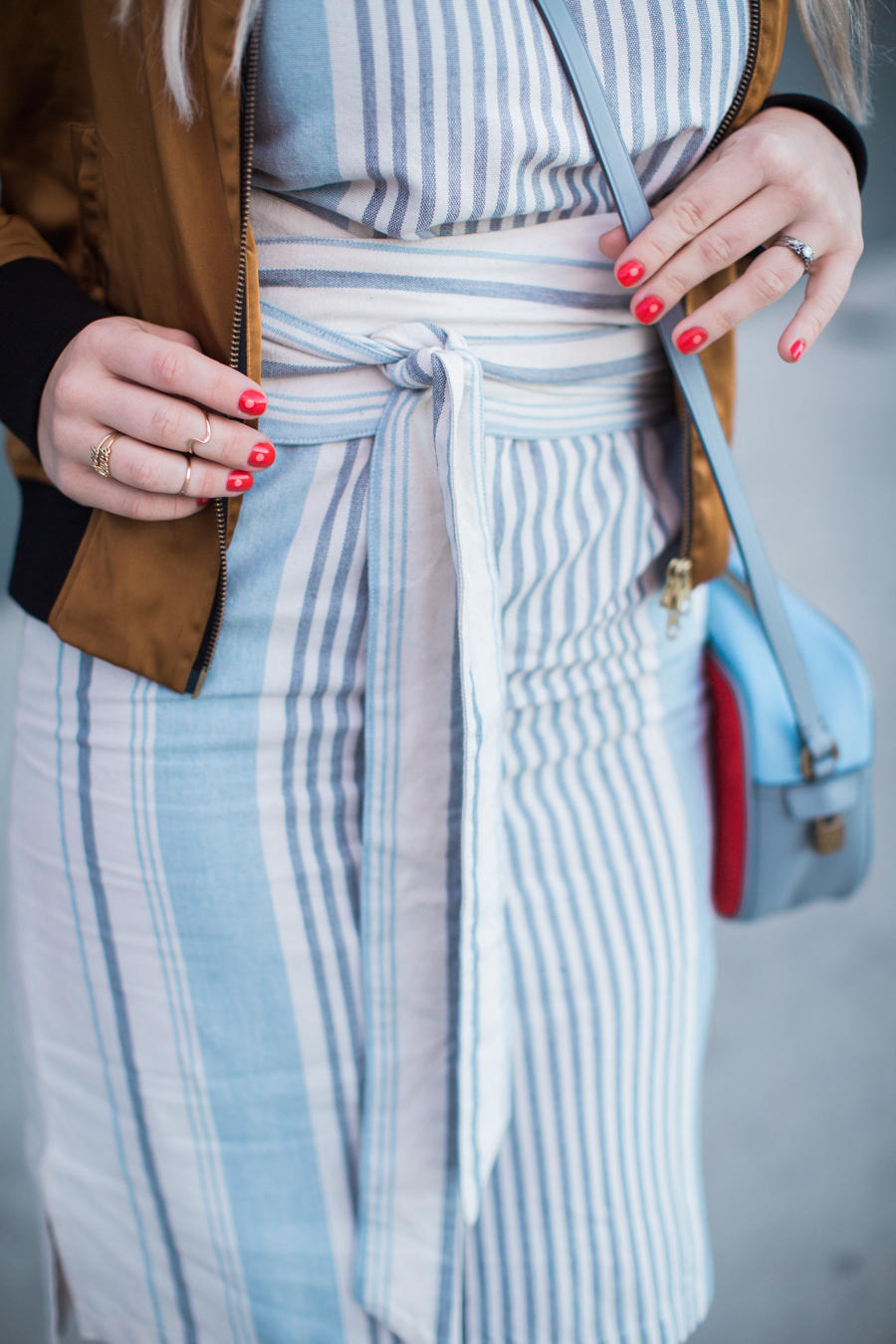 Those tie details of the dress are definitely my favorite element!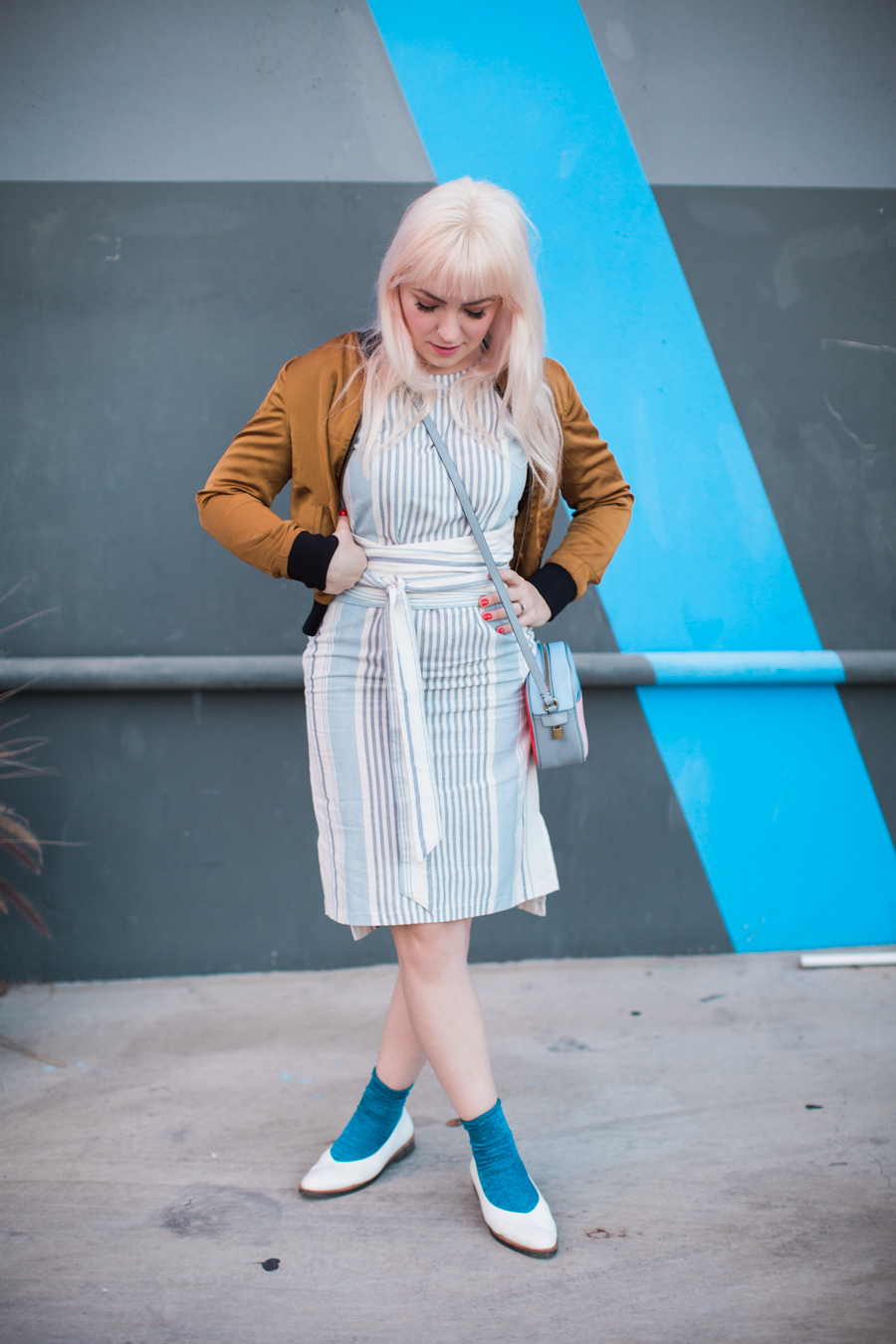 And do I trim my own bangs and dye my own hair? Well, why do you ask? Is it that obvious?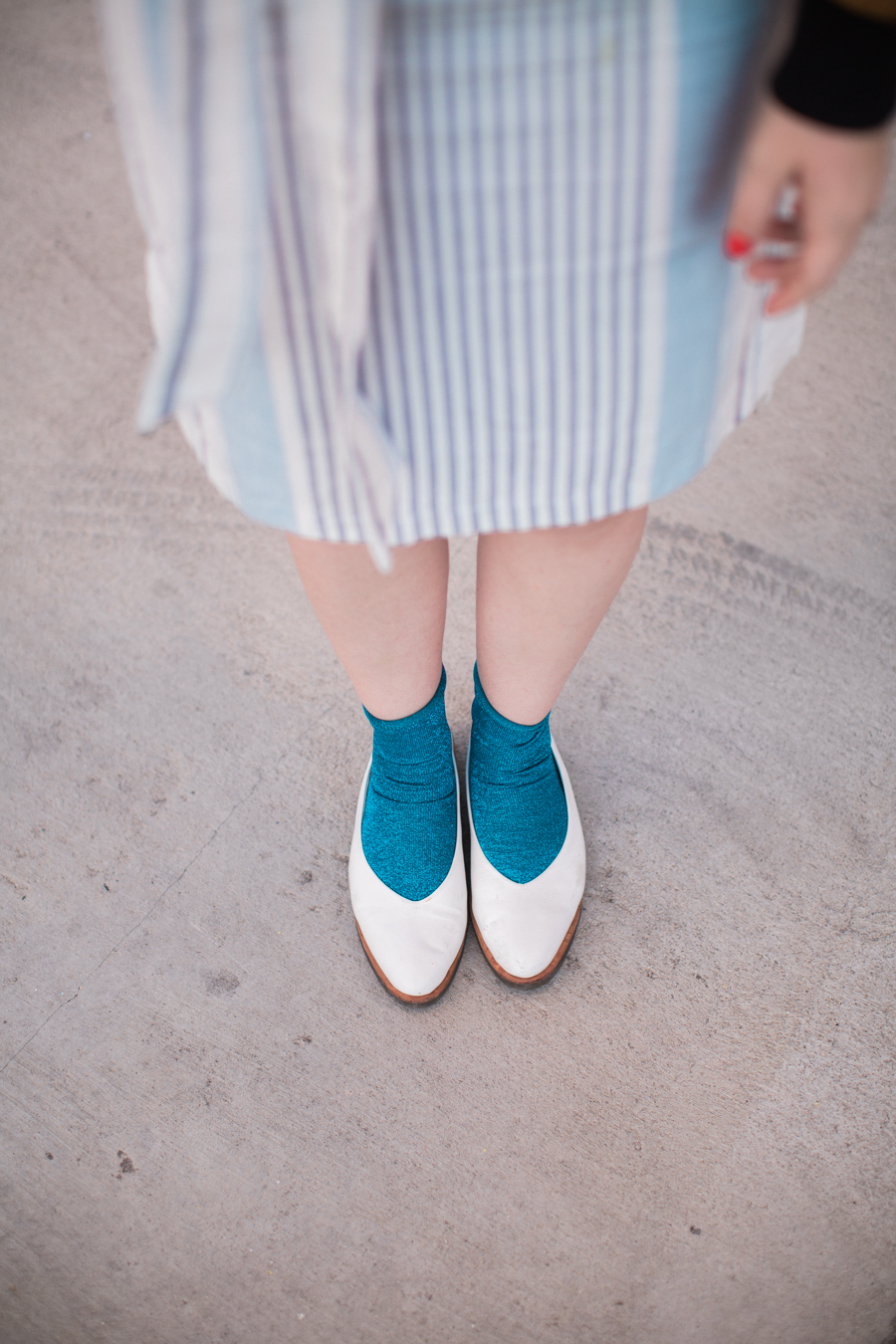 Oh, and the white shoes are also Gorman from a few years back. C'mon. Always a good idea!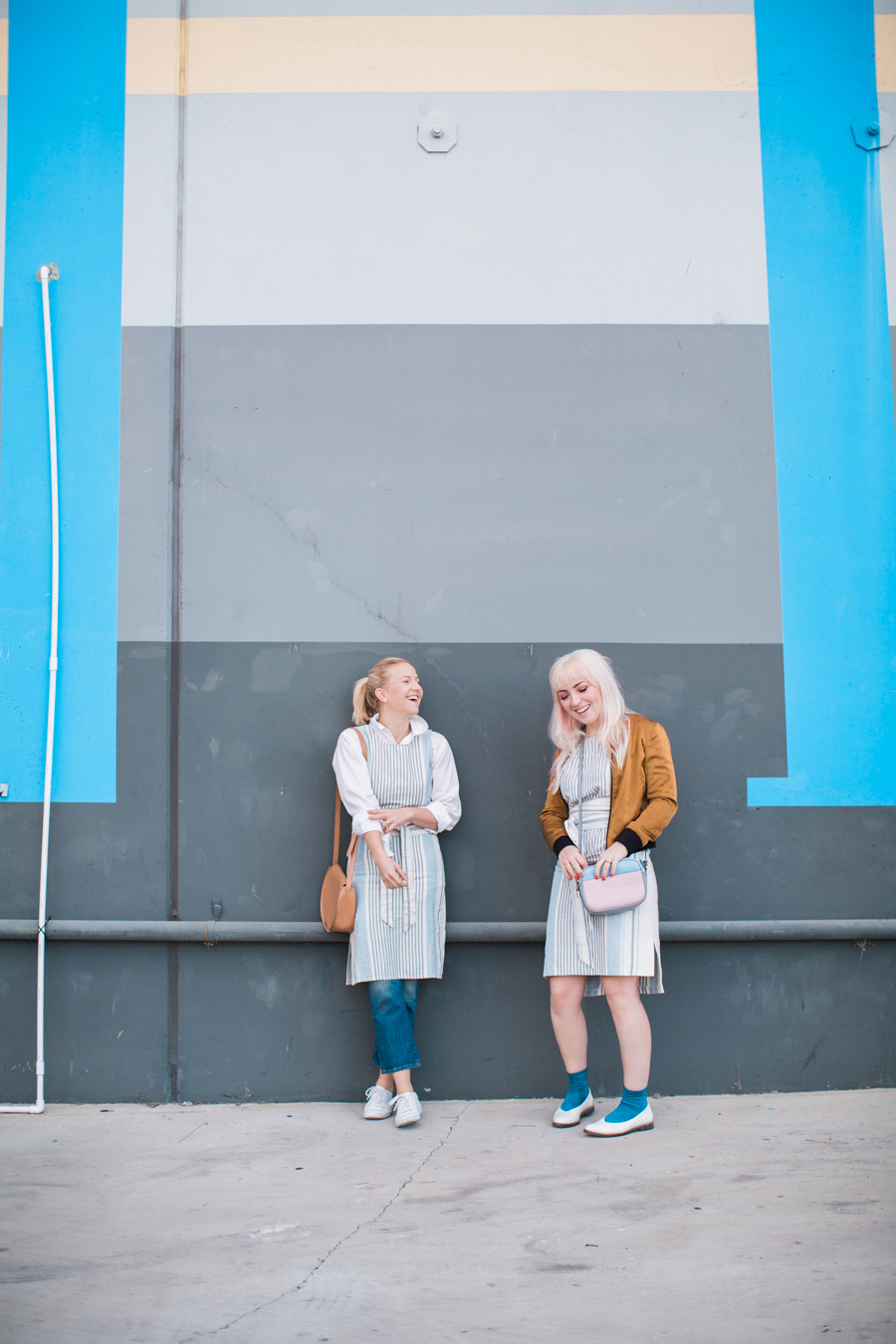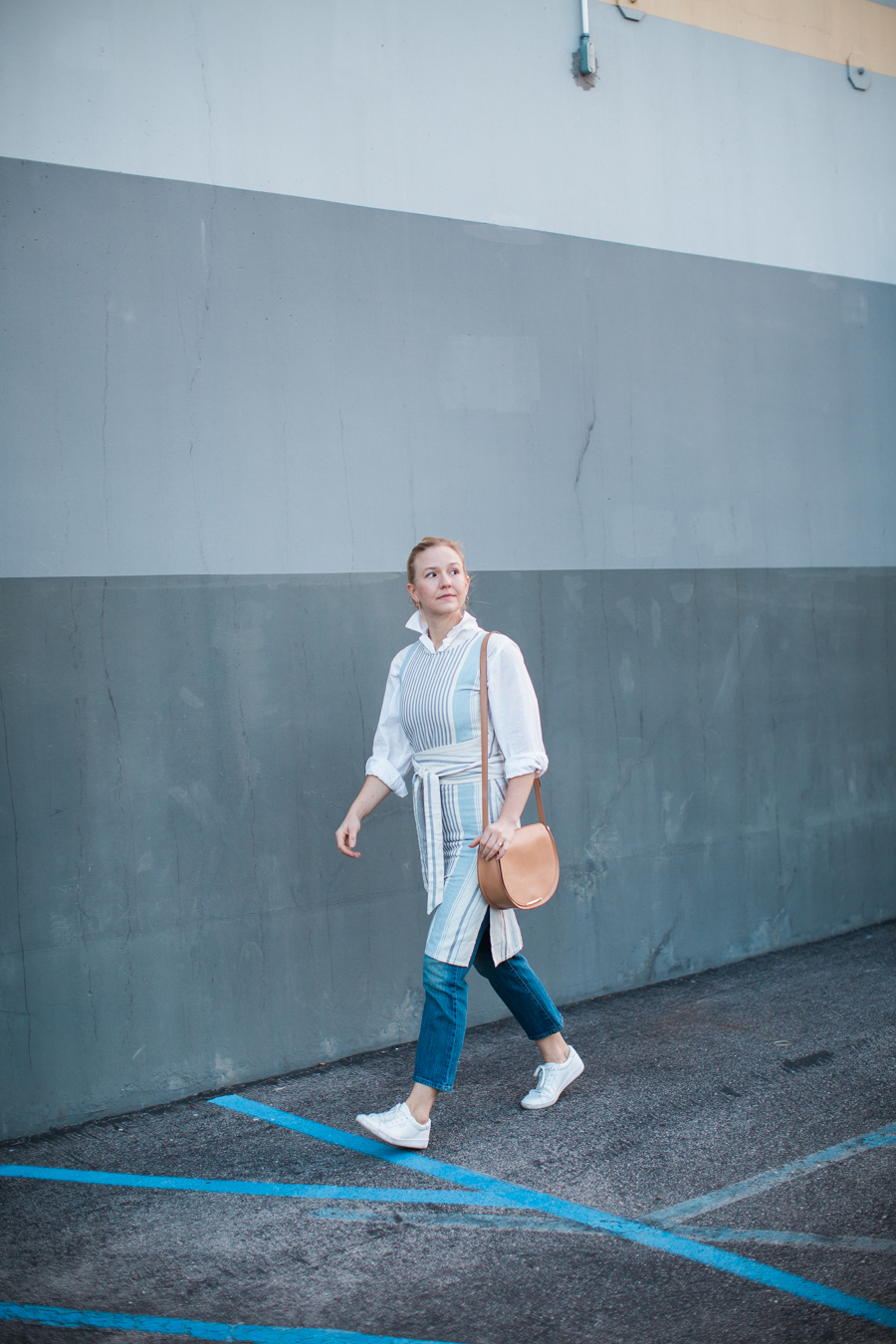 Anne's spin: Are you ready to see the way Anne styled her dress? (Also, have you seen this one?! It was a v close second.)
Well, I think Anne listens to the Man Repeller and loves wearing dresses over pants, because this look is GOOD!
(TBH, she may not actually be into MR, because the bold factor doesn't align with hers', but, let's pretend she does.)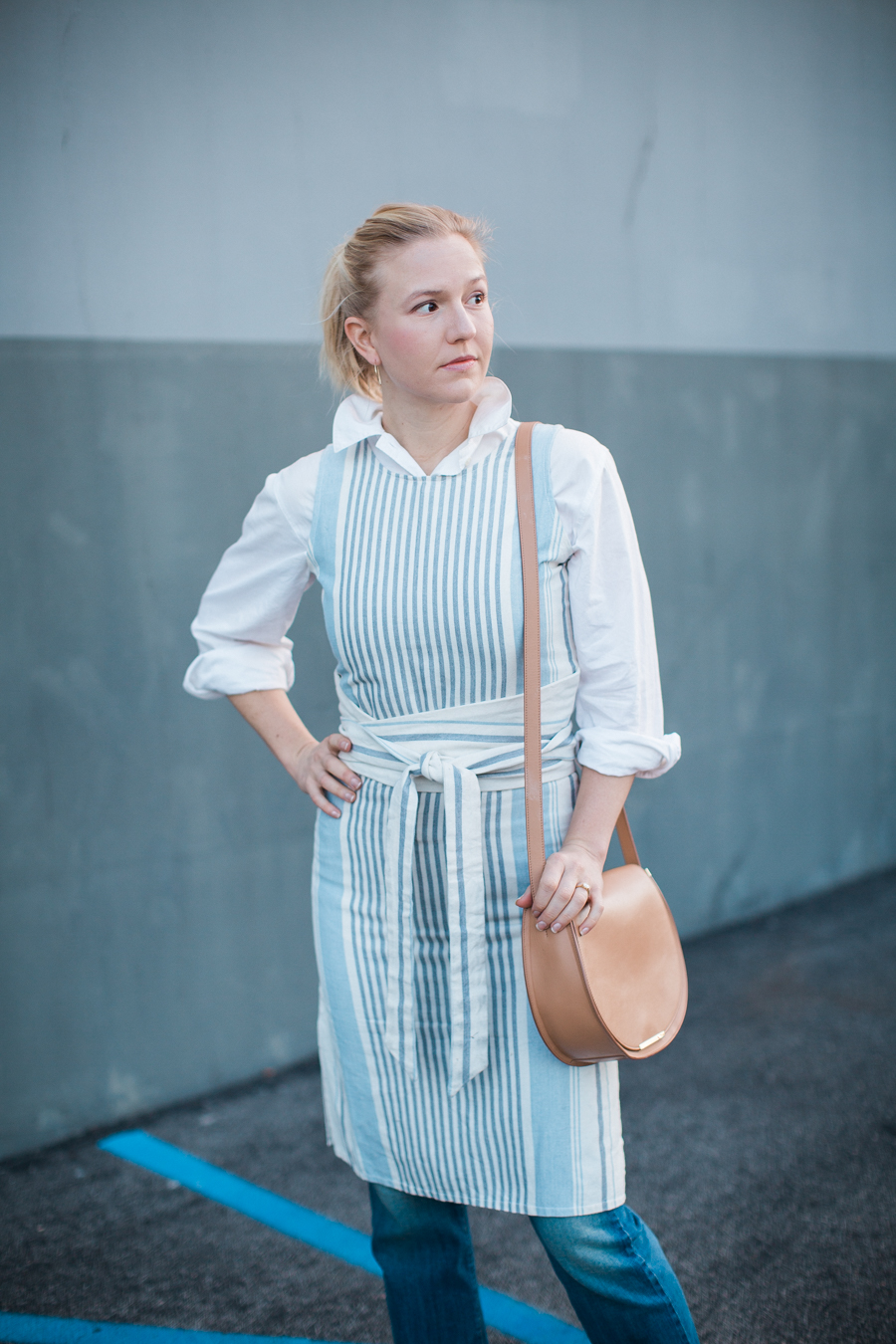 I love the almost-preppy collared shirt and jeans paired with the dress. Such a unique spin, especially when compared to mine!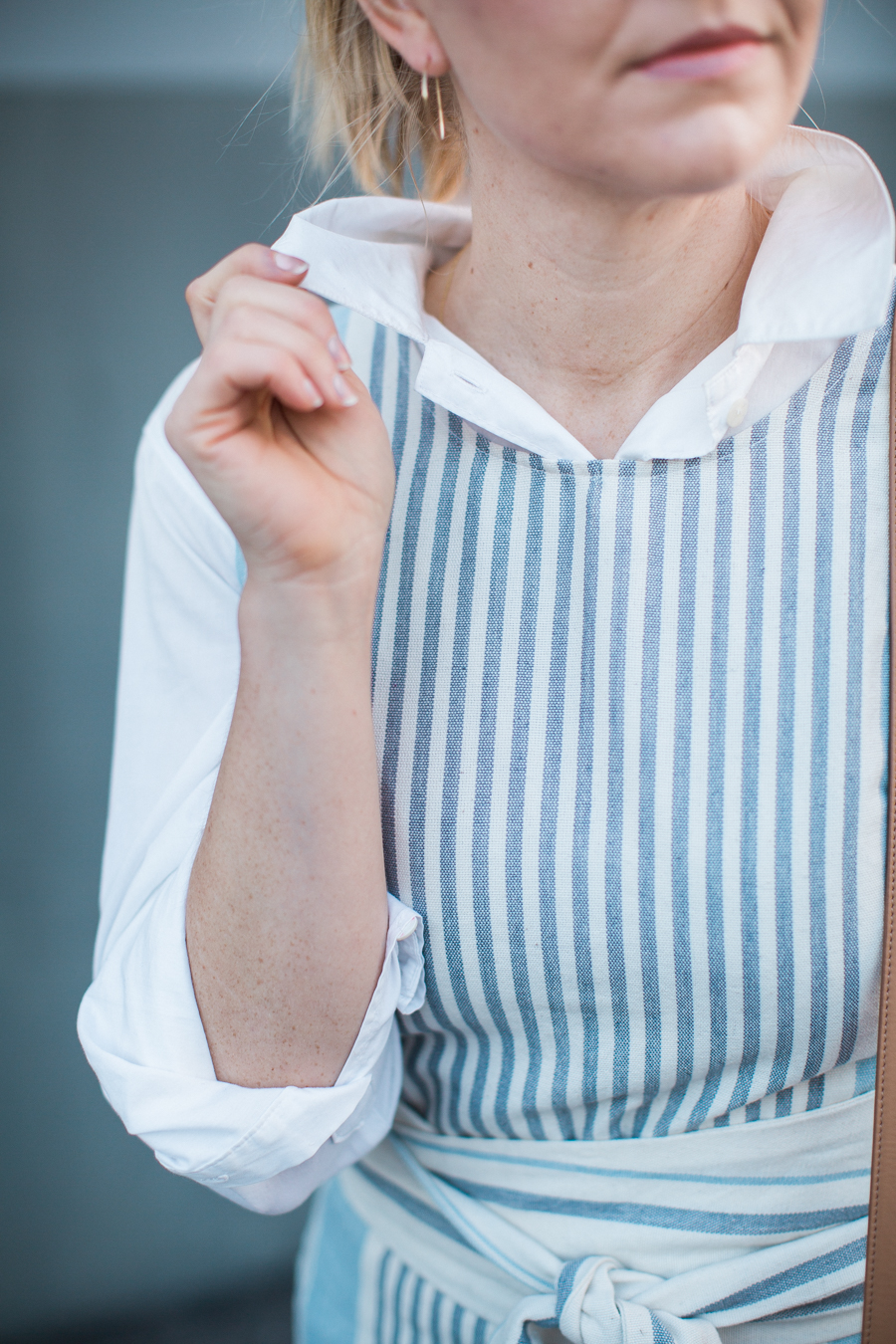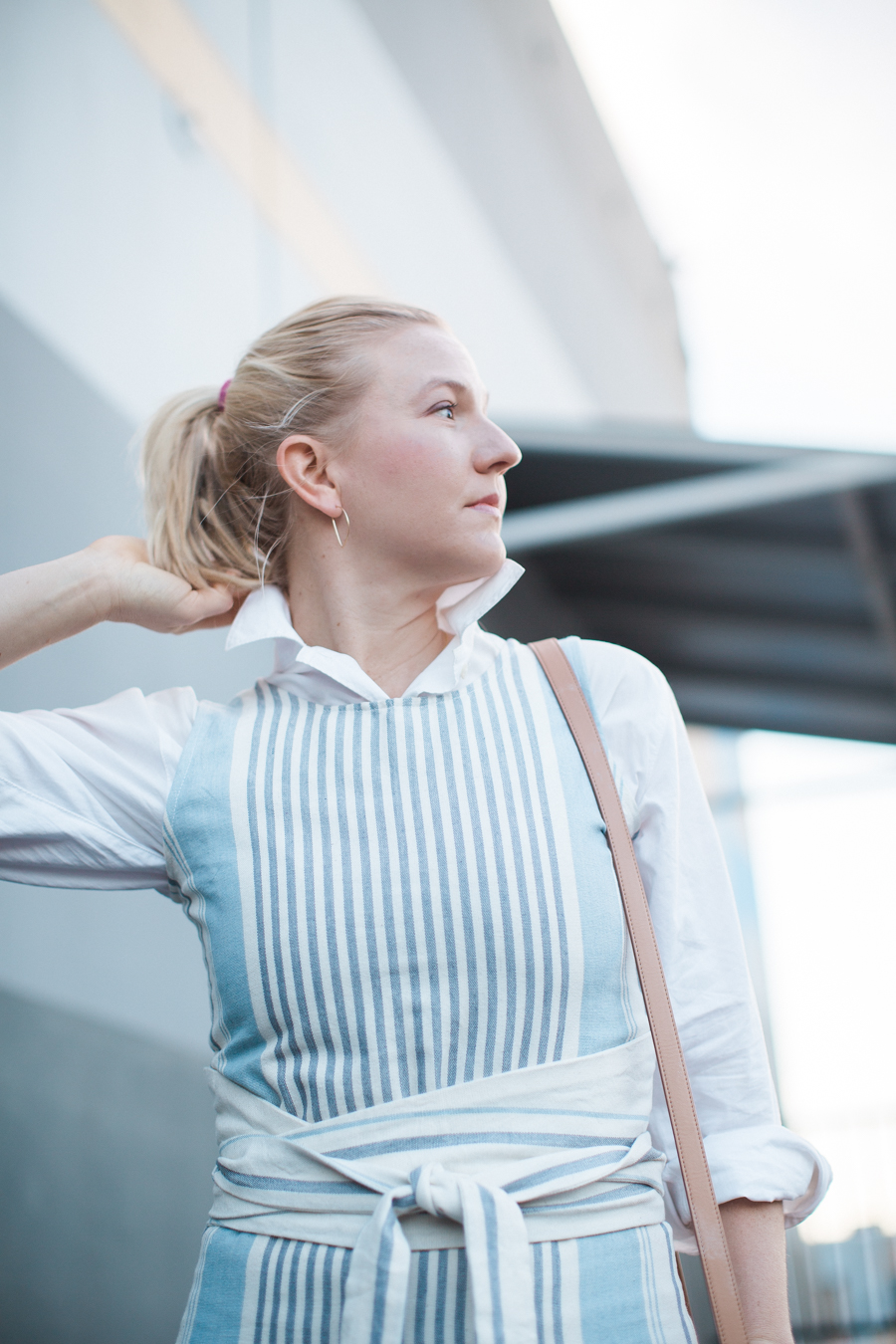 Hit Anne's blog to read more about the inspiration behind her styling here.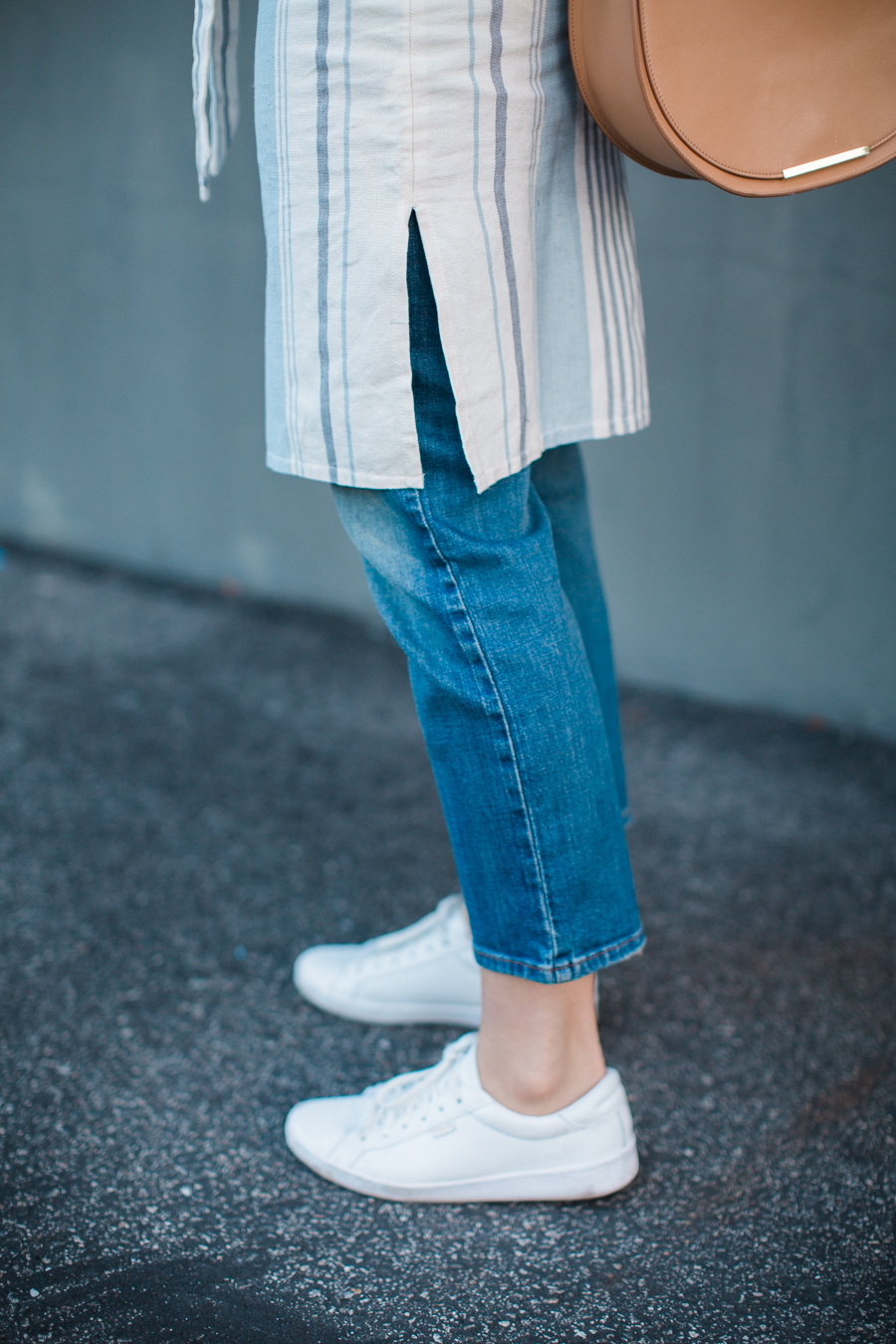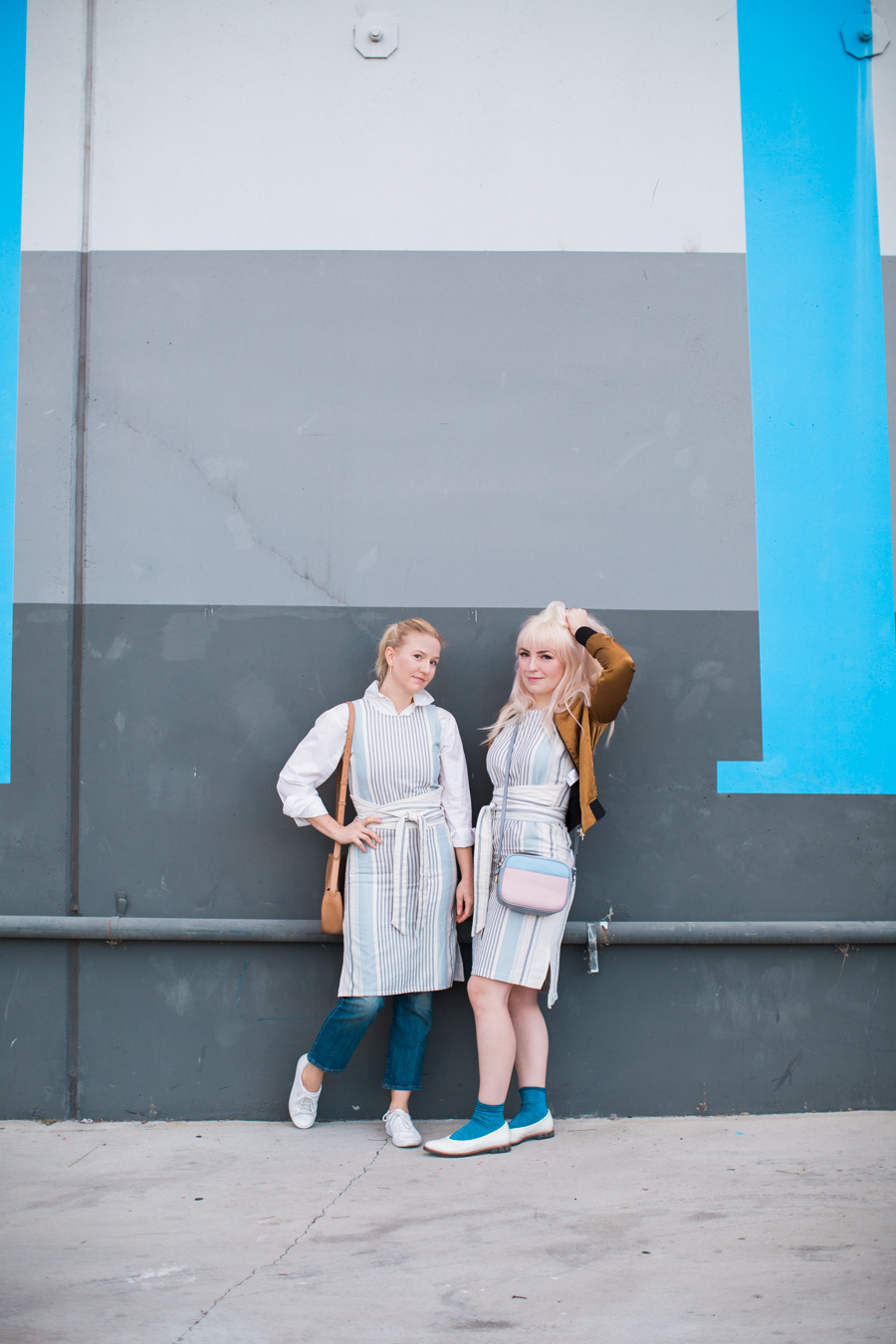 Be sure to swing by the new Tribe Alive pieces that dropped today.. they have so much great jewelry, so many fab bags, and even this amazing terra cotta plant hanger (that I also have and love so much!). There's a lot of gold to see, and a lot of good to do! xo