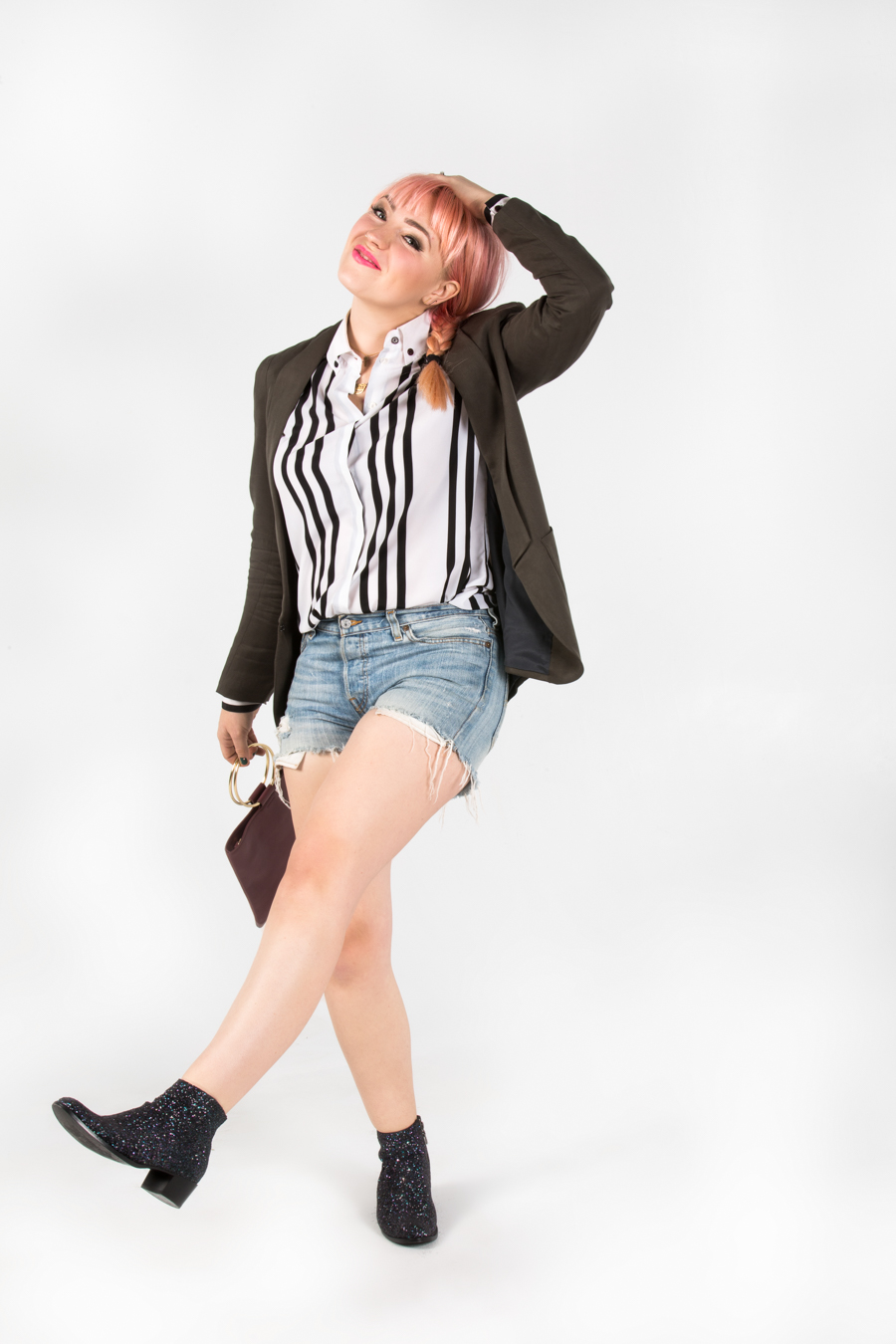 The crazy thing about starting a weekly series is that you start realizing how fast the weeks fly by…
Hello again, Tuesday! And hello again, TwoGirlsOneKit!
Last week, I introduced a new series, and today, I'm so stoked to share a new post. And photos of my black sparkle boots!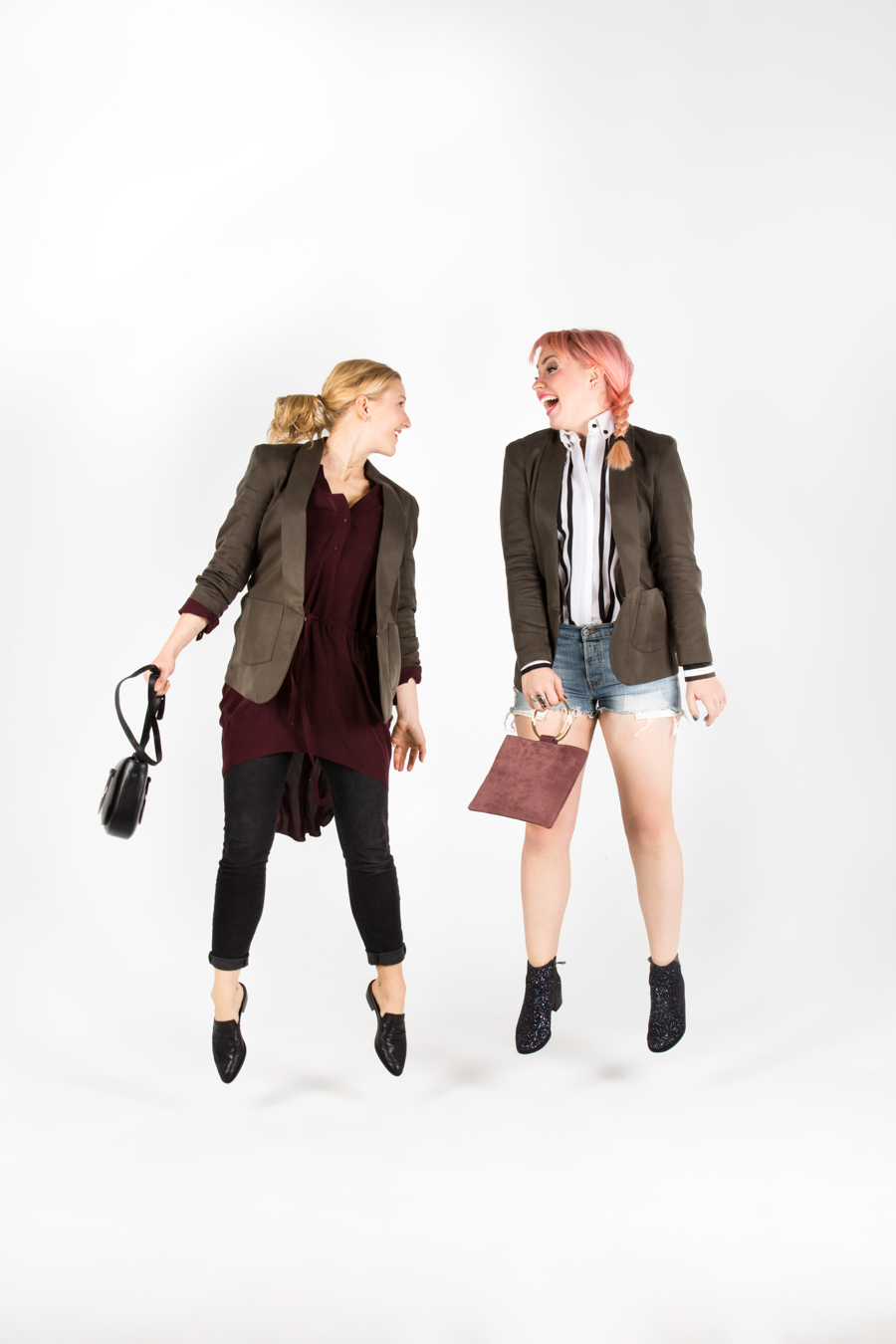 Anne + I chose ensembles from Thacker NYC this week; an incredibly diverse collection of everyday essentials that are easy to throw on (or even travel with!) and look chic in an instant.
Jayden + I share one closet, so since I literally have 2.5 feet of space for all of my clothing, I've gotten very selective about what I own. Thacker is this girl's best friend, for providing well-made, comfortable fashion that I can style in a million different ways.
For our 'common piece', Anne + I chose the beau boyfriend blazer in olive. Comfy as heck, with incredible shaping in the shoulders, we were both thrilled with this piece — and you know that's sayin' something!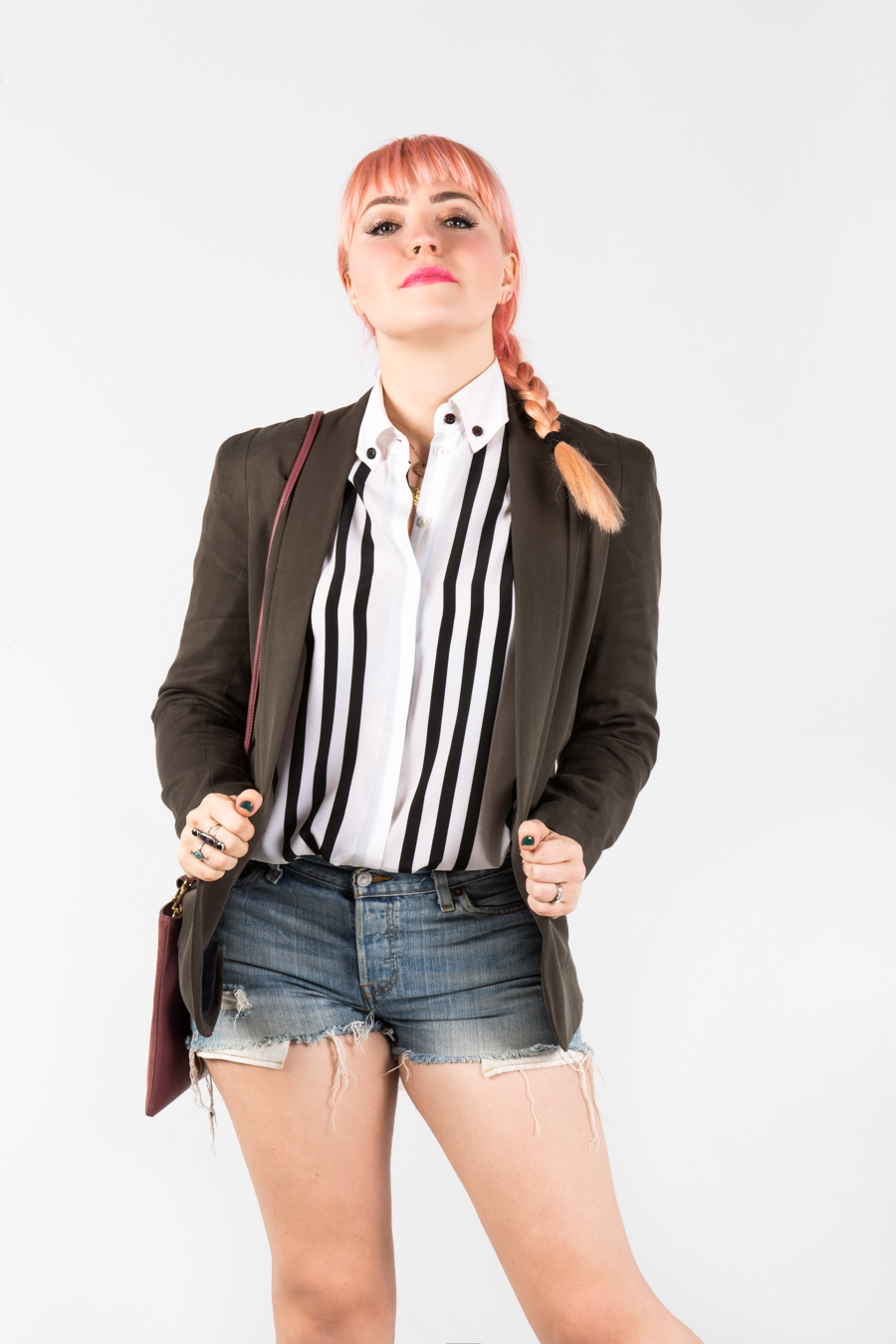 I took things a little bit.. rougher. (And I'm not just talkin' about my legs in shorts.) 
I wanted to tomboy a little bit.. with my late-Granny's vintage button-down blouse and a pair of vintage Levi's cutoffs that I snagged at a thrift shop for $4.50 about 3 minutes before we shot this look. (Anne and Jayden both said, "Wow! Shorts? This is unexpected." And it was unexpected. I think I have worn shorts 2 times since I was 15. Not exaggerating.)
But. Life is short and I like keeping things new and interesting. So, yes. Shorts. For better or for worse!
OK, now that we're done talking about that, let's focus on THIS BAG.
I'm actually not a purse girl. Yeah, I know. No shorts, no bags. Like nada. Never. But I saw le pouch in rosé suede, and I was ded. Like D-E-D, ded. I snagged it, but still wasn't sure I'd actually use it once I had it. Guess what? I haven't left the house without it in 2 weeks. I'm obsessed. Love. This baby may have turned me into a bag lady. And I can't say I'm upset..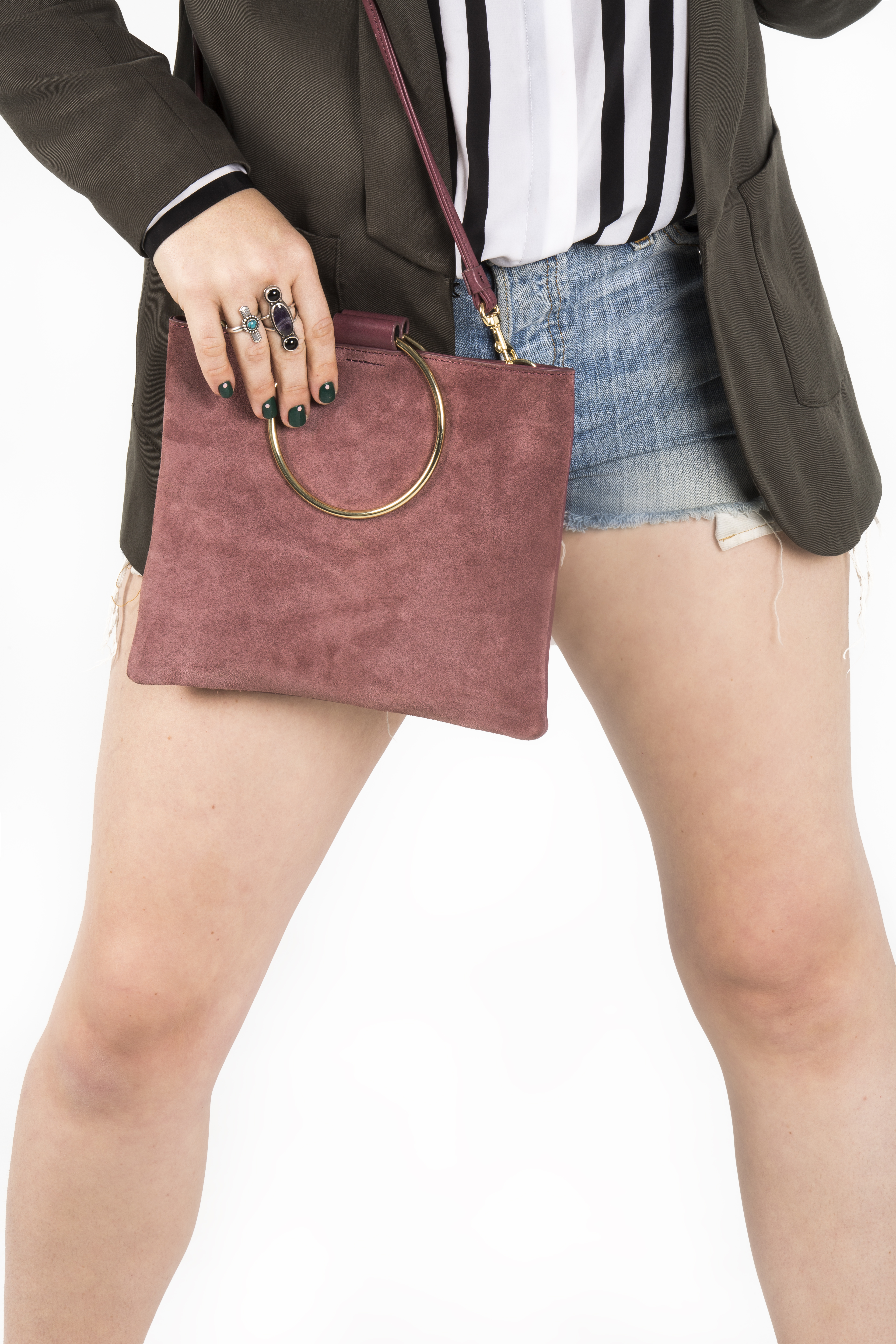 Olive, rose, stripes, pink lipstick.. oh, and a braid, because who has time to wash their hair these days?
Last up, the boots. And I don't just mean the boots. I mean thee boots. The Carly Boots in black glitter have also become my daily go-to. I style them up and go to Holiday Parties, I style them down and wear them with cut offs. They are diverse and magical, and I feel like a little girl who just got her first pair of princess shoes. I can do anything when I'm wearing these beauties! (And umm, don't look now, but I just checked the Thacker website and they're on sale. Uh oh. … GO! GO! GO!)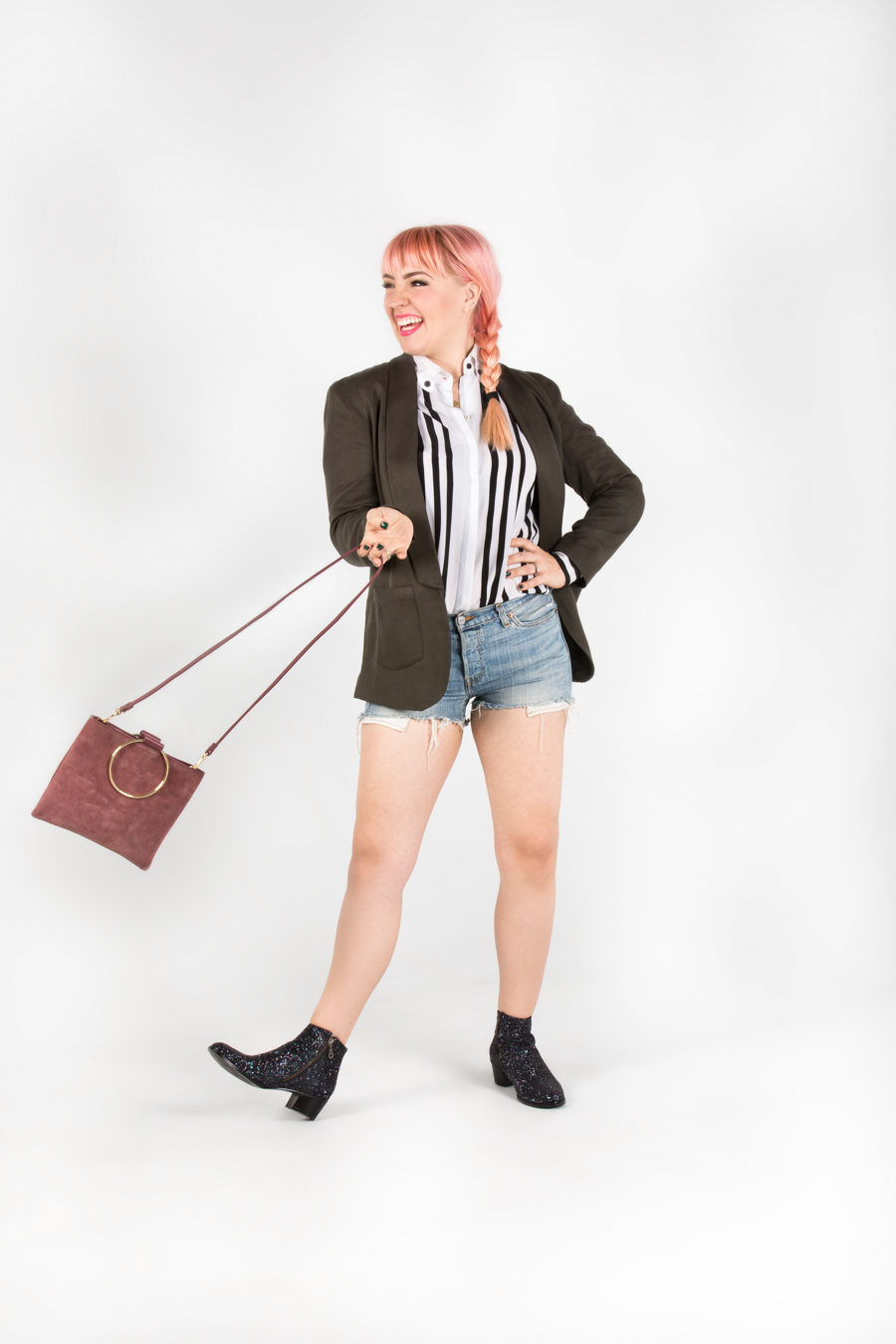 And now, for Anne's look!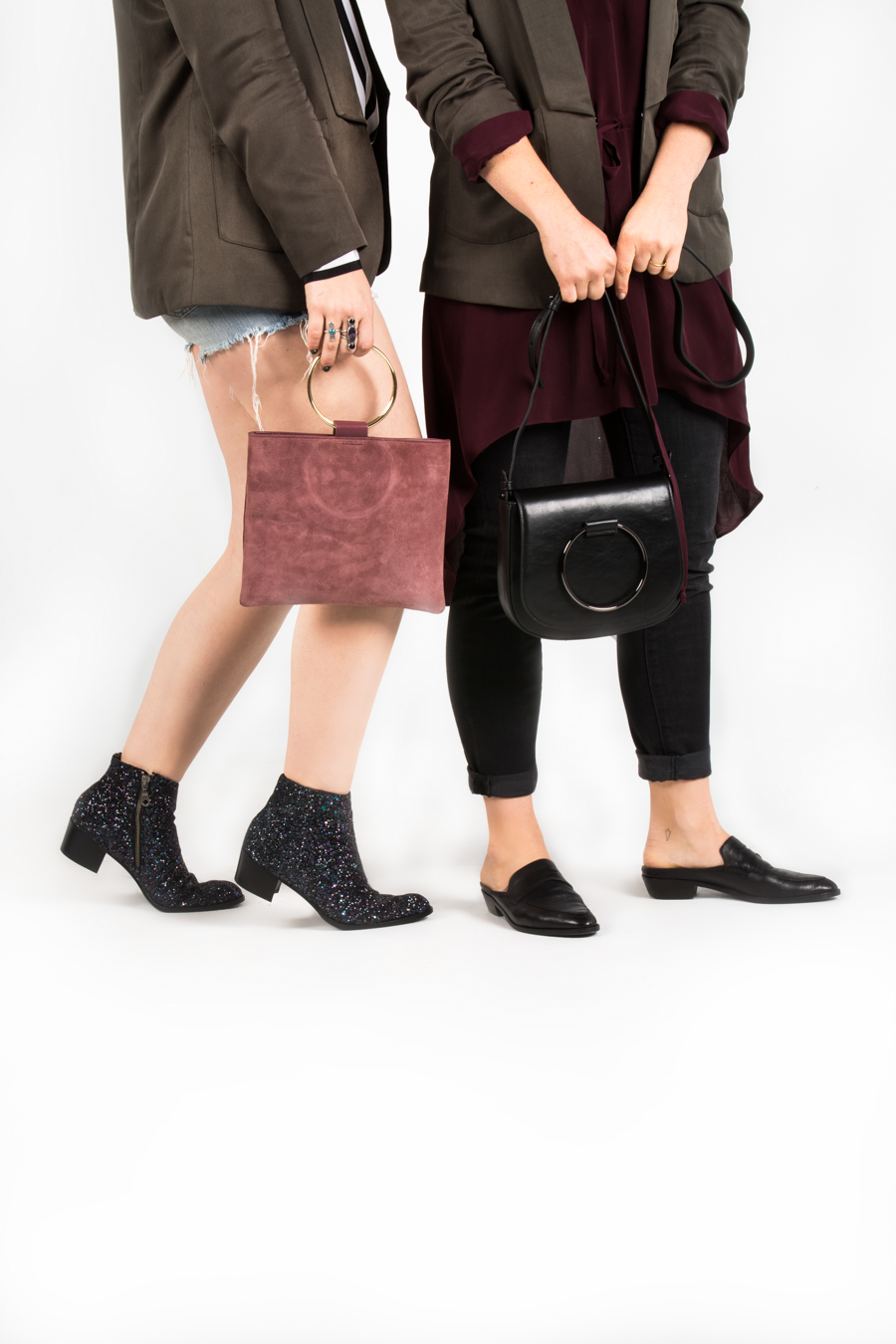 I absolutely love the direction Anne took her blazer. Ever since Man Repeller told the world that dresses paired with pants are so hot right now, I've been reminiscing about how that was my daily look when I was 16/17, and, trying to find a way to incorporate it into my modern day closet realities.
Leave it to Anne to nail the look!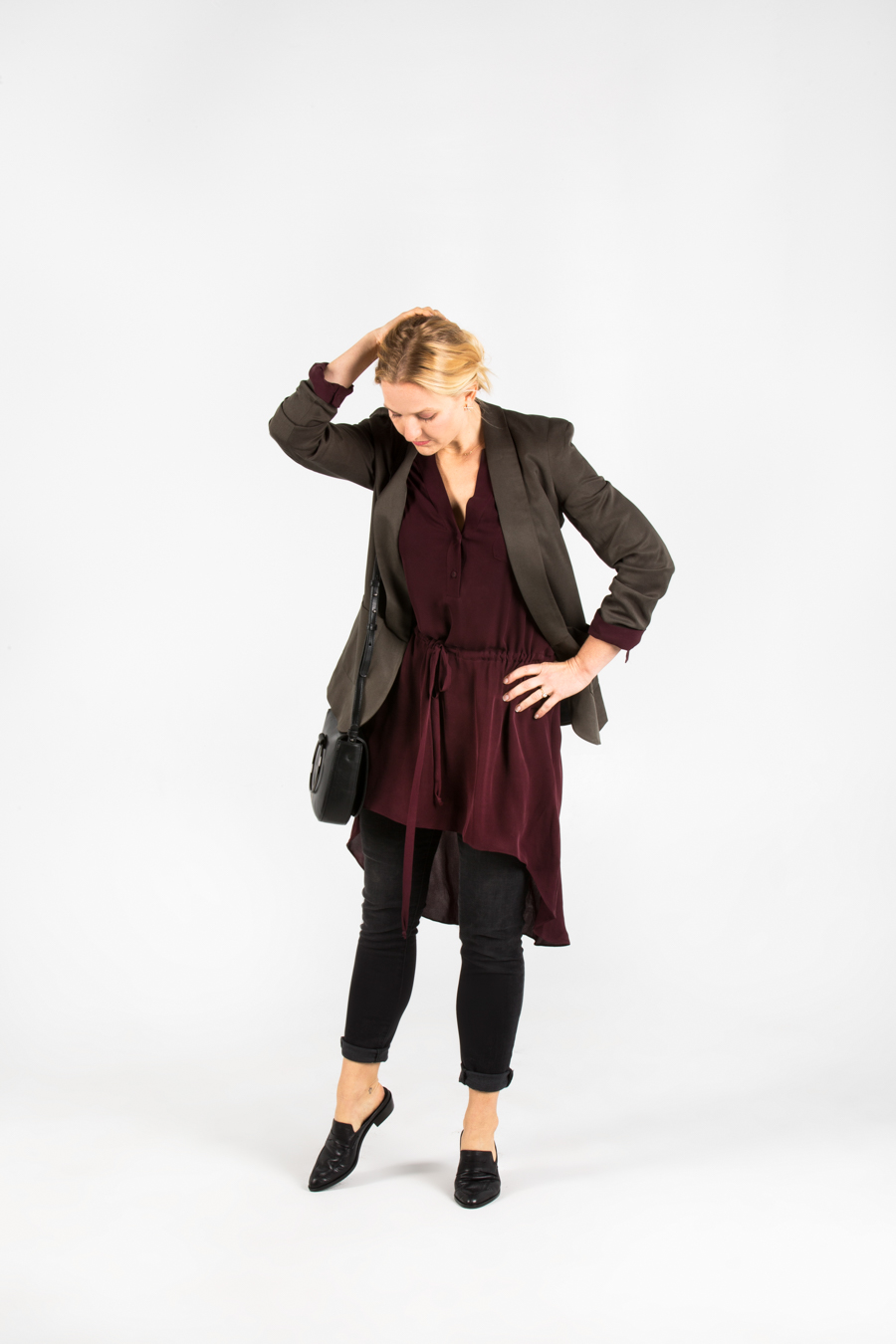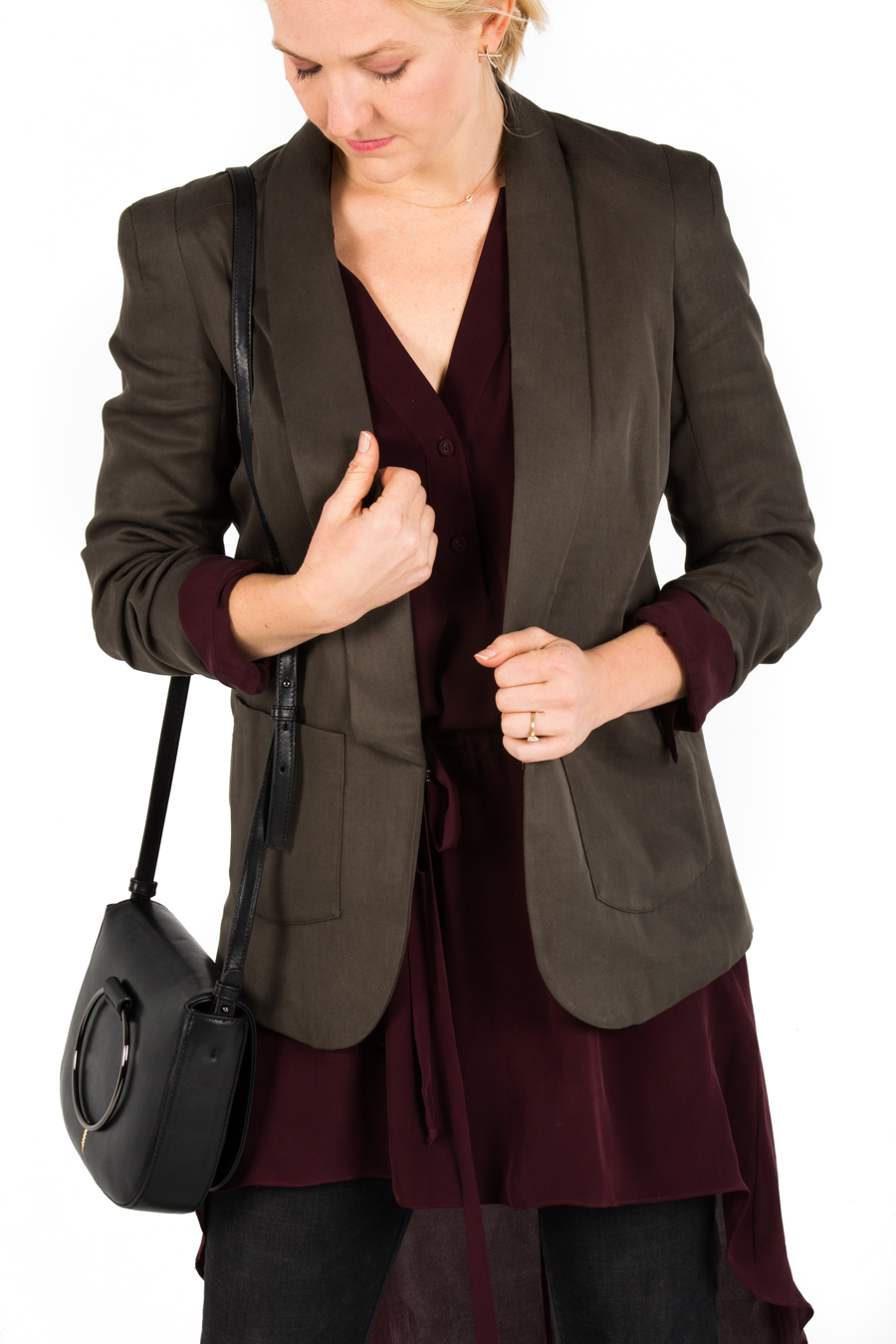 The Sabine Saddle Bag in black Anne chose is a bit larger than my pouch — which is perfect for her, because she is a bag lady and is used to carrying more essentials around with her everywhere she goes.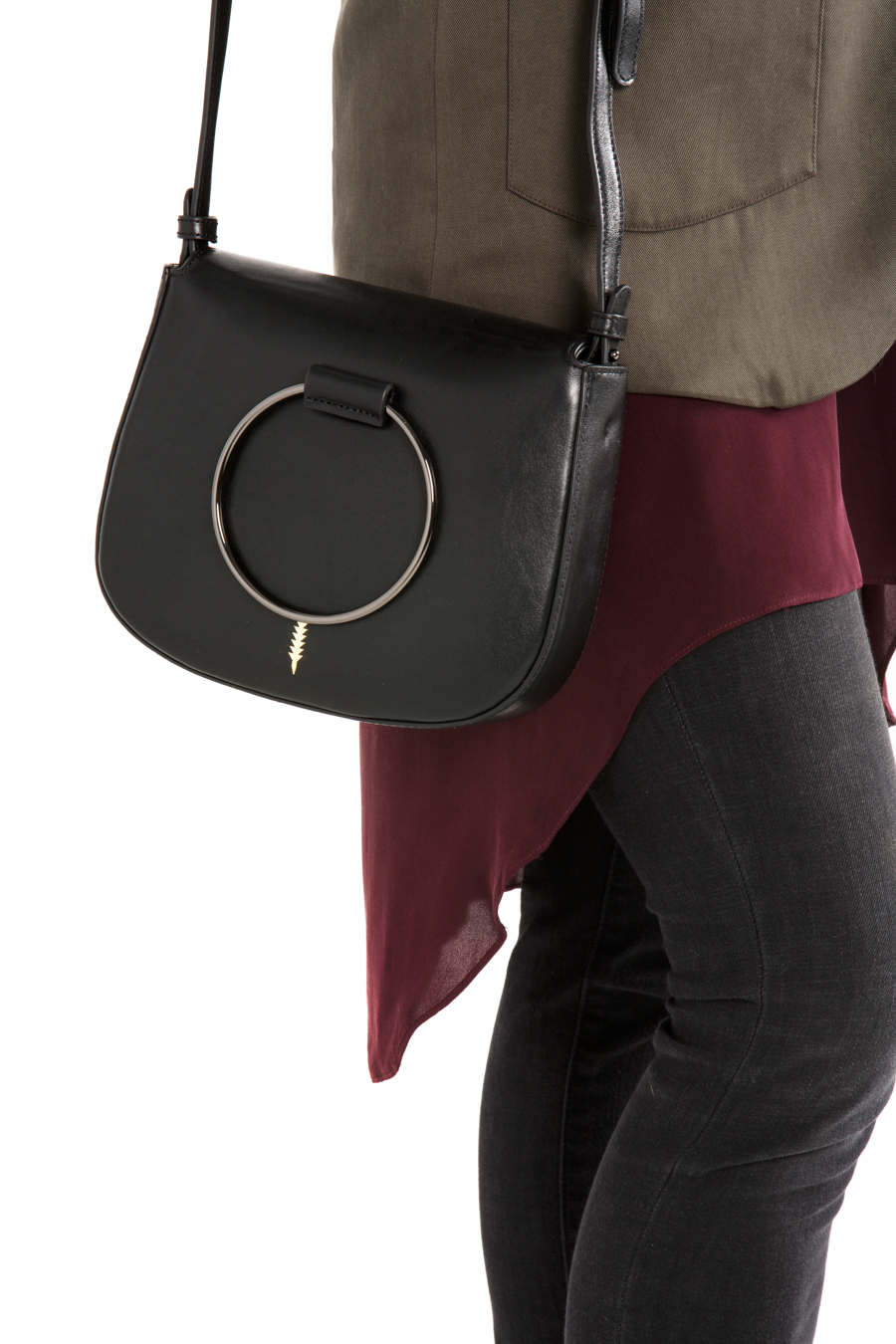 Anne describes her aesthetic as Italian woman on vacation, and uses that as her guide as she chooses fashion pieces from day to day. I think her Jett Slide shoes in black are so perfectly that. And–she, too has been spotted wearing the slides on a daily basis since this shoot. Clearly, our pieces are not just for show. We're hooked!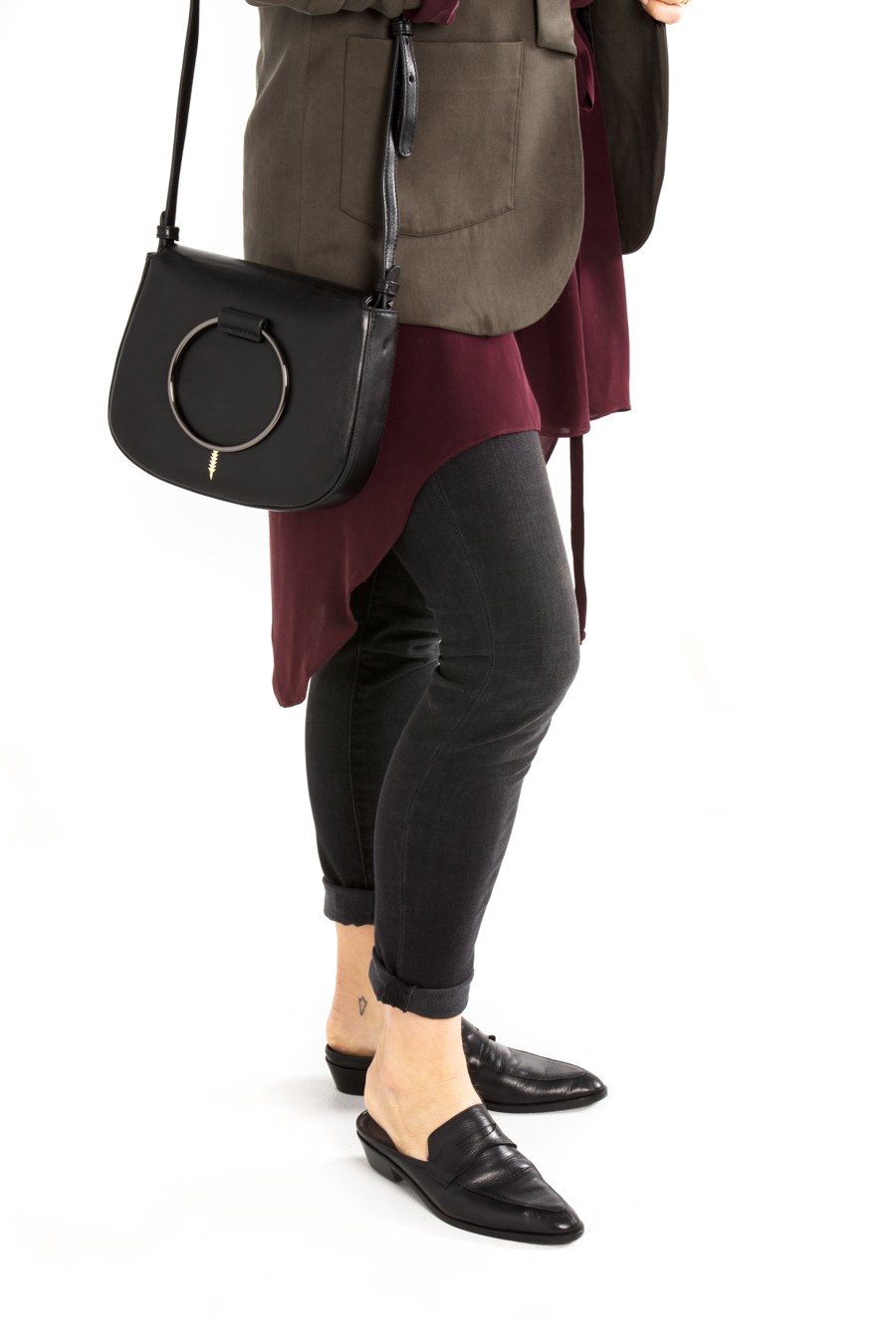 Such a good look, Miss!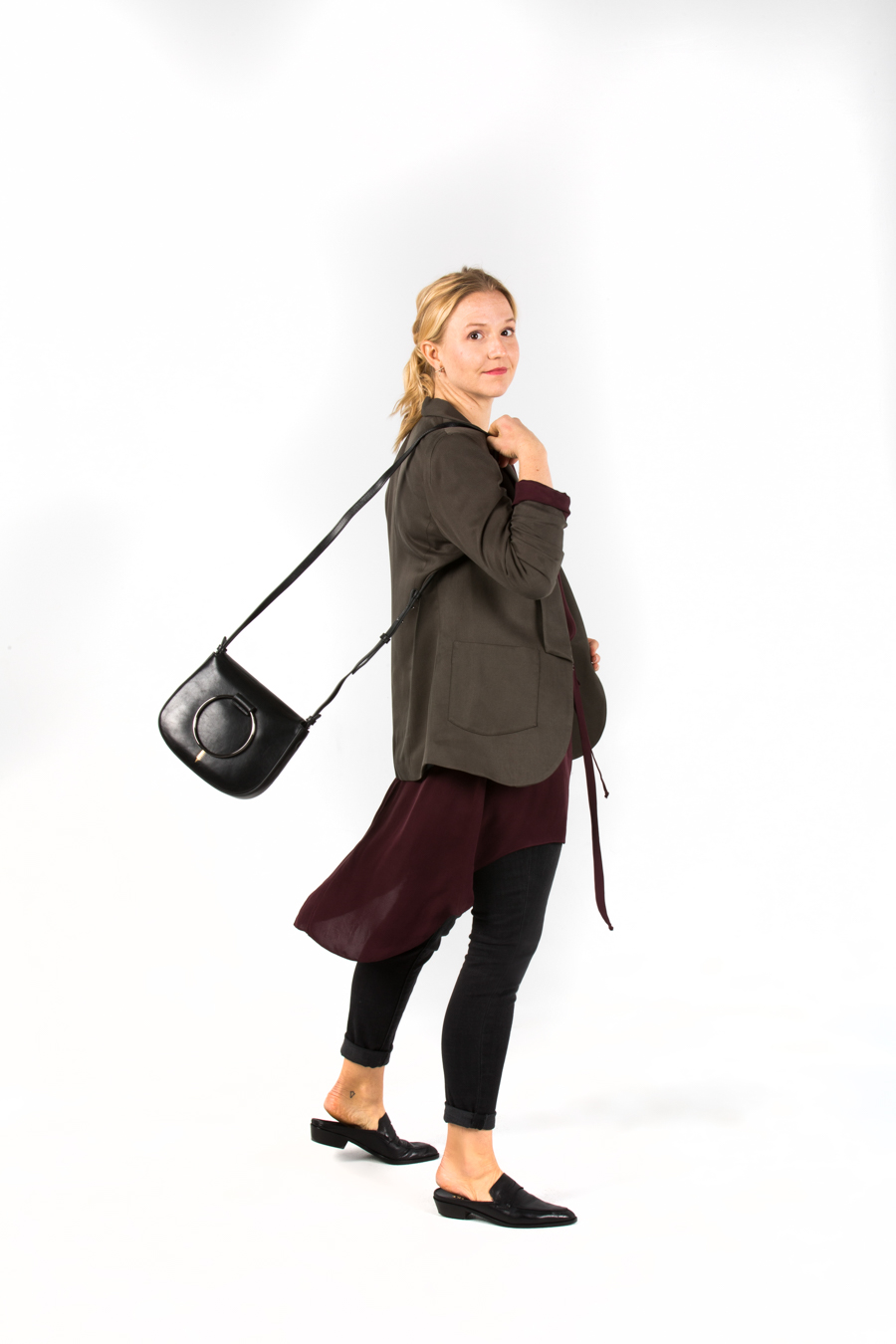 Big love to Thacker! They were a new discovery for me, (thanks to Anne!) but I'm sold now.. I just can't get enough!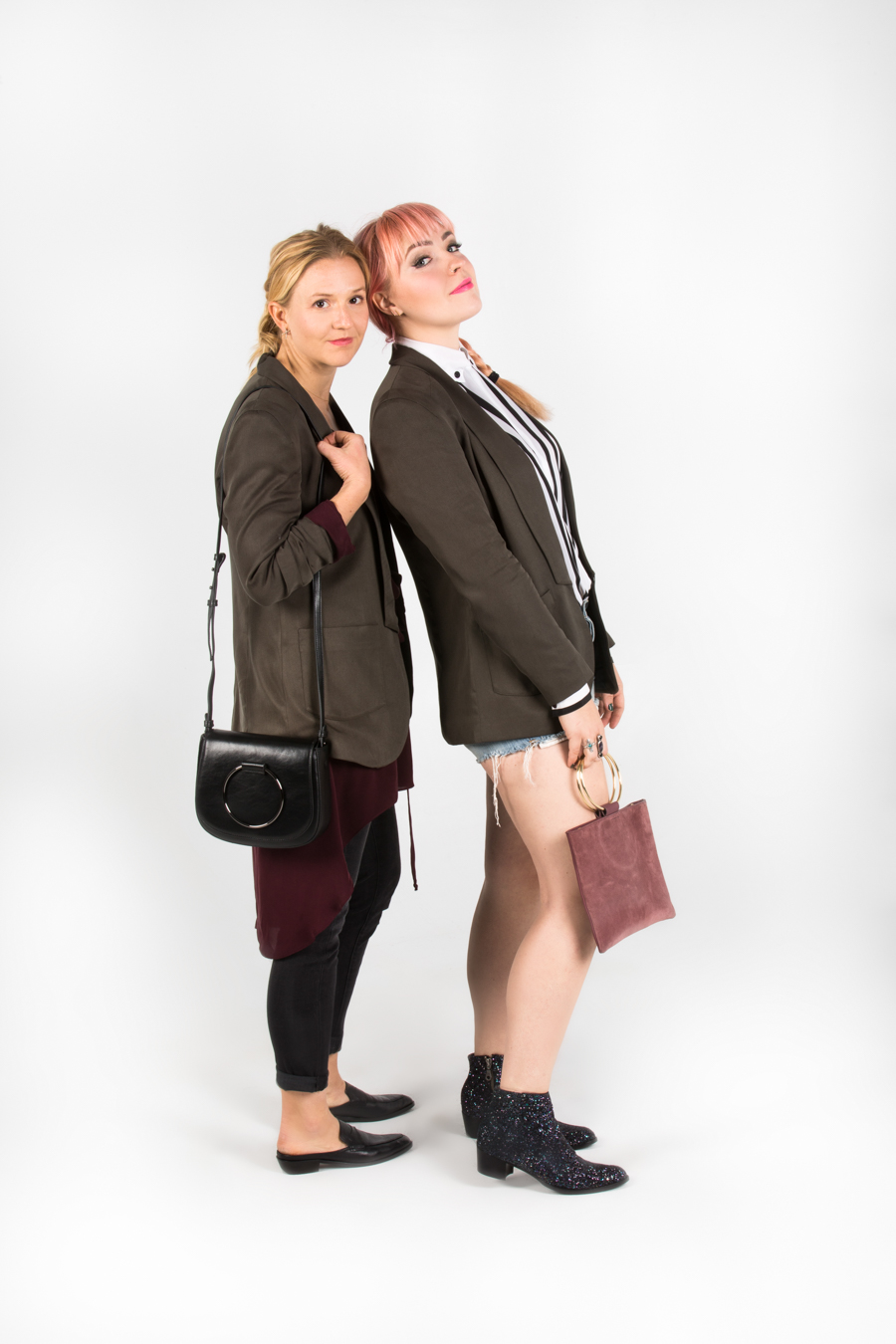 We'll be back next Tuesday with another … Two Girls, One Kit! xo
Photos by Jayden Lee for Echo and Earl.