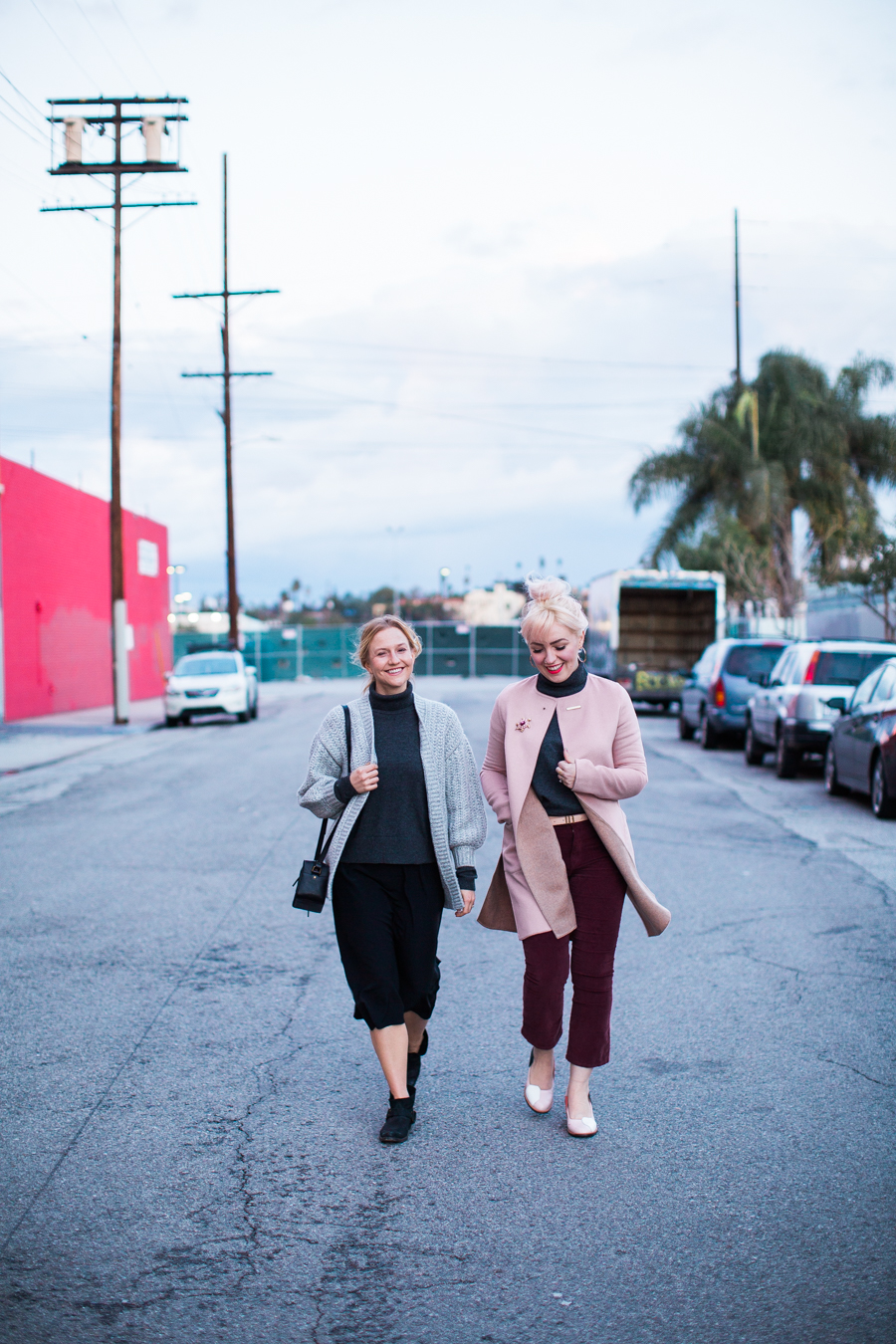 If you follow me on Insta and watch my stories, you'll know that I made a joke about how this outfit is how I hope to dress on my 40th birthday, (I'm currently 30) but my dirty little secret? I totally love this ensemb and love how it stretches me to feel and be … mature.
Also, let's be real. There's a pink coat involved. Today is gonna be good.
The Amazing : CUYANA means 'to love' in Quechua. This female-founded company believes in style over trends, in quality over quantity, in loving your closet. They believe that fewer, better things lead to a fuller, better life. And I tend to agree!
The Common Piece : The Wool Cashmere Turtleneck Sweater in Charcoal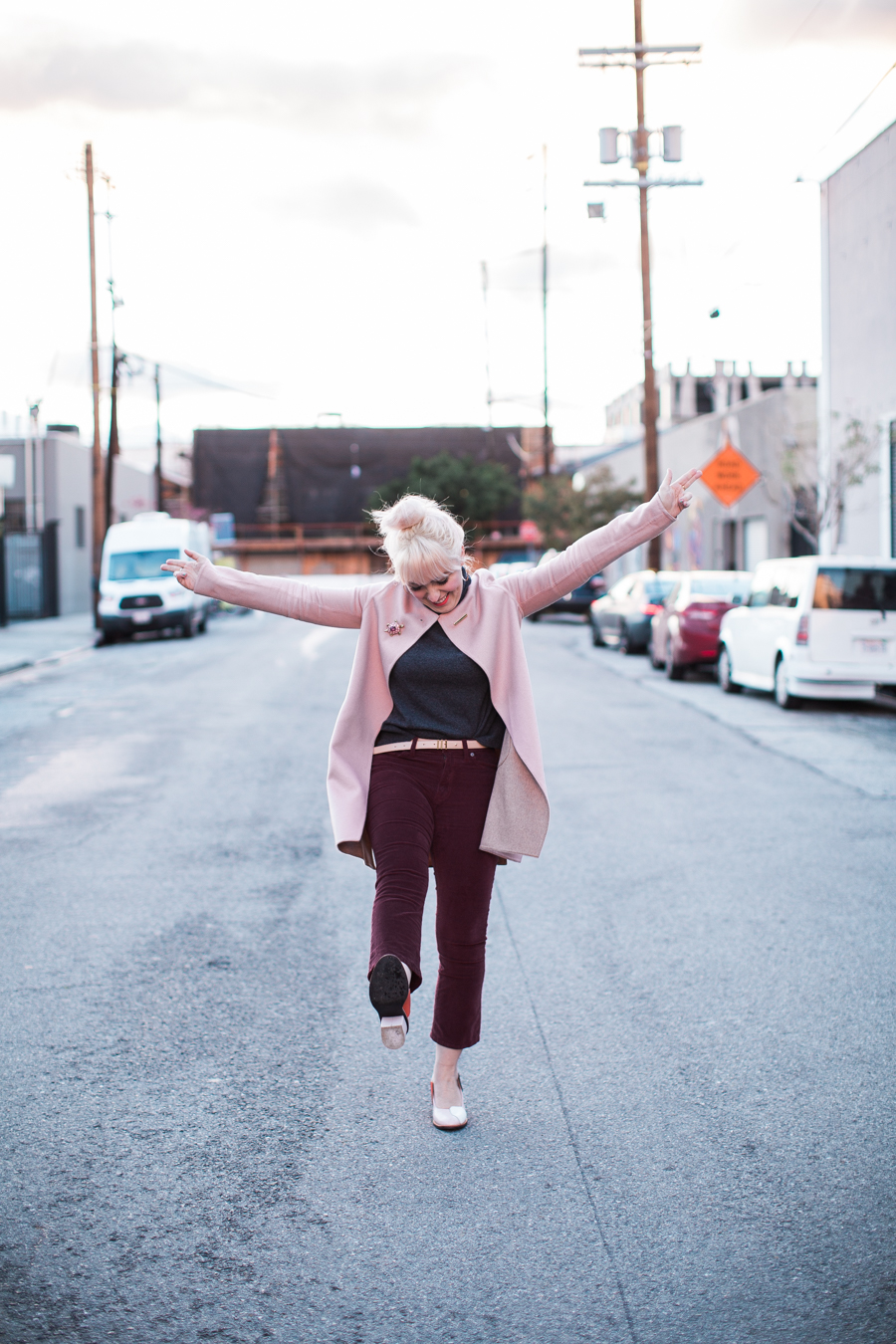 My spin : The Soft Wool Cashmere Coat in Pink / Camel and the Push-Stud Belt in natural.
I wouldn't lie to you. When I was browsing the Cuyana website and saw a pink coat, that was it. I texted Anne and said, "Well. Whatever we choose has to involve the pink coat. It just has to." And it is my new favorite thing that I own. No doubt about it!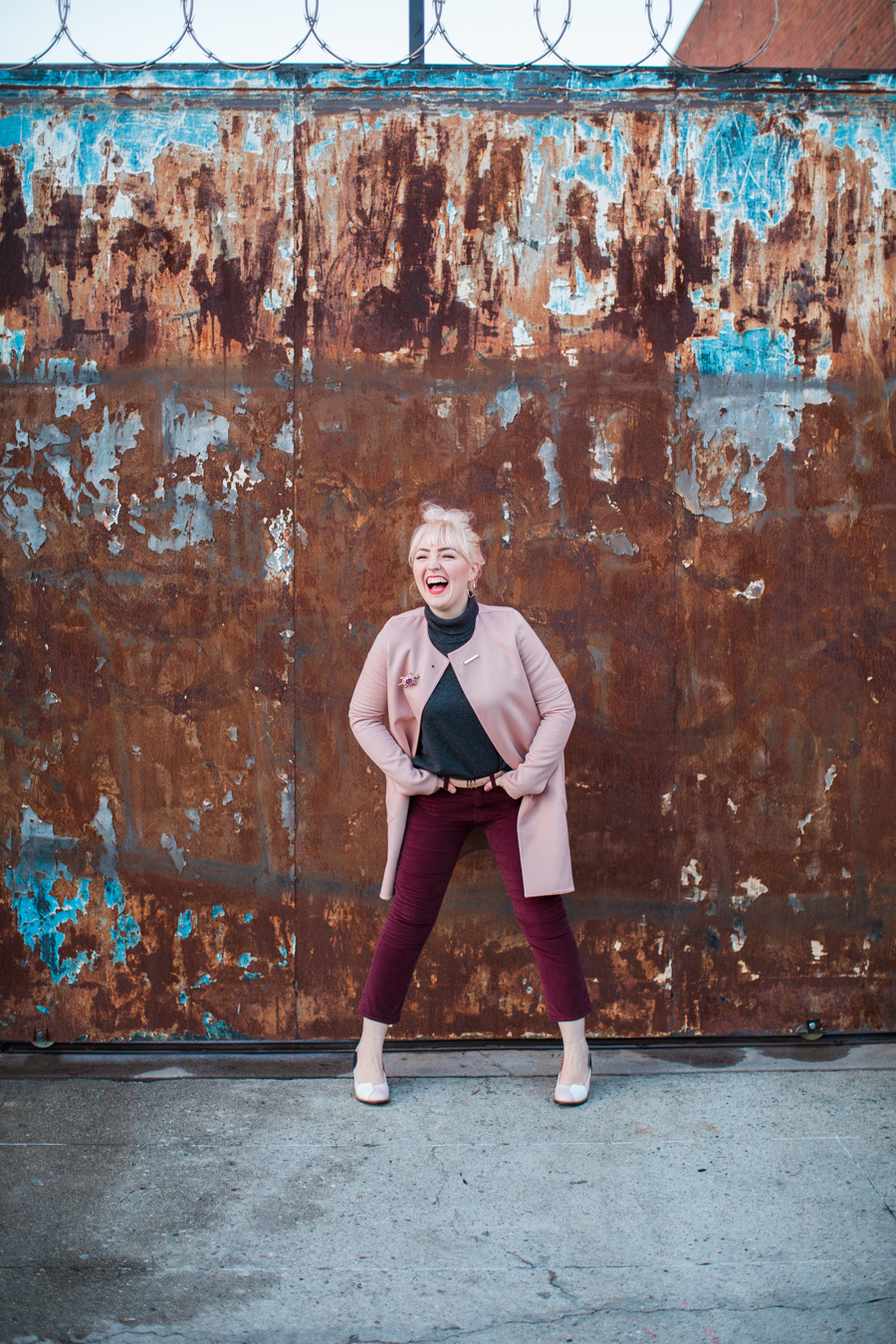 (I may be dressed like I want to dress on my 40th birthday, but I still act… 23?)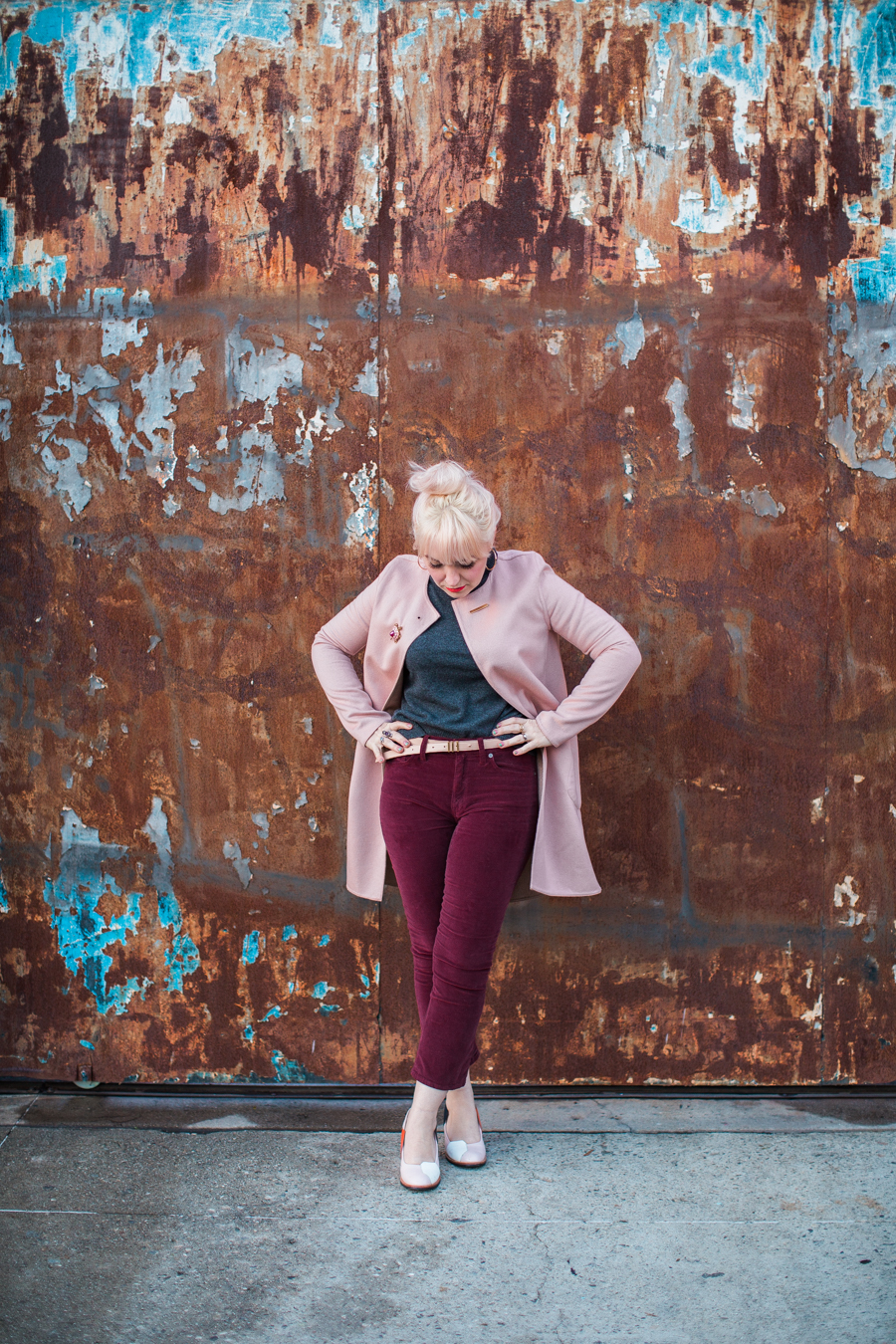 In keeping with my usual love of color and bold pairings, I pulled my trusty ol' Madewell velvet pants from this week of Two Girls, (OMG, I just looked and they are on sale for $29.99! GO! GO! GO!) and those Gorman heels that you've seen before. This series has to stay practical! I don't have a completely new wardrobe every single day, but I do try to create totally new outfits daily, and not repeat looks that I've tried before.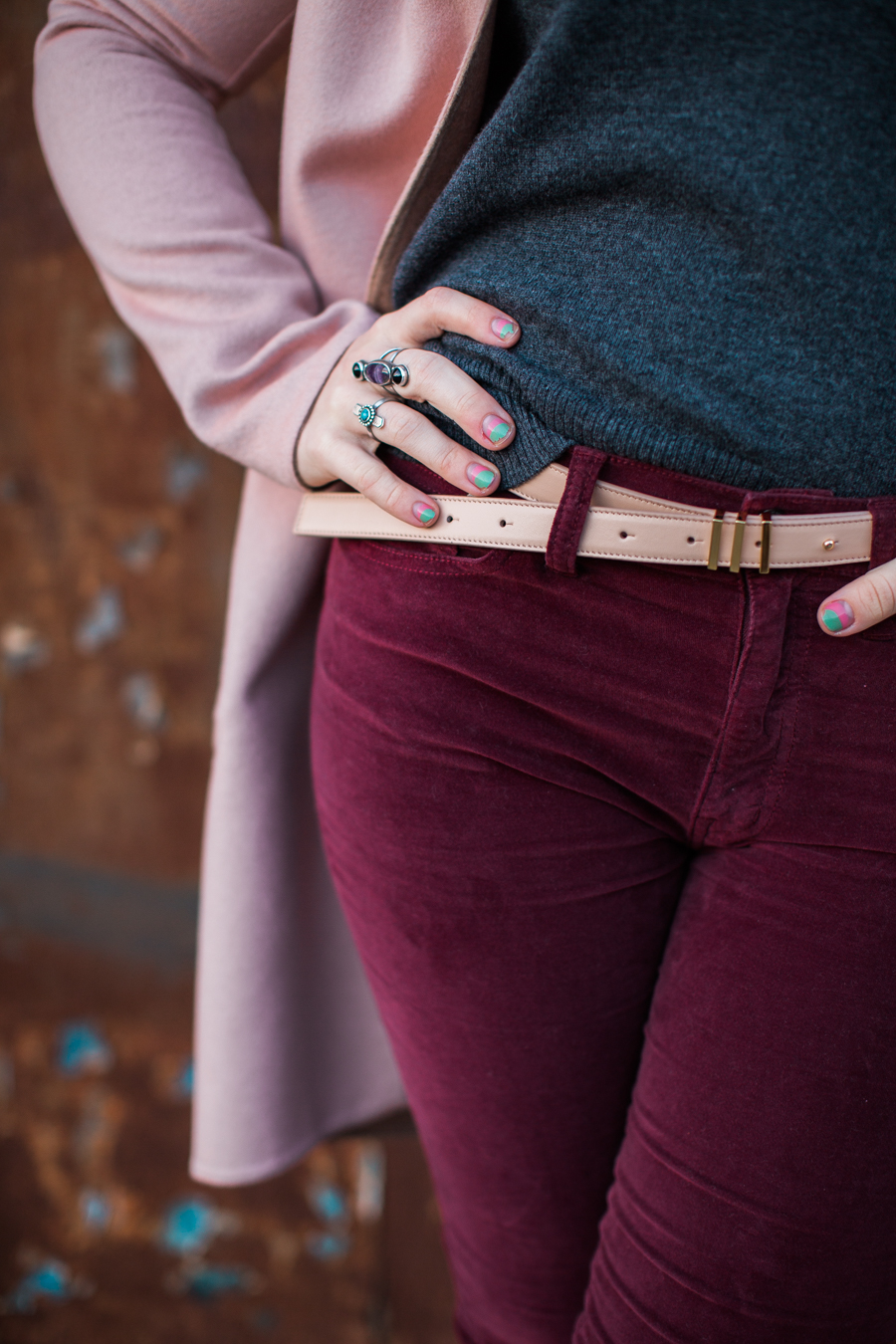 The push-stud belt elevated my velvet-pant look and added a new, mature spin to my vibe. One of my friends said this look reminded him of Jackie O., and darnit, I'll take it!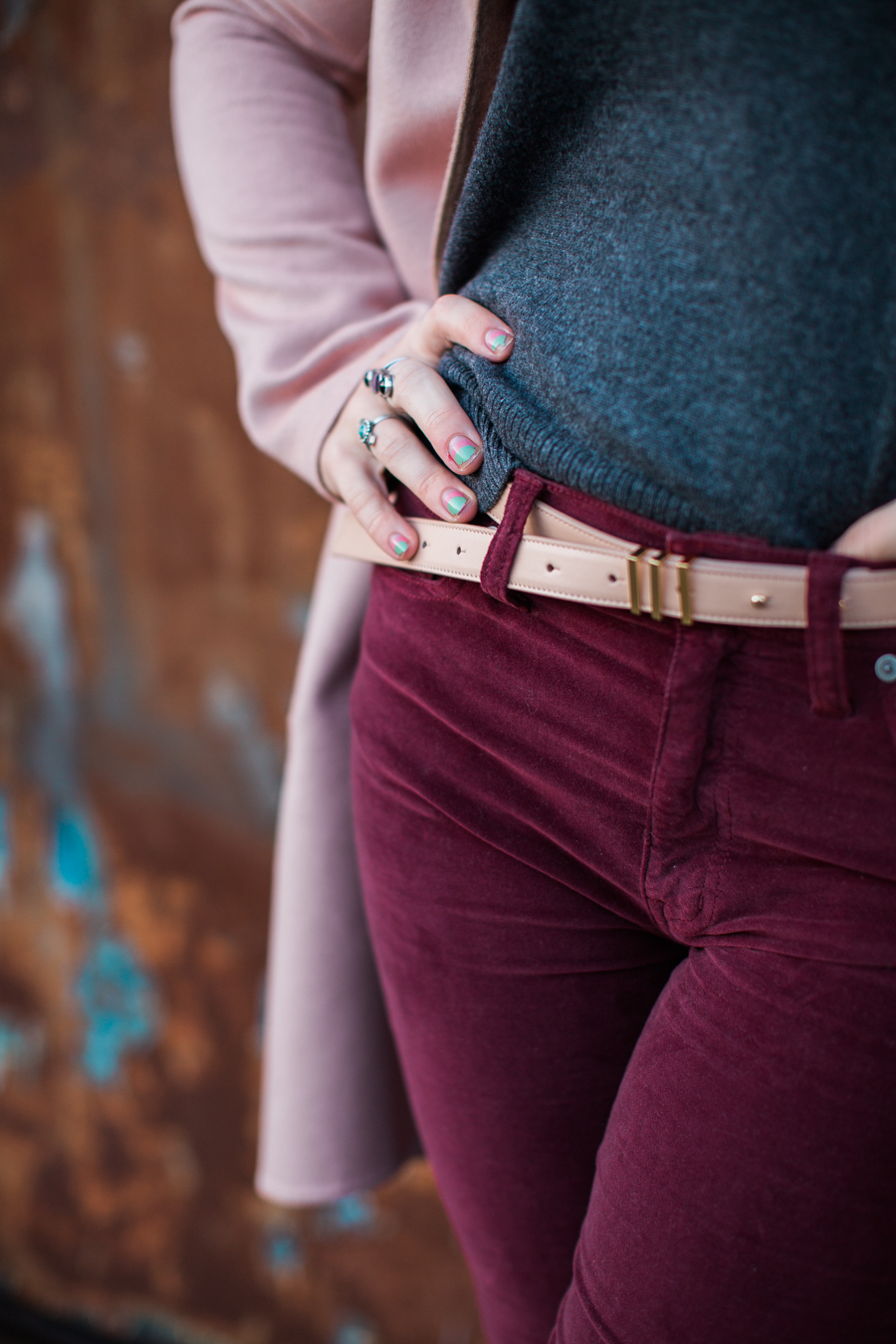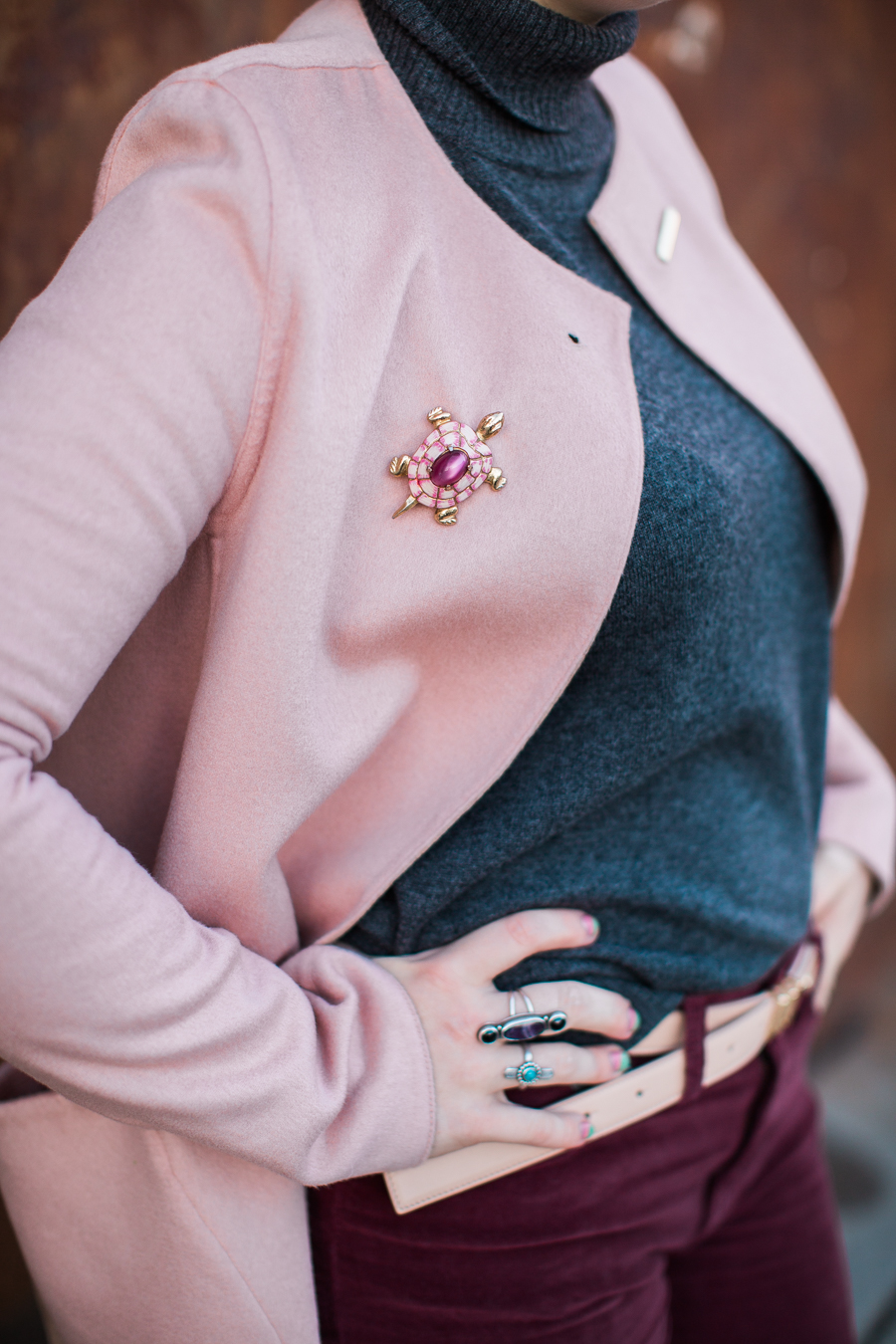 (That turtle brooch is mine from a million years ago. But I couldn't look toooooo mature, so I had to throw it on, too.)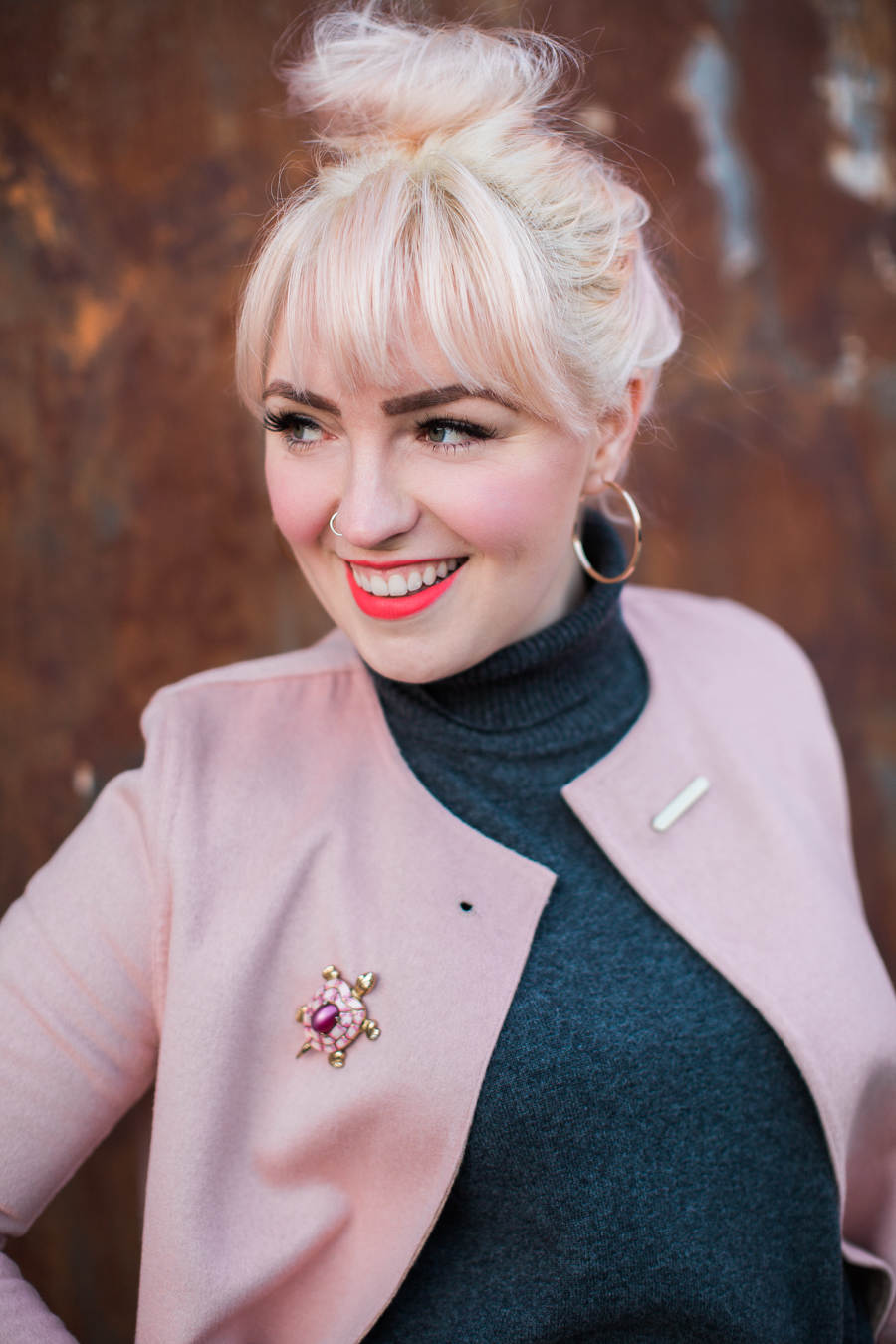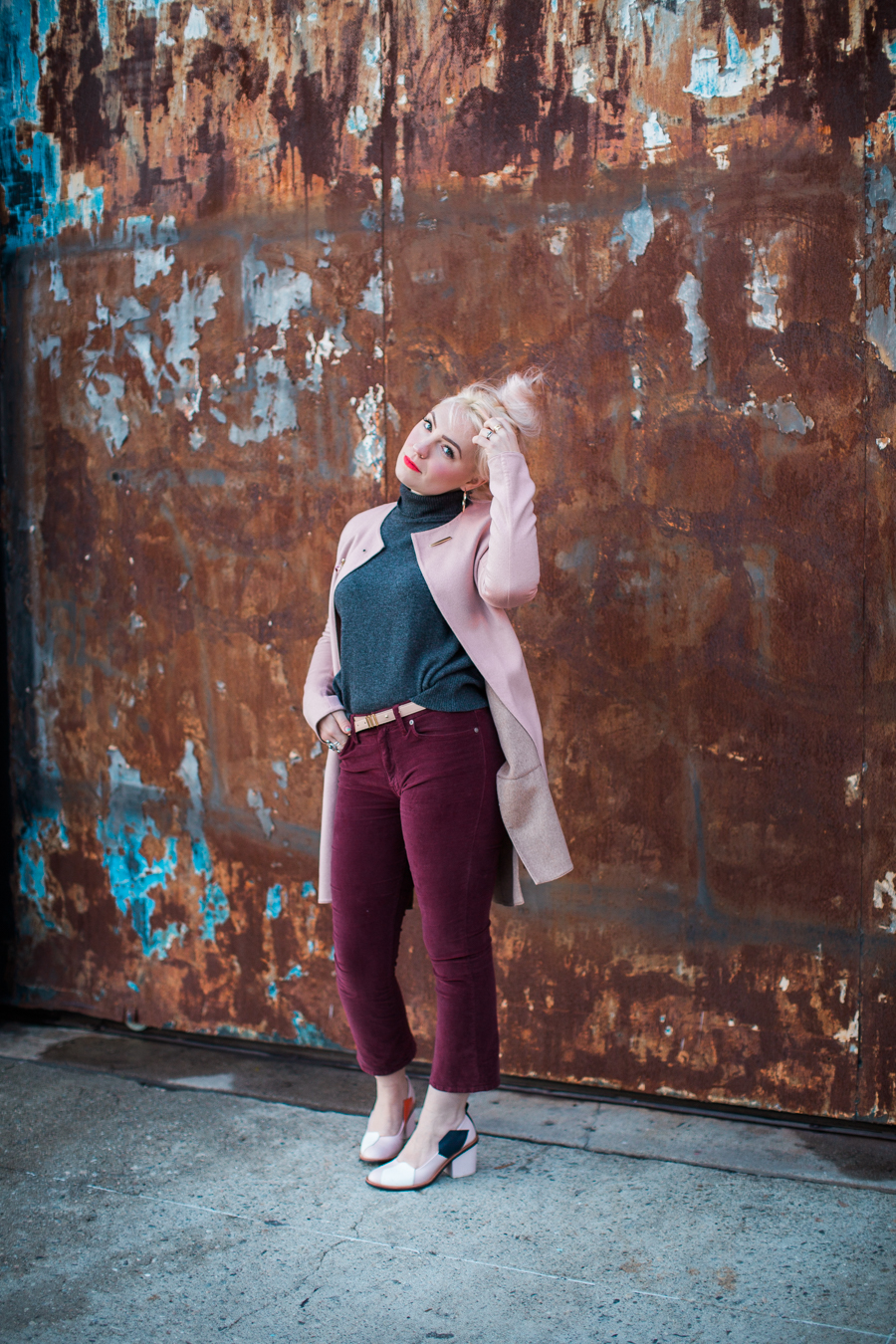 See? Add enough color and a charcoal turtleneck can be totally Caroline'ized!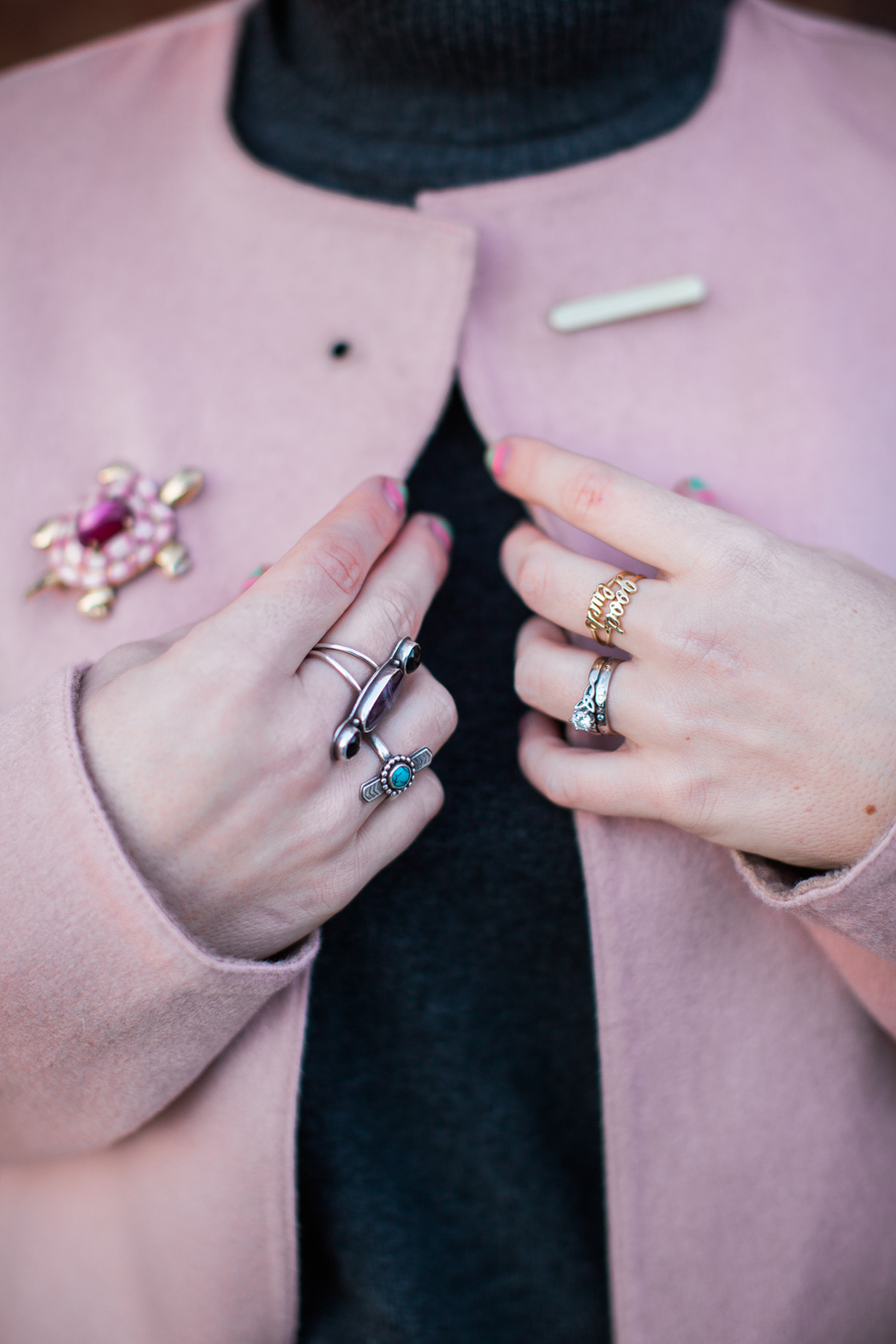 The good luck ring set from bando x bing bang nyc is my new favorite daily accessory. I've even been wearing them instead of my engagement ring some days. I like change, and this is good change.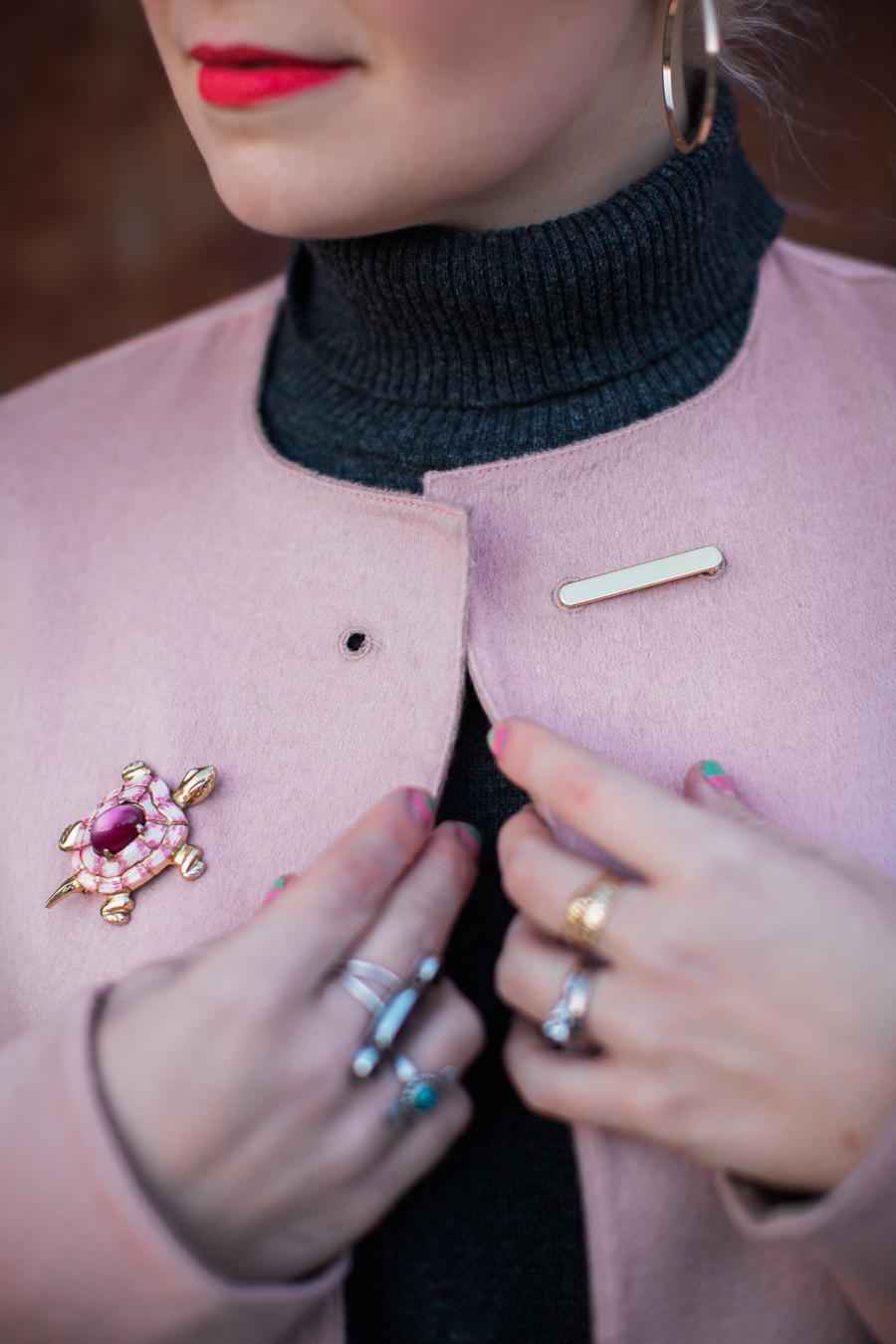 The gold-plated brass bar closure to the coat is so freakin' chic, I can't get over it! Come on! I could literally walk into the White House right now and feel at home. (Hmmm, on second thought. Maybe I don't want to.)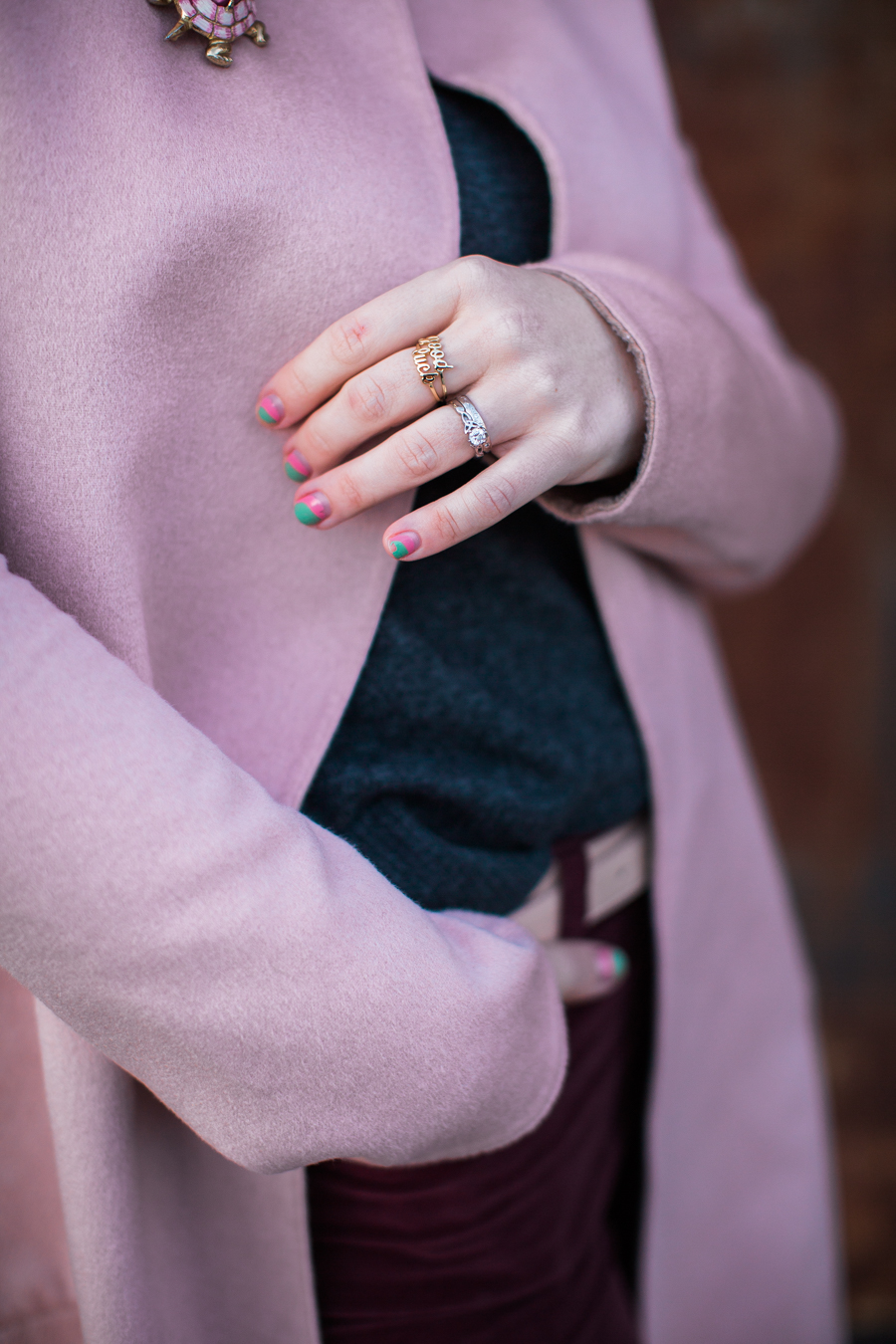 I should prolly prioritize that mani for sometime this week, hey?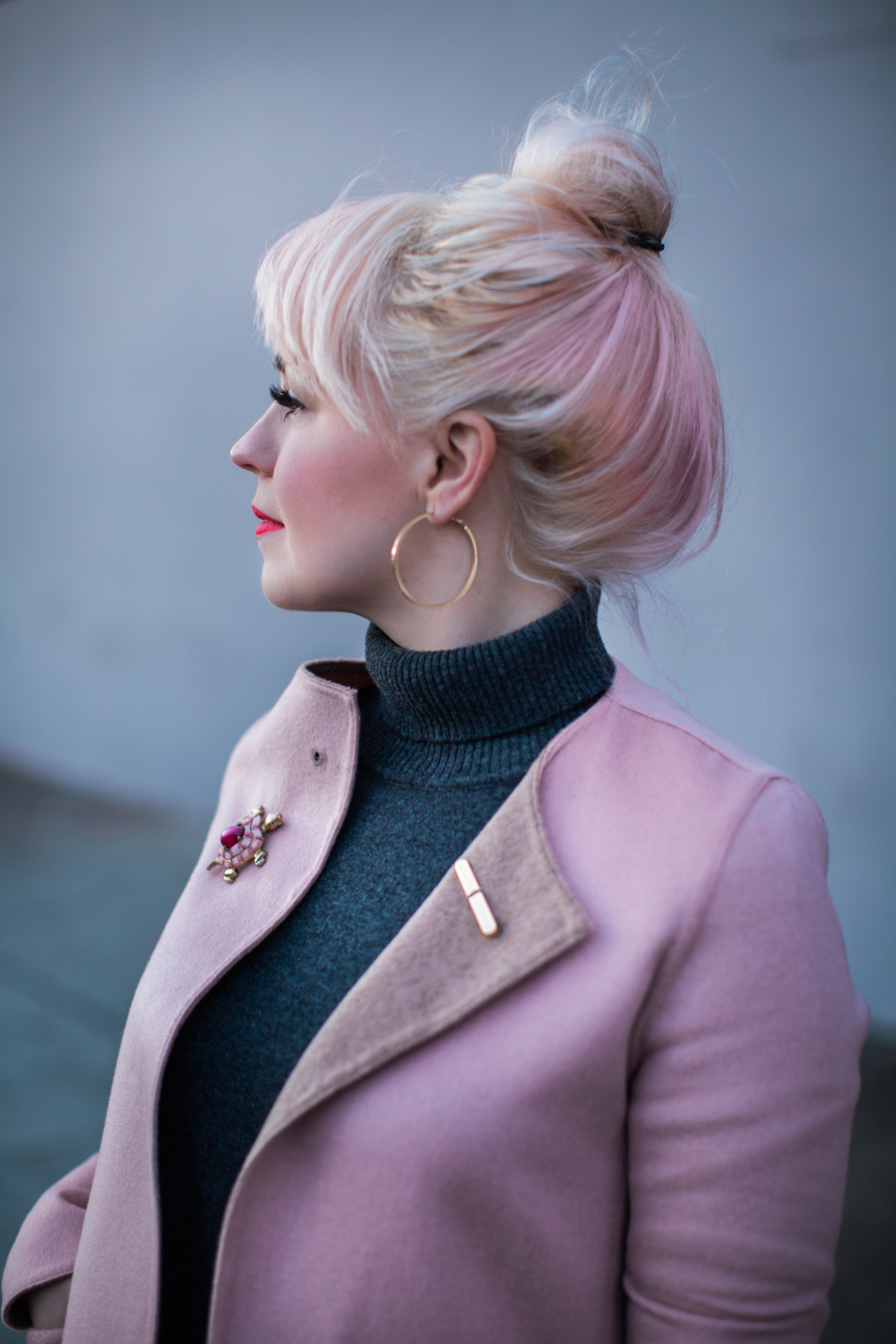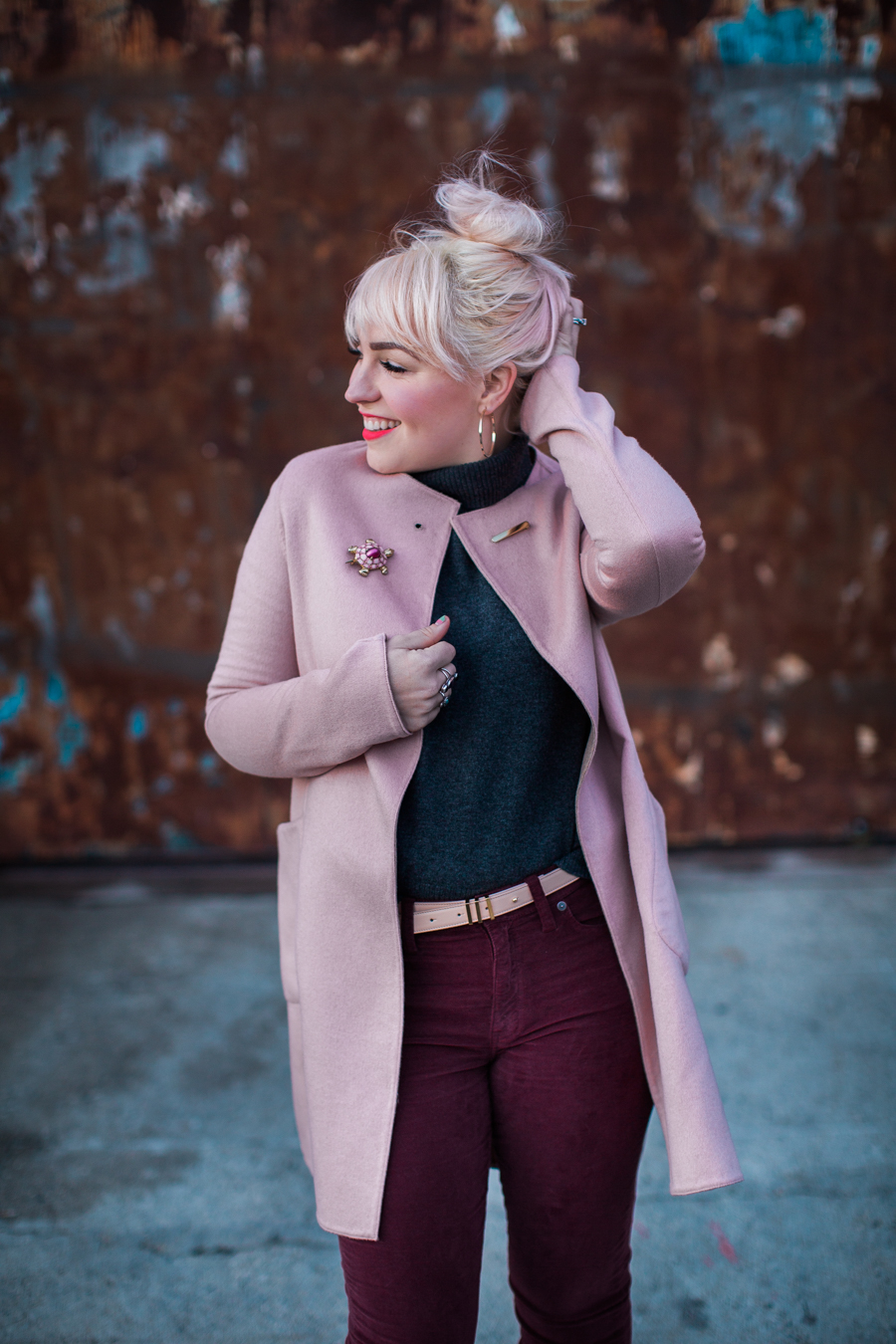 Who me?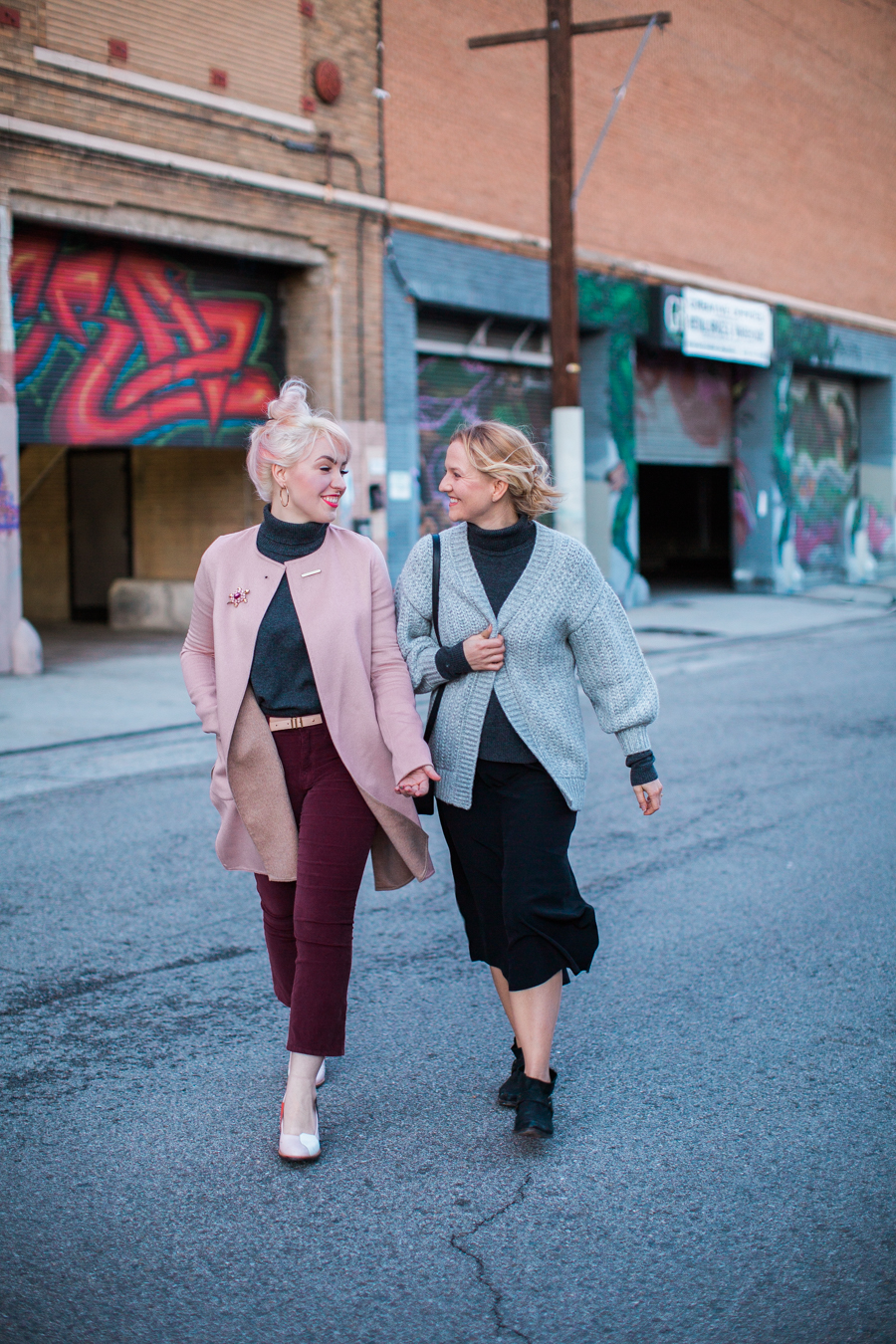 Twins! OK, not at all.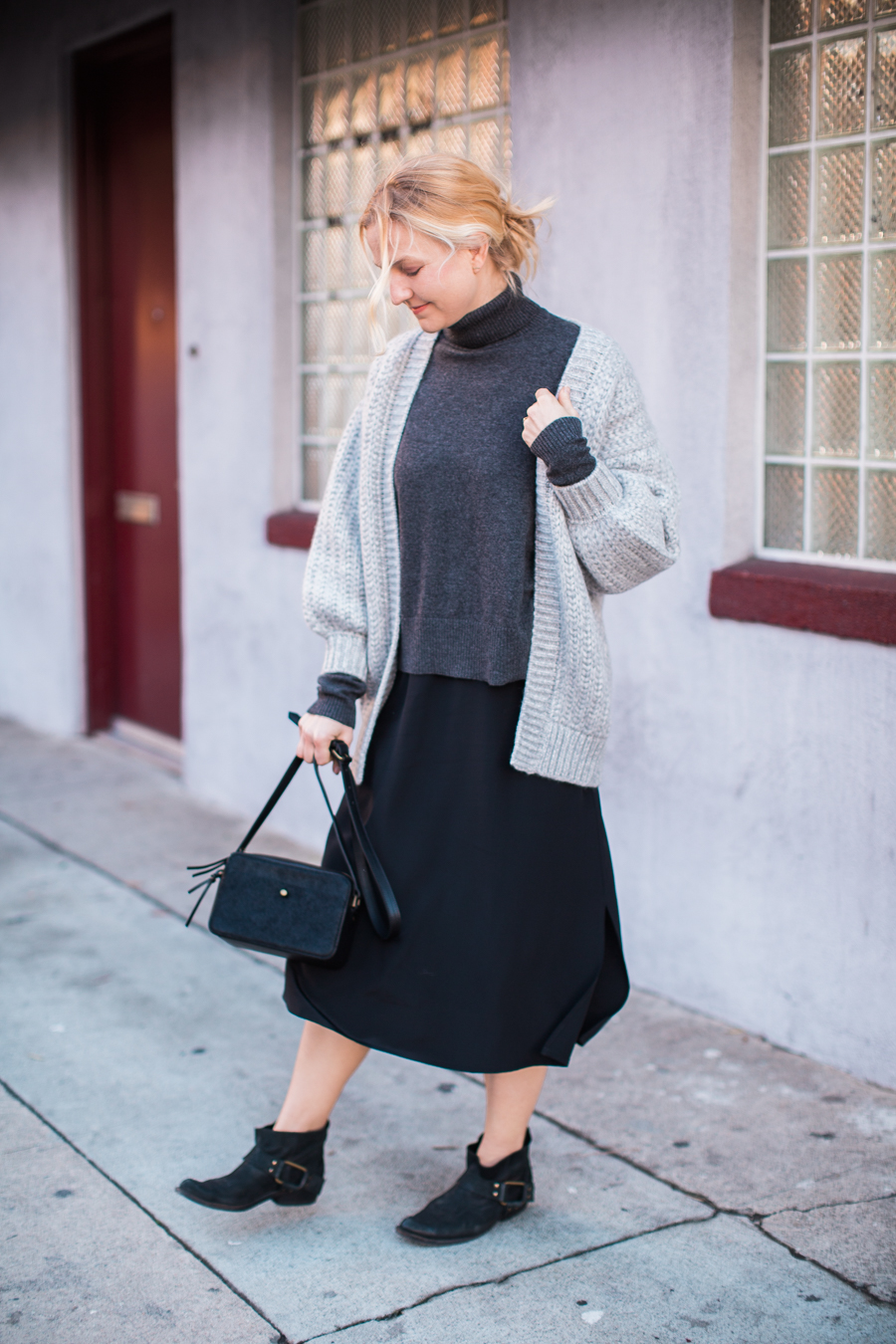 Anne's take : the Silk Slip Dress in black and the Oversized Alpaca Cardigan in light grey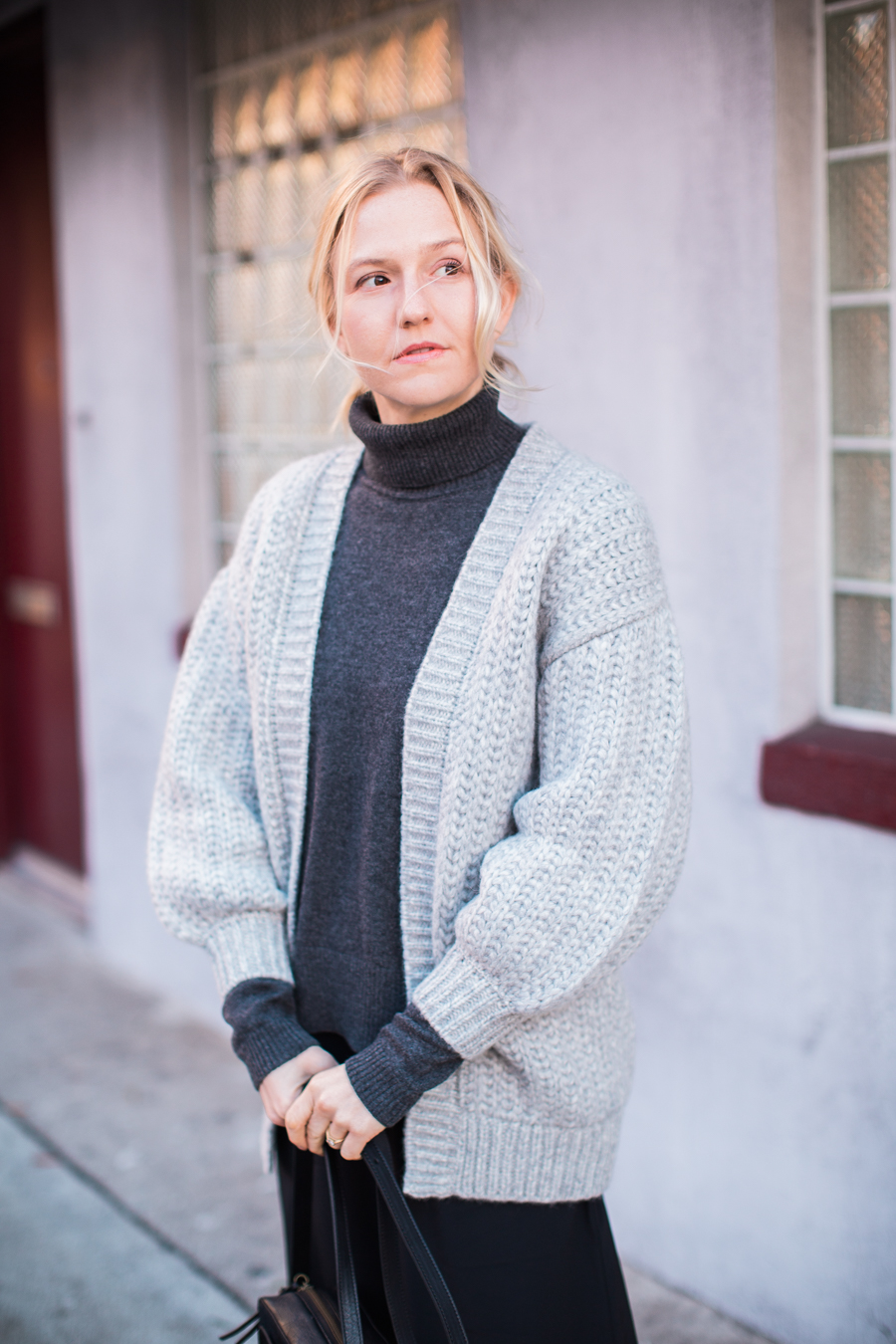 If you haven't gotten a sense for my vibe vs. Anne's vibe yet, this look is so Anne. It's unexpected layering, texture-play, monochromatic and sophisticated as hell. Truth be told, she makes this ensemb look so freakin' good that I am legitimately about to buy one of those oversized sweaters for myself. How does she do it?!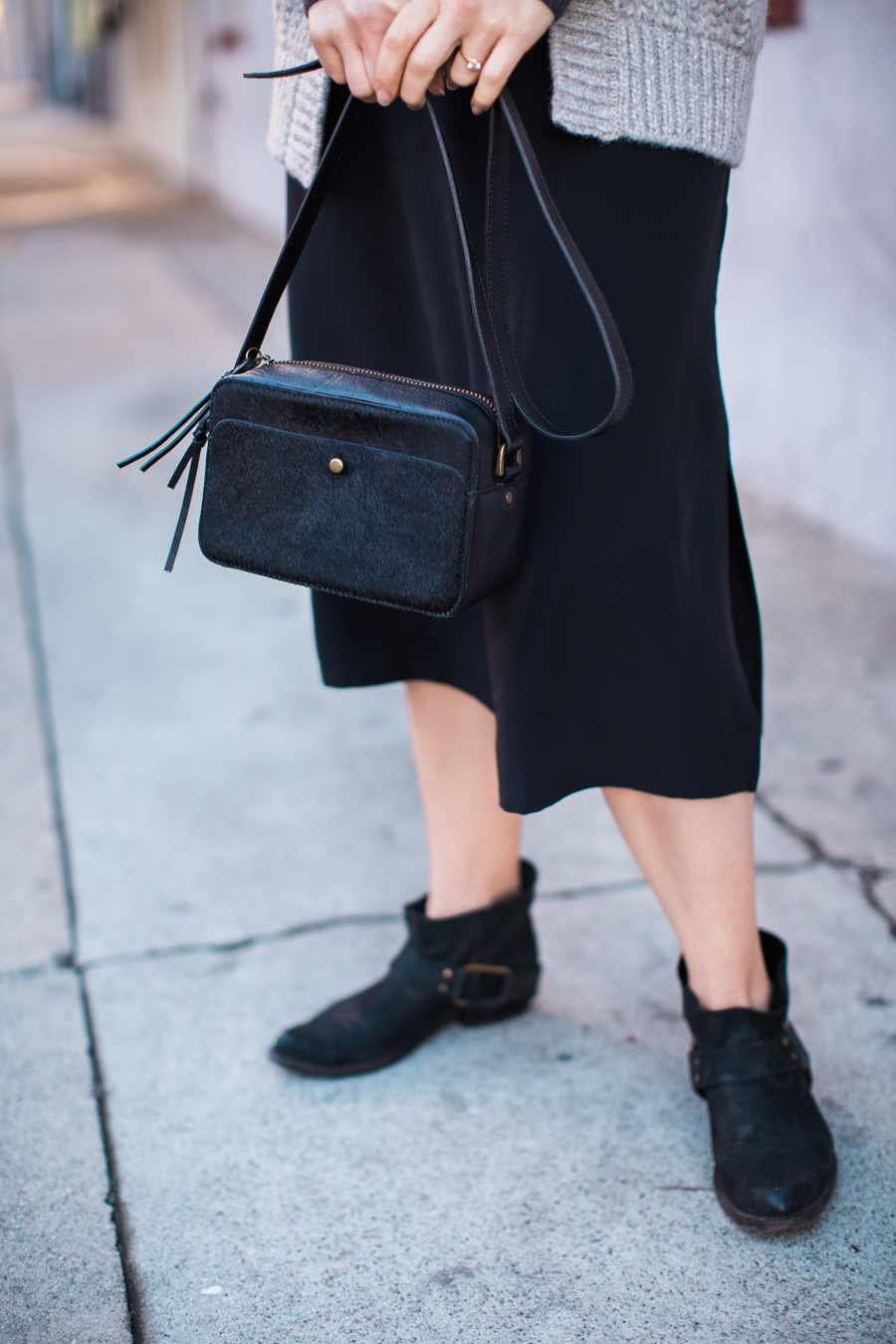 (The Calf-hair bag is Madewell, similar one here.)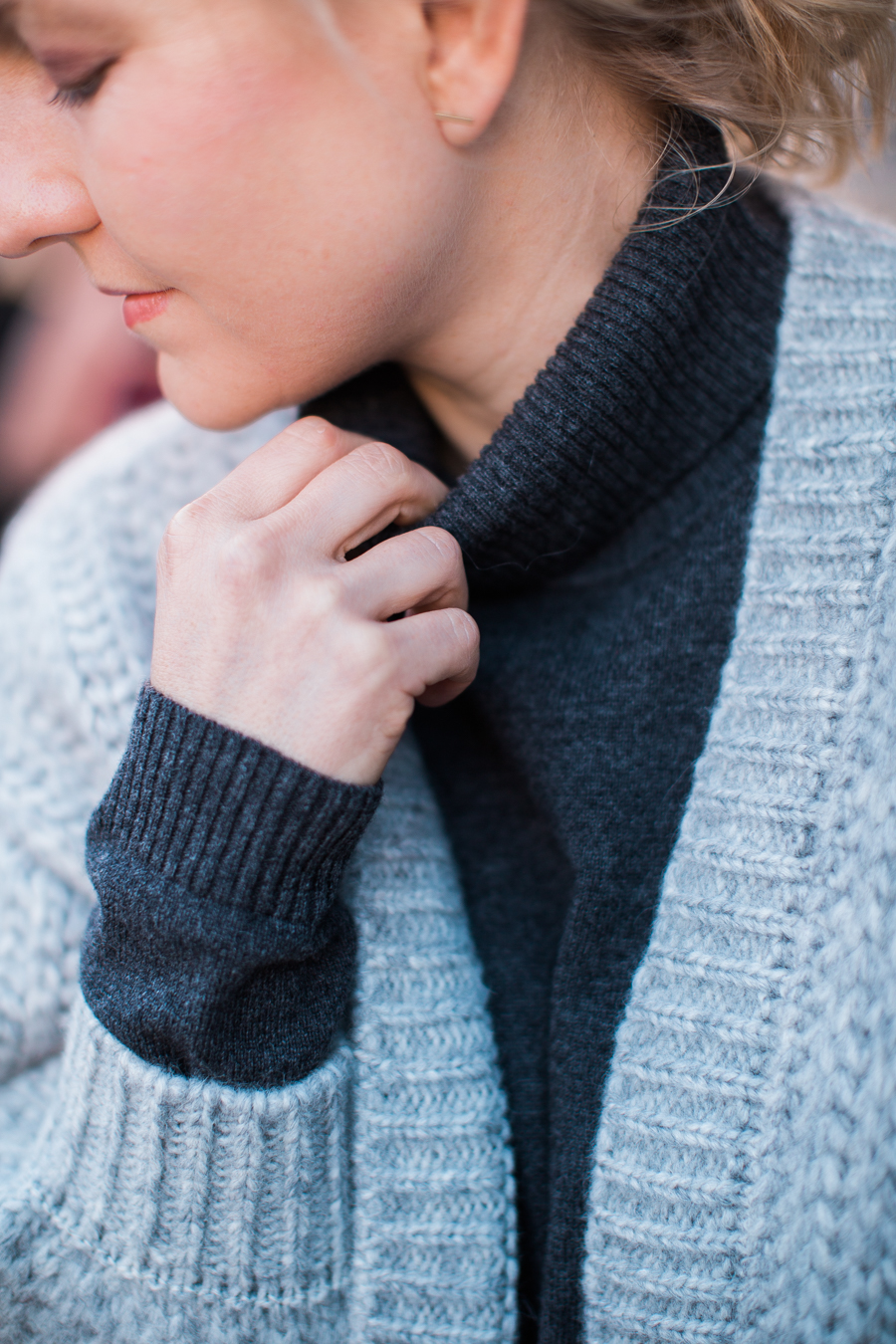 Layered sweaters over a dress. Come on! This is good.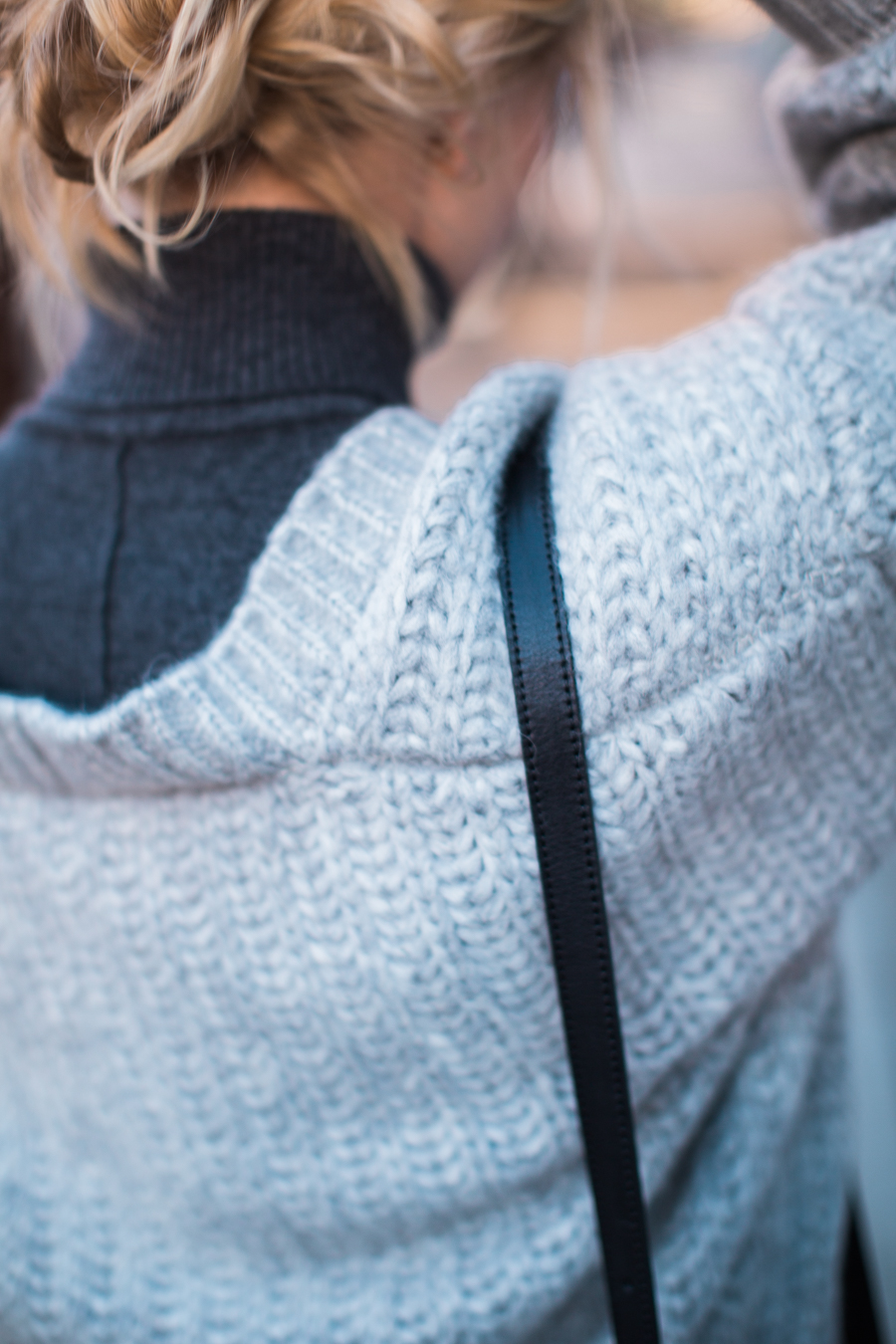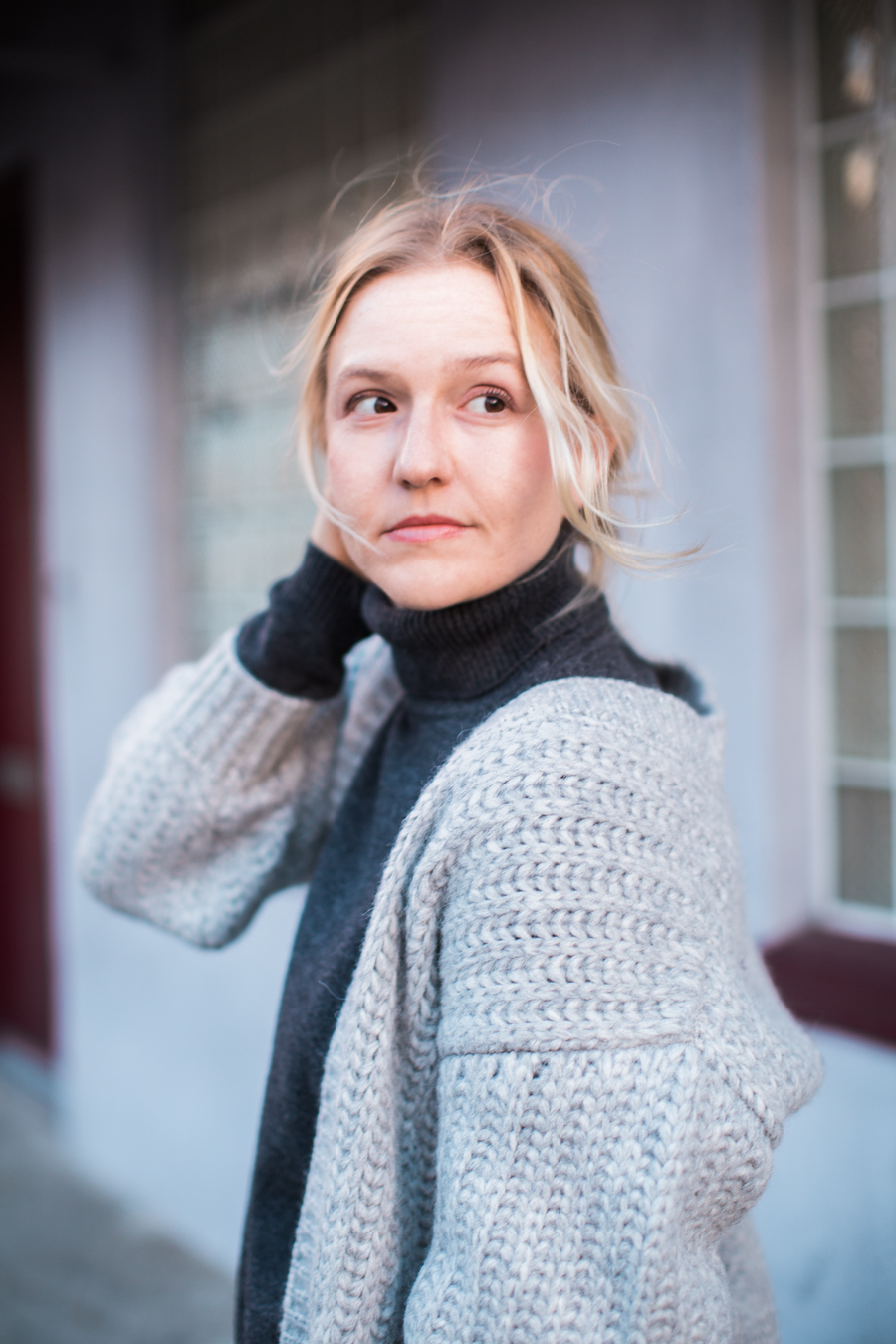 It's a look that says, "Wanna go get coffee? And then read on the couch? And then go get wine? And sit in front of a fireplace and have a book club? And then go eat prime rib for dinner?" Its versatile AF. I'm way into it.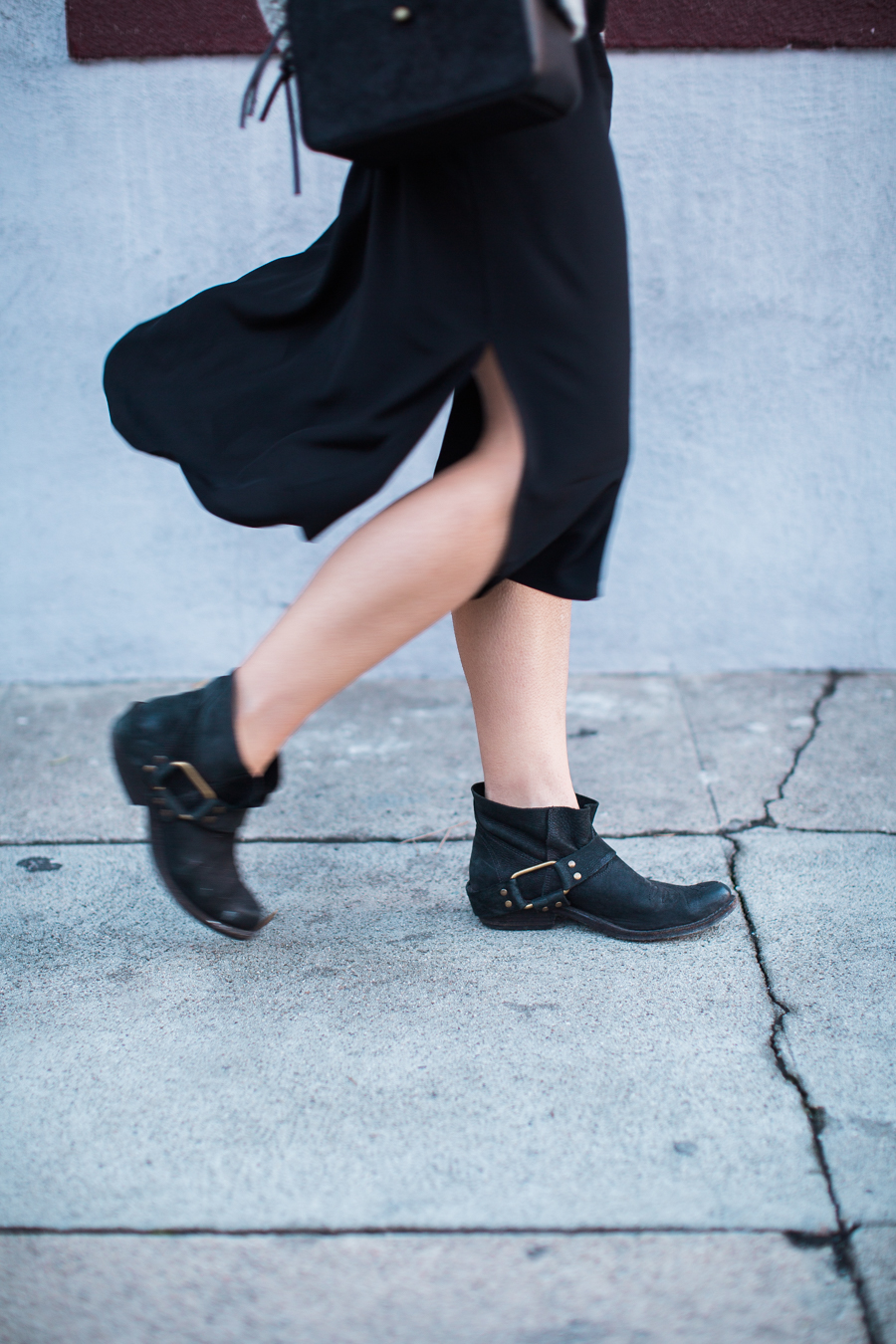 (Shoes are Anine Bing, similar here.)
All around, yes!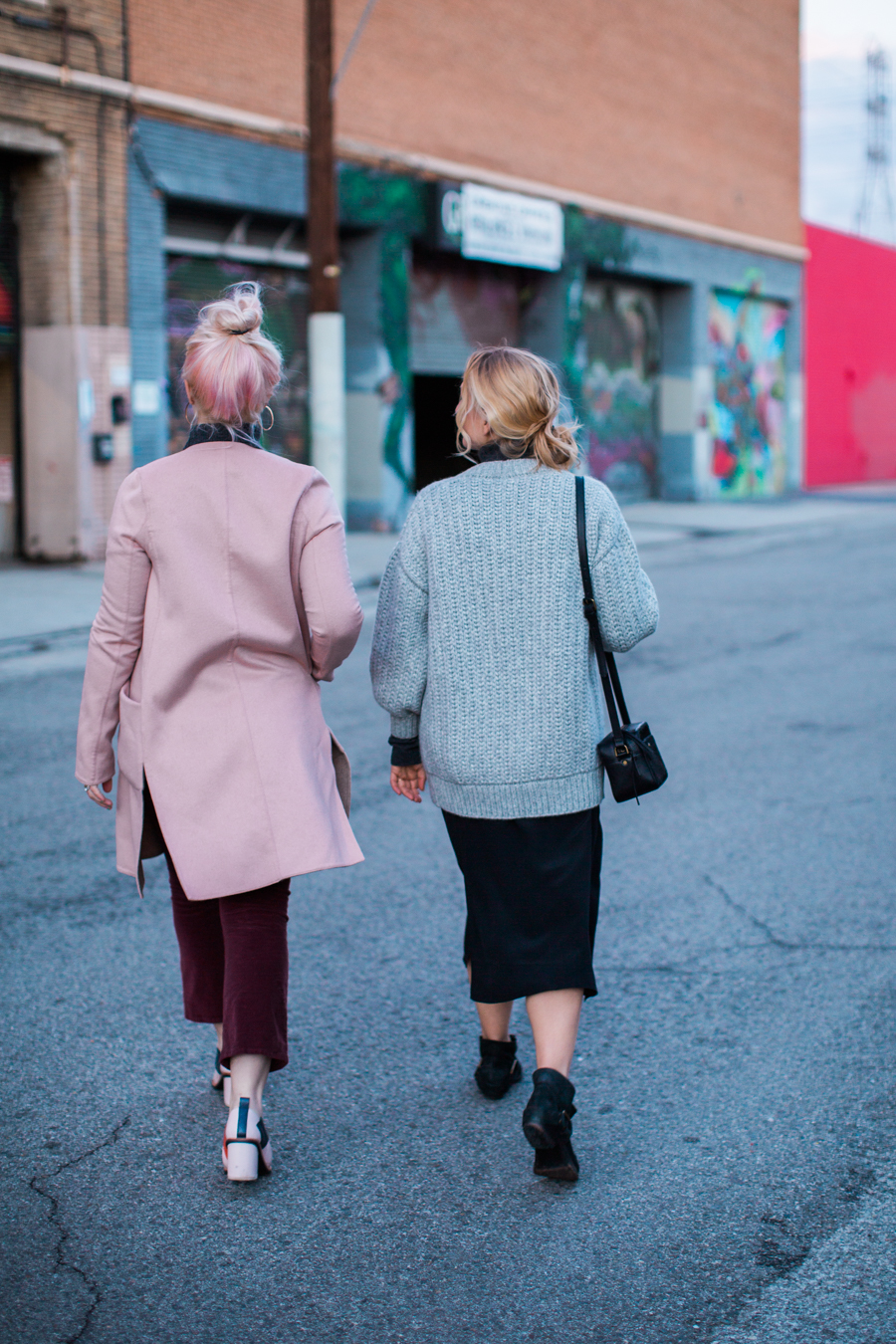 And that's Two Girls, the Cuyana Edition, folks! Until next week, what would Jackie O do? 😉 xo
Photos by Jayden for Echo and Earl.