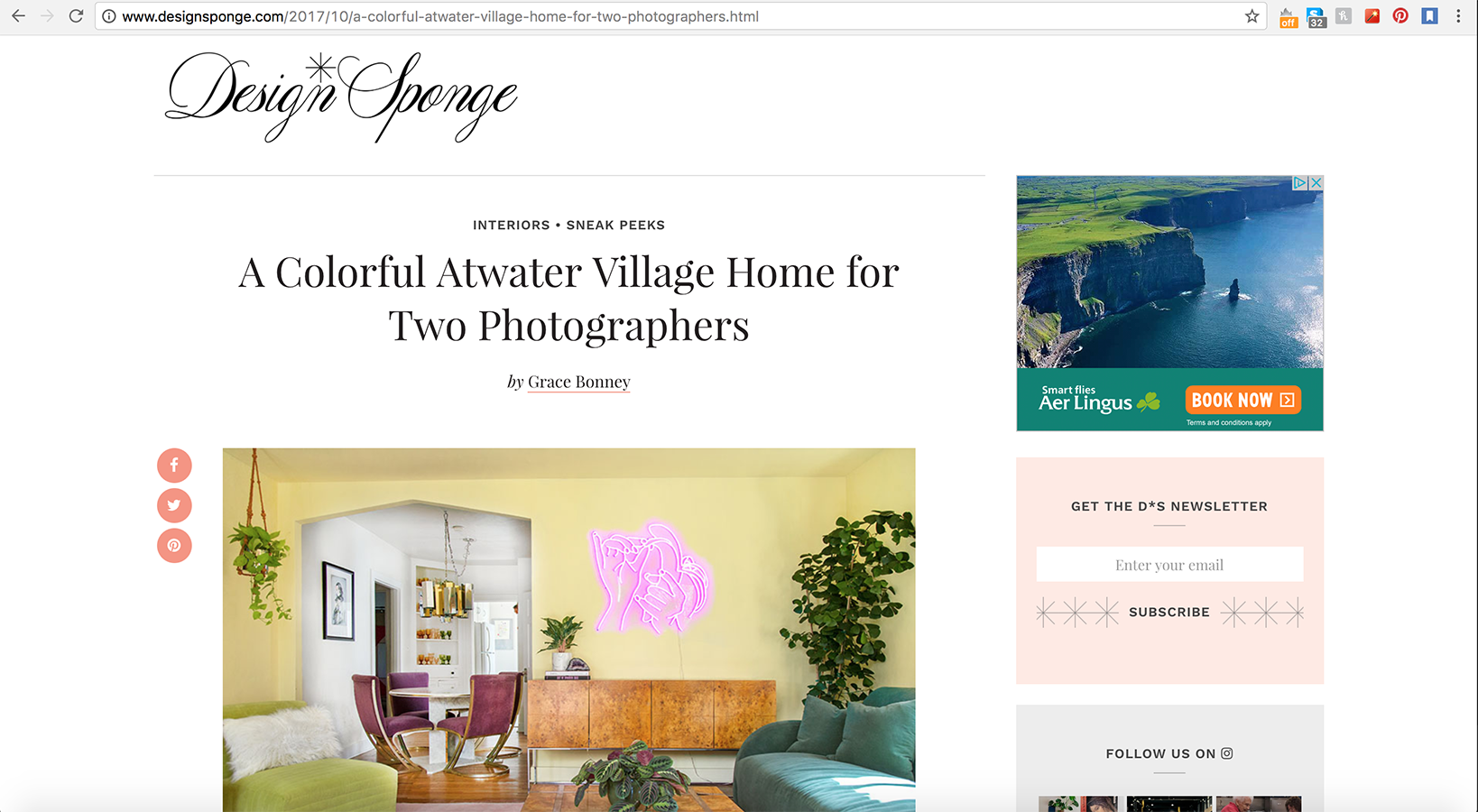 A few months ago, we posted a little bit about the living room/dining room makeover that we were in the midst of, and it is f i n a l l y time to share the reveal with you! In fact, our full home tour went up on Design*Sponge earlier this month, but we just got back to LA after being in 8 states in October already [!], so this is literally the first second I've had to sit down and pour out the juicy deets with you. If you want to read a full interview about the home tour, be sure to zip over to read what Grace has to say.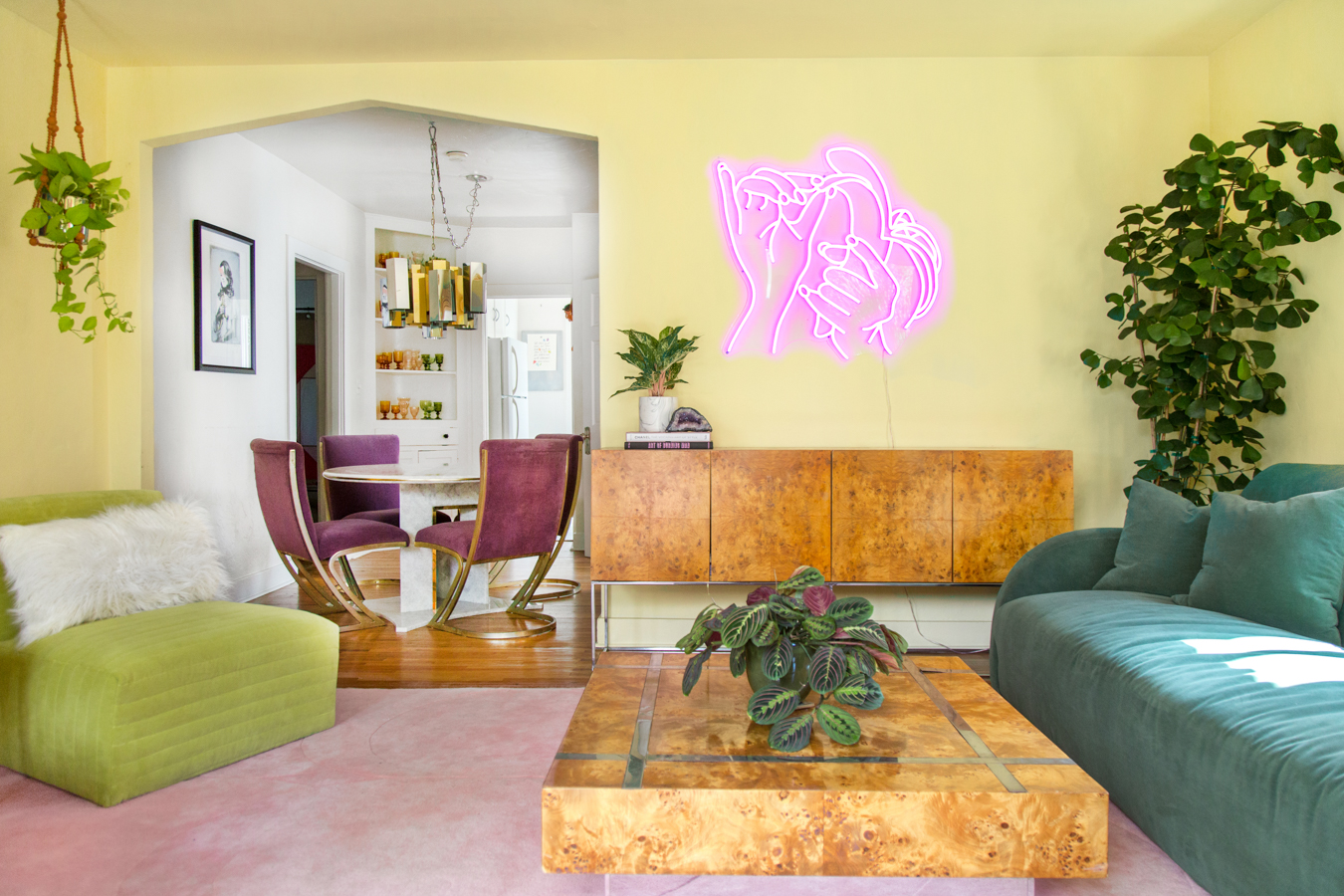 THE LIVING ROOM in all of her glory.
80 yards of velvet. [And all of it is JF Fabrics x Crypton velvet, so it is high-traffic friendly! I don't need to be stressed about spills, even on the chartreuse!] So much color-blocked deliciousness. Burl wood and chrome for days. It really is our weird and wild dream.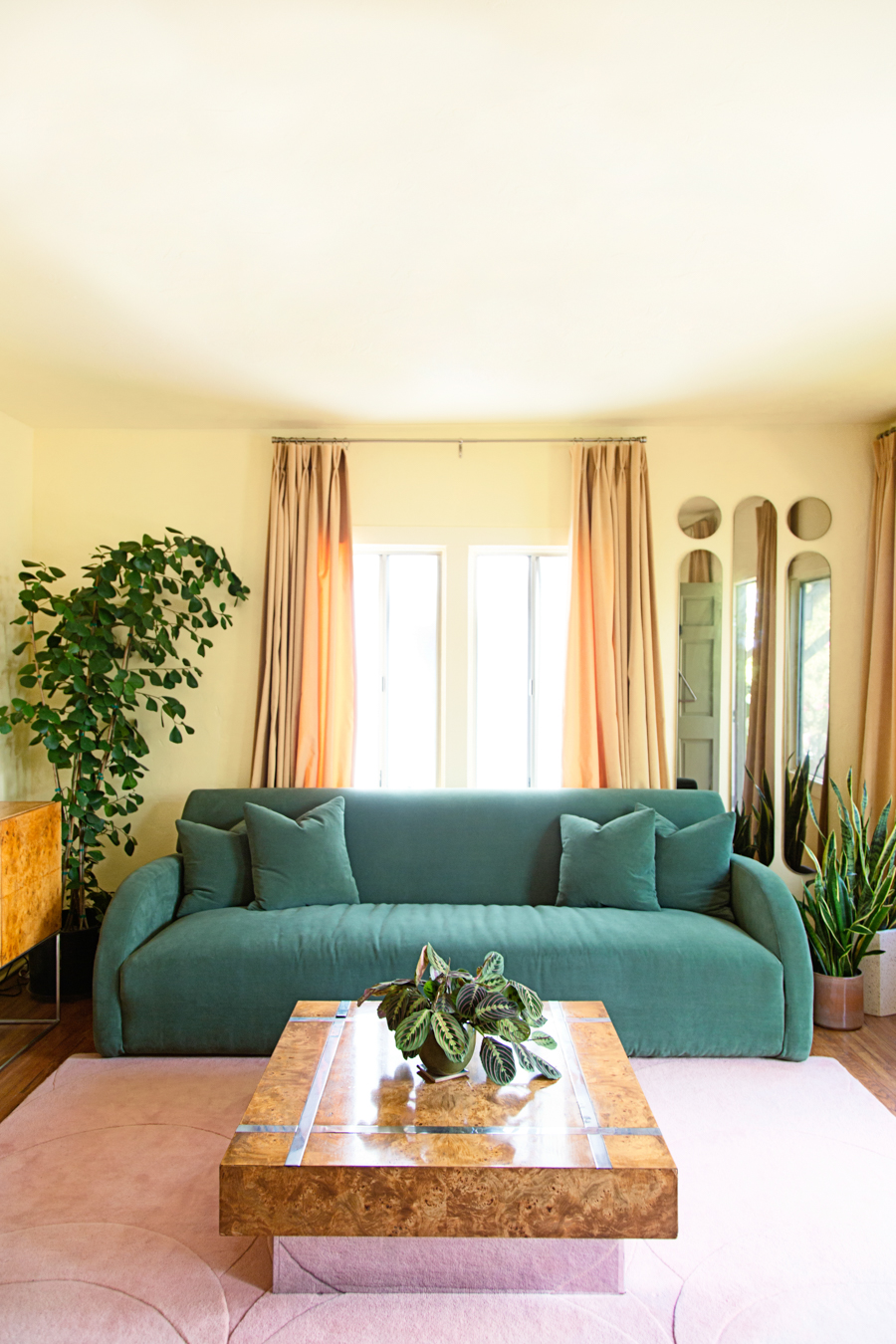 Chrome, chrome and more chrome. Get ready. Its comin' back, my friends! We went as chunky and as low as we could go. Verellen's Emile silhouette covered in JF Fabric x Crypton velvet is possibly the most magical match made in heaven. My mom has even slept on the couch and raves about how comfy it is!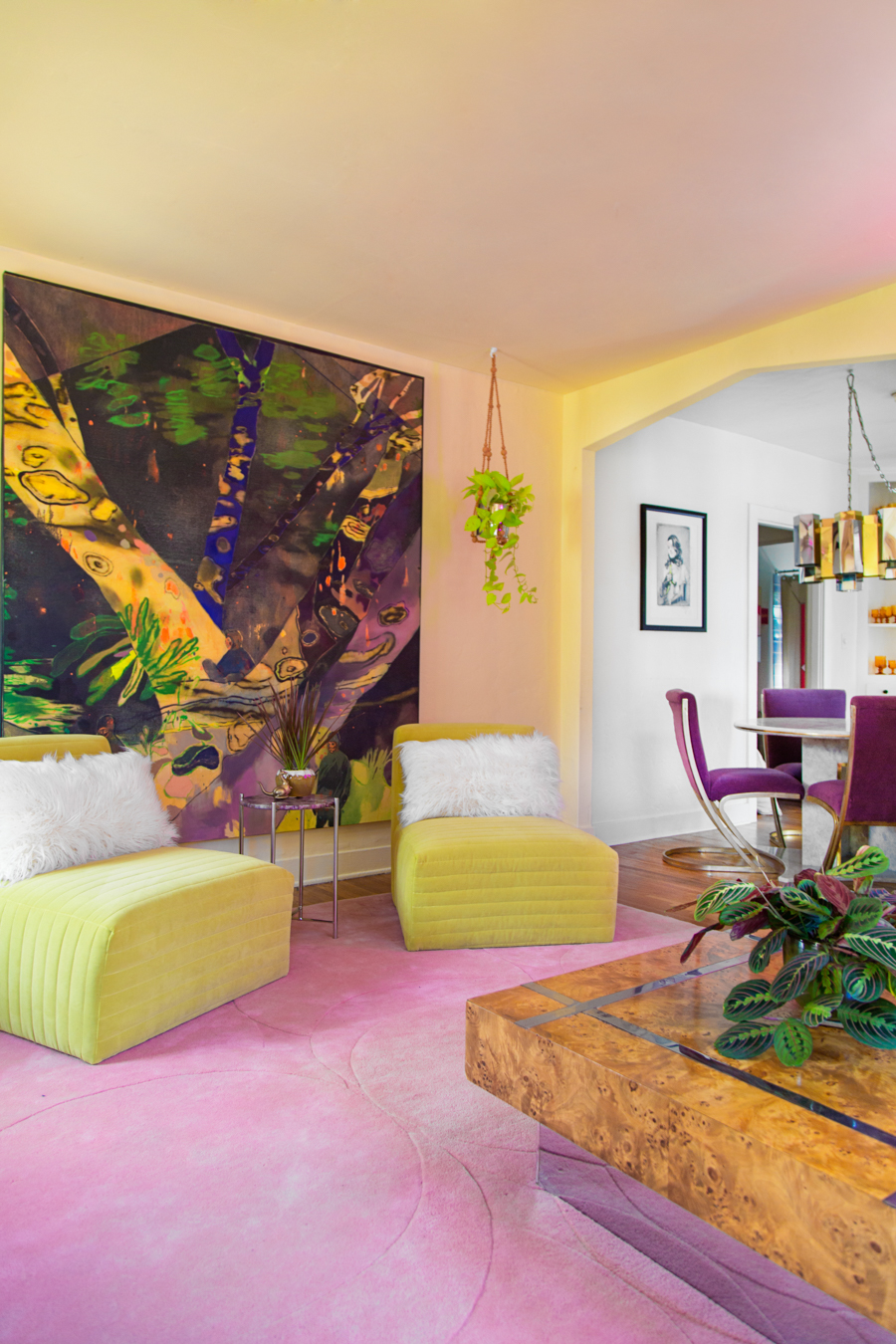 I reached out to one of my Insta-idols, Alex of @studioproba to see if she'd collab with us on a custom rug design.
Originally, the idea was to create a super '80s home, but we quickly realized that there isn't much '80s stuff that is still in good shape, so a ton of what we ended up getting was custom. Whoops. Ah well, we love it. And hopefully it'll inspire makers to make these pieces more accessible to others from now on. 😉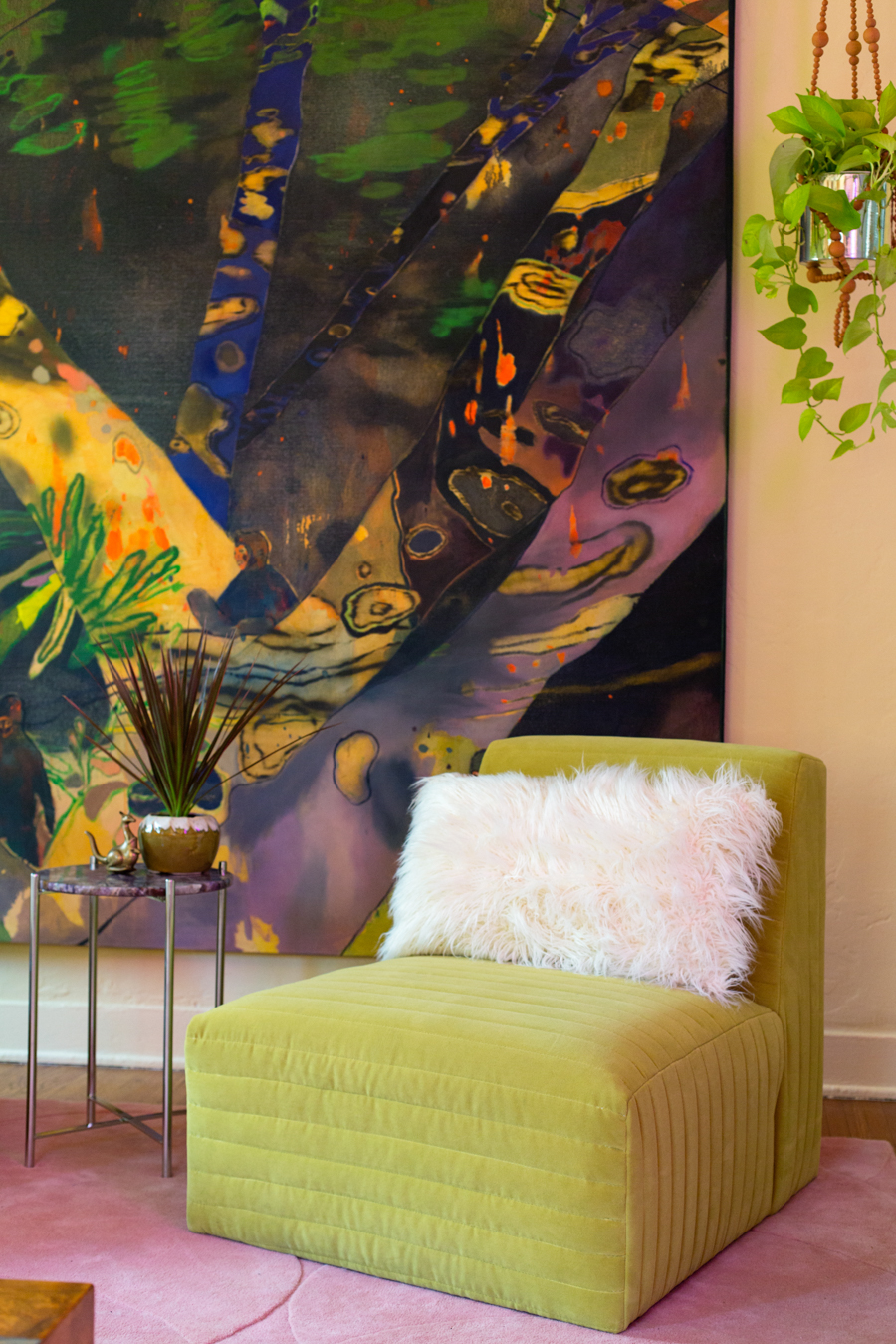 Adam's stunning painting was the original inspiration for the makeover. How can you incorporate a gallery-sized painting into a tiny living room? Well, let me show you…
Also, those Brooks chairs from Verellen are what dreams are made of. The ribbing has us both just drooling! Lines + light get us the happiest and the most inspired, and these chairs tick both of those boxes..!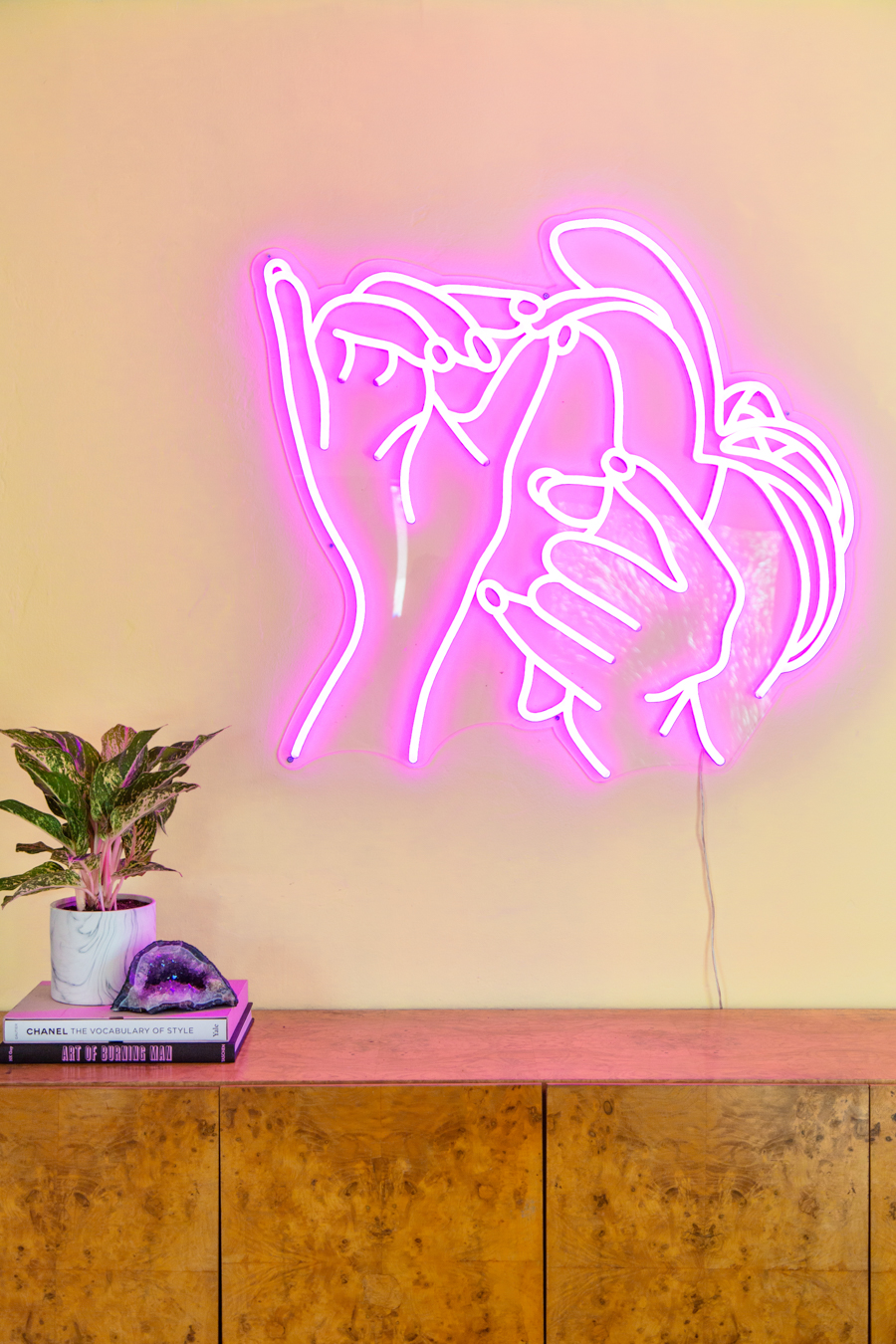 Since Adam's painting was so large, we didn't want to try and have other artwork compete with it in the same space. Because of that, we decided to get weird and have a custom neon sign made for the other living room wall. Jayden drew a few different sketch ideas, and this is the one we loved the most. Brite Lite Tribe is a rad new-er company that makes new neon signs, which means they're environmentally friendly and don't use gas, which is pretty dope, if you ask me.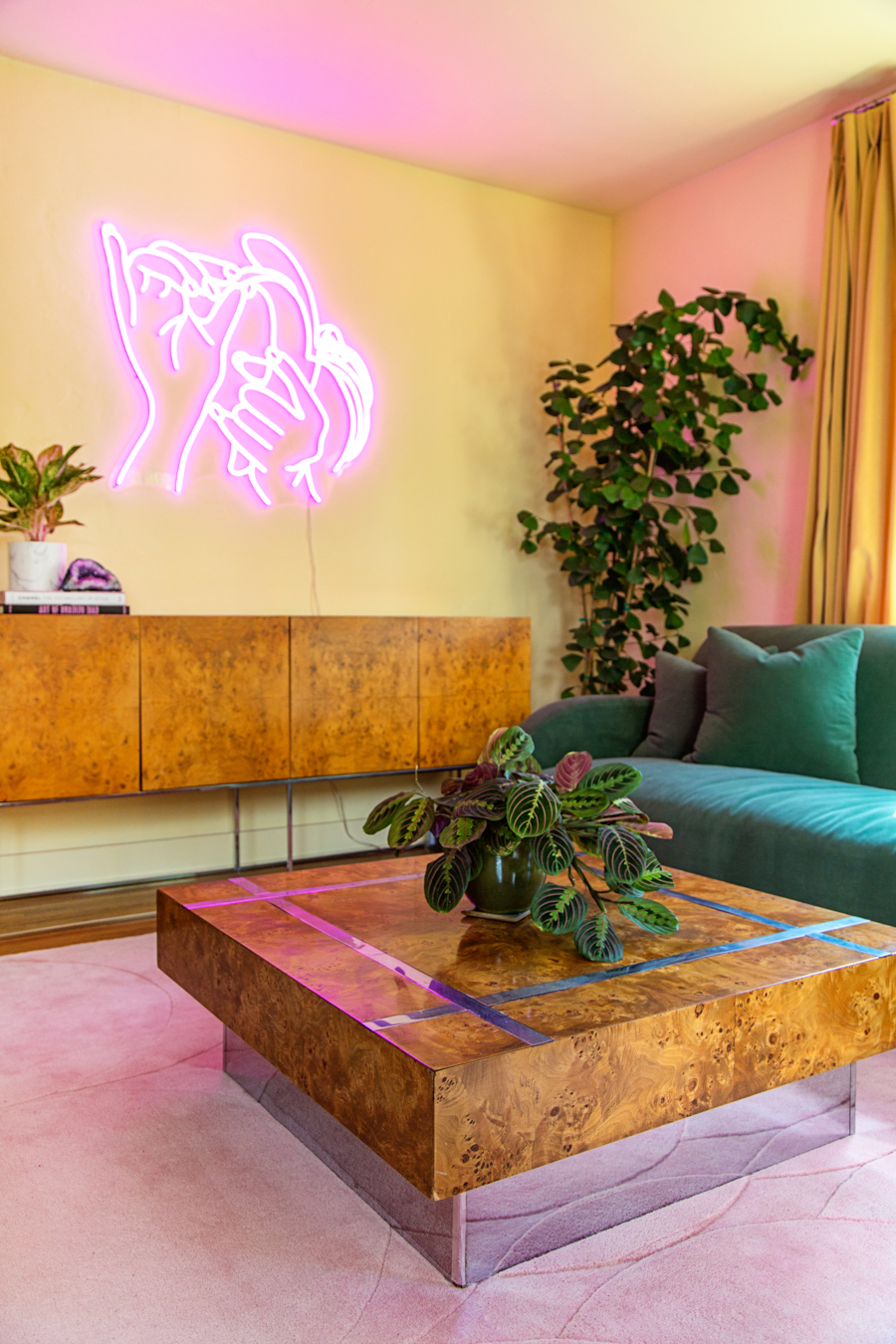 We affectionately refer to our living room as the coke den. If any Hollywood producers want to use it to film any period pieces, just call me. 😉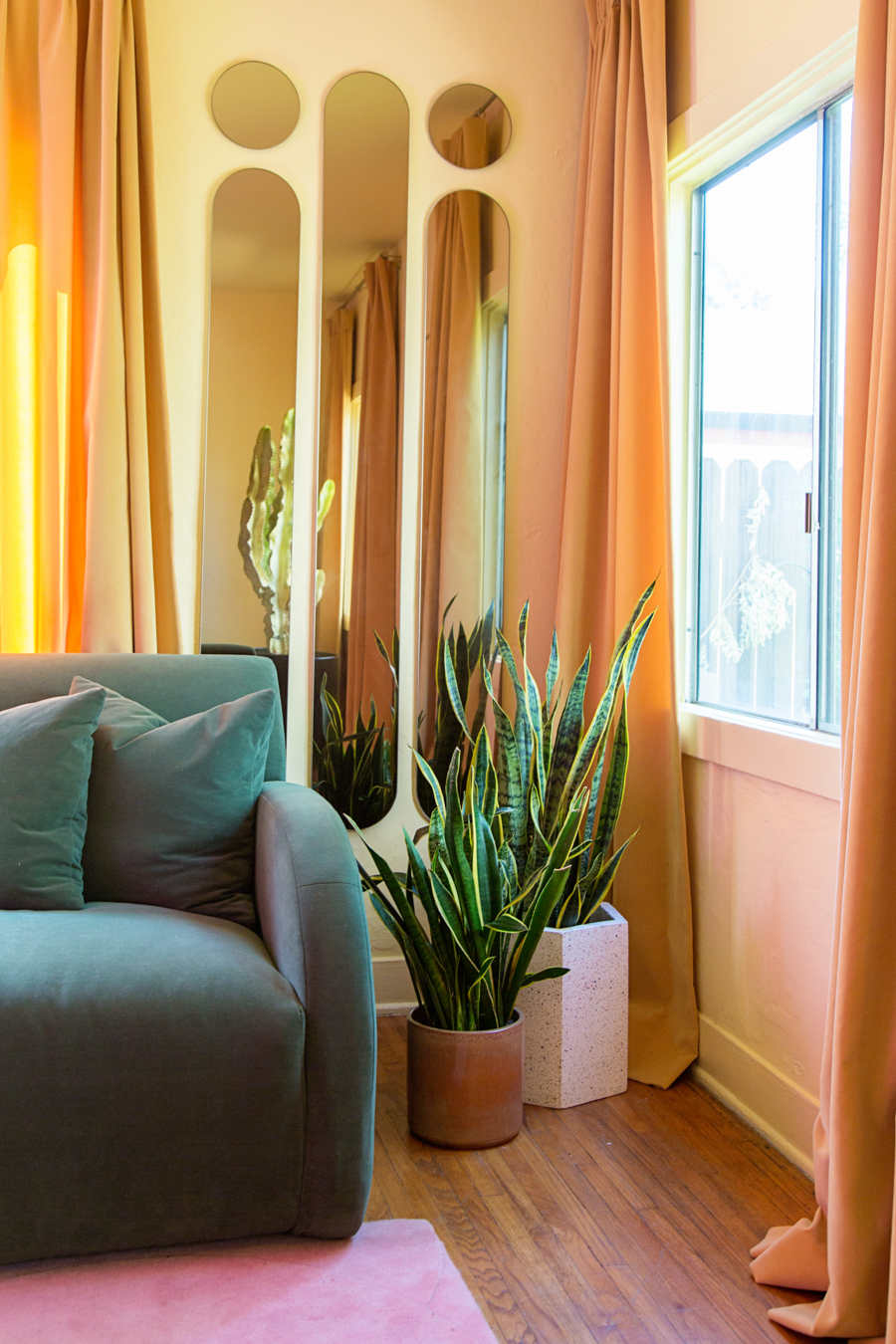 Again: custom. Bronze mirror sounded cool and different, so we had it made in a design we created together. We love it.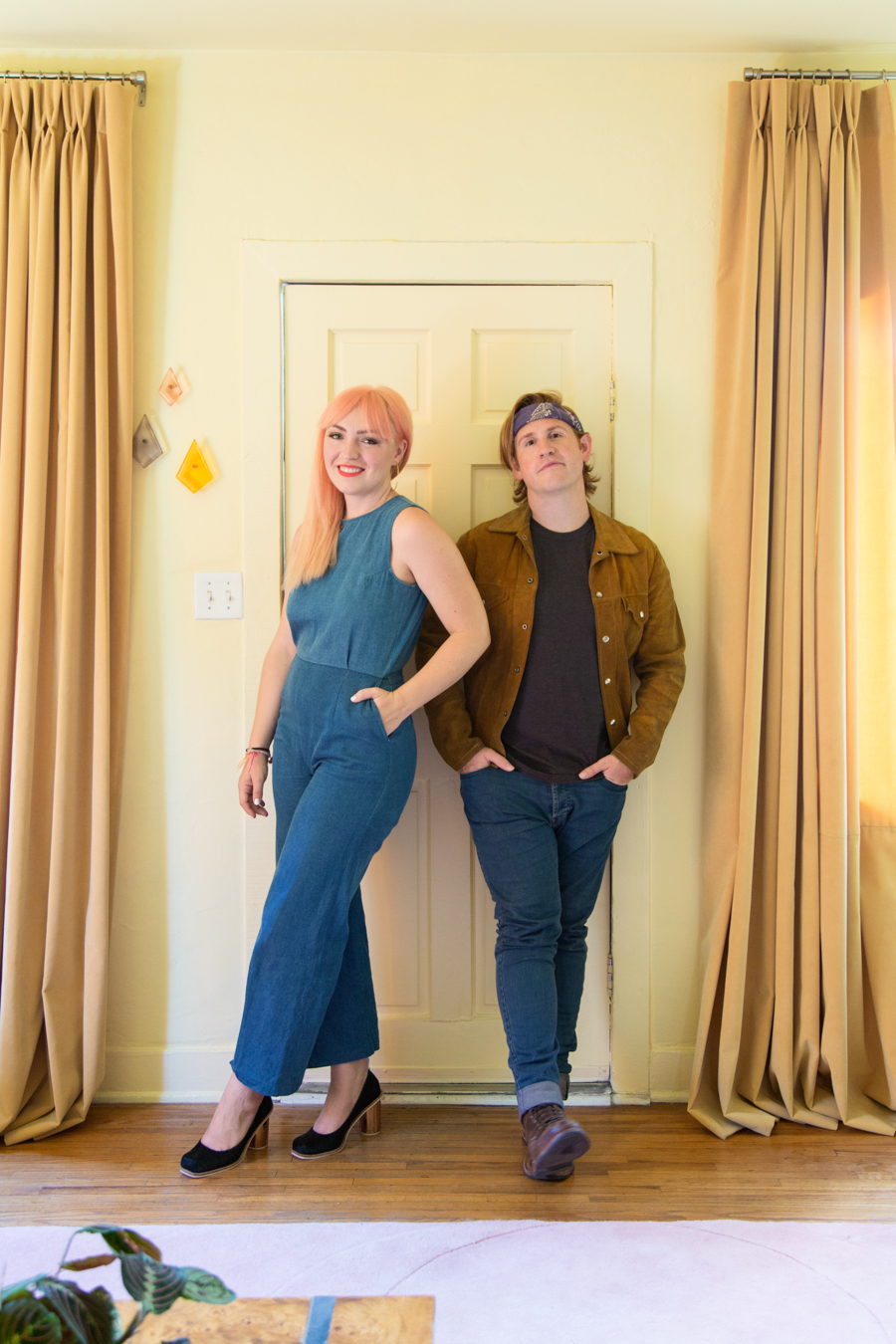 Oh hey. Its us.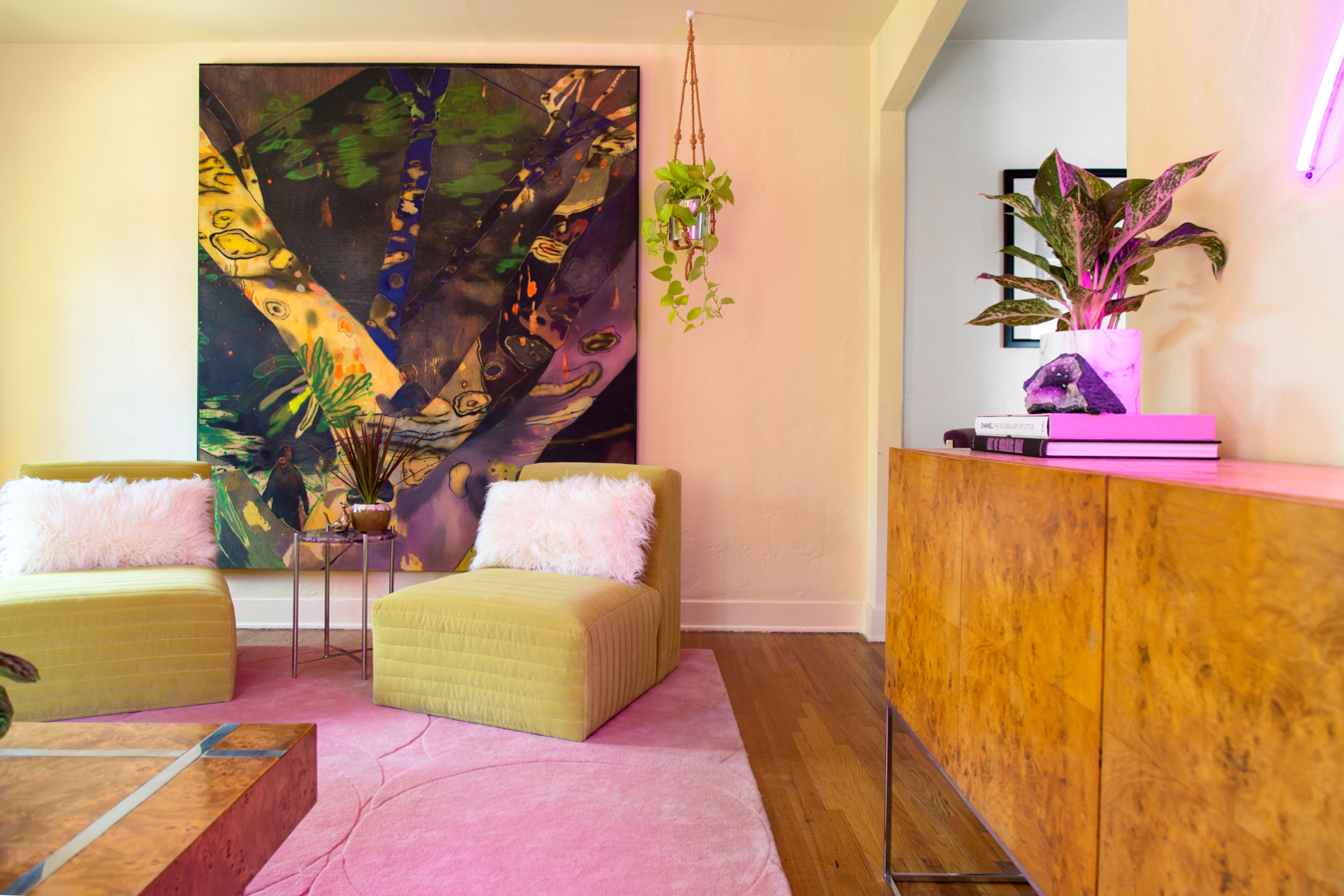 That pink neon sure gives the room a vibe'y vibe at night. We freakin' love it.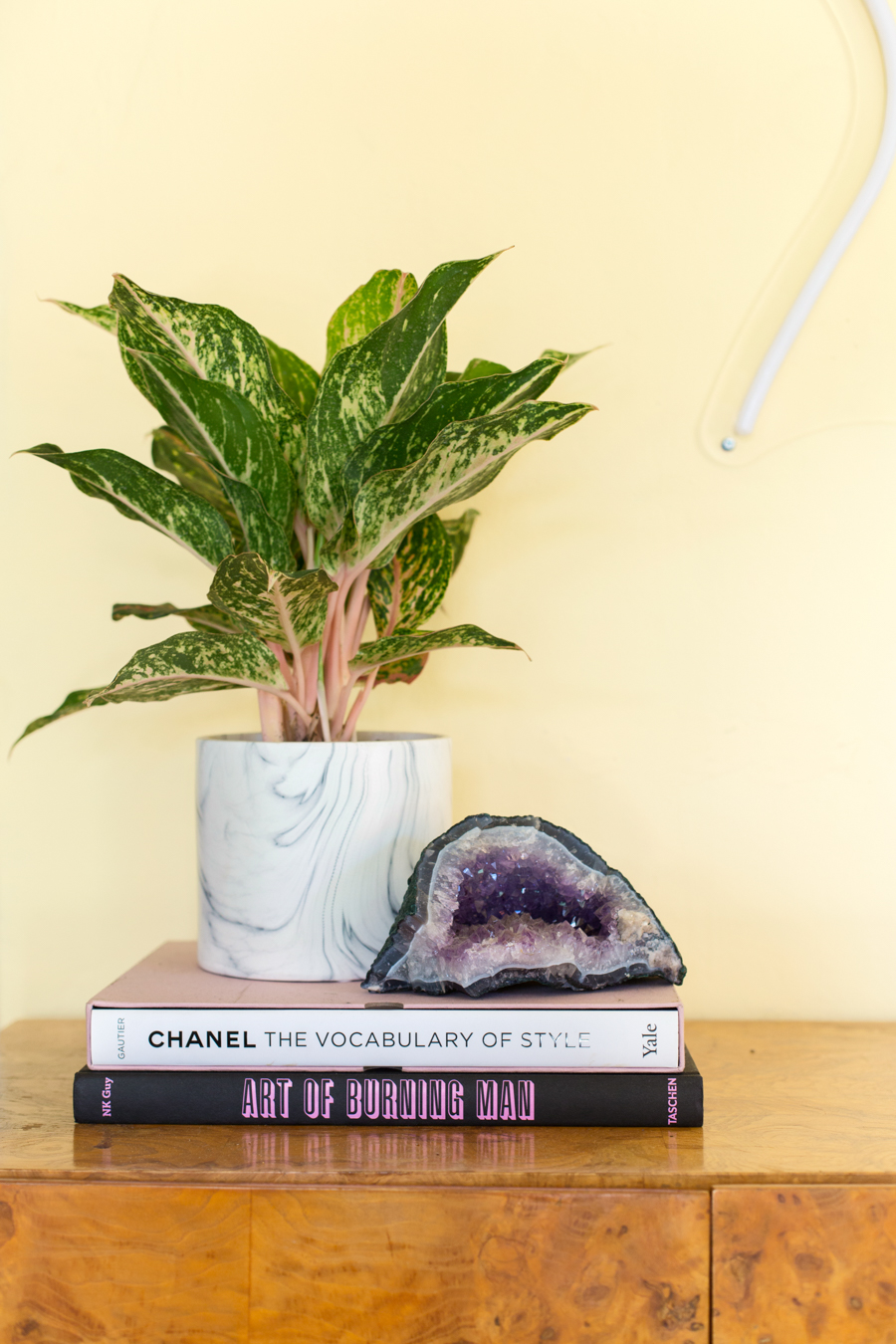 Danae of Folia Collective worked with us to do plant design inside our home, and she really brought the room from a few separate ideas into a completed home. We love her, and we adore her work.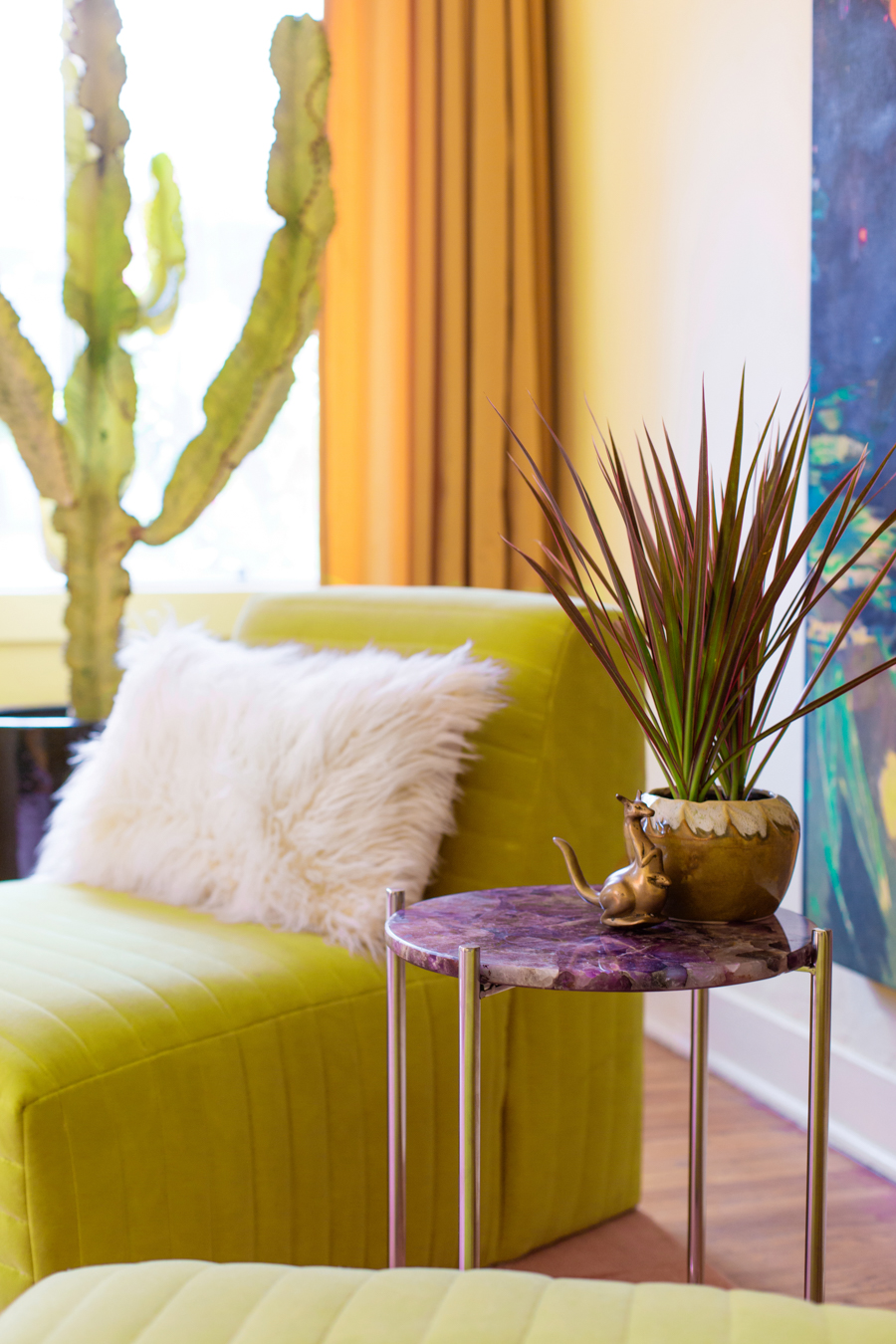 Our BFF, Jess, of Taylor & Taylor was our filter for every single idea we had in this space. I must have texted her 2000 times with "this or this?" type questions. She was patient and amazing! She also found this amethyst table on Chairish, and it was the freakin' cherry on top, I tell you!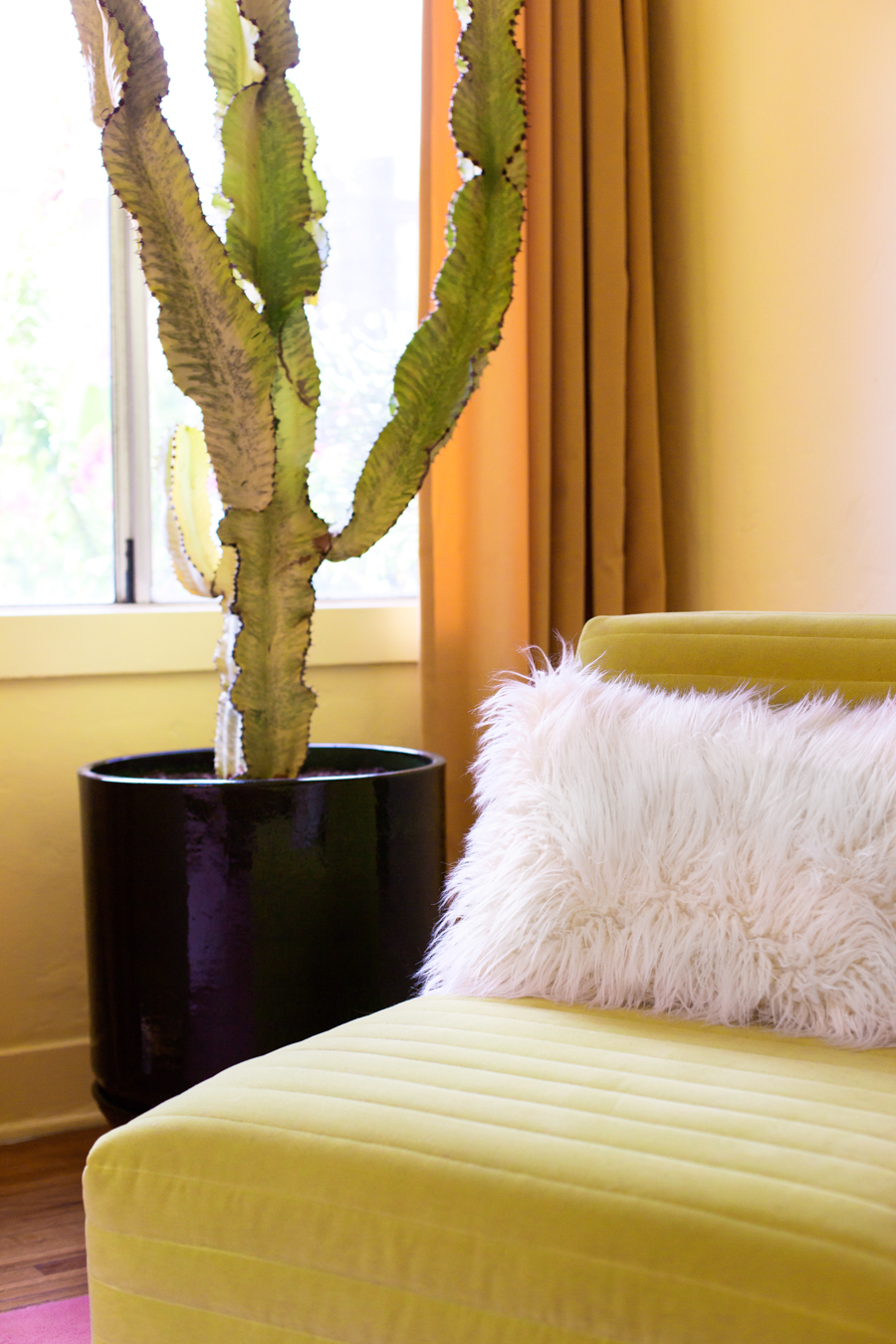 Literally the best plant in the house. No lie.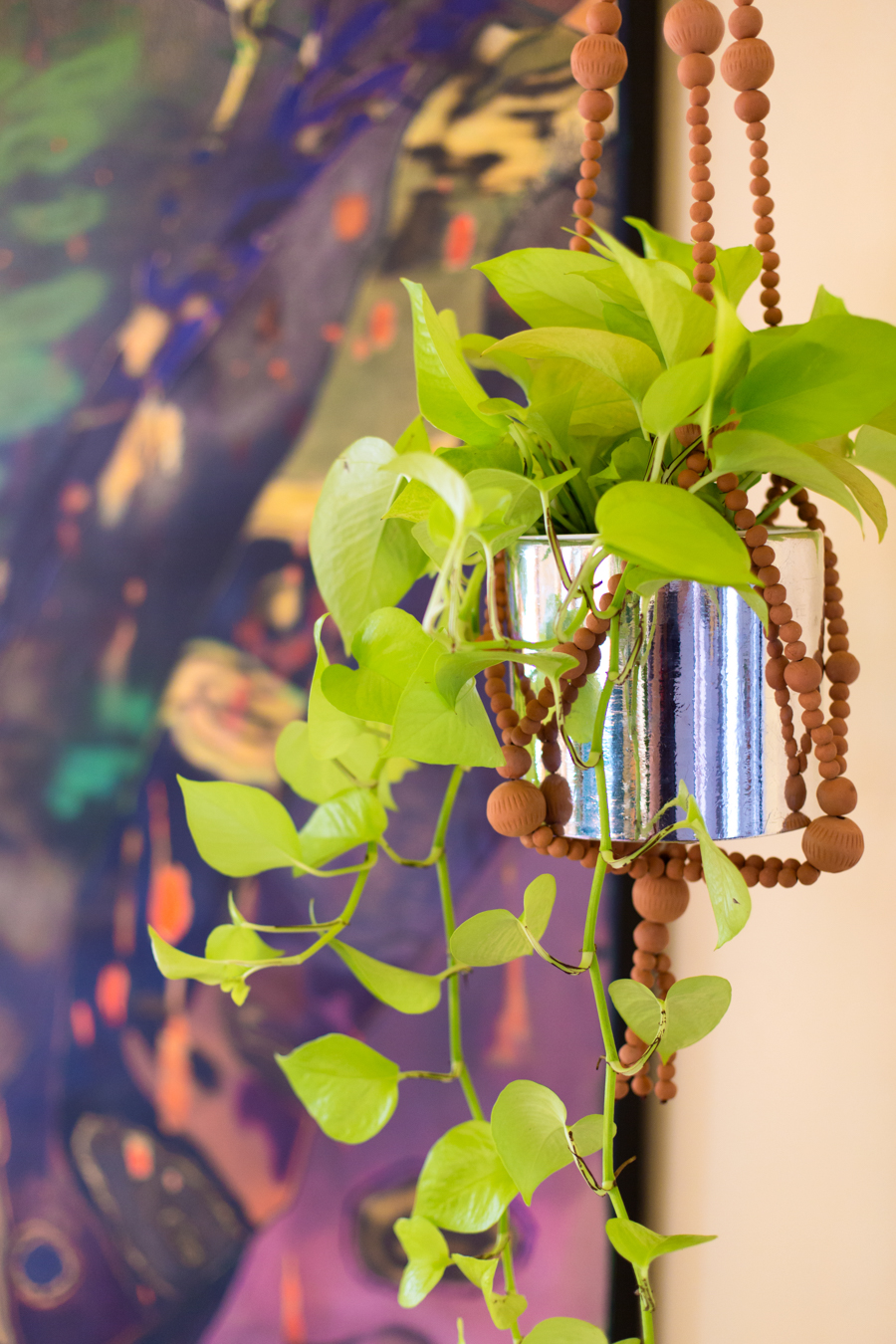 🙂 🙂 🙂 CHROOOOOOOOME 🙂 🙂 🙂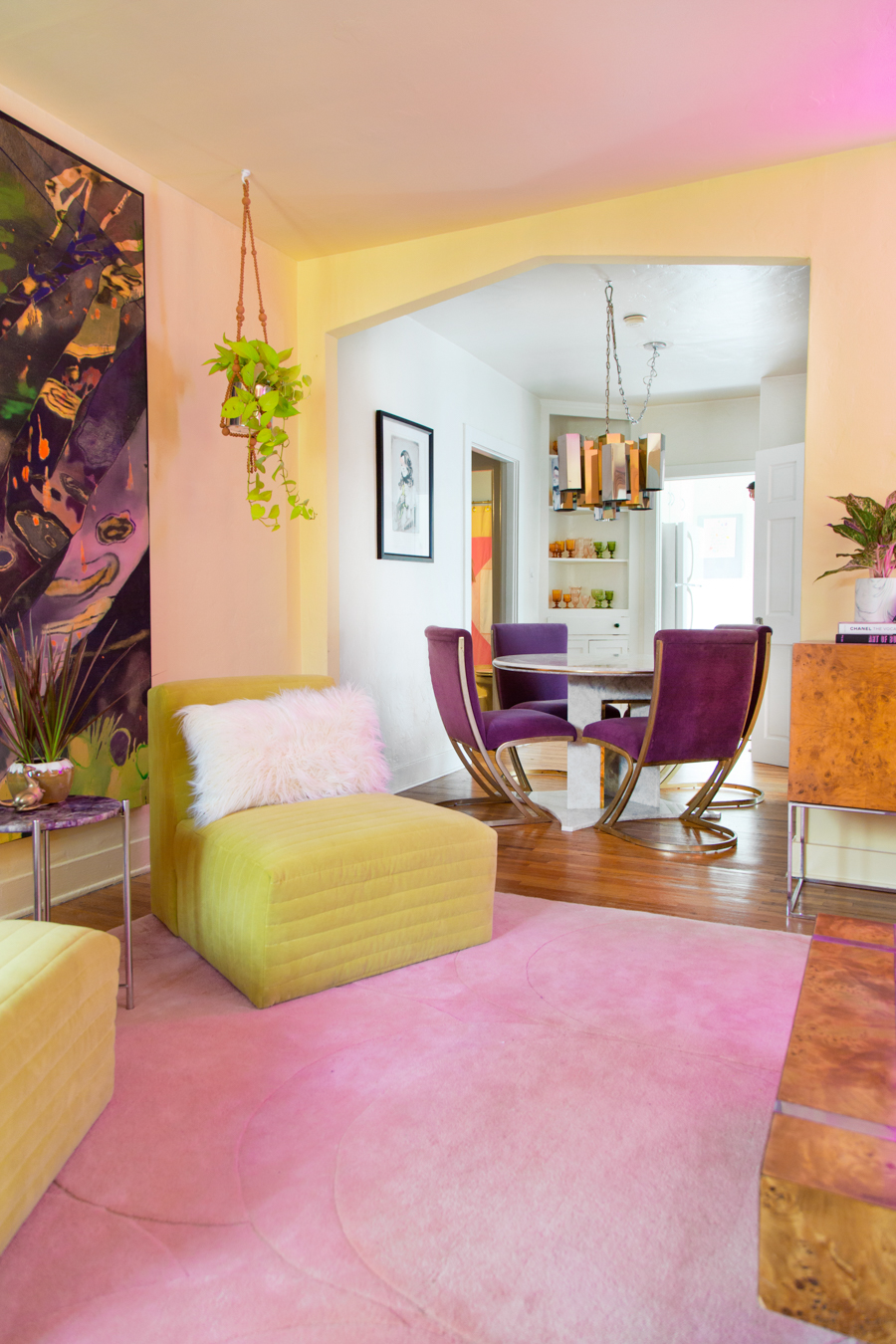 The view from the living room into the dining room.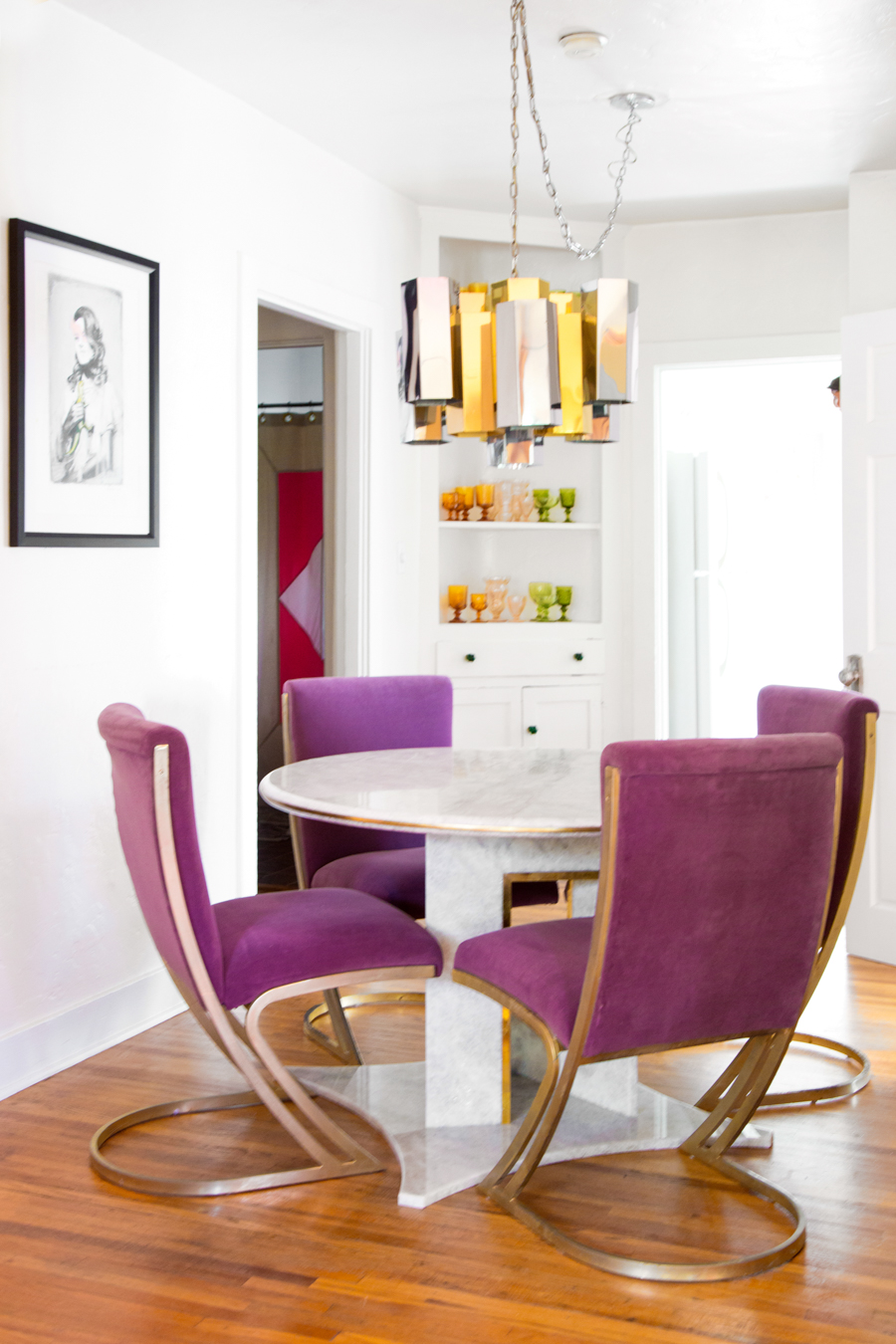 Again, weird, yeah?
I found the Pierre Cardin style Z-back chairs in someone's 'giveaway' pile and snagged them for us. We knew we wanted a round table to go with the chairs, but the space is TINY, so we got a custom one made locally and we love it. The maker, Sevak, was rad enough to incorporate some brass elements into the table, too, to tie the chairs together. Gahhh, the glory.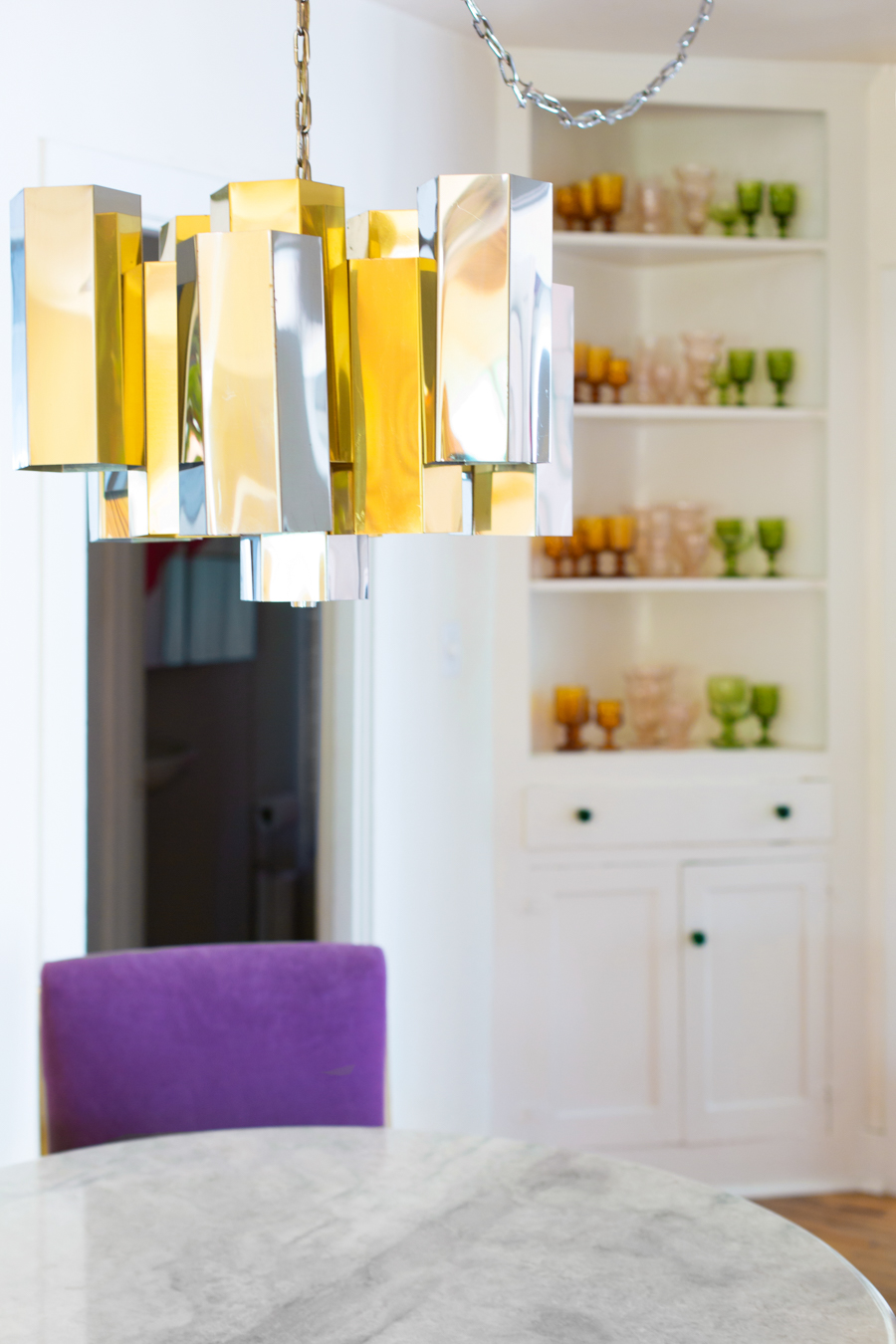 Robert Sonneman chandeliers are usually $$$, but I happened to walk past a shop and see this one hanging in the store, so I started Insta-stalking the owner to see if I could get it ASAP. I love how it effortlessly ties in the chrome of the living room to the brass of the tables + chairs. Bliss!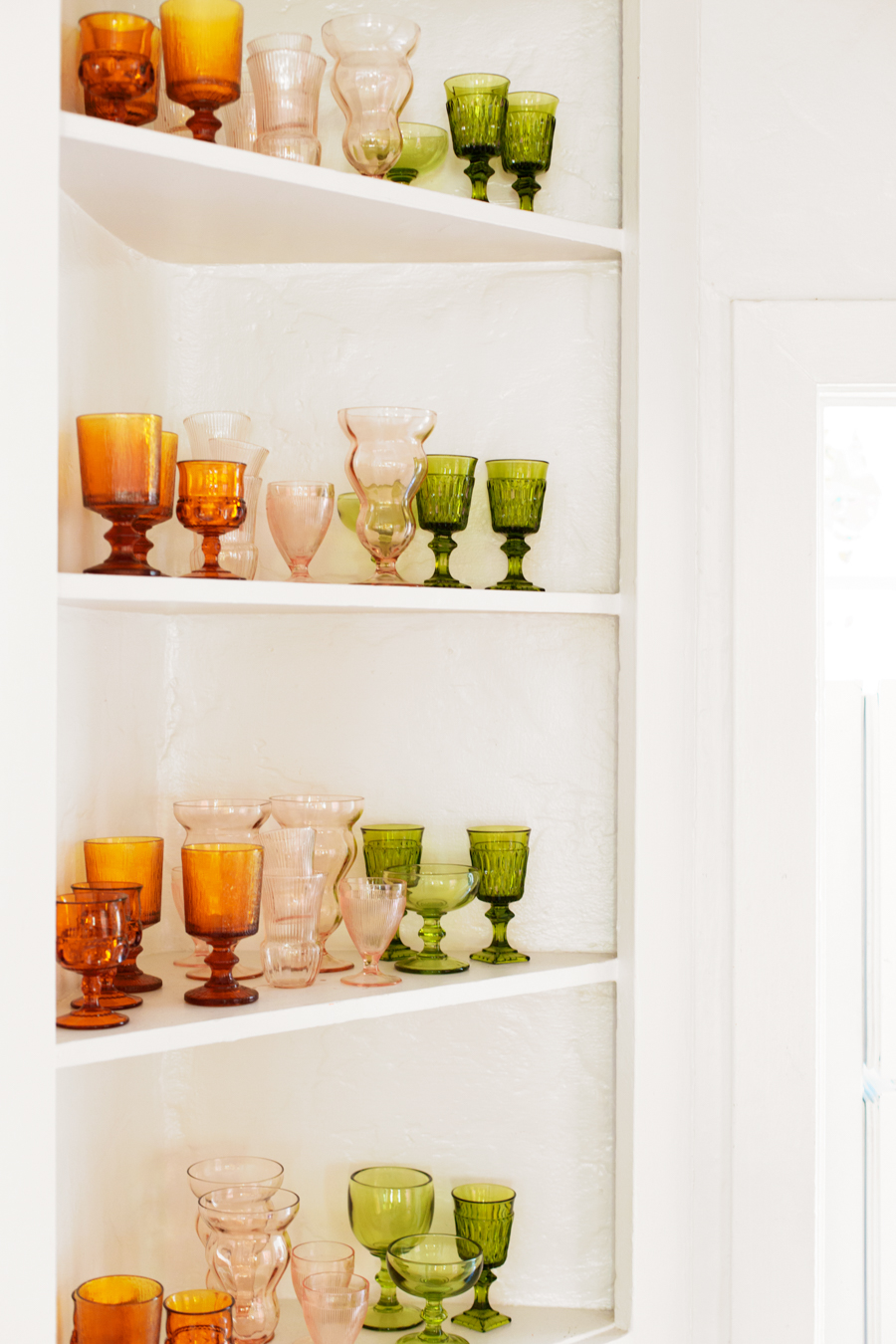 Glassware from various etsy stores. Love.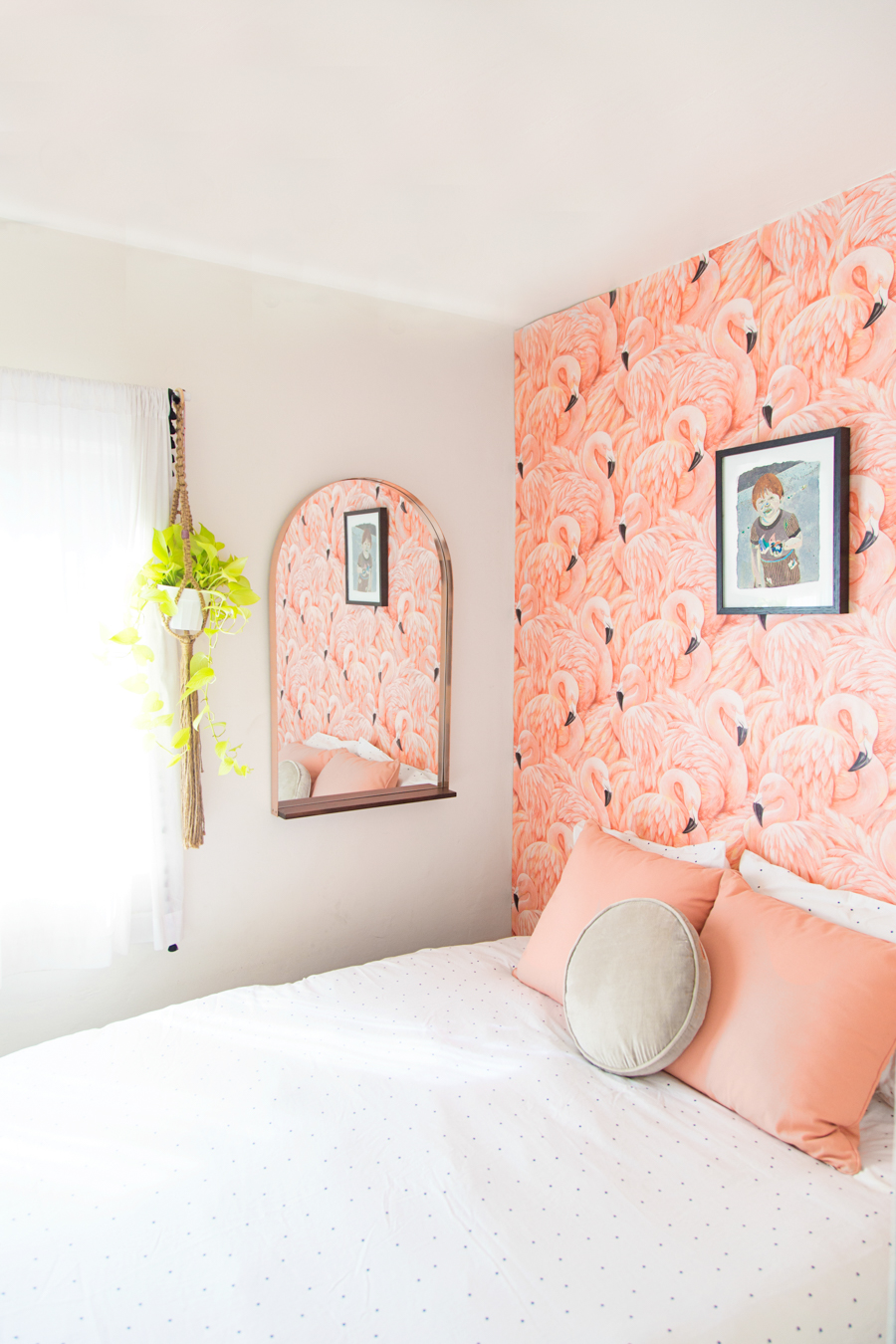 Guest bedroom… with wallpaper hung by double sided tape. Cuz, y'know. We're renters. 😉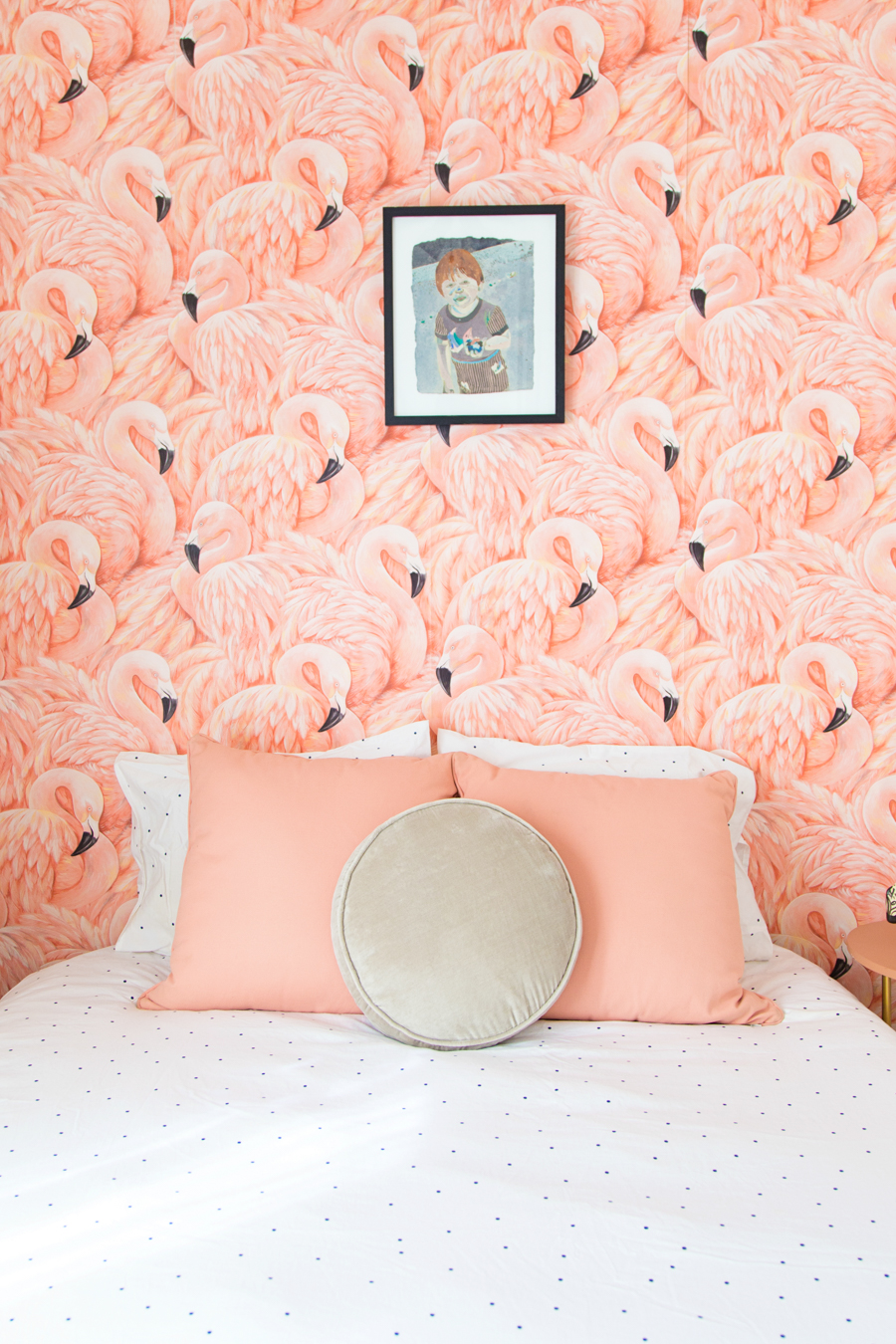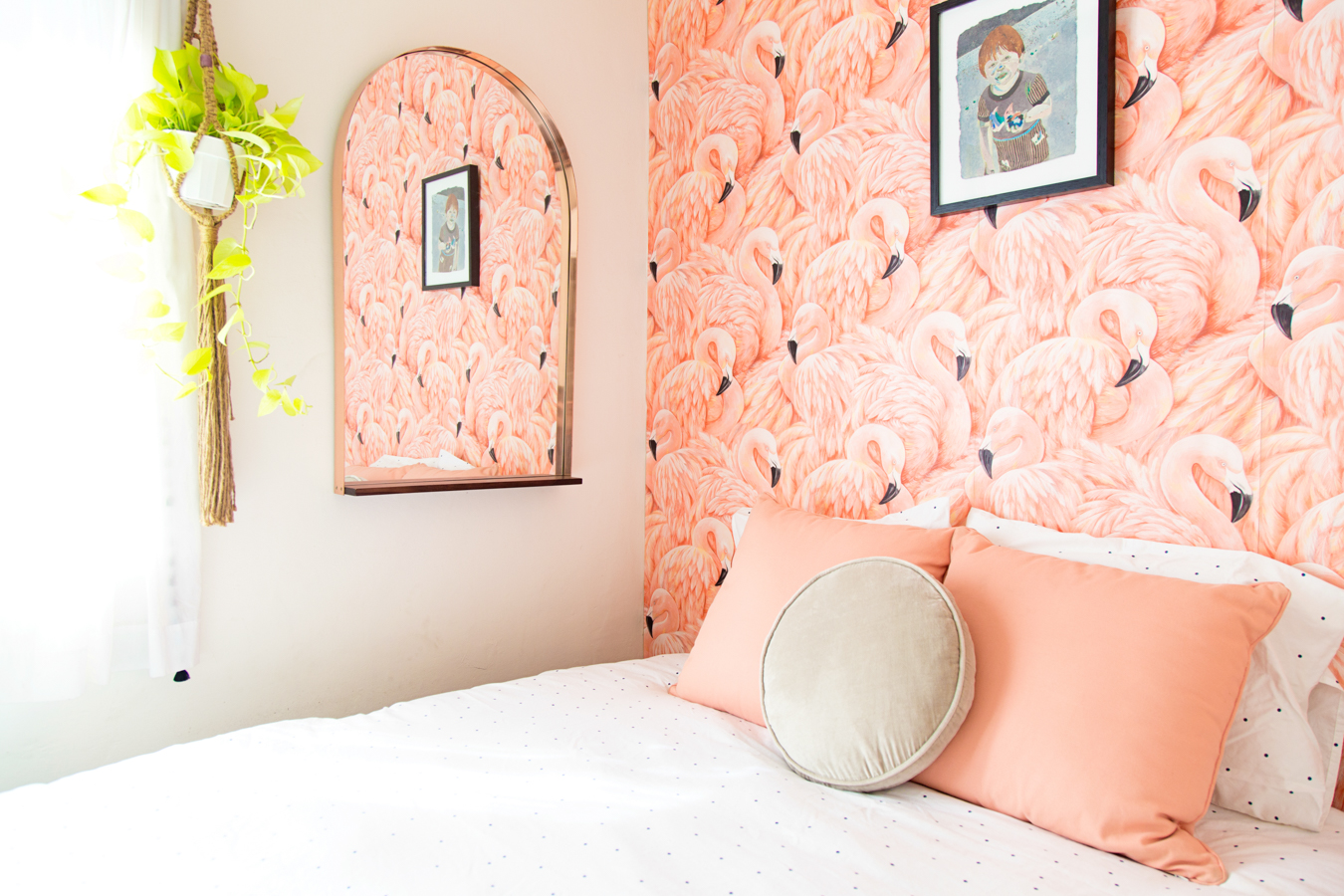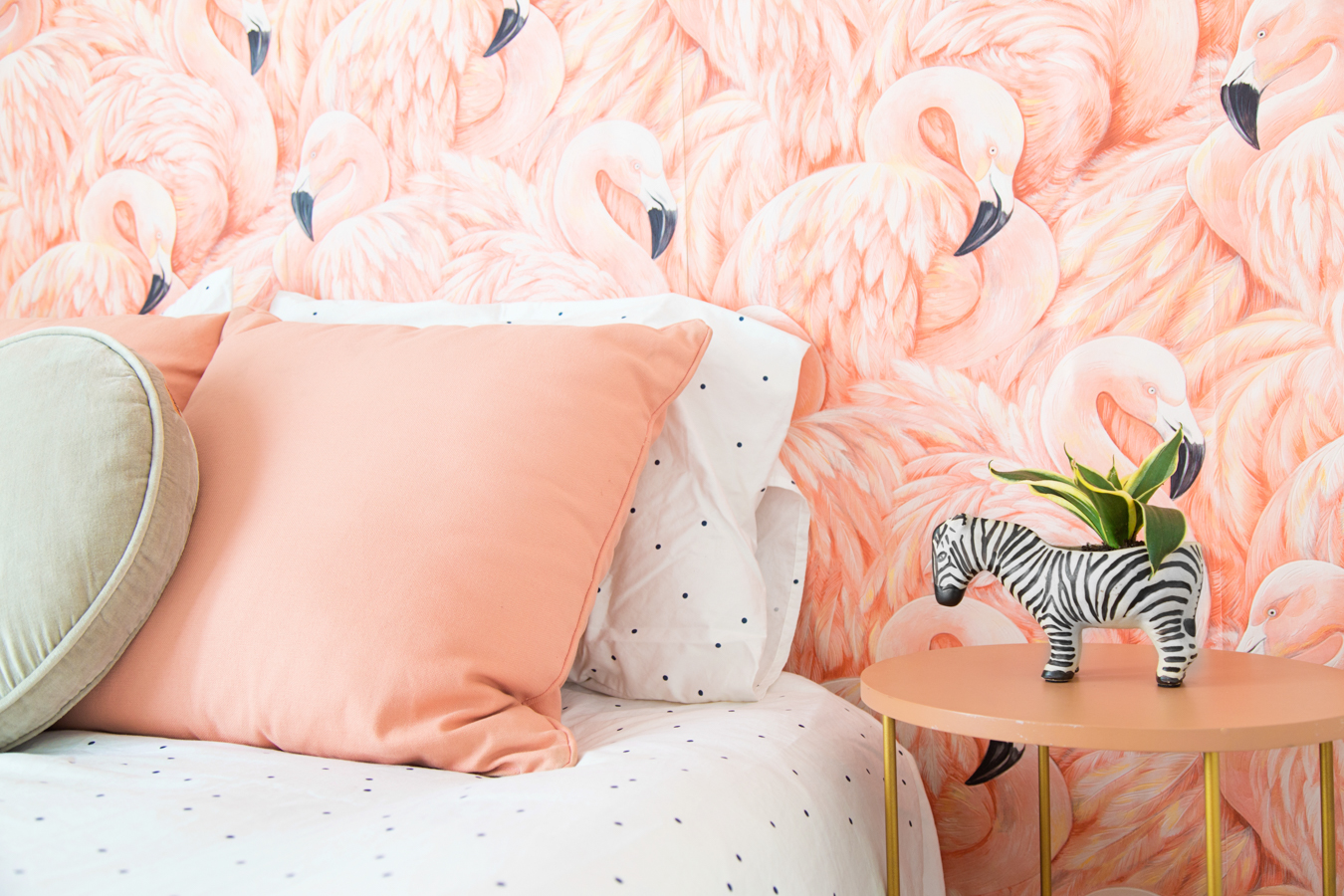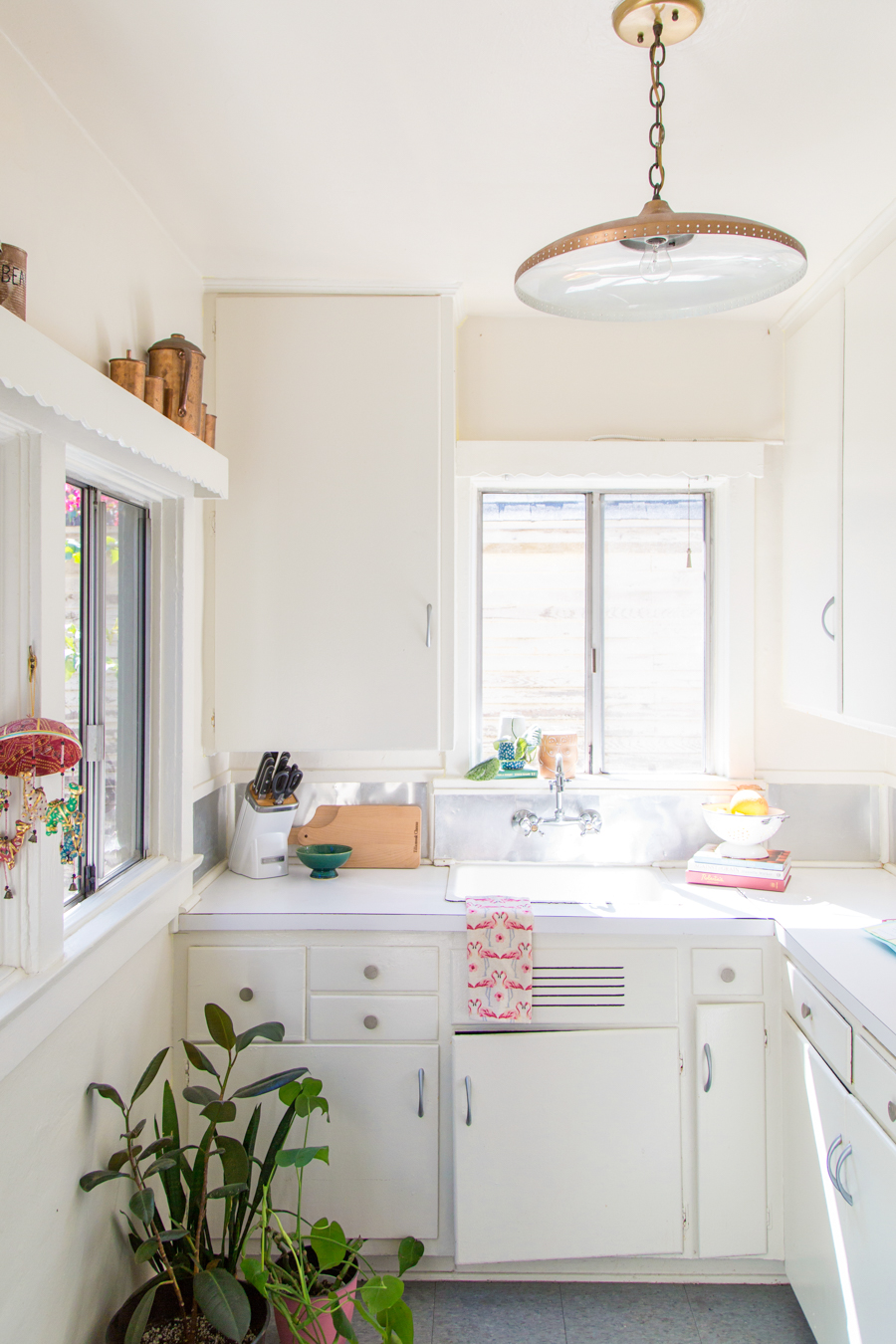 Our kitchen is small + mighty. And I may have written our landlord today to see if she'd let us remodel it next. Fingers crossed. 😉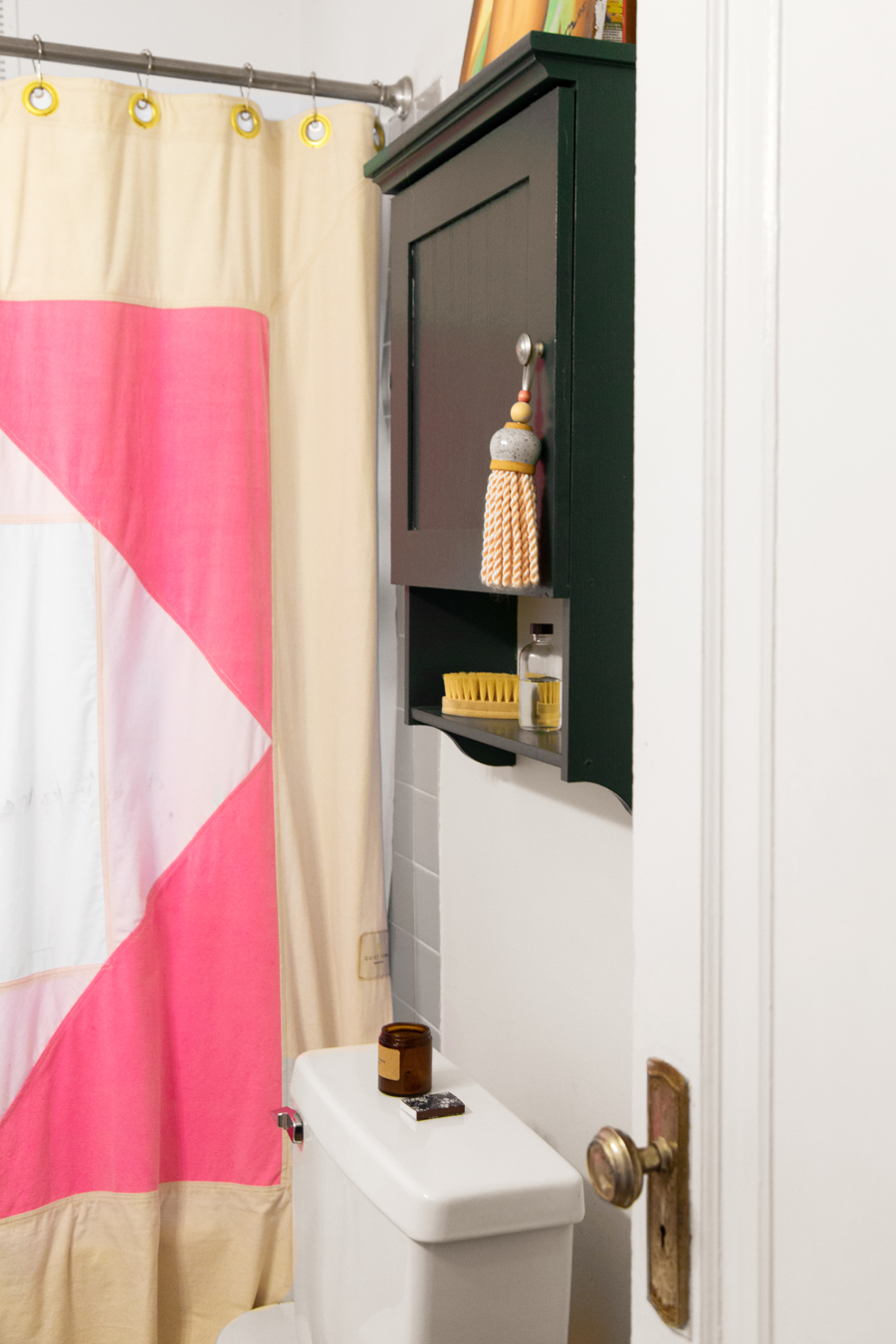 Le bathroom. Cuz everybody poops.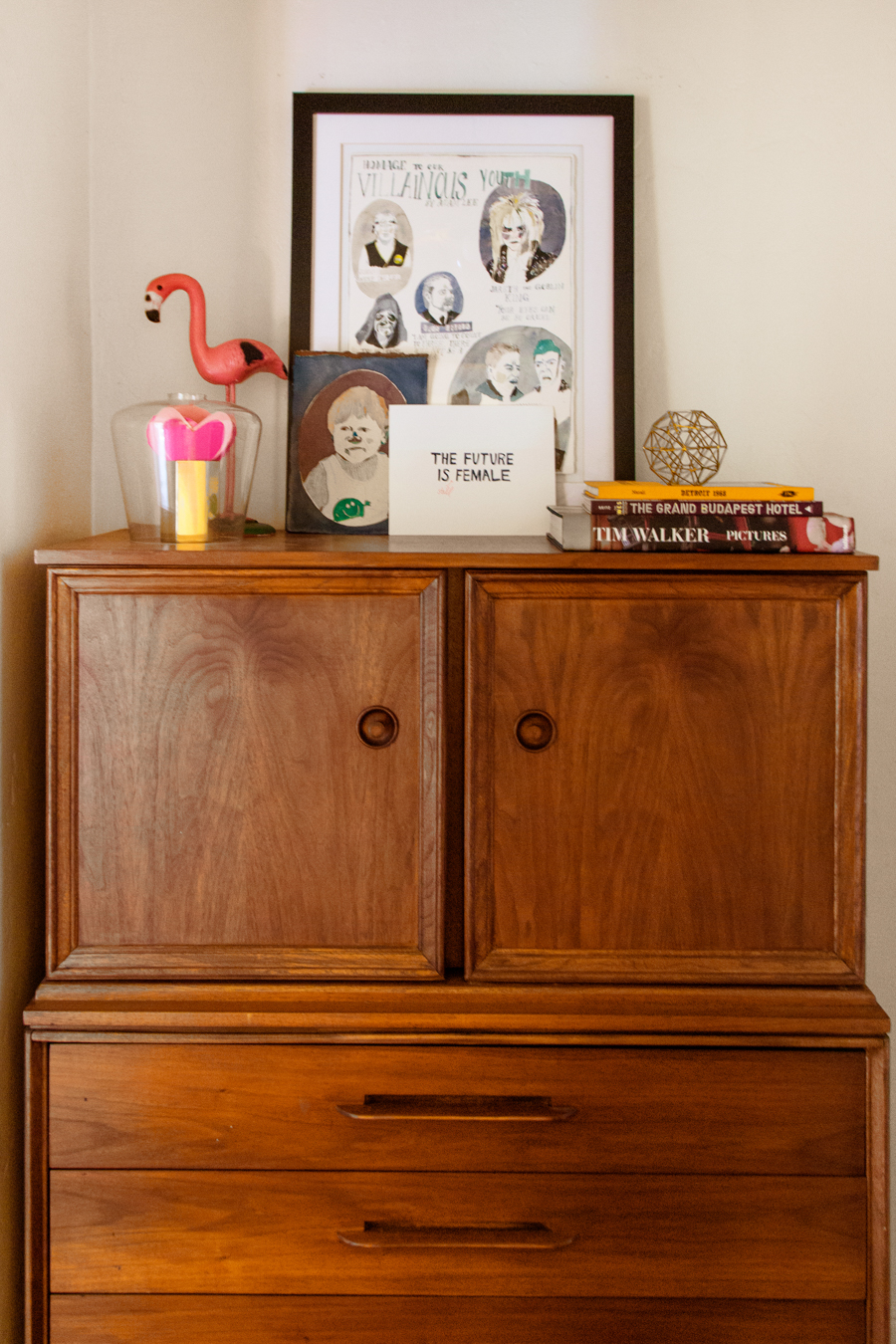 Jayden and I share one closet and one dresser. Who needs a lot of stuff, right?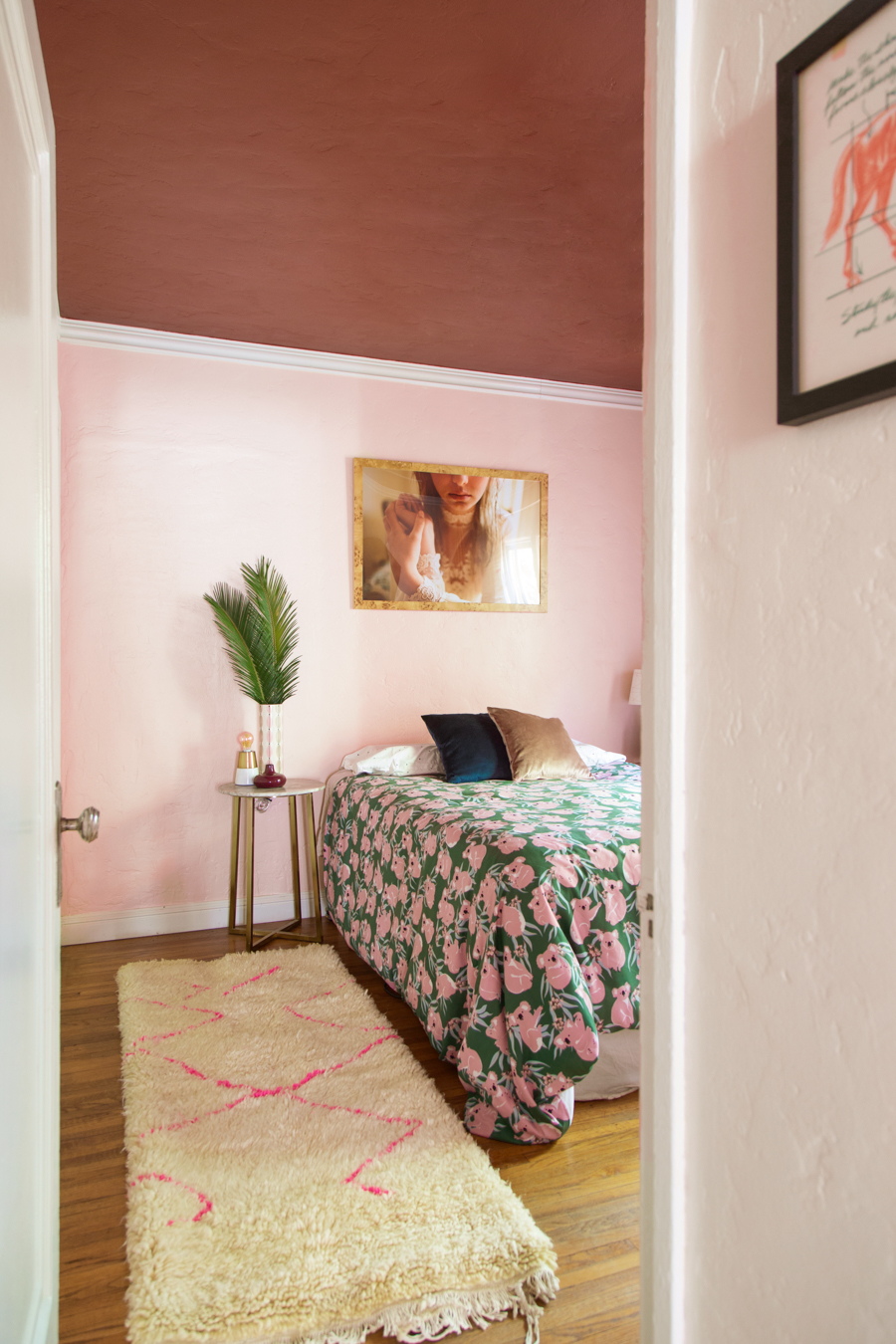 Our bedroom. You might remember this one from the feature on Domino earlier this year. We still love it. So much.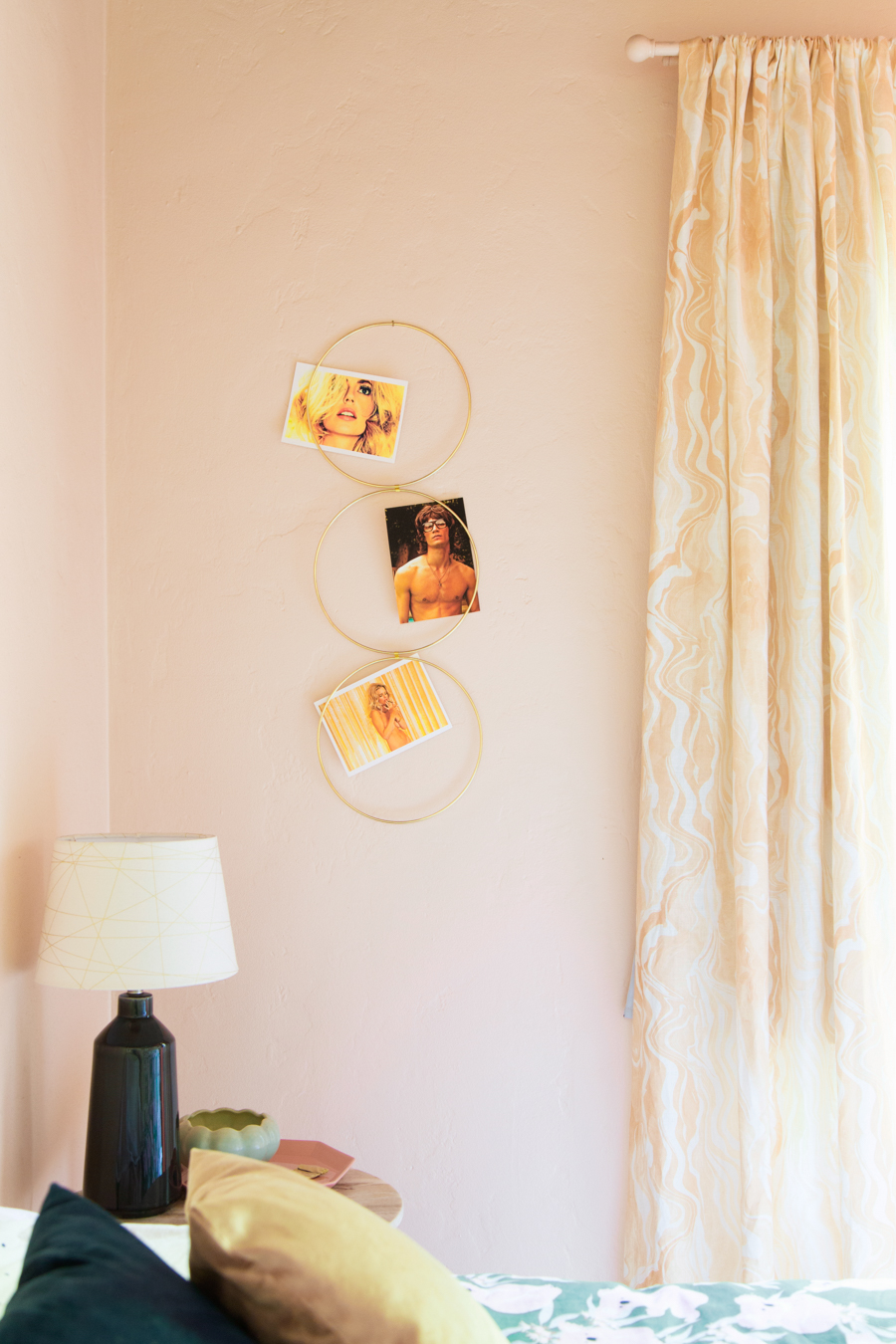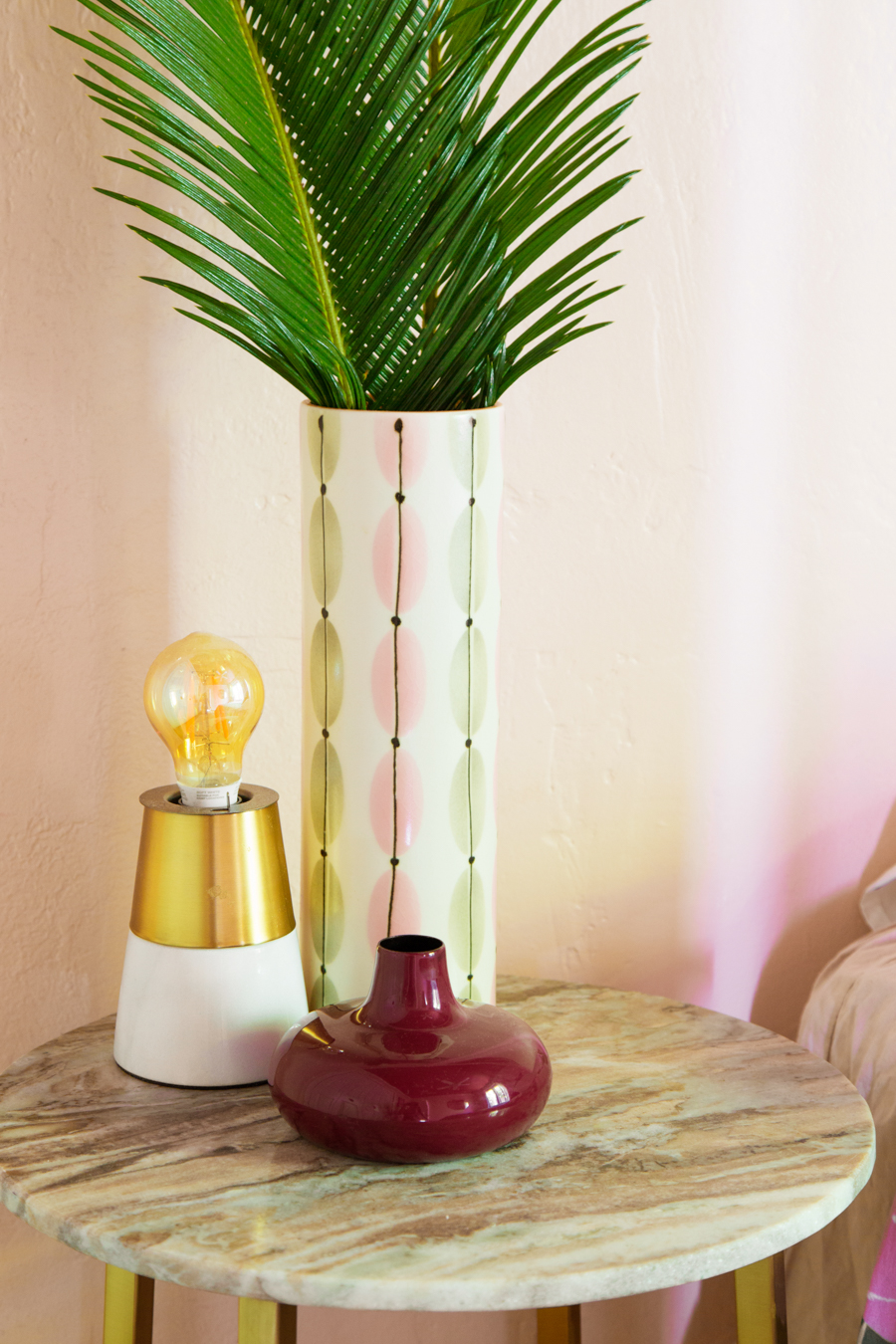 And there you have it, my friends! Our very weird and wild little space we call home.
What do you think? Could you cope with all the velvet and color-block and chrome? If so, c'mon round! We'd love to have ya. x
Credits:
Photos by our good friend, Jeff Mindell
Interior design filtering by our dear love, Jess Taylor
Living room:
Drapes made from JFFabrics x Crypton velvet
Bronze mirror custom design by Caroline + Jayden
Sofa – Emile silhouette by Verellen, covered in JF Fabrics x Crypton velvet
Chairs – Brooks silhouette by Verellen, covered in JF Fabrics x Crypton velvet
Coffee table – vintage Milo Baughman, sourced by Jason Tauritz of American Garage
Rug – custom collab between Studio Proba x Caroline
Plant design – Danae of Folia Collective
Oversize painting – Adam Lee
Neon sign – custom design drawn by Jayden and made by Brite Lite Tribe
Wall + ceiling color – Creole Moon by Portola Paints
Gem Wall Hooks – Kip&Co
Amethyst side table – Chairish
Terra cotta plant hanger – Tribe Alive
Faux fur pillows – World Market
Guest room/studio room (flamingo room):
Pink flamingo wallpaper from Wallpaper Direct
Painting by Adam Lee
Mirror from a West Elm x Commune collab
Polkadot sheets from Brooklinen
Round velvet pillow from Kip&Co
Sidetable from Target
Zebra planter from Anthropologie
Dining room:
Quartz dining table – custom design fabricated by Noy Enterprises
Vintage Pierre Cardin Style Z-back chairs found + recovered with JFFabrics x Crypton velvet
Vintage Robert Sonneman chandelier
Colored glass goblets purchased on Etsy
Framed piece by Mercedes Helnwein
Bathroom:
Shower curtain by Quiet Town
Our bedroom ('70s palette with maroon ceiling):
Rug – Coco Carpets
Bedspread – custom koala design by Jayden
Side tables – Target
Framed photo – by Caroline, available on her print shop, TeamWoodnote
Paint Sherwin Williams Romance (walls), Olympic Sweet Spiceberry (ceiling)
Pillows – BoConcept
Chair – Craiglist find (free!) and recovered in rust velvet
Drapes – made by Caroline out of Rebecca Atwood's Marbled Stripe Fabric in Blush
Three postcard prints by Stephanie Vovas