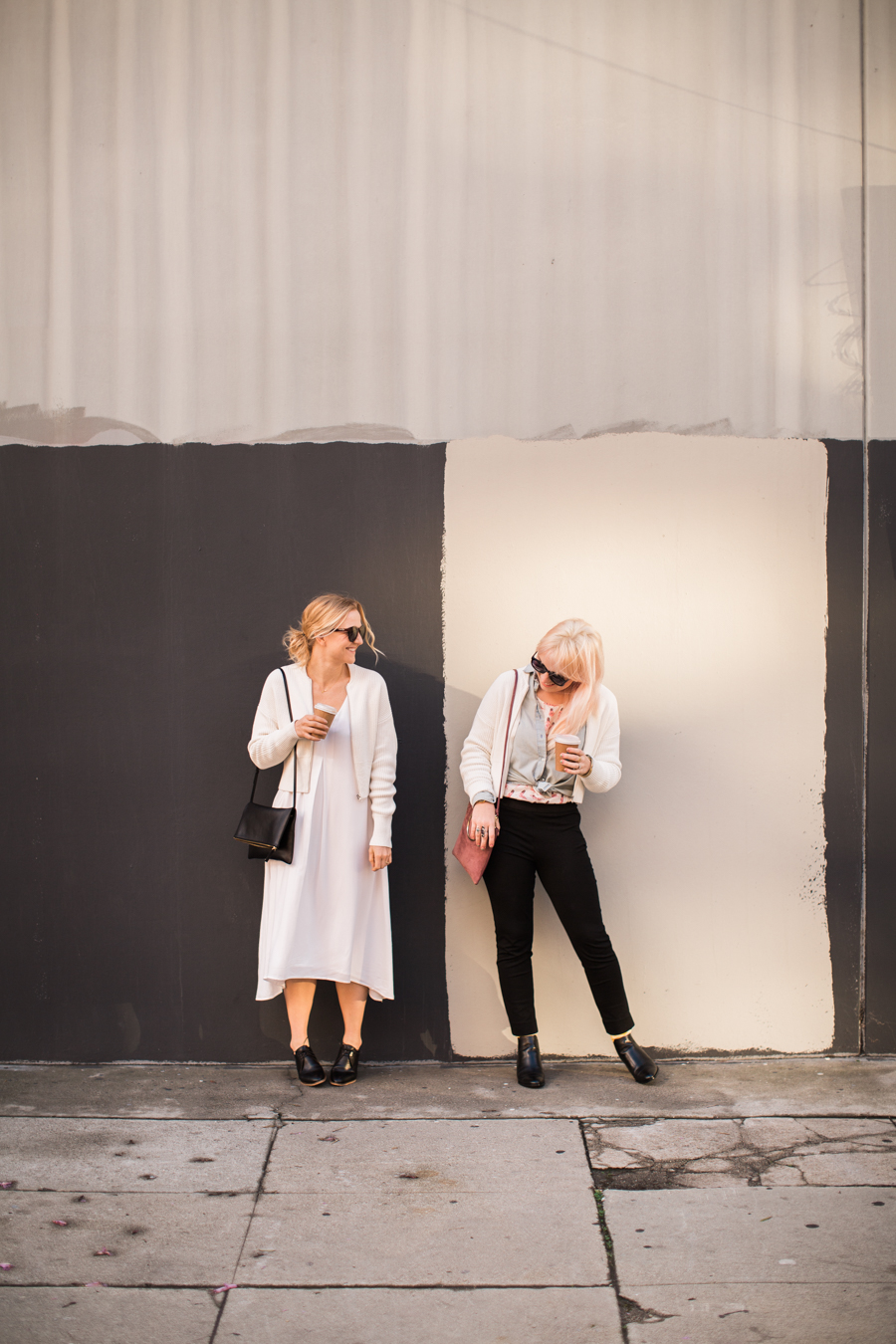 The Two Girls, One Kit look today is what I like to call my I woke up like this look. It is a little bit lazy, (good-lazy) and a lotta bit comfy.. absolutely perfect for my mornings when I stayed cozy in bed a few minutes too long and just needed the fast/flawless option.
The Amazing : Everlane. I've known and loved these guys for years now. When they first arrived to the scene, their model of Radical Transparency absolutely blew me away. I have a practice of being a conscious consumer — knowing where my clothes come from and supporting brands that provide fair wages, etc, but these guys set the bar so high. They make it out like it is easy to do what is right, and they empower their customers to surround themselves with education for their other shopping habits, too. I'm so grateful for these guys and love the standard they uphold.
The Common Piece : the Fisherman Cotton Zip Bomber in bone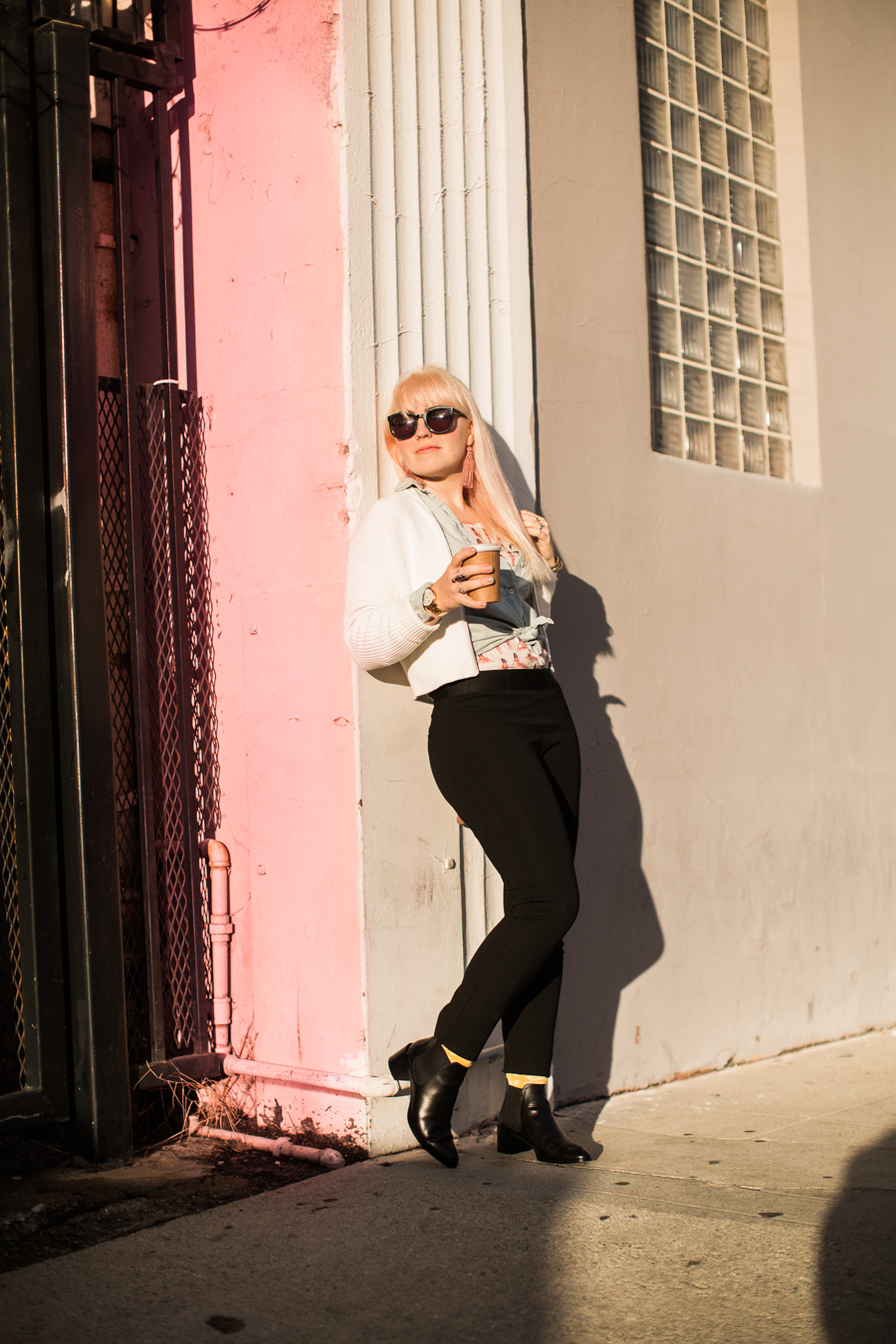 My spin : the Stretch Ponte Crop Pant in black and the Heel Boot in black.
When I'm running late or feeling lazy, I love to wear almost all solids, (usually black, remember?) and keep things classic. With this look, I incorporated yellow socks to bring a bit of fun to the party, and a silk shirt with a pattern on it, too.. but more on that in a second!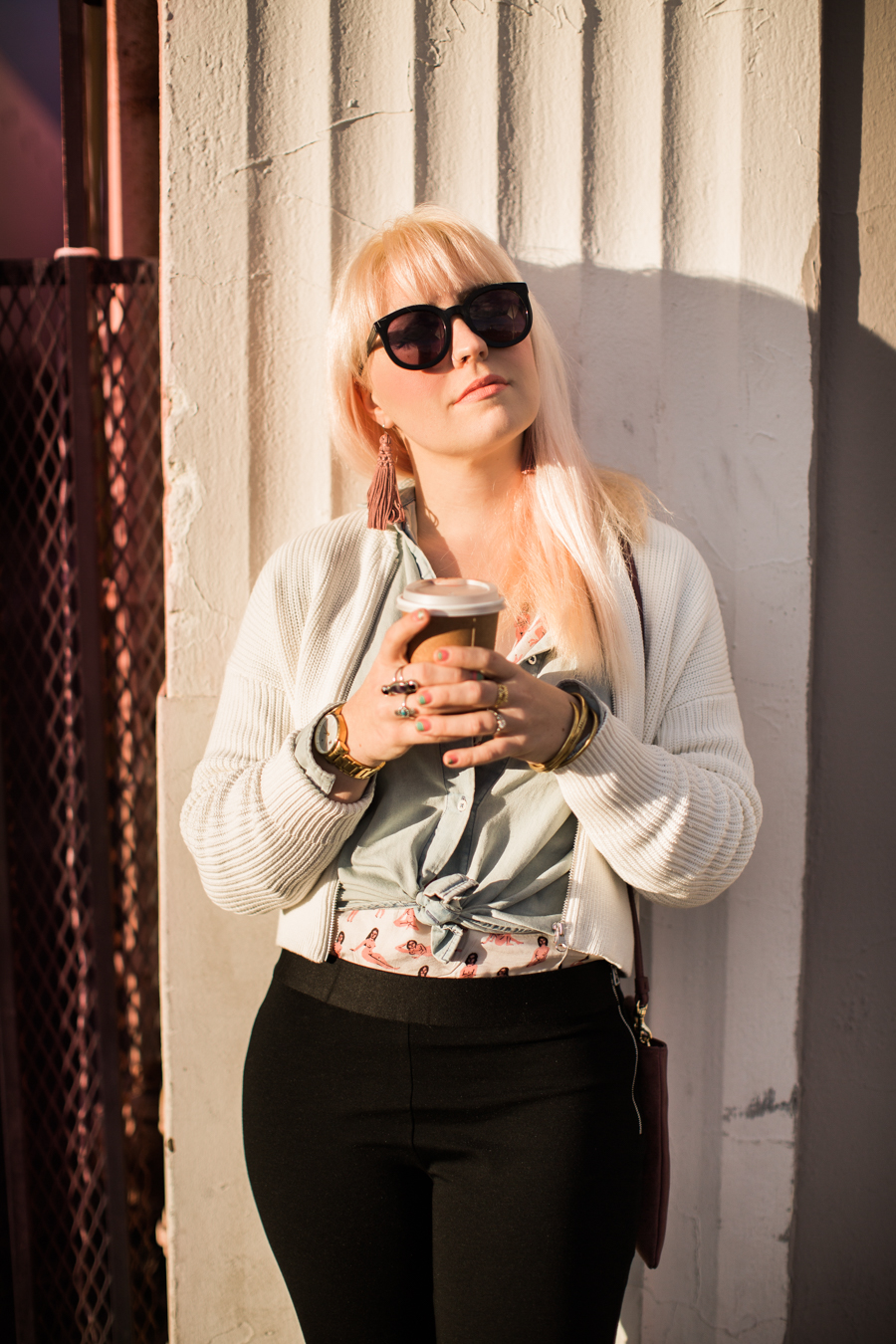 (Chambray shirt is an old Everlane from long ago, sunnies are Karen Walker)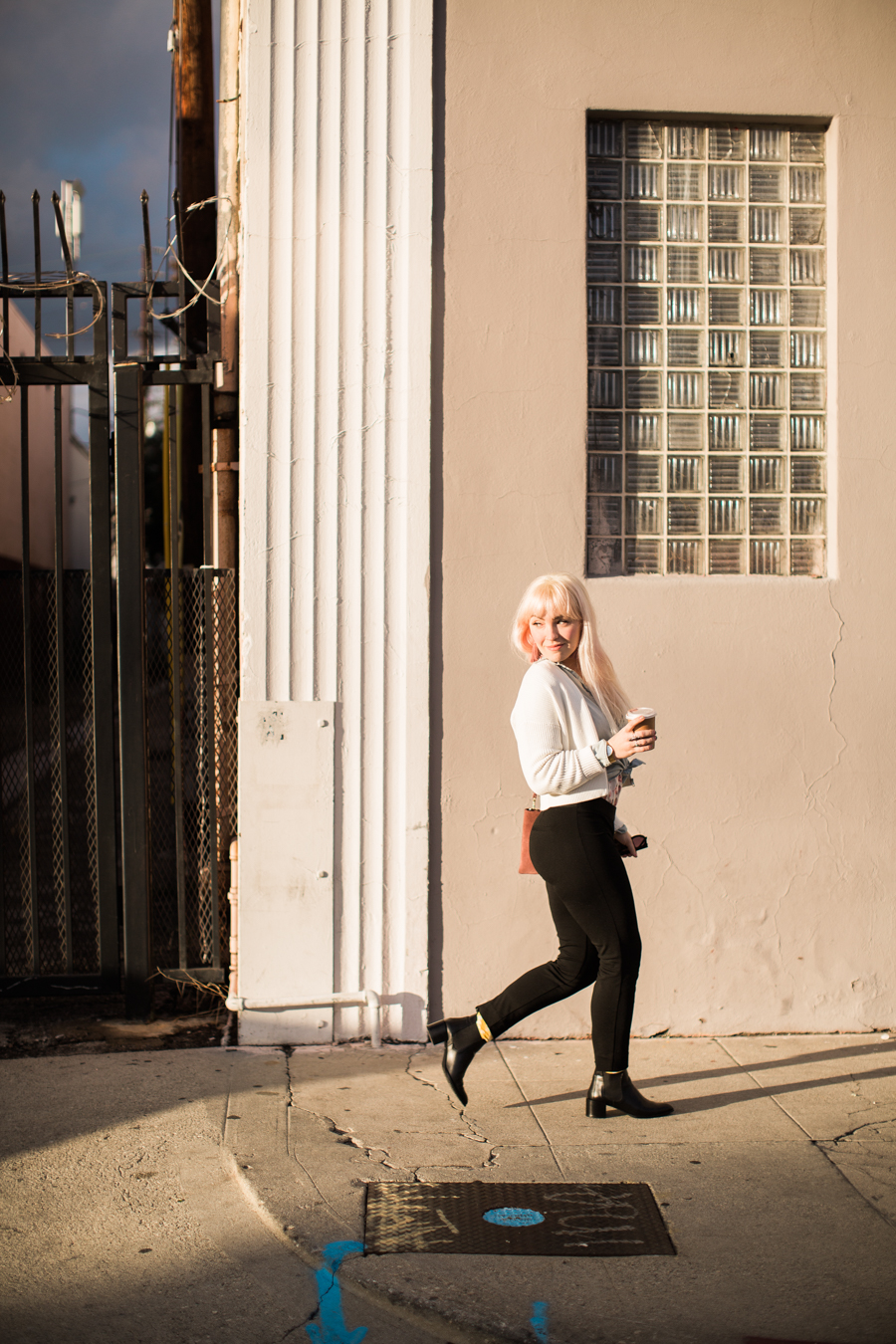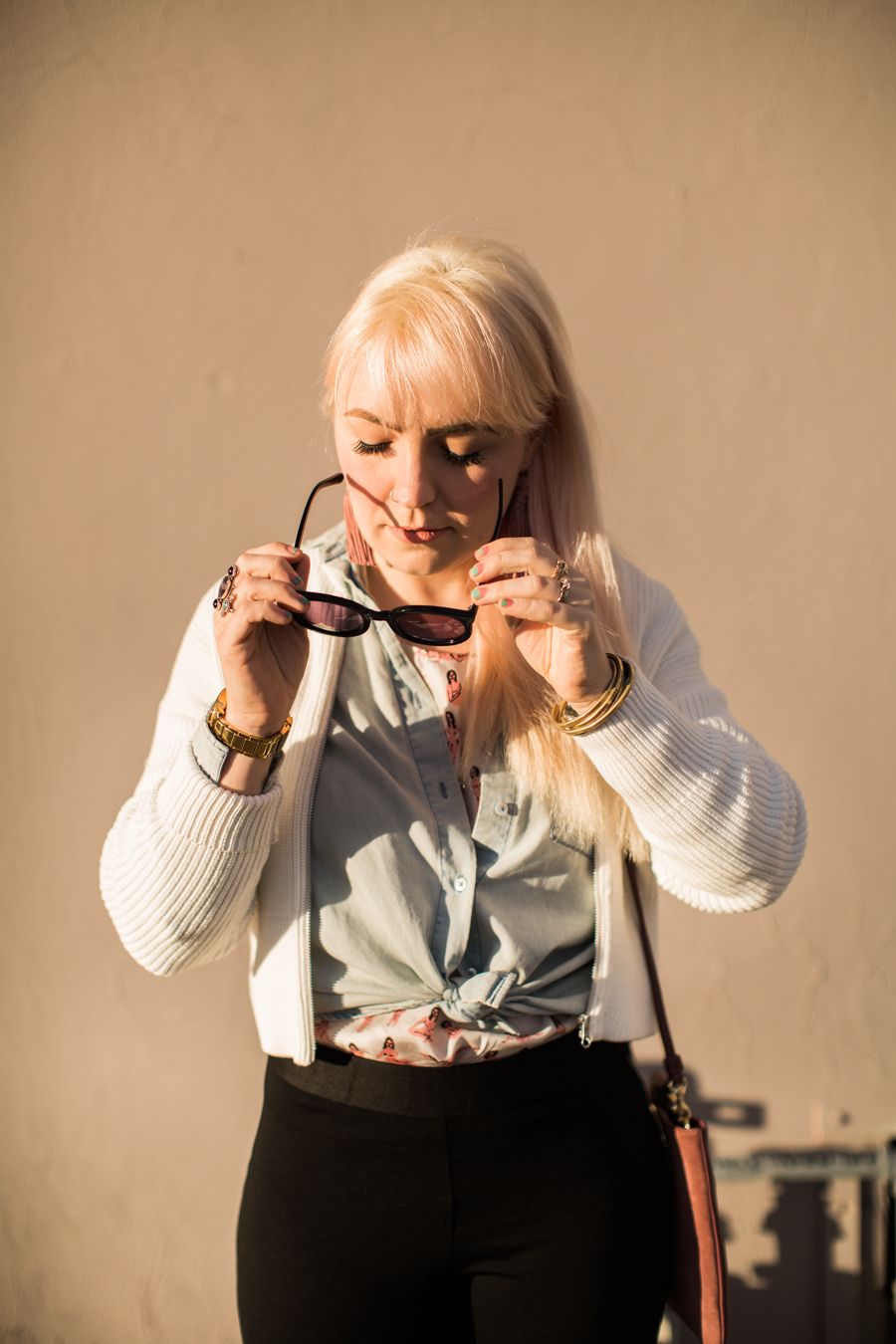 Another little I woke up like this secret.. my lash extensions. I'm totally hooked. For life, I think. The only makeup I have on here is a dab o' lipstick. I actually do wake up like this, and it truly does increase my efficiency by 82%. At least.
They are totally worth the $50/month I spend. Not to mention, that blessed hour I get to enjoy with my eyes taped shut while I catch up on my favorite podcasts. Bliss!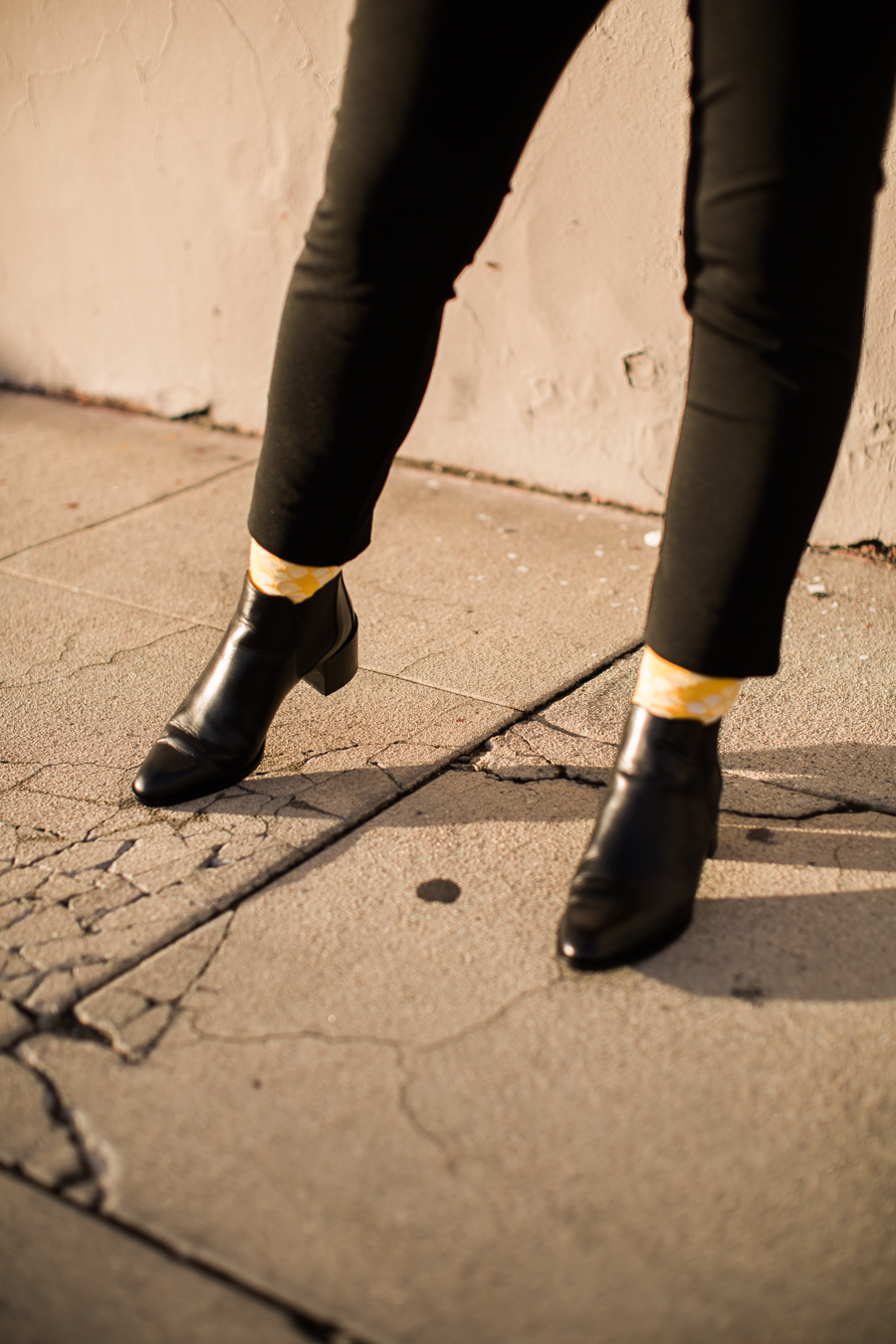 Jayden says my shoes are so Australian. He's right! They're the sexier version of the Blundstone boot that every Aussie gent seems to wear. I ain't mad to be compared to them!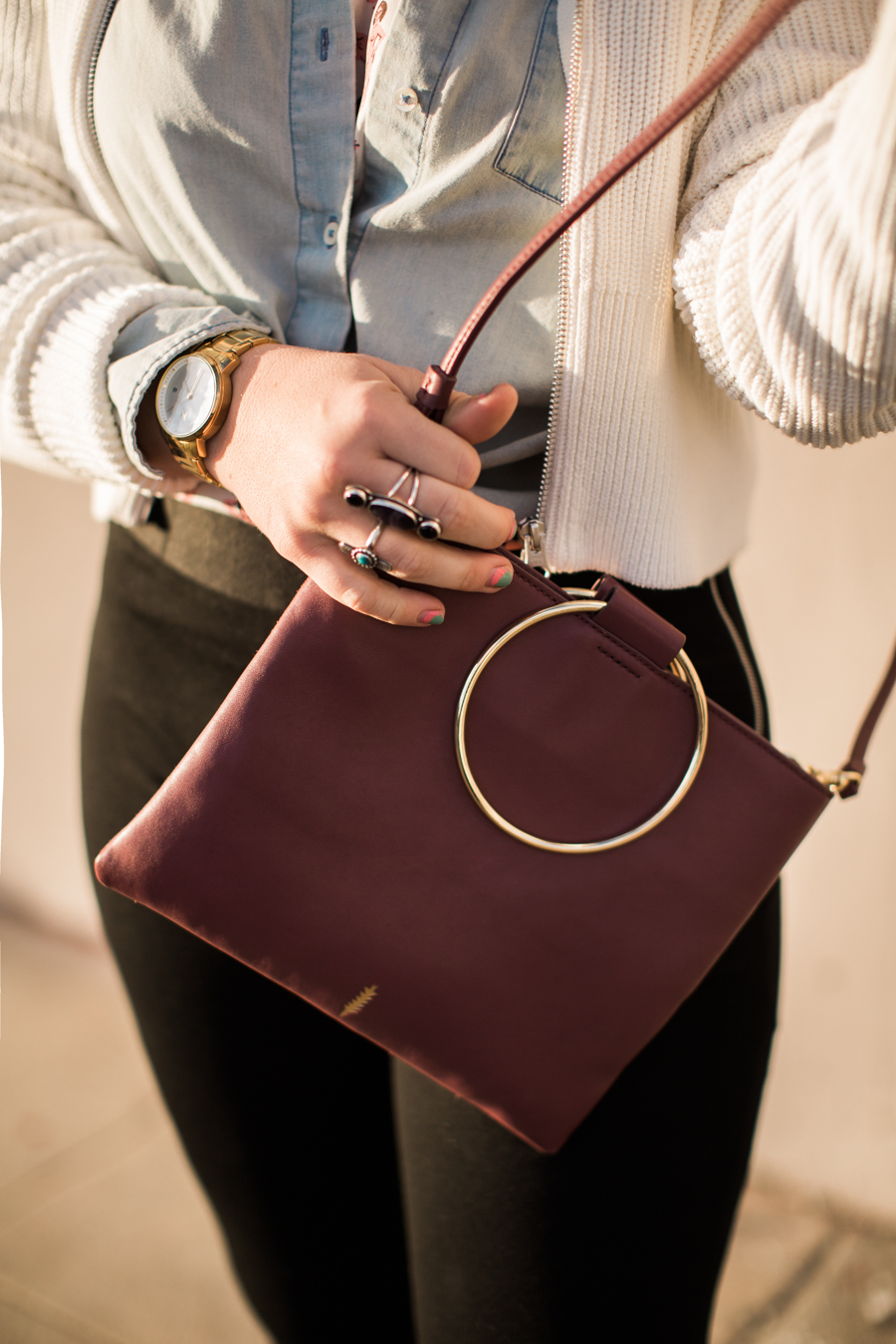 (Remember this bag from the Thacker days? I still love it!)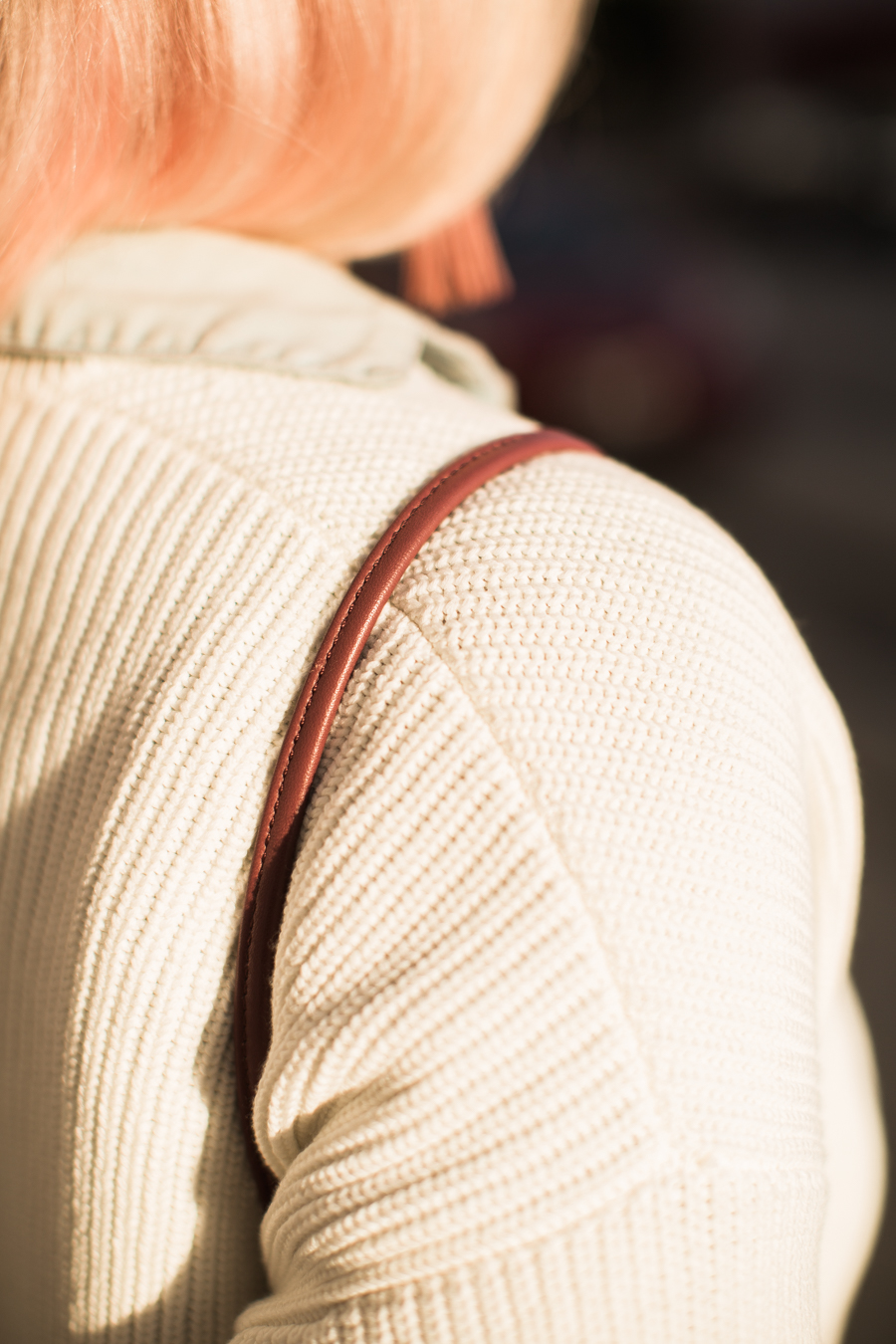 The detailing on the Fisherman sweater really is divine. I've been wearing it non-stop.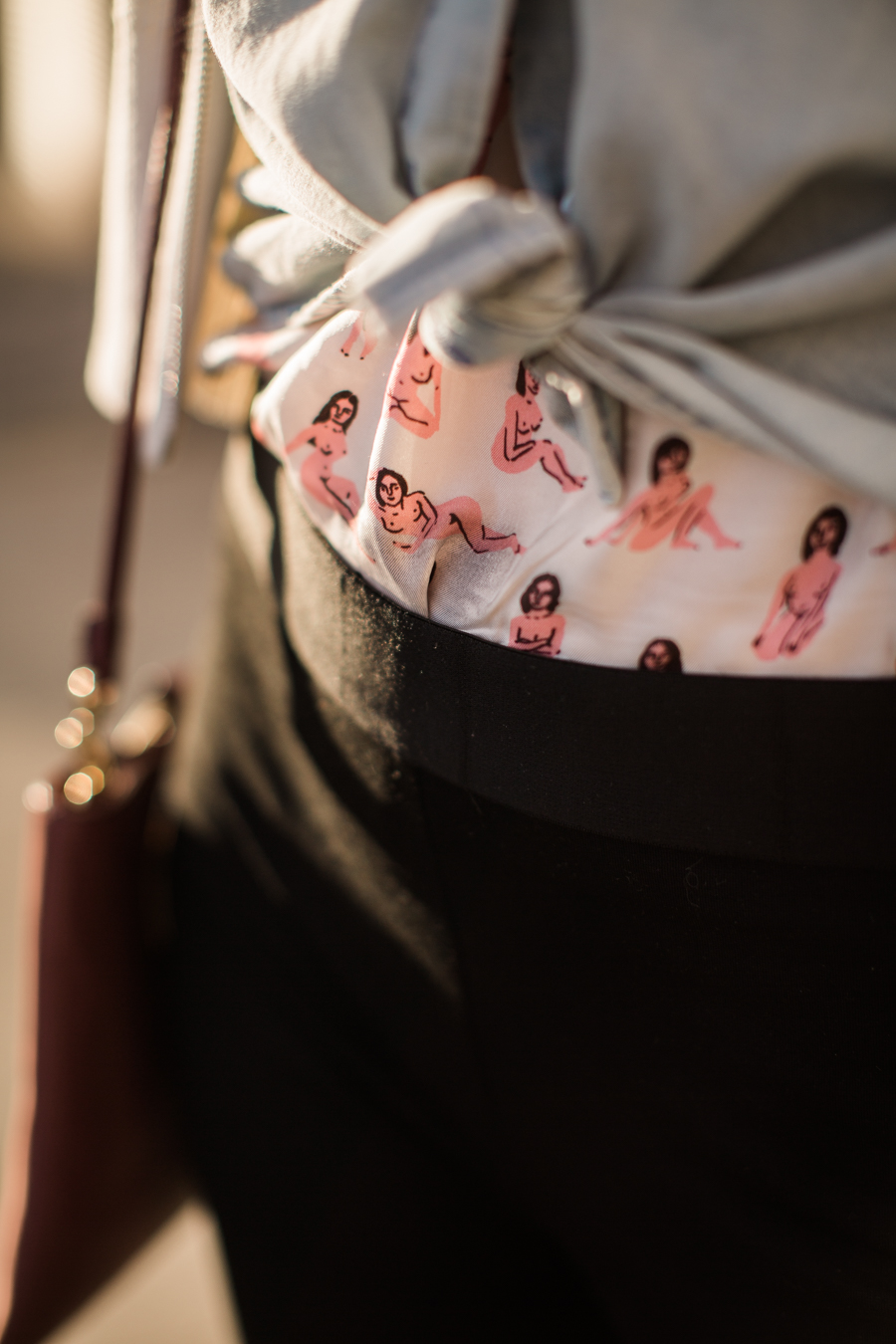 OK, so now a bit on my 'feature top' — because I wouldn't want to wear only solid colors now, would I?
This is a beauty from Leah Reena Goren that I snagged last year. I wear it at all the right moments.. because naked ladies always get attention, am I right?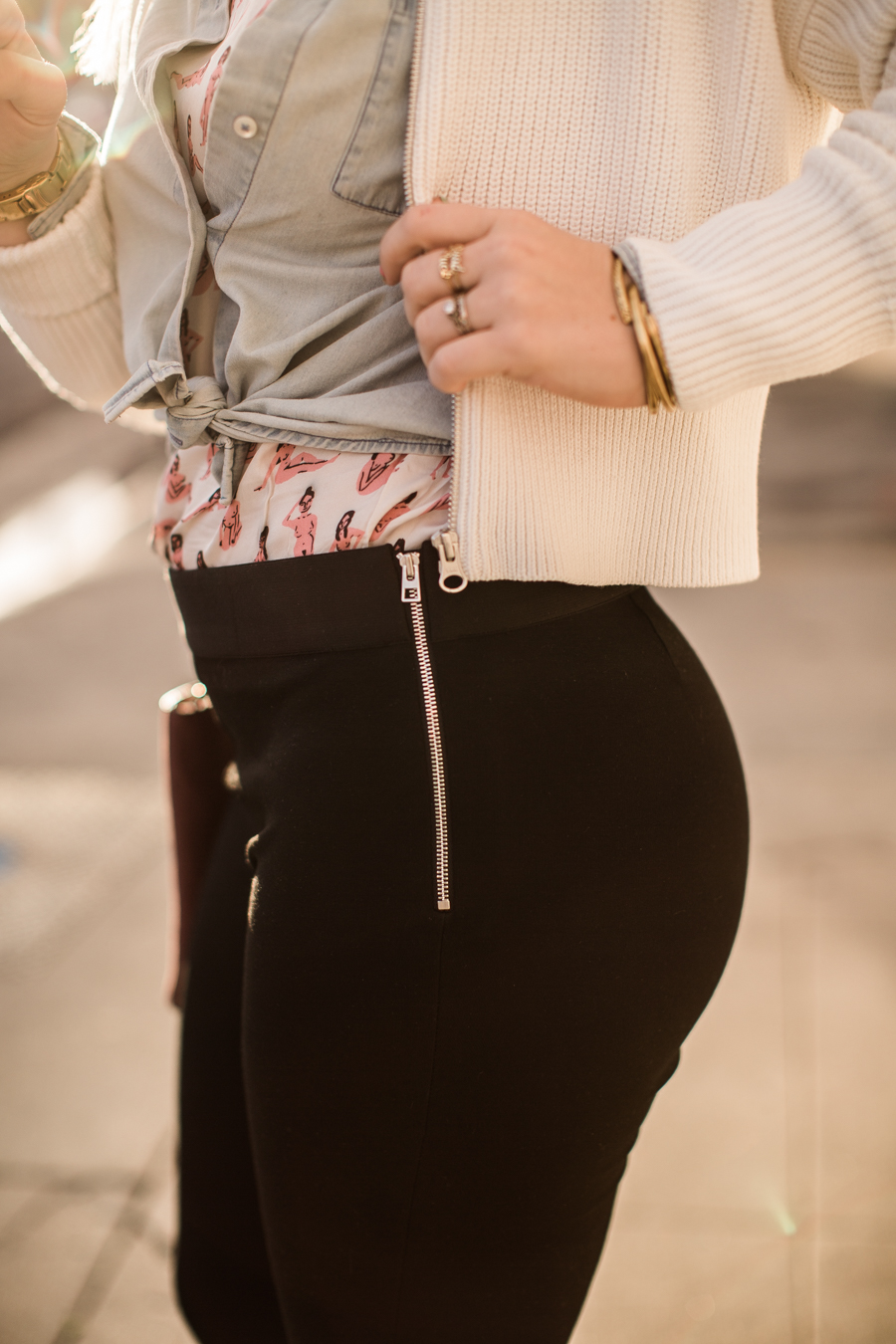 That side zip on my pants! YES!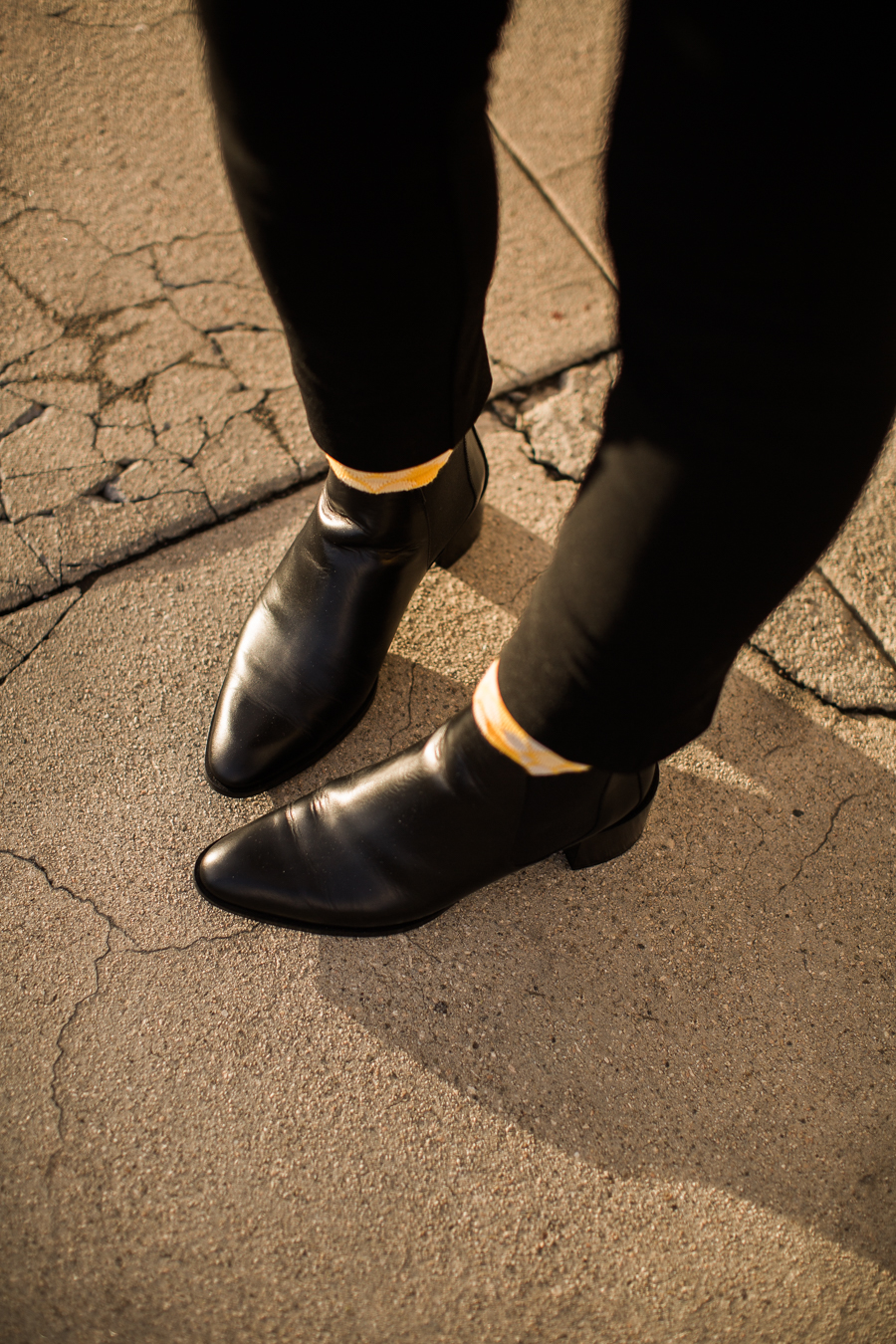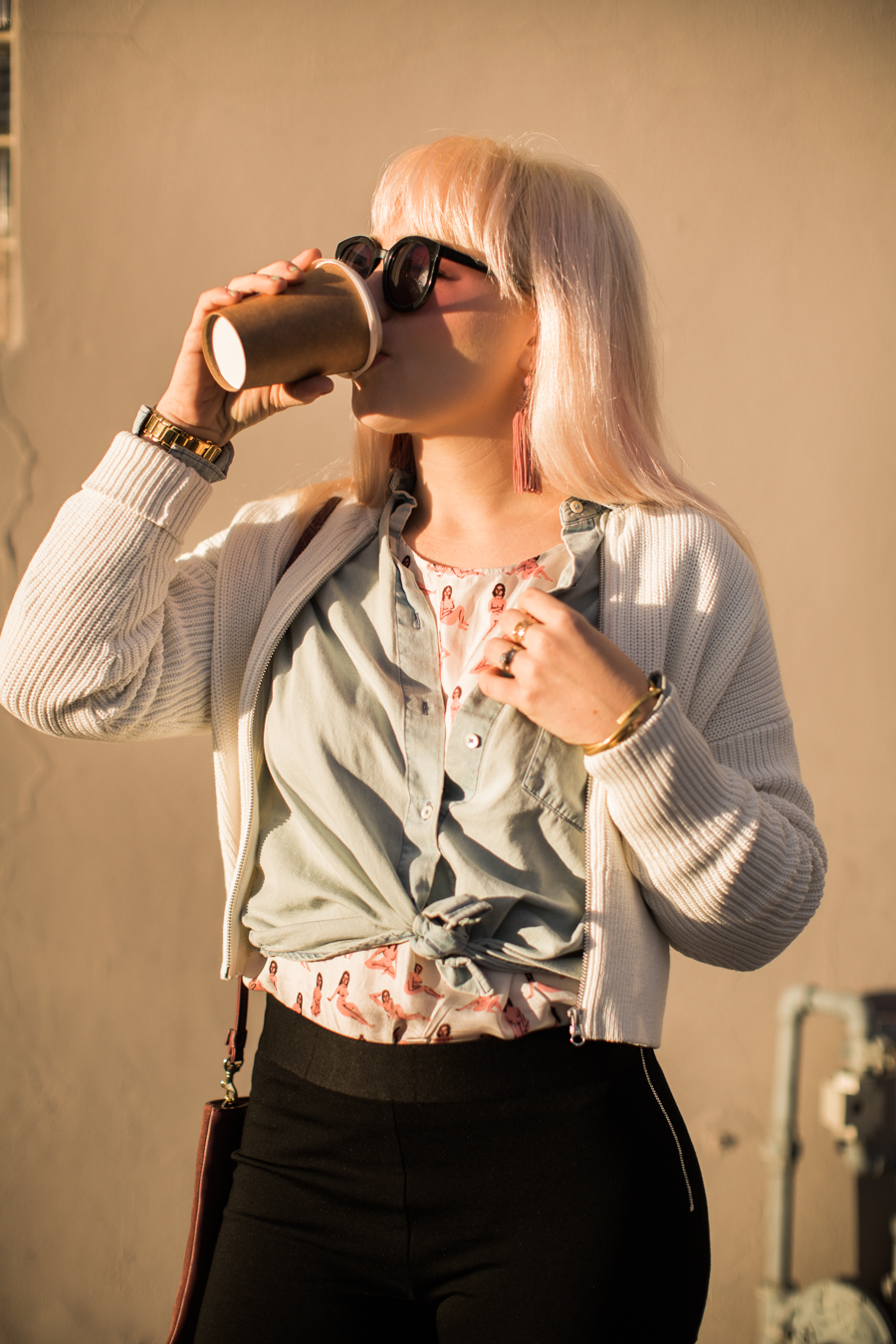 Annnnd I'm back to focusing on my cawfee.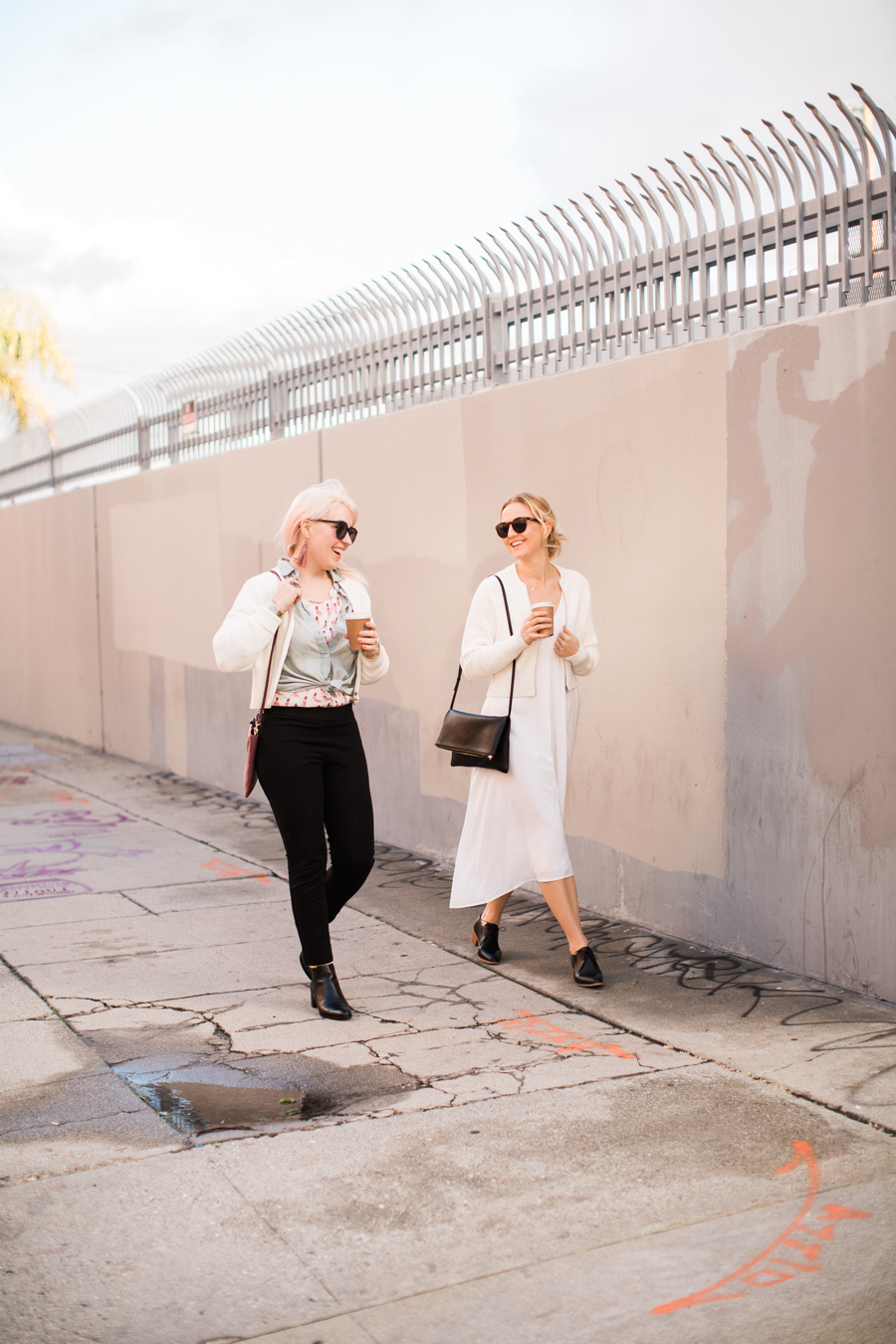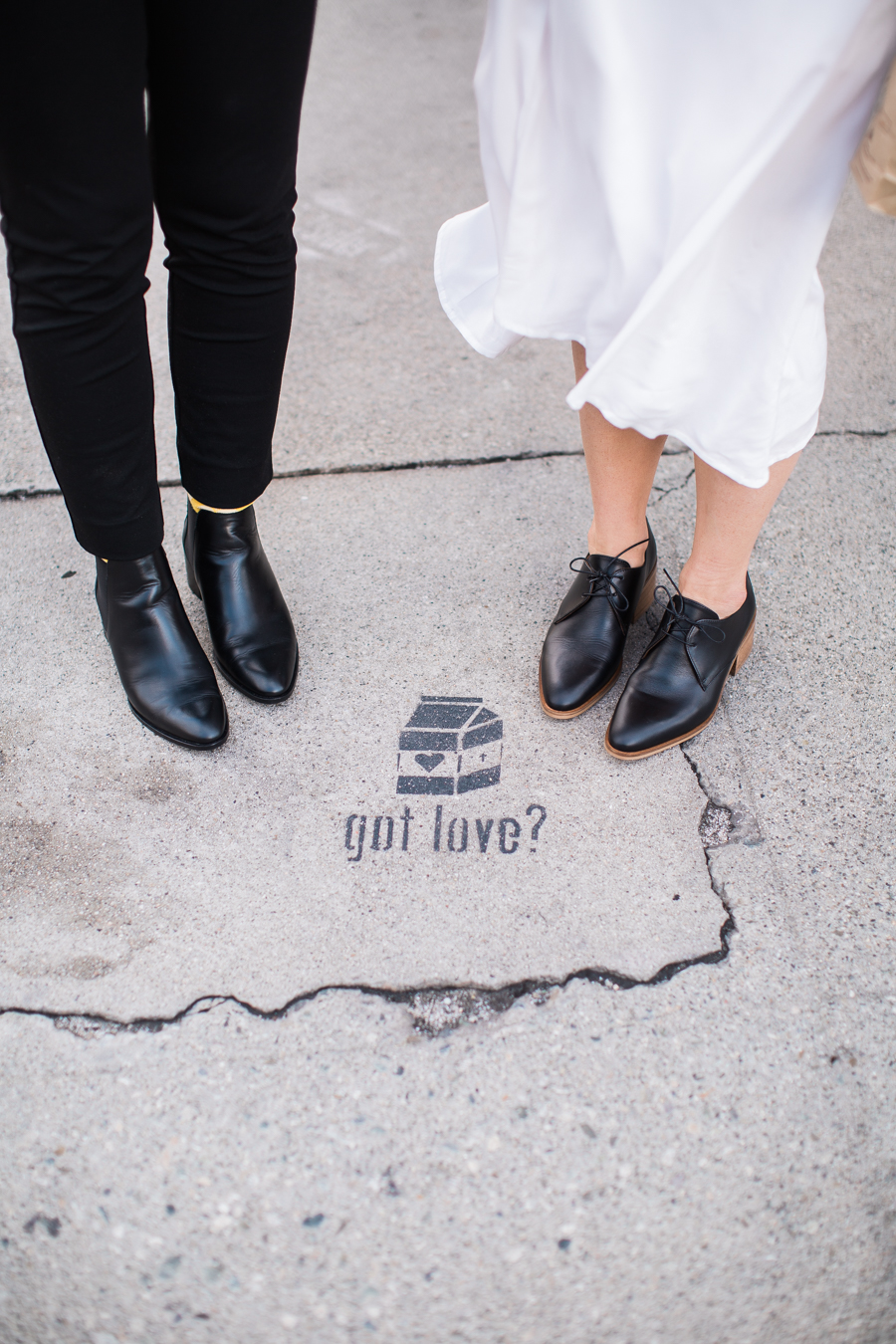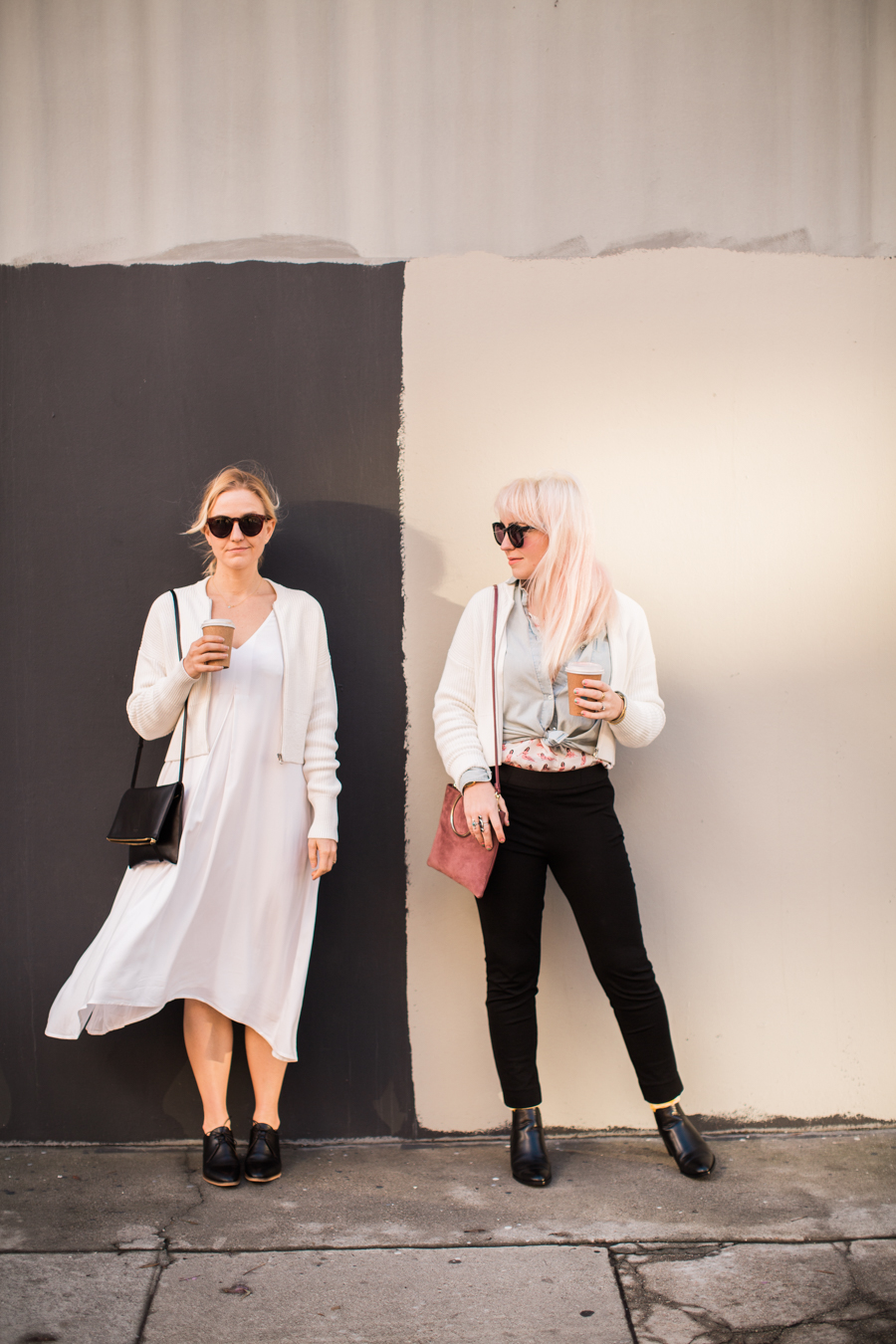 You'd hardly know we're wearing the same sweater, would you?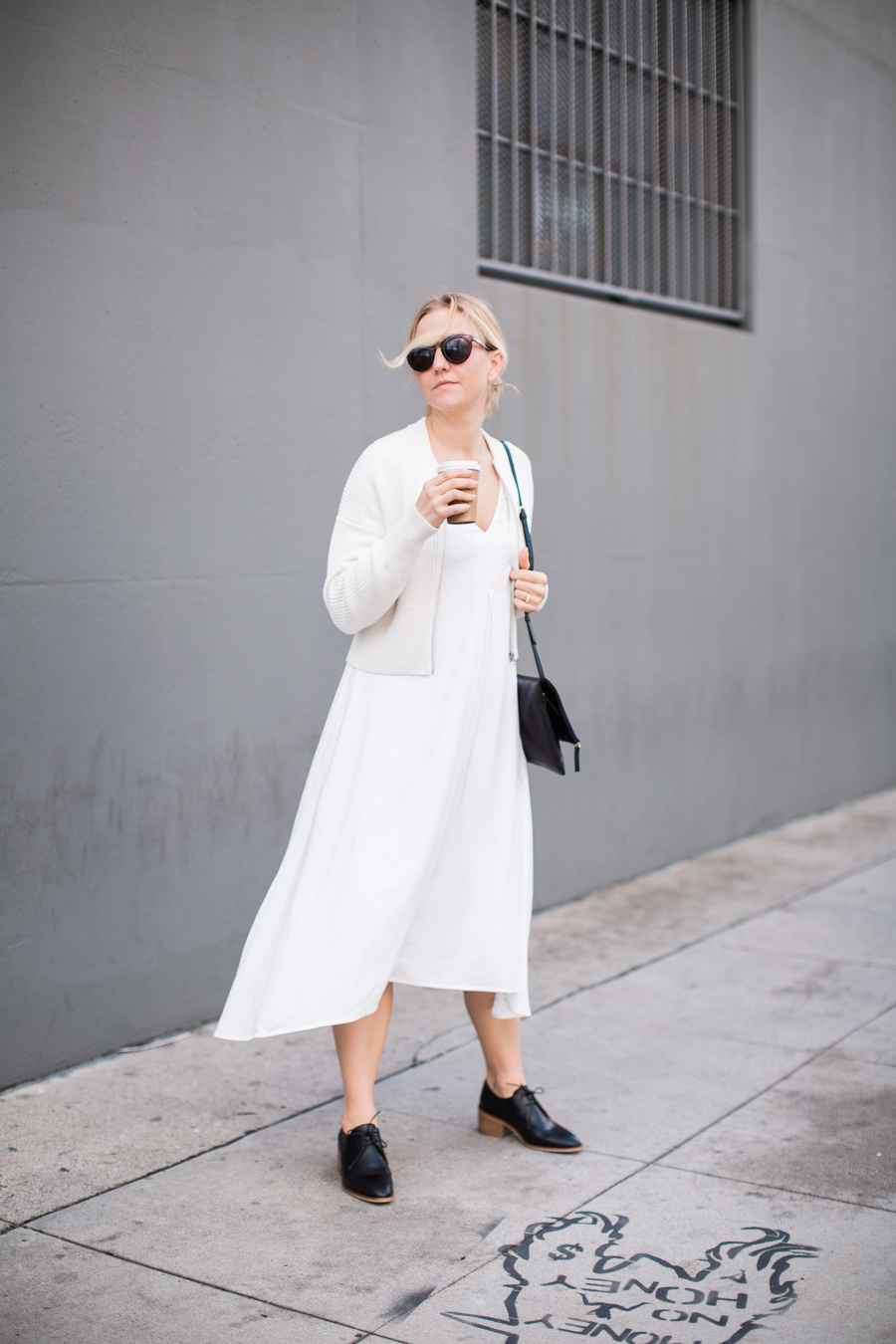 Anne's take : the Heeled Oxford and the Foldover Crossbody bag in black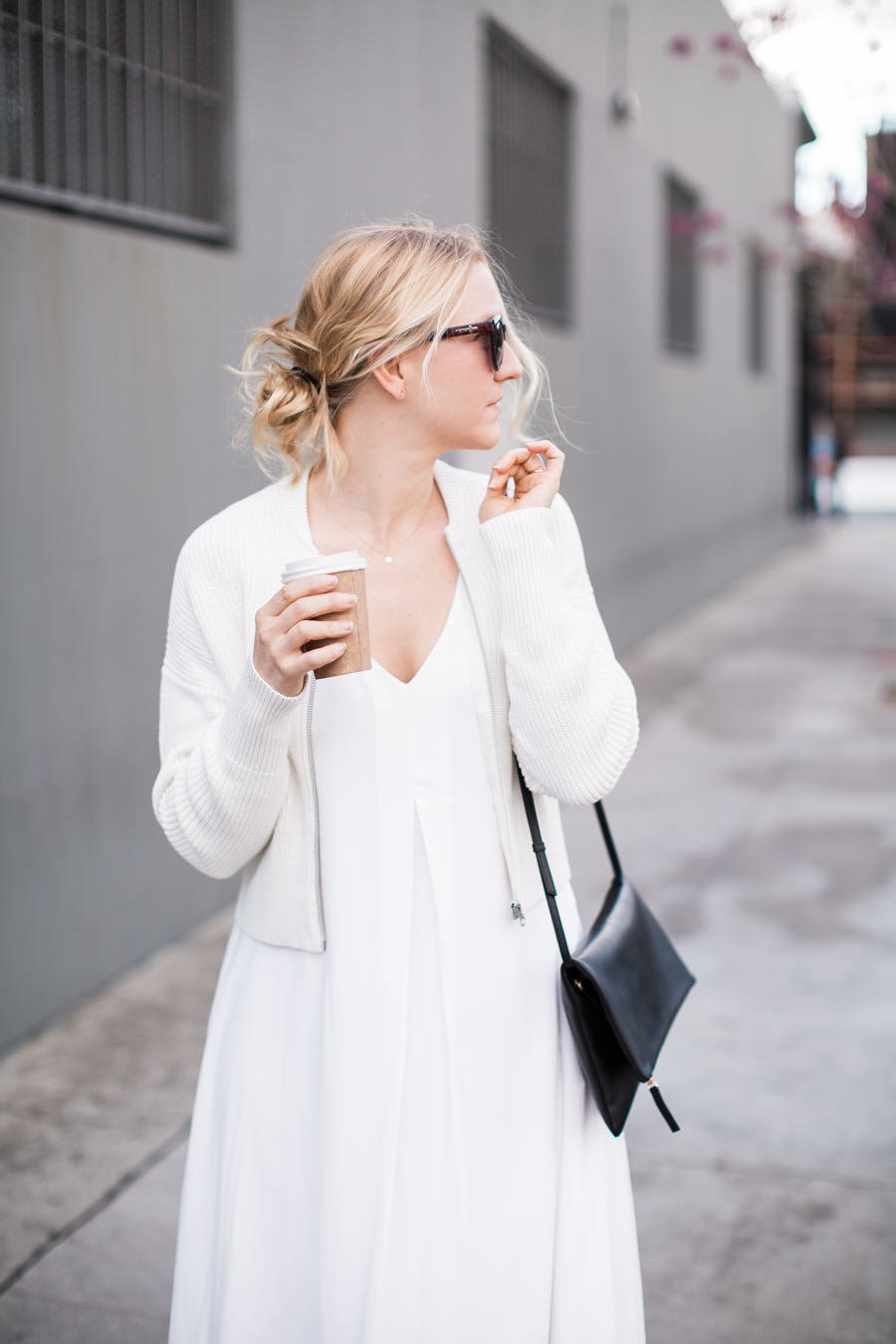 I'll tell ya what, this girl is consistent!
Week after week, I think to myself, "How is she gonna make neutrals look interesting.. again?!" and then she nails it. I'm constantly amazed by the way she creates a chic, classic look that is completely different from the rest.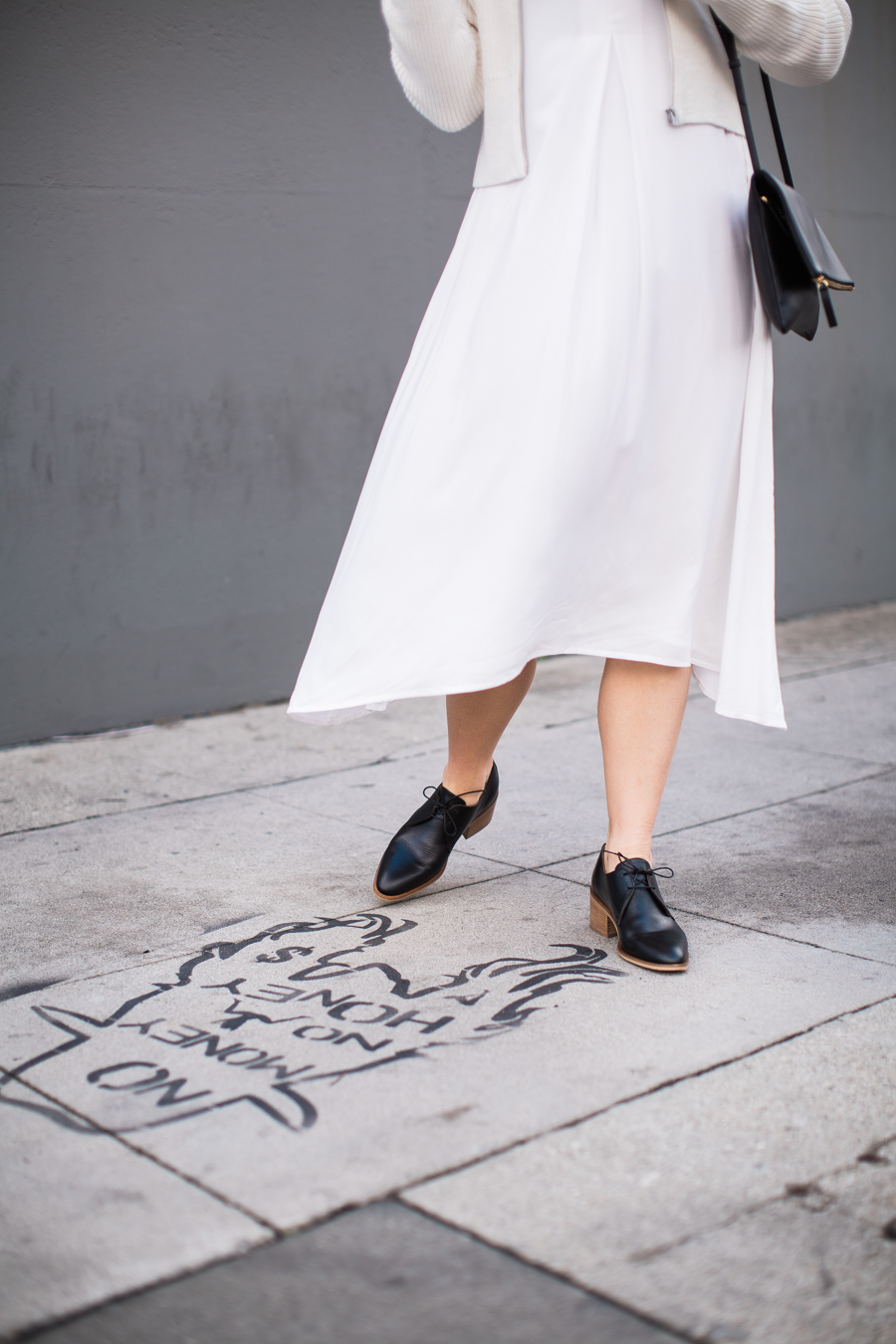 Anne went for flowy almost-all-white and a few accents to remind you it was intentional.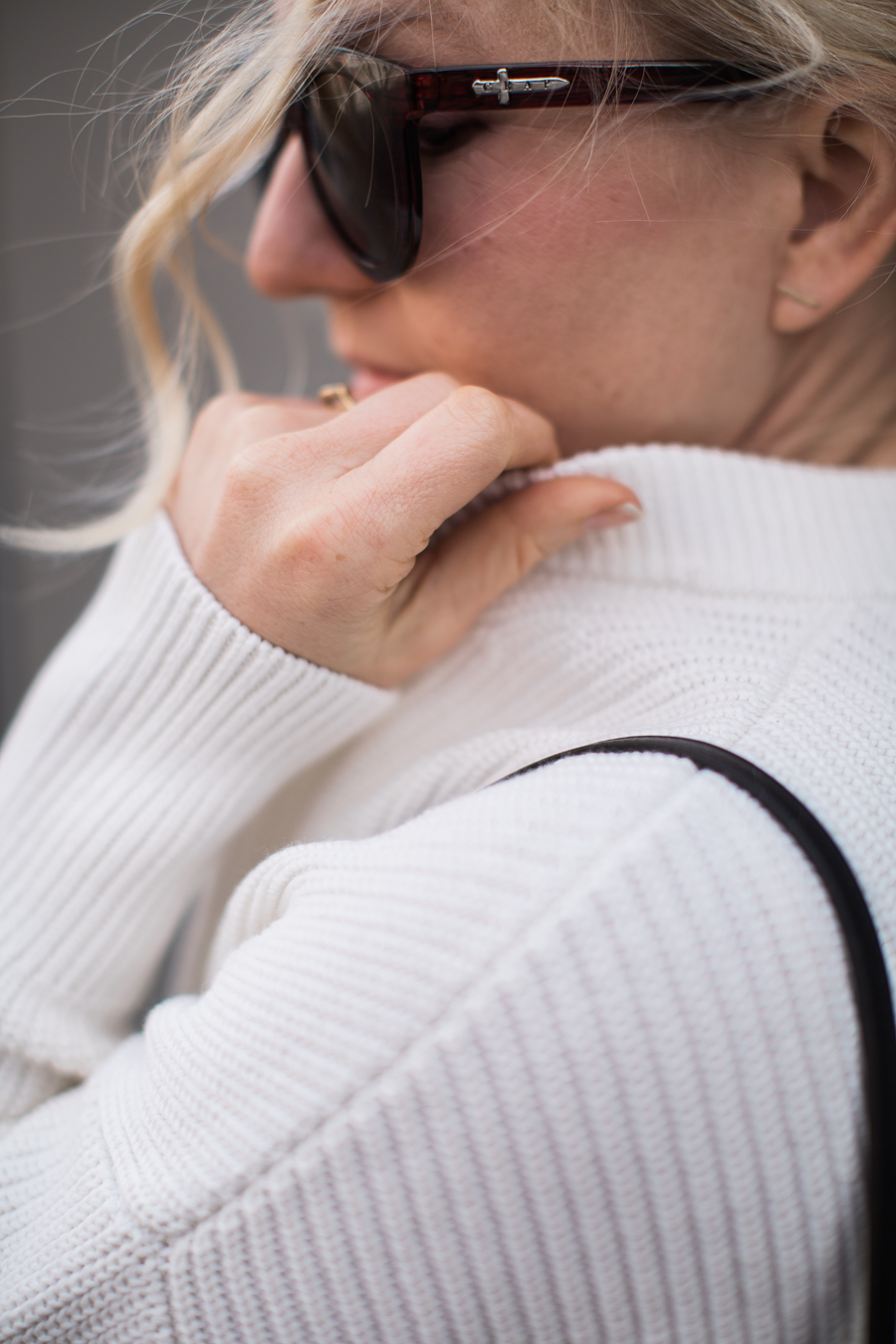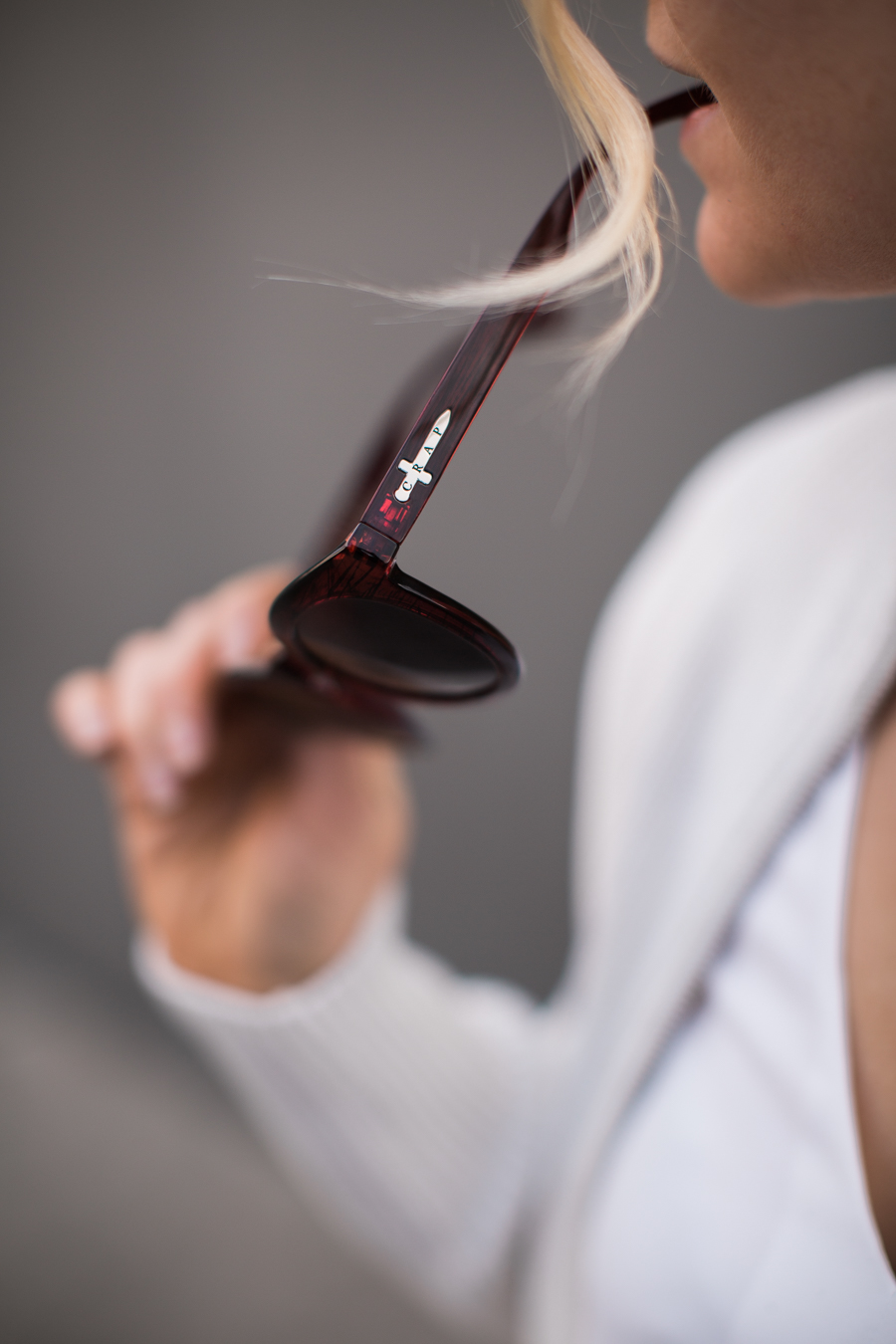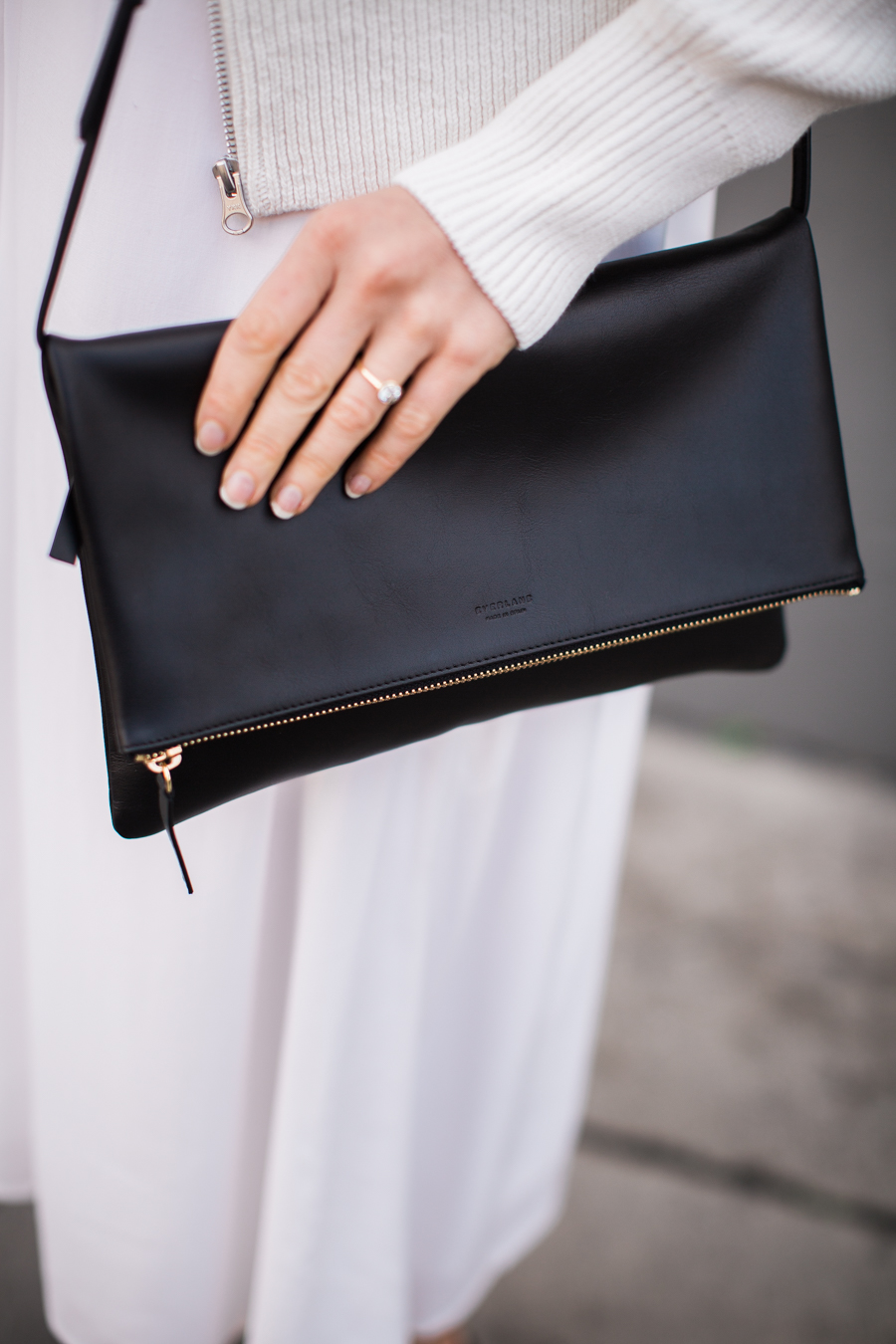 That Everlane bag sure was smooth and fabulous.. I left the shoot wondering if I had made the right picks!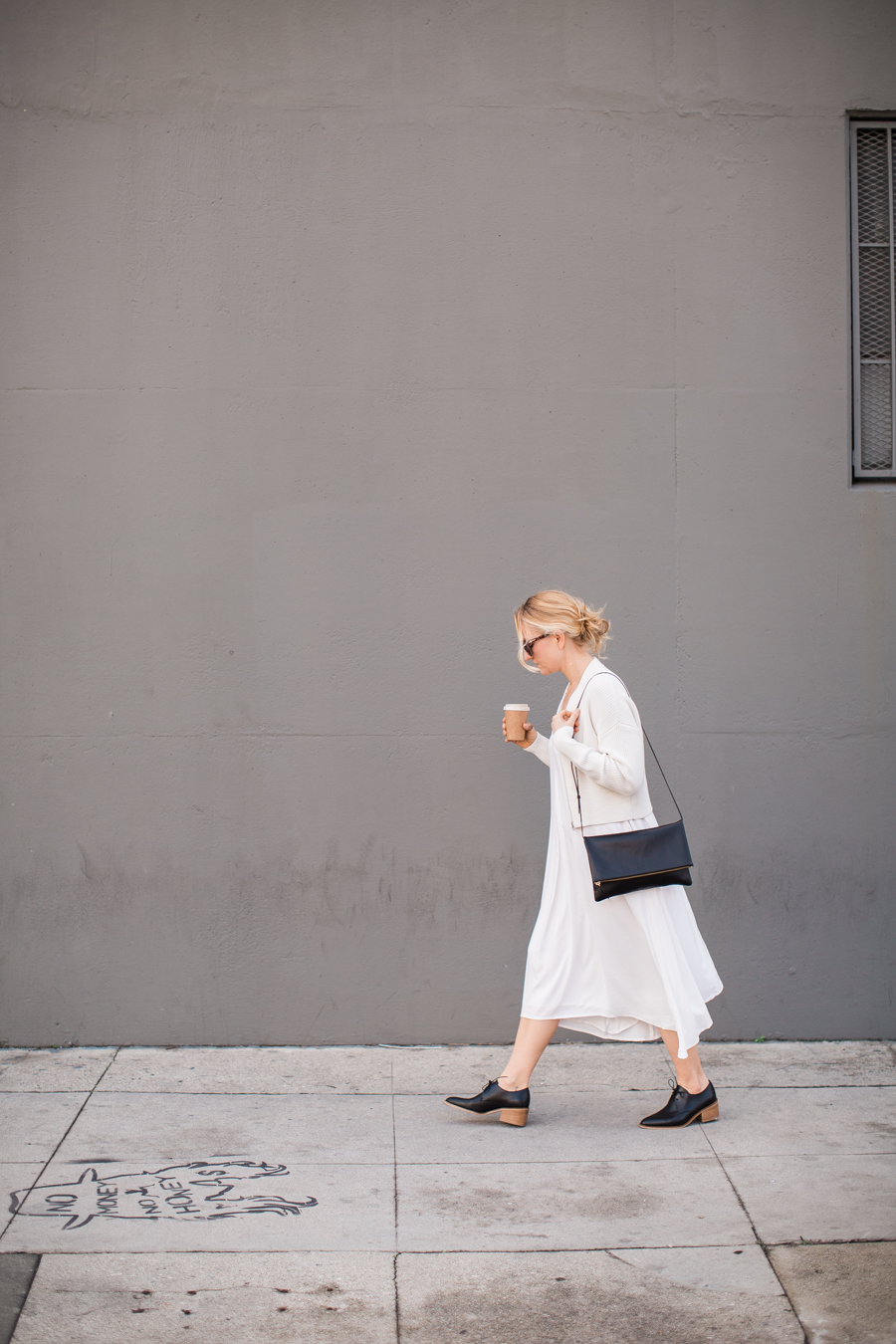 How good is that look?! Well done, again! So effortless and chic.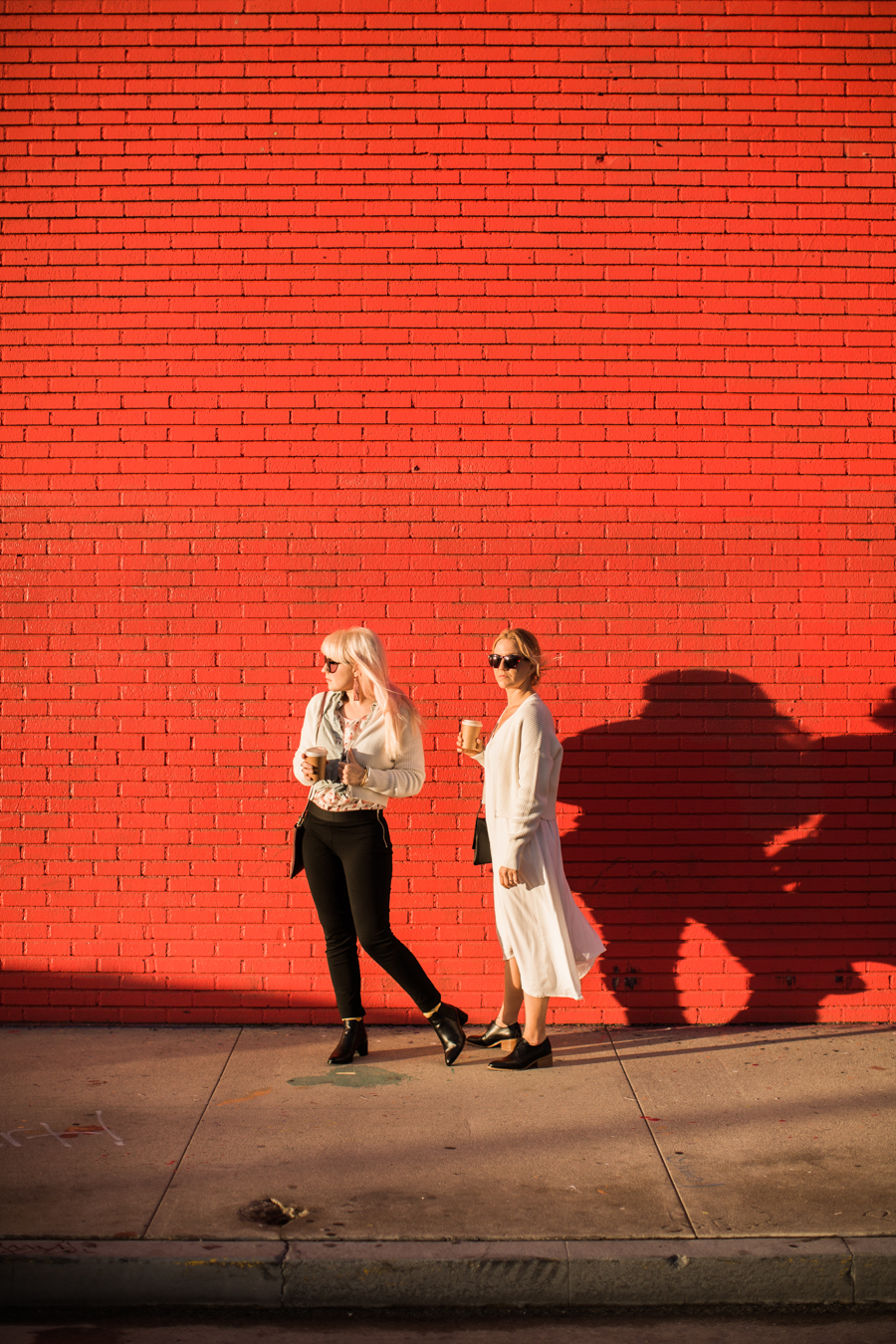 We'll be back next Tuesday with more Two Girls, One Kit! xo
Photos by Jayden for Echo and Earl.